"Do You Like Old Maps?"… "Mmm-hm"
Ridgefield (Google Maps location)
June 27, 2017
Now, you'd think this historic house would provide one of the better town history experiences in the state. After all, it's a lovely old colonial in wealthy Ridgefield.
Spoiler Alert: it does not. The David Scott house mainly serves as the town's historical society headquarters and doesn't truly operate as a museum in the classic Connecticut historic house sense.
And I'm fine with that. Especially since I had Damian with me and we all know he's not really down for the full-on old house tour.
I didn't know the deal with this place before I arrived and perhaps if you're reading this in 2024 or something, it's more of a museum now. But regardless, we got a wonderful little tour and the Ridgefield Historical Society is doing some good stuff not only here, but all around town.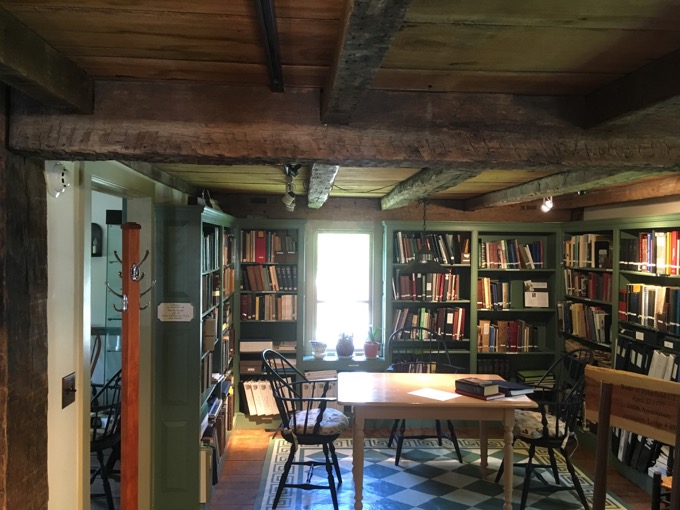 The society's headquarters is the 275 year old David Scott House, whose preservation, renovation and restoration was completed in September 2002. The house includes a large fireproof and waterproof archival room within a "vault" with special equipment to control the humidity and temperature for fragile documents.The headquarters also features a reception and reference room, where the public can access databases of history materials held town wide. There is also a meeting room, a library, a project room, the town historian's office, a cataloguing area, and a kitchenette.
Oh yeah! That archival room "vault" is a huge source of pride. We even got to check that out.
The society has a page dedicated to the history of the Scott house – and it is very detailed.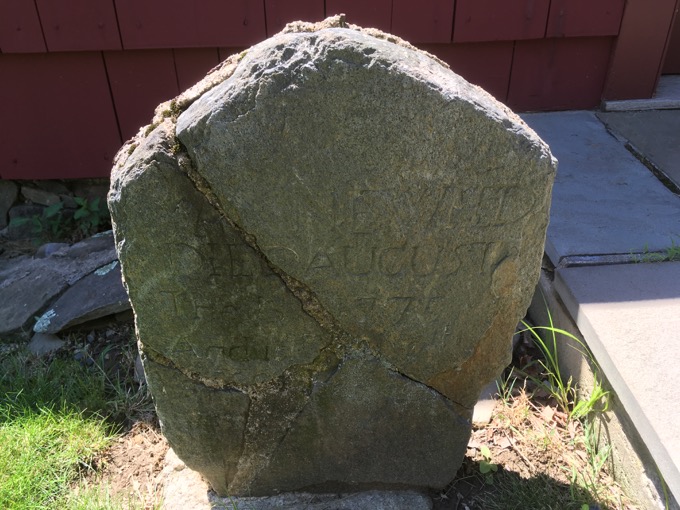 I just read that whole thing and – ok, you got me. No I didn't. But it's cool that someone took the time and made the effort to compile the entire chronology of the Scott house. The early days were full of death! Mystery! Polygamy! Dauchy!
On November 25, 1708, the choicest home lots along "Town Street" (today's Main Street) were distributed among Ridgefield's original proprietors by lottery. This particular "home lott" of about ten acres was drawn by Jonathan Stevens of Norwalk, who died before settling here, whereupon the property passed to his mother, the widow Mary Bouton. Mary dealt the still undeveloped parcel in 1712 to Irish-born David Scott — patriarch of the prolific founding family that populated the "Scotland District."
Although exact details may never be known, historian Silvio Bedini suggests that Scott abandoned his wife, Hannah Hyatt, emigrated to America, then entered into a relationship with Elizabeth St. John, daughter of original Ridgefield proprietor Samuel St. John. Unexpectedly, Hannah Hyatt Scott "of Ireland, of the town and County of Londonderry" arrived and took her husband to court in a case citing Elizabeth as the "pretended wife of David Scott." According to court records, Hannah "obtained a judgment against her husband… and she took 3 acres and 72 rods by execution."

On the remaining six acres David Scott erected a simple dwelling which evolved over two and a half centuries into the "Scott House" of today. About twenty-five years later in February 1741 for the then princely sum of 500 English Pounds, Scott sold the "home lott" and another parcel to his son-in-law, the Frenchman Vivus Dauchy.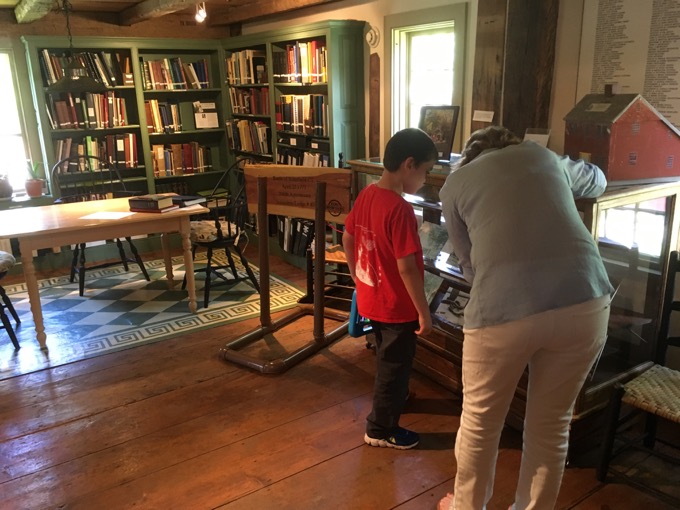 Wait. He left his wife in Ireland who got (justifiably) upset and came to Ridgefield to confront the scoundrel and won a court ruling to get half his land? I wonder if she decided to live right there next to him to stare at his "other" wife every morning?
You see? History is fun!
Damian sat in the "library" while I was given some of the house's backstory. It was moved to its current location and rebuilt – the usual story. They have some artifacts on display for those interested in such things.
I think my guide felt that Damian felt left out of the discussion, so she kept prodding him with questions like, "Do you like old buildings?"
Damian just kept grunting, "Mmm-hm" like he does when he's entirely disinterested. The guide doesn't know that so she forged ahead, showing Damian old house stuff. It was great.
"Do you like old newspapers?"
"Mmm-hm," he replied. So we were taken downstairs to the society's vault. We got schooled on temperature and humidity controls. We were excitedly shown old newspapers, which Damian, of course, has zero interest in. It was great.
"Do you like old maps?"
"Mmm-hm," came the response again. So we were shown old maps of Ridgefield which Damian, of course, has zero interest in. I loved it. I'm 99.9% certain the kindly woman wasn't even aware that Damian says "Mmm-hm" to anyone about anything in certain situations.
I noticed that Ridgefield has a billion Ridgefield history books for sale. I don't think I've seen as many at any other town's society. I don't know why this is the case, but I guess it's pretty cool. For my part, I found a more contemporary book that took place in Ridgefield. LINK
That about did it for us at the David Scott house. There's another historic house museum in town (The Keeler Tavern) that is infinitely more museum-y; and I highly recommend it. This place is only for the hardcore like myself.
And Damian. Does he like random museums?
Mmm-hm.

Ridgefield Historical Society
CTMQ's Museum Visits