Milkin' It
Manchester (Google Maps location)
July 23, 2017
I'm very close to completing everything there is to do in the first five towns I've set out to complete. In fact, I completed Manchester a couple months ago.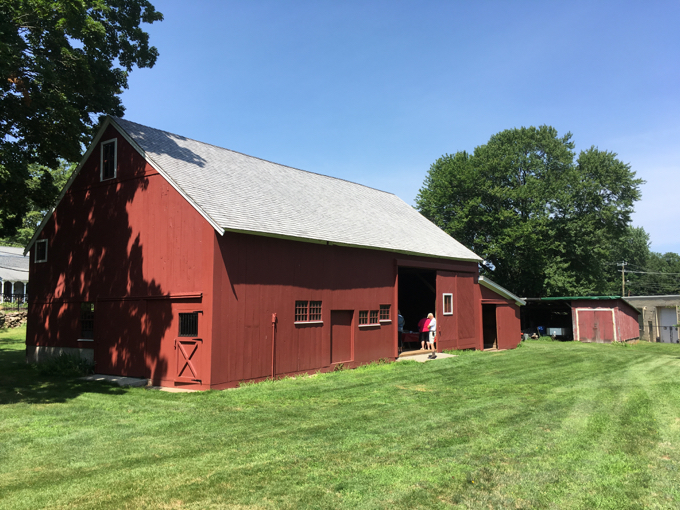 So here's a new post from a place in Manchester.
Sigh.
I knew about Woodbridge Farmstead when I began ripping through Manchester. I wrote to the Manchester Historical Society asking if and when it would open as a museum. I was told it wouldn't happen for many moons, so I sort of put it aside.
Then, out of nowhere, I read that they were going to have a random open house. Sure, it's not a finished museum, but it's good enough for me. After all, it's just another farm museum with the same farm museum stuff I've seen a million times.
Damian and I visited along with a couple dozen other folks – most likely all from Manchester. Parking is difficult here because this farmstead is in the middle of classic exurbia. (Which is, to me, the coolest thing about this place. It just doesn't belong – and yet here it is. Right on a busy four-lane road in Manchester.)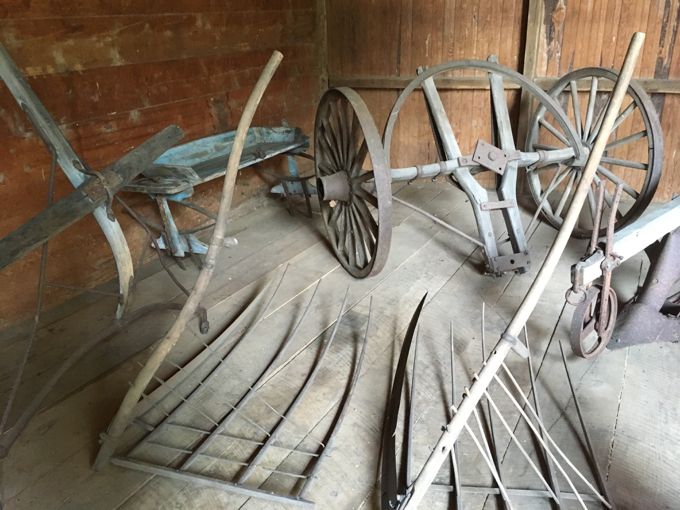 The Woodbridge Farmstead is a charming combination of vintage buildings and a bucolic landscape.

The Woodbridge Farm and Meadowbrook Dairy once encompassed many acres at Manchester Green. Today, the house and grounds are owned by the Manchester Historical Society – a gift from the late Ray and Thelma Carr Woodbridge, who gave the property in 1998, reserving a life use.

The yellow farmhouse in the Greek revival style dates from 1830, and one of the barns dates from the late 1700s. A brook runs through the back yard of the property. The Farmstead was listed on the National Register of Historic Places in 1999.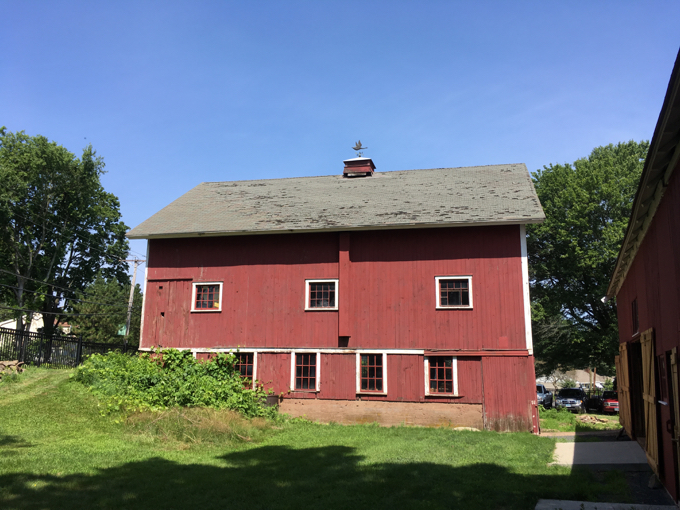 A guy was mowing the grass upon arrival. Damian and I poked around the barn and its attendant buildings. There were some old farm implements, but really not much else. One can imagine that in a few years there will be more old farm implements as well as some storyboards explaining how Woodbridge operated back in the day.
The Manchester Historical Society is committed to preserving the history and heritage of the Woodbridge family and farm, setting it in context of Manchester Green's evolution, and using the site to educate the public about the town's agricultural past.

Both Thelma and her husband Raymond Woodbridge, who died in 1997, wanted to preserve this tangible piece of town history. Thelma officially donated the two-acre property to the Manchester Historical Society in 1998, and continued to live there until her death last year.
There are a bunch of legalities to sort out between the town, the family, and the historical society. Beyond that, there is much work to do to get the property up to speed as well.
The farmhouse is an outstanding example of 1830s Greek Revival architecture that was named to the National Register of Historic Places in 1999. The house is tucked between a furniture store that originated as a textile mill and a pizza restaurant that once was a general store and Manchester Green post office. Behind the house, the view is more pastoral. Two red barns, along with stone foundations of outbuildings and vestigial gardens, offer intriguing reminders of the past. Bigelow Brook runs through the property, past one of the largest black walnut trees in Connecticut.

Over the course of 150 years or so, the Woodbridge family operated Meadow Brook Farm, delivered milk to local residents, and grew crops that included hay, corn, turnips and potatoes. This past spring, in Thelma's memory, Fred Lea, a Manchester farmer and Woodbridge Committee member, donated and planted two Pound Sweet apple trees on the back slope near the barns. The gift is already bearing fruit as it offers a lesson in local agricultural history. The Pound Sweet apple was developed by the Lymans right here in Manchester, only a mile east of the farm.
That's cool.
And that's that.

Woodbridge Farmstead
CTMQ's Museum Visits