Generally Authentic
Stafford (Google Maps location)
July 2017
There's nothing quite like chasing down tiny little museums an hour away from my house that are only open a few days for a few hours per year. For those of you who don't engage in this worthwhile pursuit, I'm here to tell here there are a lot more of these than you think there are.
Now, you'd be right to wonder why I had to get to this little schoolhouse when I've already seen a dozen in Connecticut just like it. Alas, I have no better answer than, "because it's just what I do."
It's true, these things aren't unique. But here we are… on a drizzly Saturday morning while the Stafford Farmer's Market runs in what the town calls "Heritage Park," northeast of the center of Stafford… which is what everyone knows as Stafford Springs.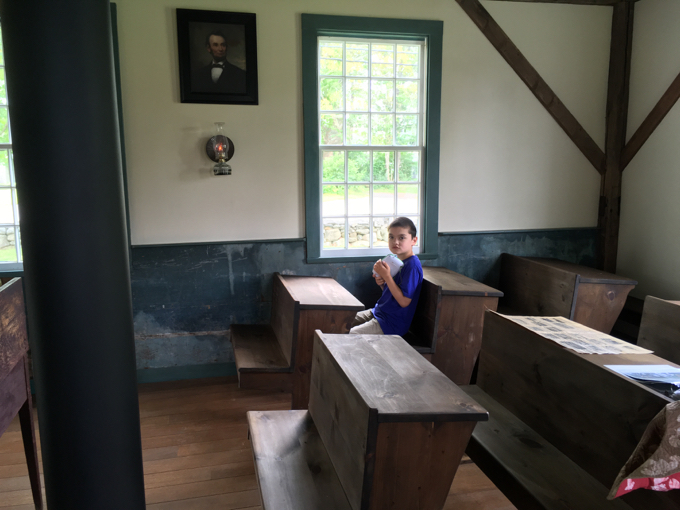 Several volunteers were hanging out in front of the building as Damian and I approached. They seemed excited to have a young buck* and his son coming to have a look-see.
*I'm 44 at the time of this visit. And when it comes to touring one-room schoolhouses, this term applies.
The school wasn't originally here, of course. The town and its historical society moved it from where it stood in West Stafford. This thing was built in 1799! I have no idea, but that MUST be one of the oldest ones still (mostly) intact in the state, if not the country.
It served as a school until 1930 when it was converted into a home. The most amazing fact about the Patten School is that someone lived in it until the late 1990's. My word.
It was donated to the Historical Society who dismantled the whole thing, cleaned it up, moved it to where it now stands, and rebuilt the dang thing. Sure, a few pieces here and there had to be replaced, but by and large, this thing is "as it was." Including the original chestnut frame.
Again, I'm not sure how many 200+ year old one room schoolhouses have their original chestnut frames intact. Here's more: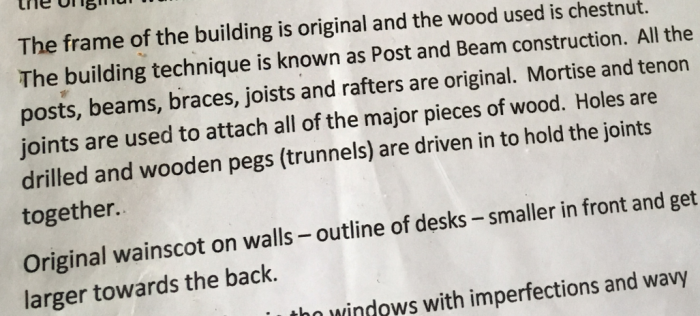 There was no bathroom or running water. (This, of course, makes me more curious about its occupant during the Bill Clinton years.) It had the ol' stove in the center and the desks and the slate boards and the signage about young underpaid teachers. All of that usual stuff.
The displays included the paddle to whip the kids, of course, but also a block of wood in the corner. One of the kindly docents attempted to speak to Damian and ask him if he'd like to try to stand on the block of wood to show him, "what the bad kids had to do."
At which point Damian leapt into the air in a series of stimulating spins while yelping, "BLOCK OF WOOD OOD OOD OOD OOD YEAH YEAH!" followed by some healthy slaps to his own chin and a laugh.
Then he walked away and sat down, ignoring the poor guy.
No, sir, Damian will not be joining you on the punishment block, sorry. I gave a tepid explanation of my unique son and from that point forward, we had an understanding.
I looked at some old books and smiled at the other visitors, said my thank yous, and went to go buy some corn and blueberries at the farmer's market with a big smile on my face.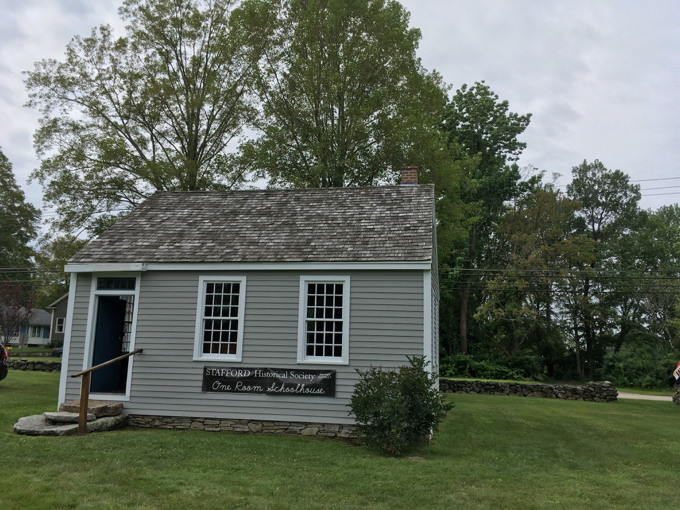 Stafford Historical Society
CTMQ's Museum Visits