CT National Historic Landmark
Charles H. Norton House
132 Redstone Hill, Plainville (Private Residence)
Over the years I've come to learn that every town and city in Connecticut has a nice (read: "wealthier") area. Yes, even New Britain and even Bridgeport and Bristol. And it took me some time, but I finally found the expensive part of Plainville.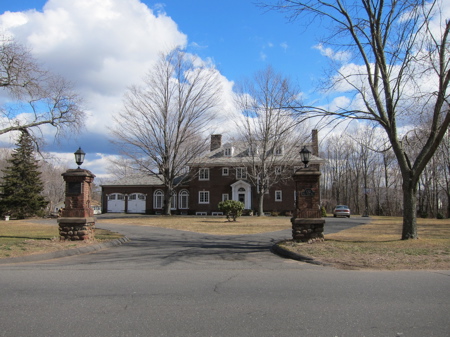 But you know it's a nice giant house when it has a name like this one does: Sharpenhoe. Sharpenhoe? That's kind of a weird name. Anyway, Sharpenhoe is otherwise known as the Charles H. Norton House and it is situated up on what I assume is called Redstone Hill; offering fine views of Tilcon's quarry destruction to the east.
Update: William Petit, Jr., whose family owned/owns this house, commented below that "Sharpenhoe is the name of a home he visited in England and liked so much, he borrowed the name and some design elements for his home in Plainville."
Cool! Thank you sir.
This joint was the home of the inventor and machinist Charles Hotchkiss Norton, born in 1851 in Plainville. Norton designed heavy-duty precision grinding machines important for development of the automobile industry. The Georgian revival house was built in 1922 and Norton lived there until his death in 1942.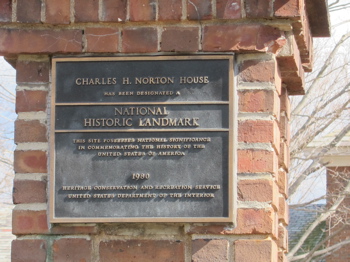 After working for the Seth Thomas Clock company in Thomaston, in 1886 Norton became Assistant Engineer with the Brown & Sharpe Manufacturing Company at Providence, Rhode Island, redesigning their universal grinding machine. In 1890 he became a partner in the newly established Leland, Faulconer & Norton Company at Detroit, Michigan, designing and constructing machine tools. Returning to Brown & Sharpe in 1896, he designed a grinding machine with larger and heavier grinding wheels, capable of supplying machine parts for the emerging automobile industry. In 1900 he left Brown & Sharpe to found the Norton Grinding Company in Worcester, Massachusetts with support from the Norton Emery Wheel Company (founded by an unrelated Norton); the two firms merged in 1919, with Norton as their Chief Engineer until 1934, when he became their Consulting Engineer. On April 8, 1925, he was a recipient of The John Scott Medal and Premium for his invention of "accurate grinding devices of high power".
You know when Norton hosted swanky parties at Sharpenhoe he was so annoying with his, "Oh, hello Tom. Did you see my John Scott Medal and Premium for my invention of accurate grinding devices of high power? Oh, you have? What about your wife?"
And speaking of Plainville Nortons, there is a Freedom Trail stop in Plainville (CTMQ page here) that honors the very same Norton family and even mentions a (different, maybe?) Charles Norton. I don't really have the accurate grinding device of high power to figure that out.

CTMQ visits CT's National Historic Landmarks
CTMQ's CT National Designations