Short on Miles, Long on Whimsy
Old Lyme Land Trust: Belton Copp Preserve
~.25 Mile, March 2018
Walking the entire length of this trail would take you about as long as reading this page will. Unless, of course, you get into the spirit of the place… in that case, you might be stuck for quite some time in the Belton Copp Preserve.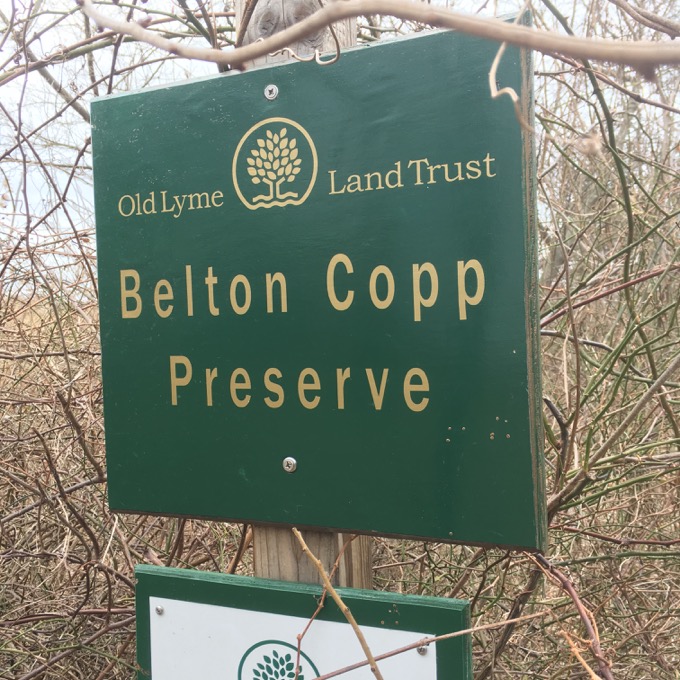 Located off of Smith Neck Road among the tidal marshes of Old Lyme, this tiny little 4-acre parcel seems to know its tiny so, in an effort to capture visitors, it includes all sorts of "whimsy."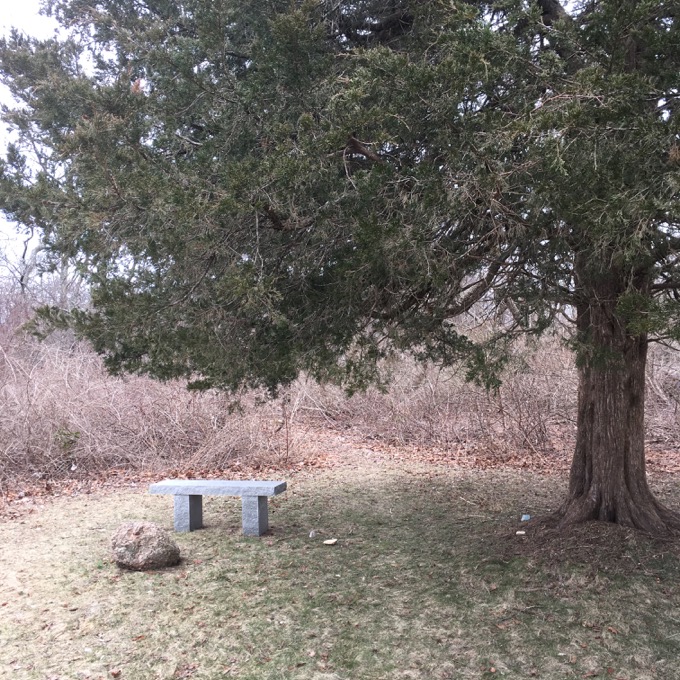 This four-acre parcel on 14 Smith Neck Road was donated by Belton Copp, a founder of OLLT, lawyer, World War II veteran and conservationist. He was a trustee of the Conservation and Research Foundation which helped develop techniques for non-governmental entities (e.g. land trusts) to preserve land. The parcel sits on the upland edge of a 32-acre piece of tidal marsh owned by the State and affords views of sunrise on the marsh and the marsh wildlife.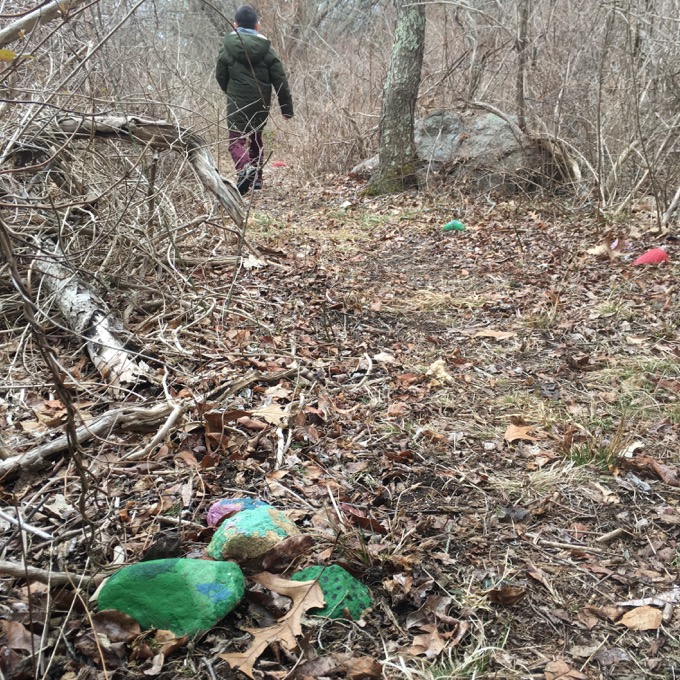 Shout out to Belton Copp. As much for the preservation work he did as for his service… as for his cool name. BELTON COPP. So much cooler than STEVE WOOD.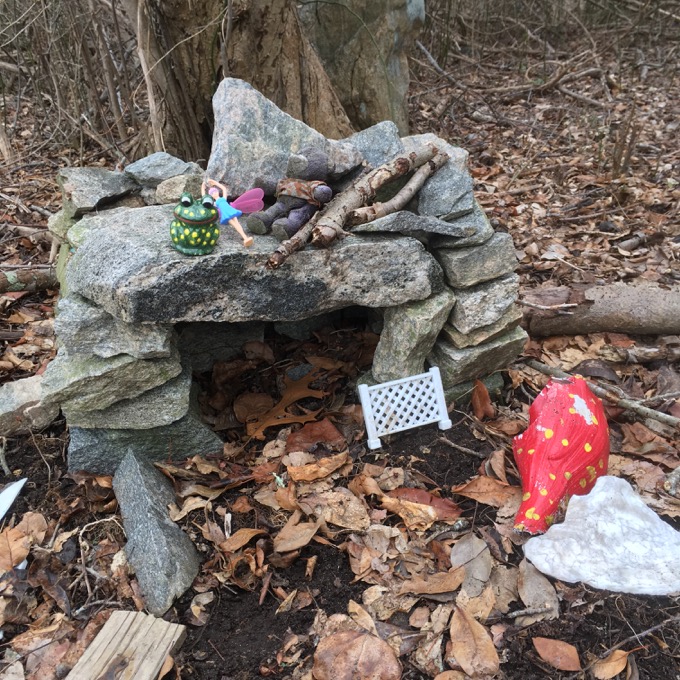 And another shout out to trail steward Fred Fenton. You can probably tell by my pictures that clearing and maintaining this trail must be next to impossible. The preserve is choked with all sorts of multiflora rose and Asiatic bittersweet and all sort of messy bramble to contend with.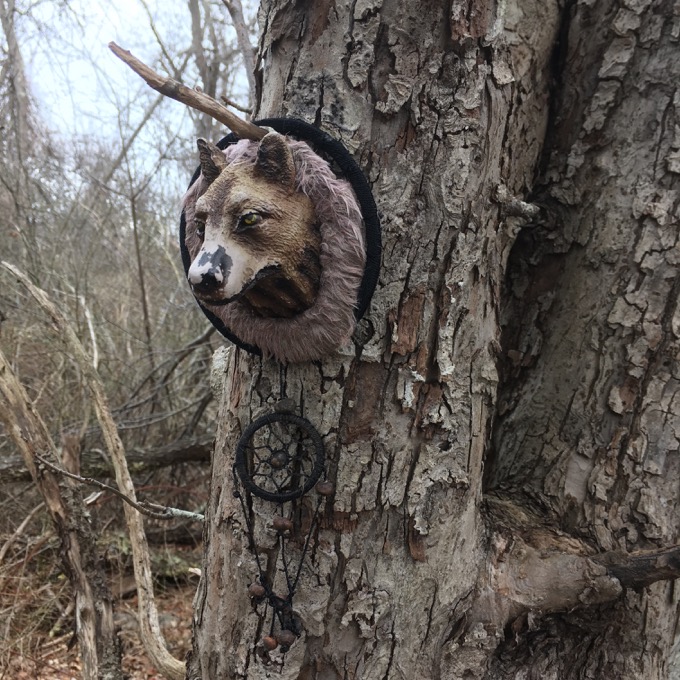 But as you've also surely noticed, this little trail is a bit different than most.
Within this preserve you will find a grove of fairy houses made of seashells, rocks and bamboo and wind chimes hung from trees and miniature fairy gardens adorned with fanciful objects and creatures.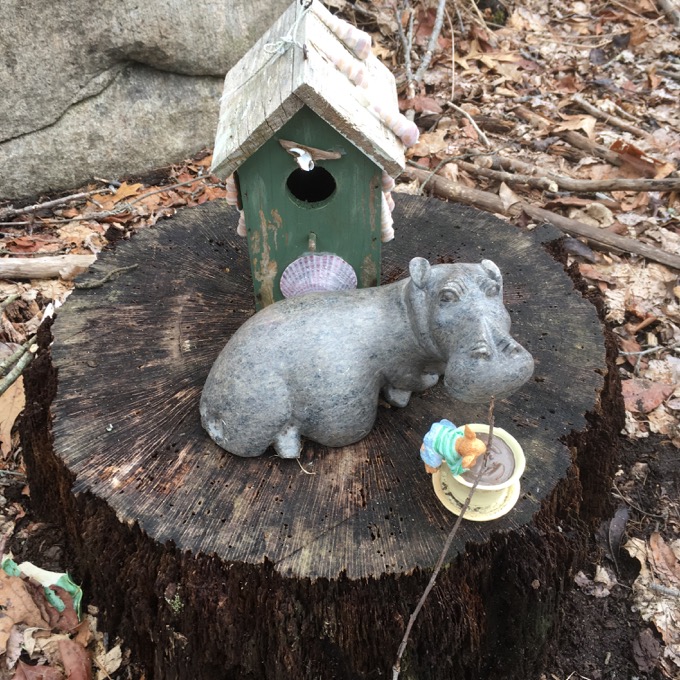 Indeed. In fact, the entire trail (which, admittedly, isn't saying much) is sprinkled with painted rocks rather than blazes on trees. There are collections of "fairy houses" and what I'll call "stuff" all along the way.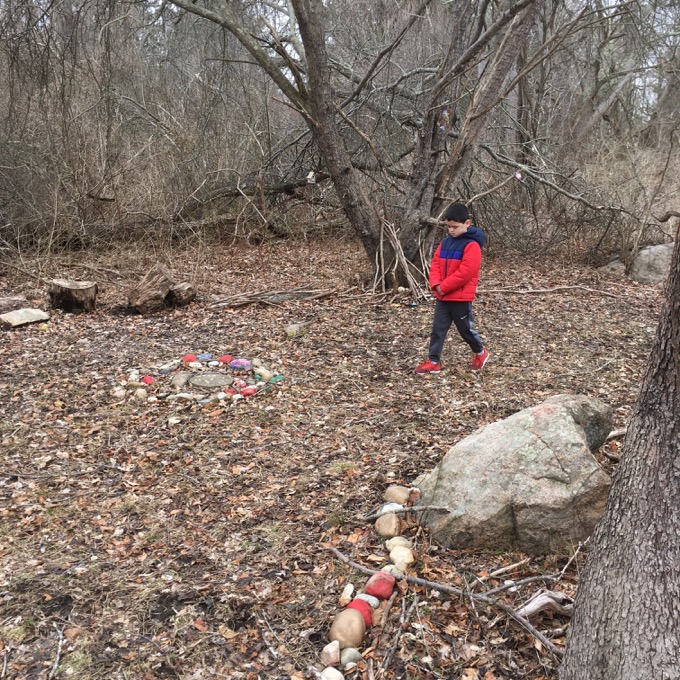 One area, at the end of a 7-foot (seriously) spur trail, contains a whole fairy village, so to speak. The cool part about this is that it is thickly hemmed in by vegetation, providing an almost secret spot for children to escape into a world of… fairies? Stuff? Whatever their imagination calls for.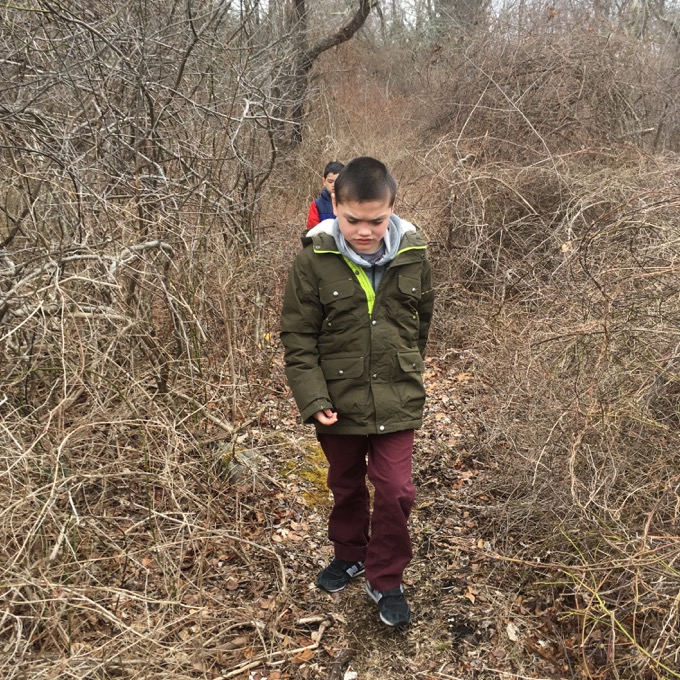 Most of this "stuff" used to reside a short drive away over at the Watch Rock Preserve. Unfortunately, Super Storm Sandy destroyed the little fairies and their villages which were created by a group of enterprising Girl Scouts some years ago.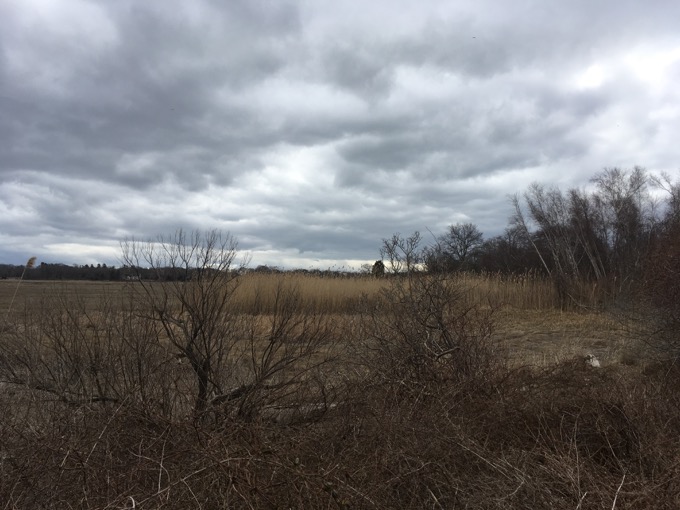 So the girls and some others picked up the surviving structures… and toys… and "stuff" and rebuilt here at Belton Copp. The trail at Watch Rock was called the "Whimsey Walk" (I don't know why they chose the more whimsical spelling of "whimsy," unless I just answered my own question.) and it must have been pretty cool at that – let's be honest – prettier preserve.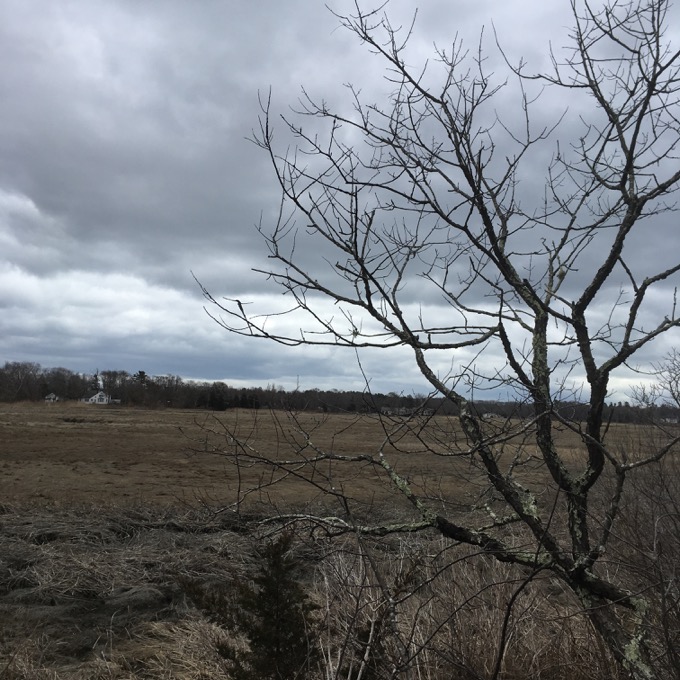 Here, the tiny loop trail wends its way through imposing thickets and makes it out to take in a couple views of the marsh. It was cold and windy during out quick visit, which limited the whimsy for my boys.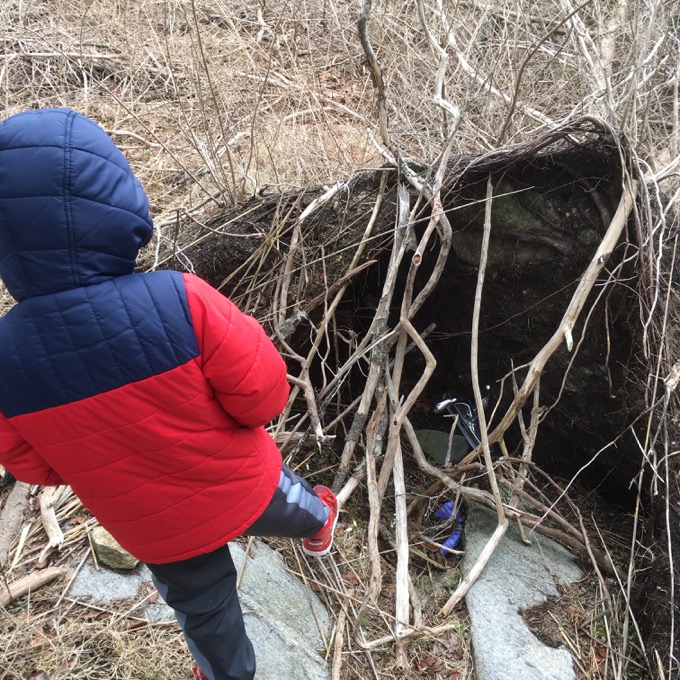 But if you find yourself here someday, you'll enjoy seeing everything a fairy could ever need. Everything but the kitchen sink.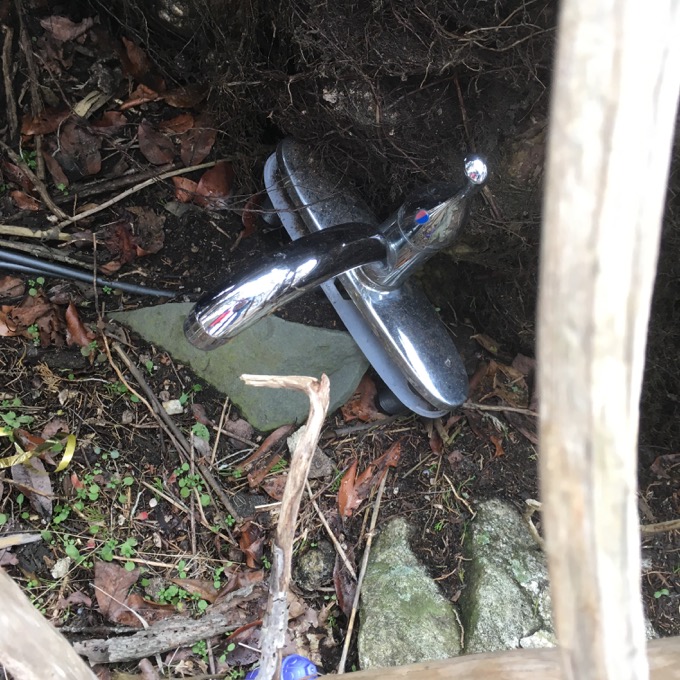 Oh, wait. Nevermind.
Here's a 2013 New London Day article about the preserve and how it came to be.
Old Lyme Land Trust
CTMQ's Old Lyme Land Trust page
CTMQ's Main Land Trust page