Regicides' Rain
Bishop Estate East, Woodbridge
September 21, 2014
The more I hike around Connecticut, the more I realize how much interconnection there is with our trails. For years when I'd hike the blue-blazes of the CFPA trails, I'd totally ignore the side trails that went off to who-knows-where.
But now, as I explore more and more town trails and land trusts and other such entities, I realize those side trails often really do go somewhere interesting. While it's impossible to develop one, massive compendium of every cleared and blazed and mapped trail in Connecticut, it would be pretty cool to do something like that.
For instance, this tract of land off of route 69, only a few minutes from the Wilbur Cross and its Heroes Tunnel, connects to West Rock State Park via the Regicides Trail and therefore all of New Haven. You could spend an entire day, visiting museums, hiking, going up towers and over tunnels and all sorts of cool stuff.
All from an unassuming Woodbridge property – one which has a trailhead at a museum you've never heard of. And heck, one of the best breweries in the state is only 2 minutes south of said museum!
Yeah, I love this stuff. Quick interjection – Pre-dawn hiking in the rain is great and all, but man, it's so much better when you pass one of these things just before the trailhead: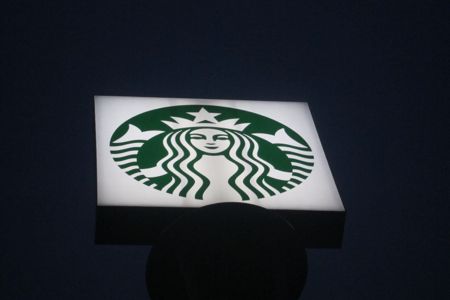 The best place to park for this property (and the eastern section across route 69) is in the Thomas Darling House – the museum for the Amity/Woodbridge Historical Society. It was sort of weird for me to park next to two other cars on a rainy pre-dawn Sunday. Would I see other humans on my hike?
Spoiler Alert: No. Don't be ridiculous.
If you read my Woodbridge trail reports, you'll probably see this a lot: Their trail maps are excellent. Really and truly, some of the best. I'd appreciate contour lines, but understand why they leave them out. (They do denote elevations here and there to help sort of make up for their absence.)
After parking and making the short slog through an unmowed field, I entered my first WLT property. The trailhead sign lays out the distances to some of the cool stuff these trails link to like West Rock and Judges Cave.
Sure it was dark and raining, but I was happy. The trails here are very well cleared and marked. The woods below the West Rock ridge are incredibly open. Sure, they were farmed a hundred or so years ago, but there is literally no understory. This is a problem that plagues our forests and can be attributed to one dear creature…
Make that, one deer creature. If you ever want to see deer – lots and lots of deer – go hiking in the rain at dawn in Connecticut. I saw at least a dozen in the two hours I was in the woods. Heck, I saw as many deer as squirrels. And that's pretty crazy.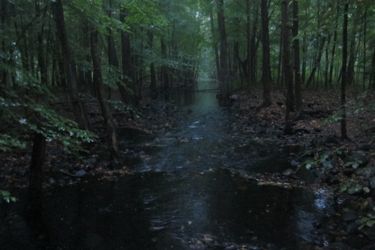 My original goal for this hike was to get up to the ridge and "Lookout Point" for the sunrise.
And, for the record, I did exactly that. The only problem was heavy rain and low clouds. No views for me.
This property has a network of flat blue and red trails below the ridge that highlight a bunch of old stone walls. There is a really great bridge here as well that cross the West River. But the "real" trail is the blue/yellow trail that makes its way up to the West Rock Ridge and West Rock Park.
The connecting is never too steep, but it does climb 430-feet fairly quickly. While climbing, the trail passes beneath some rather impressive cliffs and rock jumbles. What struck me was how much effort was put into this trail. So true trail-building skills were employed here, by someone who knew what they were doing.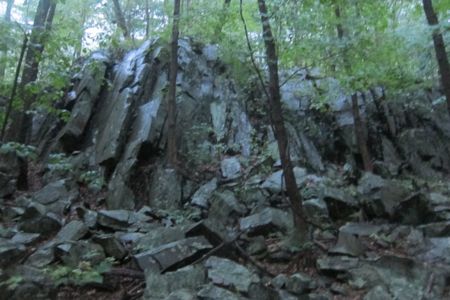 All for a little unnamed red trail in a Woodbridge Land Trust property. –
Ok, here's the thing. It's 2019 and I've been faking it so far on this page. Back when I hiked this in 2014, I was under the impression that this whole property was Woodbridge Land Trust property because I built my Woodbridge hiking list from their site. In 2016, the WLT updated their maps and it turns out that this entire page is describing trails on town property and Regional Water Authority Property. The WLT is so intertwined with the town that I've had to combine both onto one intro page – which is fine. Desirable even! The blue/yellow trail up to the ridge is through RWA property. You're supposed to have a permit to hike on most RWA trails, but not this one.
Anyway, I've updated the other stuff on this page to reflect the blaze-color changes and some other stuff, but I had to get that off my chest. Let's get back to 2014…
I reached the Regicides Trail at the top just as the rain let up. It allowed me to take this beautiful picture of overlooking Woodbridge to the west:
It happens. Before scuttling back down the trail, I took a moment to reflect on my hike of the Regicides Trail several years ago. It's a pretty cool hike, and one that isn't brought up much in CFPA circles. But its mix of history and scenery is tough to beat here in Central Connecticut.
Once off the ridge line, I hiked one of the blue trails due south. Again, I was struck by the sheer openness of these woods – at the end of summer, no less! There is a beauty to it, sure, but it's also sort of weird.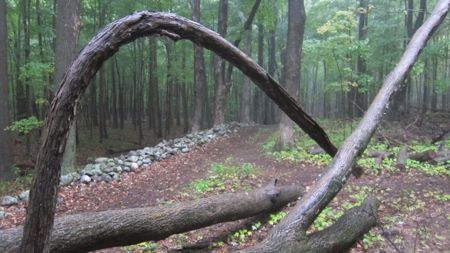 These flat sections make for some very fast hiking, which is exactly what I did. As I made my way back over the bridge and to my car, I was already thinking about what the western Bishop Estate trails would bring me – and if the rain would stop falling at any point.

Woodbridge Land Trust
Map of this hike
Woodbridge Land Trust Trails on CTMQ