I'm a Pawn to Bishop
Bishop West Trails, ~1.2 miles one way, Woodbridge
September 21, 2014
The sun had risen on me during my earlier hike on the eastern side of route 69, over at the Bishop East/Darling House property. You can read about that hike here, and it would probably make sense to do so, since this hike immediately followed that one.
I stopped at my car after that hike for a minute or two to take a few long pulls on my coffee. Ahh, perfect. (Parking for both east and west properties is provided by the Darling House Museum.)
The rain was intermittent at this point, so I was hopeful for a relatively dry hike – never mind that I was already pretty soaked.
If hiking this property, listen up: Cross route 69 and just go climb over the gate at the yellow/tan barn. Then walk down the road. This is the trail and you'll start seeing blue blazes once through the barnyard. I was a bit confused, but I'm dumb. Don't you be dumb too.
The trail, still on a gravel road, passes through Camp Whiting. I was happy no one was camping at the Boy Scout camp as I bumbled through. The place looks nice, if a little small. My days as a Boy Scout came back to me as I poked around some of the buildings.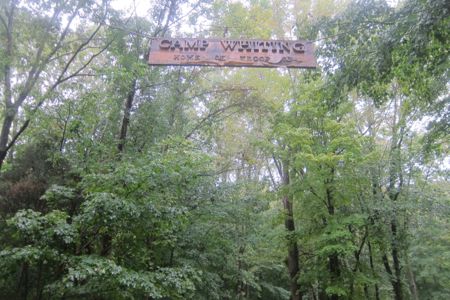 I loved scouting and was fortunate enough to be in a troop that pretty much solely focused on hiking and camping. Every month for years, I'd go camping. I loved it. I just hope they get their bigoted policies fixed up so I can encourage my sons to join scouting… but I'm not holding out hope.
2019 Update: My boys are not involved in Scouting and won't be.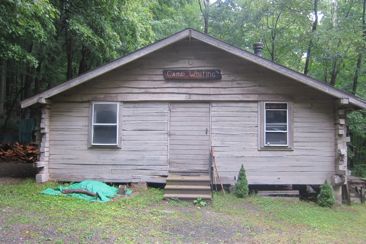 The trail attains a cute little ridge line amidst a thick laurel stand; yeah, that's right, I called it a "cute little ridge line." For really, that's what it is. With West Rock Ridge looming 500 feet above a mere mile (if that) to the east, this little traprock ridge was… cute. According to the trail description, there are views here to the west. Not so for me in the rain and fog.
Shortly up the blue-blazed trail, a decidedly non-cute precipice loomed. This was the site of a former quarry. It's quite striking and clearly not natural, but that doesn't take away its coolness.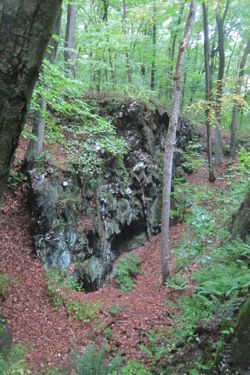 Apparently, this was a hand-dug quarry for a nearby cement kiln. The quarry dates back to 1847(!) Cement was produced from the blue-stone in the ridge.
I didn't really feel like heading down into the pit – with the rain and all. I imagine the scouts who stay at Camp Whiting have all sorts of stories about this thing. I also imagine their leaders are often consumed with thoughts of young boys falling over the edge to their deaths*.
*More likely just injury.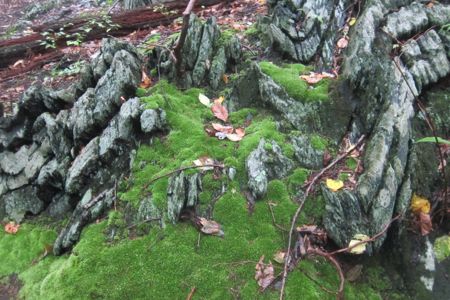 Good times.
Along this ridge line there are a series of rather striking quartz boulders. In fact, there is a line of them that look purposely placed, but upon closer inspection, it's just the natural ridge. I don't have pictures of that due to the rain, but if you look at this link, there are a billion for your perusal.
A short way up the trail, it turns sharply left at a yellow post. This yellow post: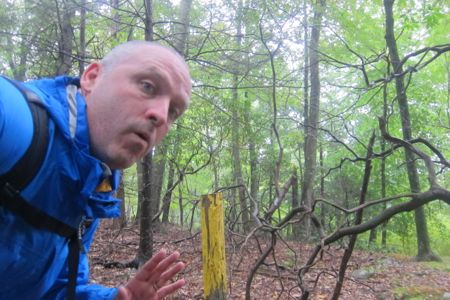 My first encounter with Regional Water Authority land! As I continue our hikes through Woodbridge (and surrounding towns), this will become more of a "thing." To hike (or otherwise recreate) on RWA land, you need a permit. I don't have one right now, but I will certainly be getting one.
In fact, jumping ahead to the end of this Bishop West hike at Dillon Road, the trail crosses into RWA land. I think one could hike all the way across Woodbridge on a continuous trail – if one had an RWA permit. (This is really a neat feature of Woodbridge, by the way, and they call it the "Woodbridge Greenway".) My point here is that if I had a permit (and the time), I could have kept walking northwest across Woodbridge. And you can too, and you should.
(2021 Update: I did get a permit and I did hike the Amity Road to Dillon Road Trail.)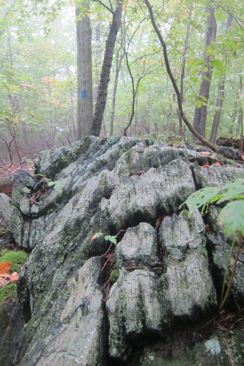 There is a dicey power line crossing on the trail, which was only "dicey" because it was mid-September. The brush and junk had grown up and over whatever trail exists across the large swath. There was evidence that other humans had come through here in the last week or so, and I followed what I guessed was the trail.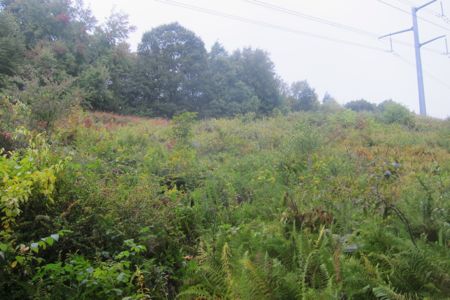 And voila! I saw a blue painted rock at my feet at one point!
After the power lines, the trail meanders past some more stone walls through a hemlock grove and down to the aforementioned Dillon Road.
I simply turned around and walked back to my car. This an easy hike that takes in some interesting stuff. As I look ahead to some other Woodbridge properties, I'm happy to report there are a lot of interesting things to see here.

Woodbridge Land Trust
Map of this hike
CTMQ's Woodbridge Trails