I Have Mastered Burlington
Burlington Trail Master
April 2008 – November 2015
I have a painful admission. Becoming a Burlington Trail Master didn't excite me as much as I thought it would. Don't get me wrong – I was and still am excited to be a BTM.
But perhaps my celebration was a bit muted because, according to Burlington Land Trust president and Friend of CTMQ Paul Rochford, I may be the first (and only?) yahoo to document his or her BTM completion.
Or perhaps it's because becoming a BTM wasn't my first hiking completion in Connecticut? Whatever the reason, becoming an official BTM should be a big deal. Now I am a dual Master – with the Sleeping Giant Mastery already under my belt.
NOTHING CAN STOP ME.
Especially with my official Burlington Land Trust tee-shirt, given to me upon completion: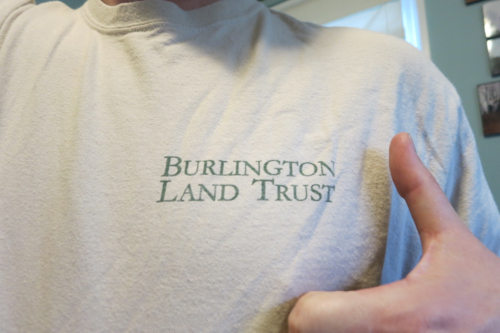 I must admit, I was somewhat disappointed they didn't hand-stitch my completer number. Yeah, that would be NUMBER ONE. WHAT'S UP, CONNECTICUT!
If you are or plan to be a CFPA Tunxis Trail completer, you're 90% of the way toward being a BTM. All you have to do is walk every inch of trail in Sessions Woods, The Martha Brower Sanctuary around Greer Pond, and another loop up Taine Mountain… and voila! You can join me as a BTM!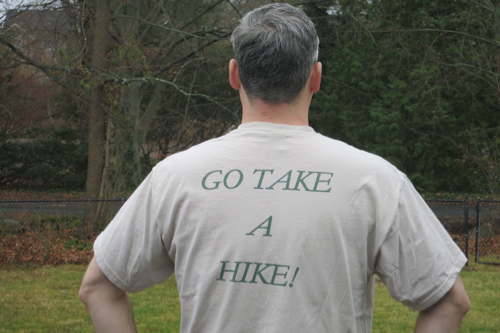 Oh, wait… the Burlington Land Trust no longer runs the BTM program. They now offer two different challenges: the Vertical Mile Challenge and the CT Century Corps Challenge, which you can read about here. I understand the change – as the BLT was adding more land and more trails, keeping up with a redline challenge in town became a bit unmanageable for the all-volunteer BLT. But it's nice to know that I'm part of history, in a very, very, very insignificant way.
You can find a listing and read about all the trails and hikes in Burlington here.