Amistad Trail: Farmington
10 locations as of May 2013
1. Austin F. Williams Home and Carriage House
127 Main Street (Private residence)
One of those responsible for bringing the Mendi to Farmington, Williams gave a piece of his land on which townspeople built a dormitory for the men and boys. Later remodeled as a carriage house (the yellow building to the left in my picture), the building still shows dormitory space, Sengbe's private room, and back-to-back privies. An addition to the rear served the Underground Railroad; a trap door to a heavily baffled basement still exists.
After Emancipation, Williams used this part of the building as his employment office for freed blacks. Williams kept meticulous records of his expenditures and activities, and wrote frequent letters about the Mendi to friends and business associates in New York.
The Austin F. Williams House is also a National Historic Landmark

2. Norton/Barney House aka Glenbrook
11 Mountain Spring Road
***Updated 2/11/2010 Below
Built in 1839 by John Treadwell Norton, who became a major supporter of the Amistad Africans. John Treadwell Norton, a prosperous businessman and "gentleman farmer" who had the Georgian-style mansion built for him, may also have been a stationmaster on the Underground Railroad. Norton, an internationally known abolitionist, was one of the founders of the Farmington Anti-Slavery Society in 1836.
It is currently used as a conference center and bed and breakfast by the University of Connecticut.
2/11/10 I received an email today with some important updated information:
Message: I am the owner of 11 Mountain Spring Rd Farmington and need
to give you the current information on our home. It was built by John
Treadwell Norton in 1832, not 1839. My husband Tim & myself bought the
house from UCONN in 2001. It is no longer called the Barney House. I
have gone back to the original name "Glenbrook". We have done an
extensive restoration/renovation of the house and live there with our
family plus 4 dogs. Please do not pull in the drive unexpectedly
because you may injure one of our pups… Thank you, Portia
Cool lady. So yeah, this is a private home now, so admire it from Mountain Road only.

3. Canal House and Pitkin Basin
128 Garden Street
The Mendi often traveled on the Farmington Canal to make appearances throughout the region to raise money for their voyage back to Sierra Leone. In this spot, one of the Amistad Africans, Foone, lost his life – apparently a suicide – while swimming in the Pitkin Basin in front of the Canal House. A shallow turnaround and storage area for boats, the Basin was also the village swimming hole.

4. First Church of Christ Congregational
75 Main Street
One of the oldest churches in Northern Connecticut, the structure is also a National Historic Landmark. Church members were active supporters of the Amistad Africans, providing them with housing, clothing and education while they lived in Farmington. Their minister, Reverend Noah Porter, supported the abolitionist cause. Upon their arrival in town, the newly-freed Mendi were introduced in the church. They attended weekly services here. Just prior to their return to Africa, their leader, Sengbe Pieh, delivered a moving address in his native language.
Later, church members supported efforts by the Rev. JC Pennington, a freed slave who became a minister, to educate Hartford's African Americans. Pennington preached here on occasion, exchanging pulpits with Porter.

5. Reverend Noah Porter House
116 Main Street (Private residence)
Minister of the First Church of Christ from 1806 to 1866, Reverend Noah Porter was a strong believer in abolition and education. He held to his convictions and sermonized about them from his pulpit despite opposition from vocal anti-abolitionist factions in his church.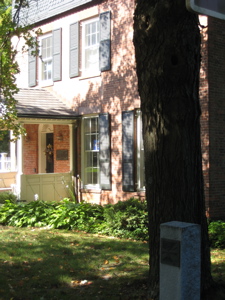 Several of the Porter's seven children devoted their lives to education, as well. Their oldest daughter, Sarah, founded Miss Porter's School in 1843 and their son, Noah, became president of Yale College. Oh, and Miss Porter's boarding school today costs almost nearly $60,000 a year to attend. The Mendi would be… I don't know. I don't think they could compute that.
The American Board of Foreign Missions was founded here in 1810. The first missionaries would be sent overseas in 1812. In 1841, Margru, one of the three girls who survived from the Amistad, lived in the Porter House for eight months. Sarah Porter continued to live in the house after her father's death in 1866, adding the third floor in the 1880s.
My picture here is abysmal, but I felt sort of creepy taking these pictures of private homes. CTMQ friend Historic Buildings of CT has a much better shot:

6. Riverside Cemetery
Garden Street
Historic cemetery with many 18th and 19th century graves. Of particular interest are the Indian obelisk – monument, and the grave of Foone, one of the Amistad Africans. He died during their trial and stay in Farmington. The cemetery sits along the historic Farmington Canal. Off in the near distance, the fertile fields that were once worked by the Amistad former slaves can be seen.
This small cemetery is no joke. There are all sorts of abolitionists buried here, like Francis Gillette from Bloomfield (His house is part of the Freedom Trail), John Treadwell Norton, Noah and Sarah Porter, and Horace Cowles. Wilmarth Lewis, whose collections are now at the Lewis-Walpole Library (CTMQ Visit here), is also buried here. The monument to the wiped-out Tunxis reads, "Chieftains of a vanished race, In your ancient burial place, By your father's ashes blest, Now in peace securely rest."
I thought that to be pretty cool.

7. Samuel Deming Store
2 Mill Lane
Merchant Samuel Deming traded goods from all over the world here. This site was the first place the Amistad Africans stayed when they arrived in Farmington. Later on it became their school where they attended classes five hours a day. The property is currently under private ownership and now open as "Your Village Store."

8. Union Hall
Church Street
Now the Farmington Art Guild, this building was once the site of frequent meetings of both abolitionists and anti-abolitionists. Its upper floor was rented to both groups back in the day. It's now owned by the very similar looking First Church of Christ above.

9. Farmington Historical Society
138 Main Street
Here's the funny thing – this isn't a museum. You can't just go visit the charming little building on Main Street and poke around. But, in a sort of ironic way, these are the folks most responsible for putting most of the Farmington/Amistad information together in neat little brochures – the brochures that go me started on this crazy Amistad/Freedom Trail thing.
So I'm happy they've been added to the Trail in early 2011. They deserve to be, that's for sure… As I think they are the only entity that offers actual guided tours of any Amistad/Freedom Trail sites. I haven't taked a tour, but I've spent some time in their parking lot figuring out addresses in historic Farmington. That counts.

10. Chauncey Brown House
I've driven by the Chauncey Brown House countless times. Heck, I'll wager you've sat in traffic, inching past it, at least once or twice.
For it is located on route 4, near the route 10 intersection. The area has been a mess for my entire Connecticut life. At least now you'll have something to tell your antsy family while crawling along.
While awaiting the verdict of the Supreme Court for the Amistad Affair in 1841, the Amistad Committee made plans to send the Amistad captives from New Haven to Farmington upon their release. The girls, Temme, Kagne and Margru, were to be housed with the families of Horace Cowles, Timothy Cowles and the Reverend Mr. Noah Porter.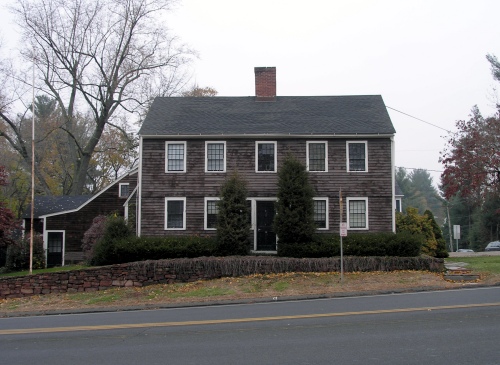 Horace Cowles died in February, 1841, prior to the arrival of the group in Farmington. Temme arrived at the home of his widow, Elizabeth Hurlburt Cowles, on March 19, 1841. The Widow Cowles moved to West Hartford and Temme went to the home of Dr. Chauncey Brown, where she lived for most of her stay in Farmington.
Dr. Brown's wife, Julia Strong Brown, wrote an article about her care of "Tamie" which was printed in The Farmington Magazine in February 1901. In it she wrote: "One of these by name of Tamie was sent directly to me and remained with me until their departure for their native land."

CTMQ's Amistad Trail page
CTMQ's Freedom Trail page