Tut, Tut, Calvin
First Baptist Church (Essex)
I usually give away why I'm dedicating CTMQ space to something in the title or at least a subtitle. But not today! I'm making you READ a few lines!
But just a few. The First Baptist Church of Essex, Connecticut is… one of only three Egyptian Revival churches in the United States.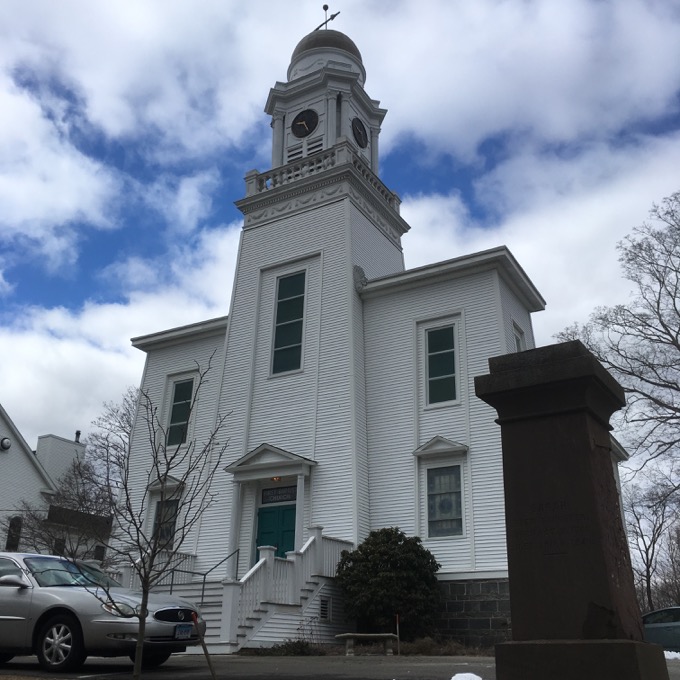 I know, right?! Actually, it is kind of bonkers when you consider the Washington Monument was built during the Egyptian Revival period of American architecture and that structure is fairly famous.
Even if Egyptian revivalism didn't take the US by storm, and even if no one actually cares that lovely little Essex has one of the three churches in the entire country that was built in this style, I —
— Wait. I know of one guy that cares. My good friend Tom down at Twelve Mile Circle. I wrote something 7 years ago wherein I mentioned this slight oddity and he did what he does best and tracked down the other two churches and wrote about the whole thing. Which is extra special nice because now I don't have to. Thanks, Tom! (With an assist from Daniel at his Historic Buildings of CT.
The Egyptian Revival style first came into vogue during the initial half of the Nineteenth Century. It was an architectural outgrowth of Egyptology, a field of study springing from Napoleon Bonaparte's expeditions into Egypt circa 1798–1801.
Built in 1846, and according to Historic Buildings of Connecticut, "constructed by master builder Jeremish Gladding, the Baptist Church was designed in the Egyptian Revival style, modeled on an 1844 Presbyterian church, the Old Whaler's Church in Sag Harbor, Long Island, designed by Minard Lafever."

Minard Lafever (1798–1854) designed numerous structures. He also published a series of pattern books including the Modern Builder's Guide of 1849. Many architects and builders acquired his books and used his plans throughout the nation. Lafever was actually known more for helping to spread the highly-popular Greek Revival style although he dabbled in various other architectural oeuvres including Gothic Revival, Renaissance, Federal, and of course Egyptian Revival. The number of Egyptian Revival churches in the United States would likely be cut to a single example if it were not for the direct and indirect influences of Minard Lafever.
Cool. So the Old Whalers' Church in Sag Harbor is one of the other two. It's also a National Historic Landmark. And they mention the Egyptian thing on their website. AND it's also really neat looking.

Somehow Tom was able to track down the third – the Downtown Presbyterian Church in Nashville. Since this site is only about Connecticut, I'll only mention that the Nashville church has a full-on Egyptian temple motif going on inside. Which is sort of weird, no?
What with that whole thing about Passover and the Egyptian heathens keeping the Israelites as slaves and the whole bit with the lamb's blood and infanticide and such.
Anyway, there you have it. You just read a page about one of America's three Egyptian Revival churches that happens to be up on a little hill in Essex, Connecticut.
Of all places.