Waterbury Can Be Shady
Fulton Park, Waterbury
May 2019
Most of these city park "hikes" are more accurately "strolls." Not that there's anything wrong with that. I don't really have a definitive definition for which of these city "strolls" makes it into the CTMQ Hikes category, but it would be something like, "if it takes more than 15 minutes to see the whole place, you'll probably read about it here." Also, if it happens to have some sort of historic import, that may make it worth my while as well.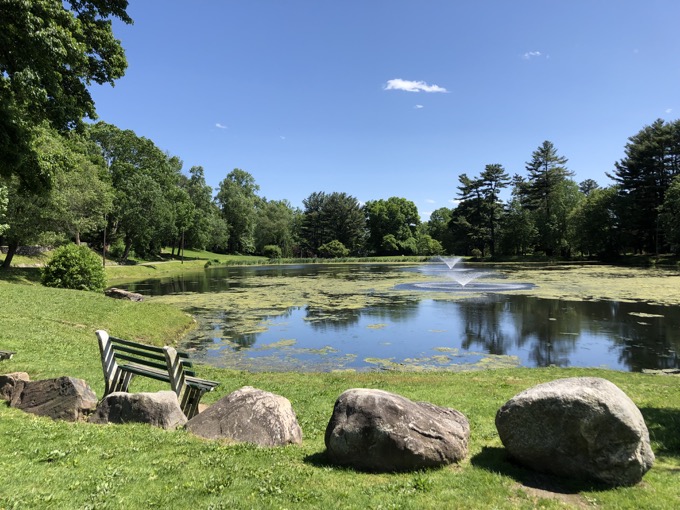 And the 70-acre Fulton Park in the center of Waterbury satisfies both criteria that I just made up for the purpose of justifying this page. After all, the "Central Park" of Waterbury was designed by the Olmsted Brothers, the successor landscape architecture firm to Frederick Law Olmsted, renowned designer of New York City's Central Park and recognized "Father of American Landscape architecture." Fulton Park is an example of classic Olmsted design.
The historical anecdotes on this page mostly come from this pdf and this blog. It is clear to me that this park has had a long, interesting, and at times rocky past – much like Waterbury itself. For what it's worth, I walked almost the entire place and found it relatively clean, well-kept, and a great place for local families to congregate and play.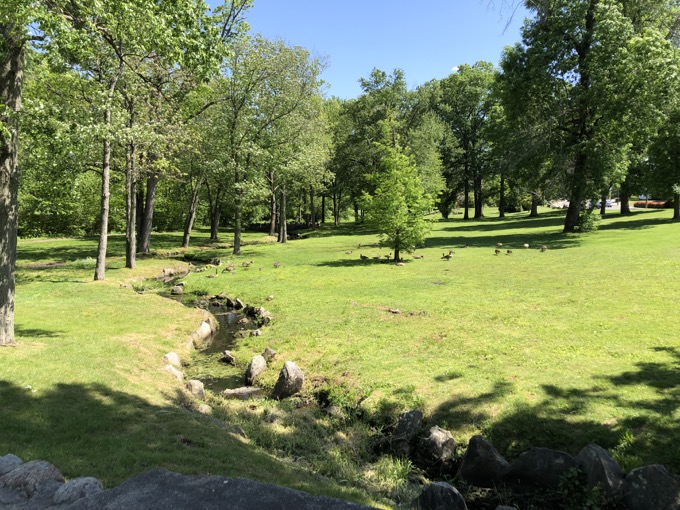 As everyone knows, early 1900's Waterbury was an industrial powerhouse. The brass industry and all that. In 1919, William E. Fulton, president of the Waterbury Farrel Foundry and machine Company acquired land around a reservoir which was no longer used by the city. He contracted with Olsmted brothers and in 1920 Fulton and the city agreed to jointly fund the park which was constructed over the next five years. Fulton then donated to the whole park to the city and dedicated it to their recently deceased son, Lewis. I don't know who this Irving Kent character is though.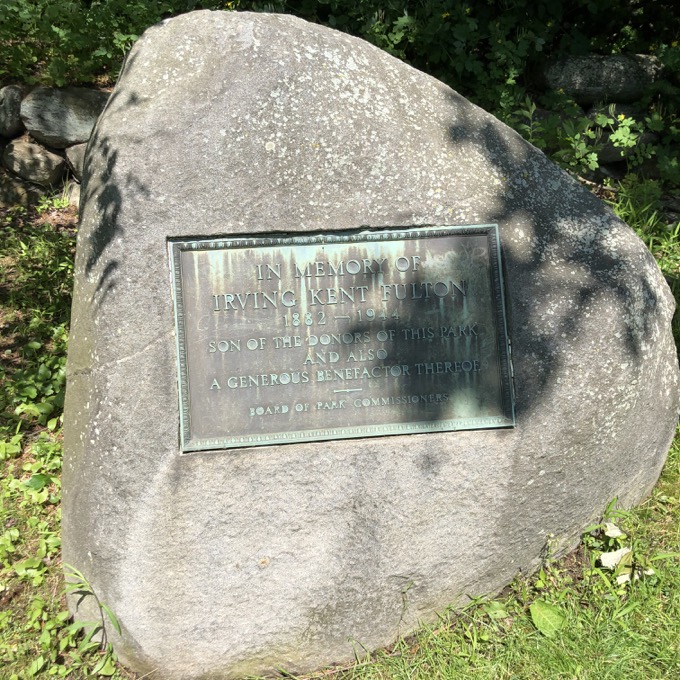 I parked at the northern end of the park on shady Greenwood Street. Shady like tree-lined shady, not like Waterbury-shady. Like a typical Olmsted park, there's no "right way" to enjoy the space. Asymmetric paths follow contours and go willy-nilly, often crossing over each other. Olmsted wanted people to choose their own adventure and for his parks to be an escape to the country for city residents. To Olmsted and his firm, these parks had real purpose.
There have been some relatively recent efforts to restore the park by civic groups and the city. From what I could see, they've done a rather amazing job.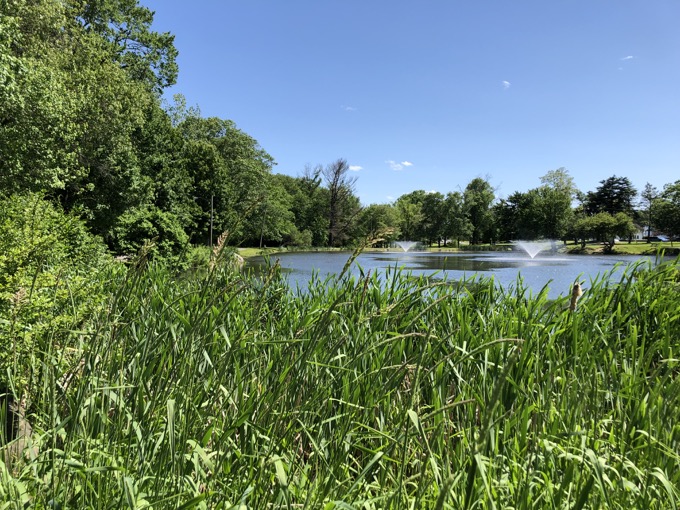 I walked a series of paths, around the three ponds and over the five arched stone bridges. There are lots of rubblestone walls and various little buildings. (This means they were built with the stones found on the site as they built it.) There are many shaded grottos and even deep woods paths that really do transport visitors "away" from Waterbury. But this goose was pure Waterbury: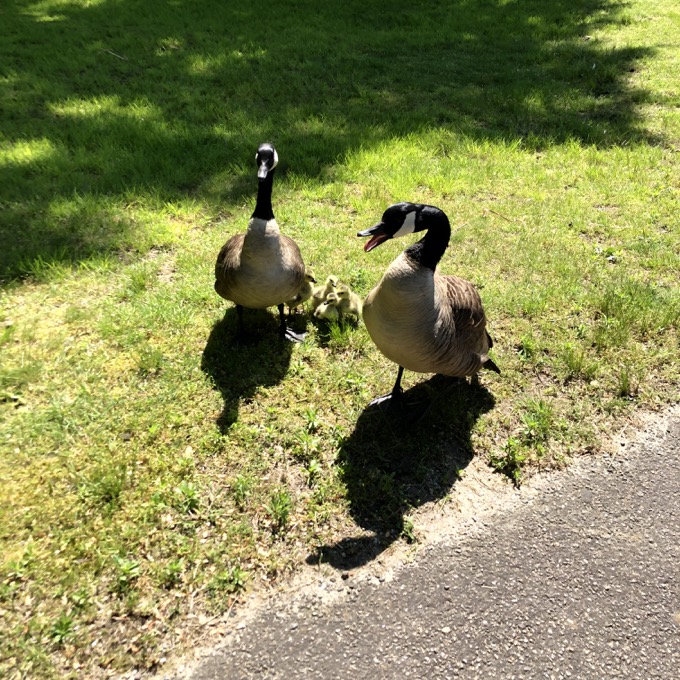 My man stood his ground and aggressively hissed at me. This was his territory and, presumably his family. His corner so to speak. I walked around him. Moving on, I took in many of the original buildings that remain. There's a warming hut that used to have a wading pool next to it. The pool is gone – although there is a splash pad here these days. (There's also a newer swimming pool and basketball courts sort of hidden away in the woods on the east side.)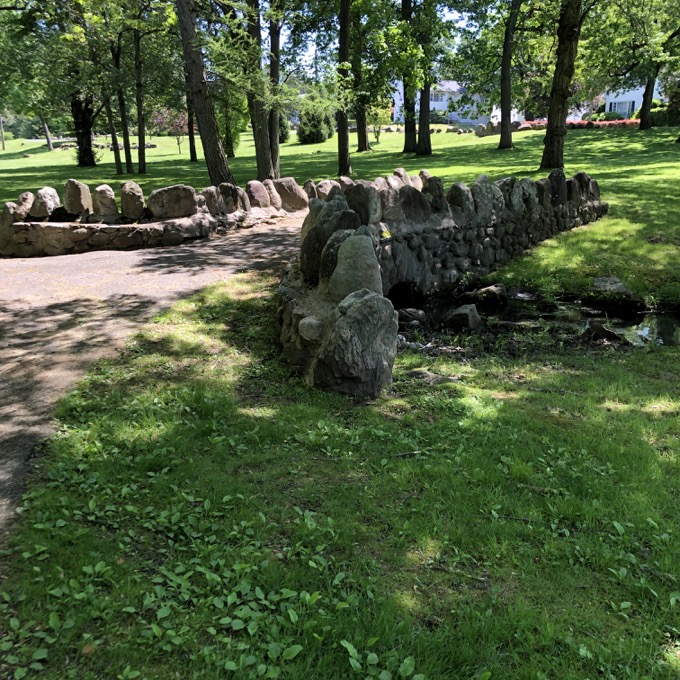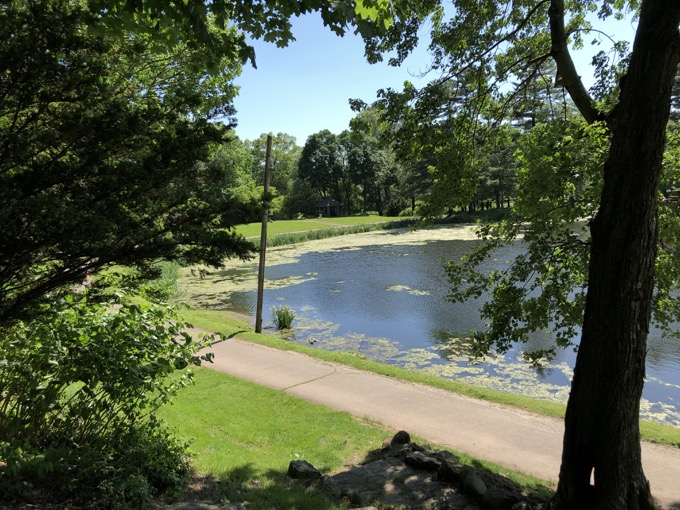 I walked all the way to the southern entrance then back up a hill to an eastern entrance with what I assume are original stone steps and walls leading up to a terrace. It's all very nice.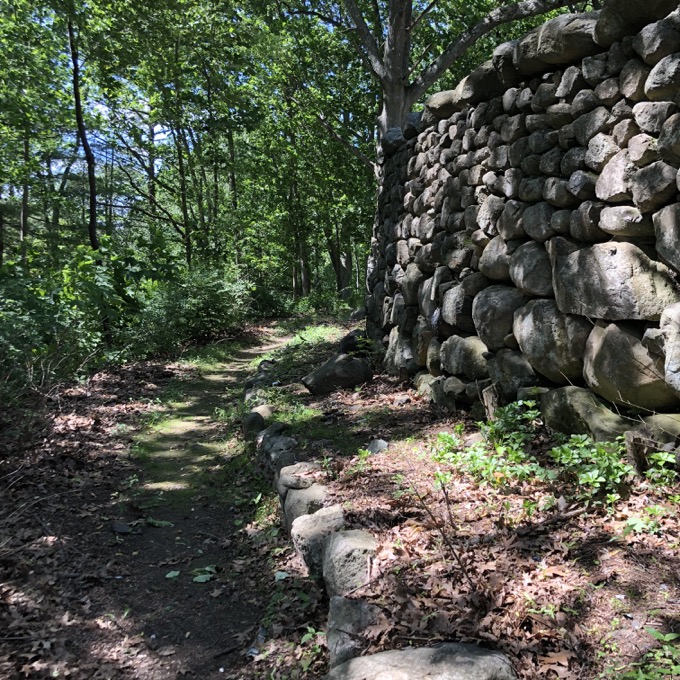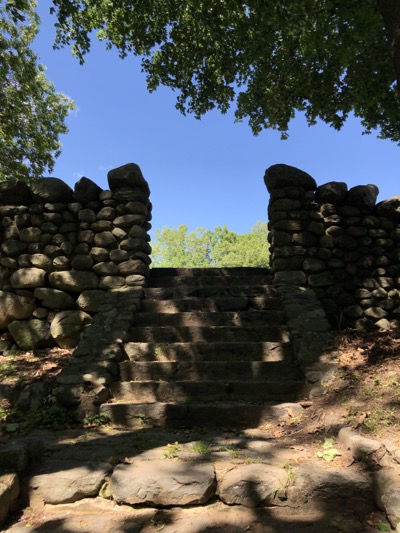 Back down and through the woods to my last stop – a terraced grotto amongst some gnarled cedars and rhododendrons. I think this was originally a memorial to the Fulton's fallen son? I don't know, but it's a nice little spot just off of Greenwood Avenue.
Not the most challenging "hike," nor the most picturesque. But you know what? I'm very happy Fulton Park exists, that there are lots of people who care about it, and that I spent some time here. So there.