Holy Crap
Grown Ups 2, 2013
I know. You have questions. And they are all valid. So I'll try to answer them.
I listed this movie as a Connecticut movie because Wikipedia lists it as a "film set in Connecticut". Having suffered through it, there is no mention of the state and there are no identifiable Connecticut sites. However, there is one quick scene with an I-95 shield with the word Connecticut on it. Don't believe me? Here it is: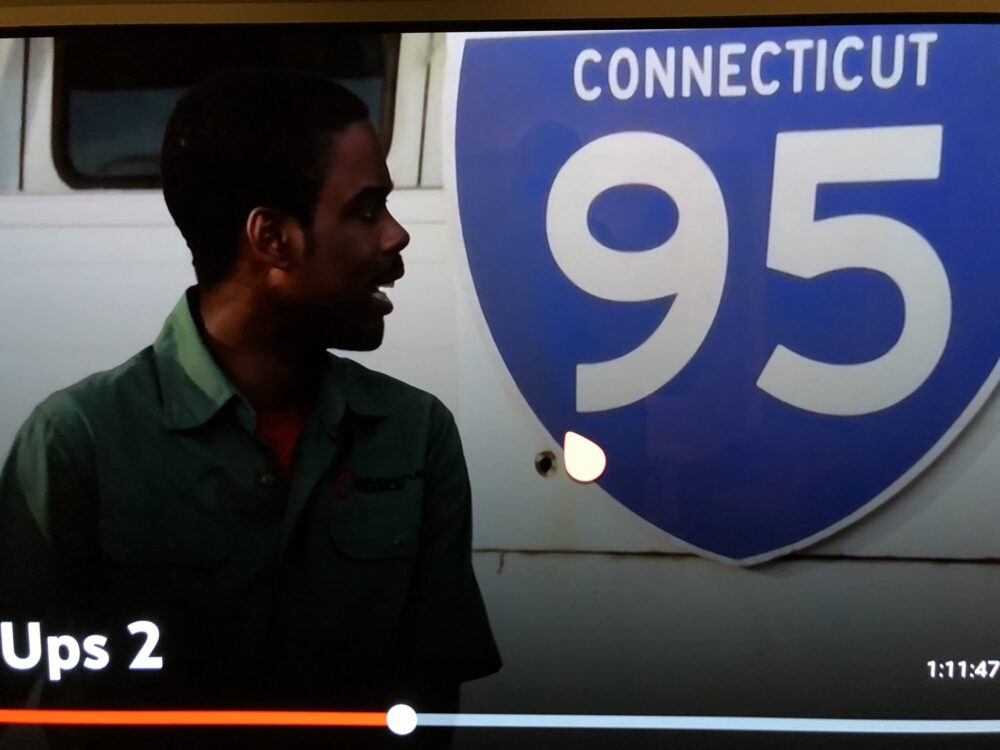 I have not see Grown Ups and I do not plan to see Grown Ups. (I just watched Grown Ups because someone told me to.) Grown Ups 2 was so bad… so unfunny… I can't even find the words to describe it. The Wikipedia "reception" section is thousands of words long; a collection of dozens of reviewers using their thesauruses to destroy this movie and all those responsible for it.
Put it this way, in 2014, New Zealander comedians Tim Batt and Guy Montgomery watched the film every week for a full year for the second season of their podcast, "The Worst Idea of All Time". And became mildly famous for doing so.
There is no plot. The movie is merely a series of juvenile, scatological, stupid, homophobic, boring skits. But here's the thing… a list of comedians and comedic actors – who have shown they are capable of being funny – who appeared in this mess:
Kevin James
Chris Rock
David Spade
Maya Rudolph
Nick Swardson
Colin Quinn
Tim Meadows
Jon Lovitz
Shaquille O'Neal
Cheri Oteri
Ellen Cleghorne
Andy Samberg
Bobby Moynihan
Will Forte
There are all sorts of friends and family of those above who appear in the film, which was filmed in Boston over the course of a month. I've not listed one Mr. Adam Sandler above because he deserves special recognition for being mostly responsible for this crapfest… and he's the worst.
Not to mention that Salma Hayek, Steve Buscemi, and Maria Bello feature. Now that you've seen these names, want to know who the best – and only funny character is played by? Taylor Lautner. Yes. Taylor Lautner made me laugh the two times I laughed during the movie. I hate this movie.
I hate that they made it just for a paycheck and Sandler recruited everyone he knows to show up for a few scenes and collect that paycheck. Do not watch this movie.
CTMQ Rating: 0 out of 5 thumbs up
Connecticutness: 17 out of 169 Nutmegs
Filmed in Connecticut? No
Wealthy Caucasian with a Big House? Yes