Rockin'
Lime Rock Park, Salisbury
September 28, 2012
When hiking the Appalachian Trail, I'd hear a persistent rumor that thru-hikers could get into Lime Rock for free – should he or she happen to come down to Route 7 on a race day. I've always believed that to be true, but don't have any first hand evidence.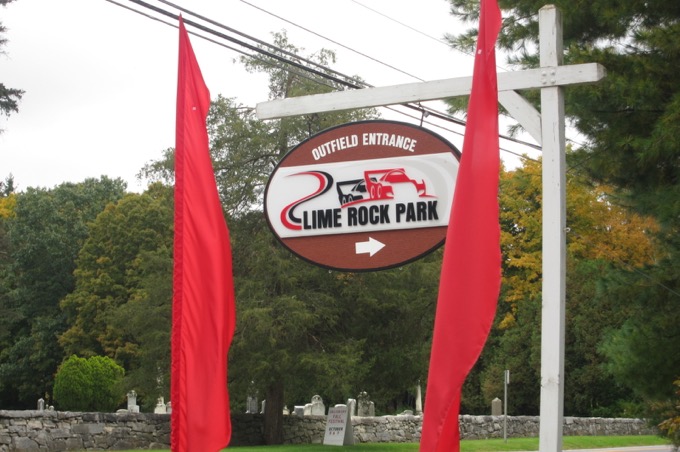 I missed the opportunity to test it, but 15 years later I bought tickets like a normal person. I bought two, in fact, but a software glitch only charged me for one. Being the narc that I am, I notified Lime Rock, told them the online purchase path I took, and received a very nice note in response. Something along the lines of, "Oh, wow, thanks! You just saved us lots of money and headaches!"
That made me feel good, but I was hoping for a free afternoon at the Skip Barber Driving School or something. They can still make good. (Just kidding, of course. OR AM I?)
Anyway, Lime Rock is one of those Connecticut things that is pure Connecticut: Beautiful in the fall, expensive, playground for the rich, historic, near New York, and where dudes dressed like this get on the mic: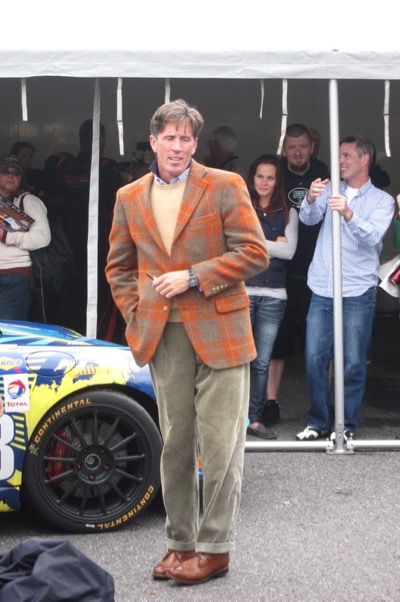 But it's also fun, cool, and unique. Despite my two tickets, Hoang couldn't join me as planned due to a babysitting snafu. One woman there reminded me of my missing wife, wearing the EXACT SAME footwear Hoang TOTALLY would have rocked at the Rock:
Okay, okay, no more good-naturedly making fun of people. Though I will recount a funny story… a coworker was dating some guy who invited her to Lime Rock for a date. She'd been to Stafford Springs Speedway before, and learned that the crowd there is very, um, NASCAR. Confederate flags and "These colors don't run" types.
So she was all set to play the part for her date at Lime Rock until I stepped in. Lime Rock is decidedly not Stafford Springs. In fact, it's more of a polo crowd. Instead of Stafford's pick up trucks and Cameros, it's Lotuses and Aston Martins.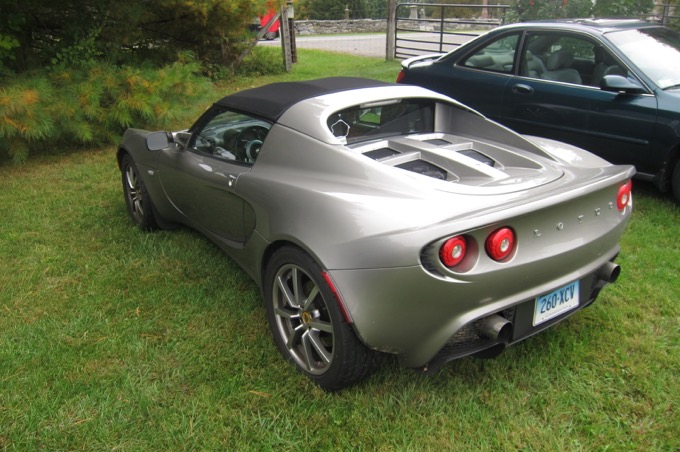 Heck, just have a look at Lime Rock's suggested accommodations should you plan to stay overnight in the area.
For the record, I don't fit comfortably into either crowd. Both tracks are studies in stereotypes in a way, which is something I kind of love… so with that, let's learn about the historic Lime Rock Park!
Built in 1956, Lime Rock Park is a natural-terrain racing venue. The track is owned by Skip Barber, a former race car driver who started the Skip Barber Racing School in 1975 – and a guy I'd love to meet during a day at his racing school. Just sayin'.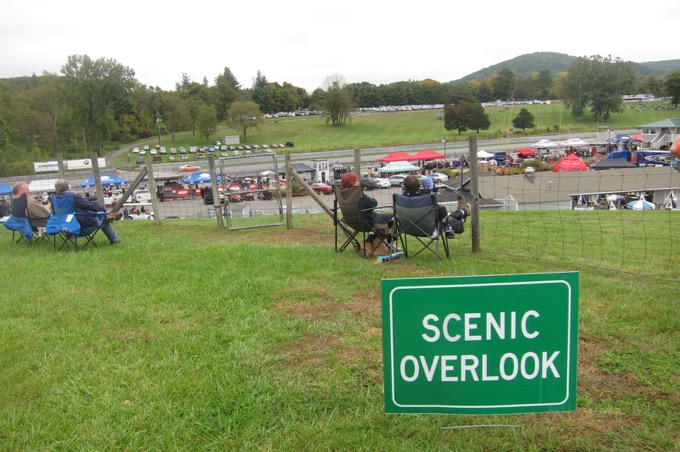 It can be easily argued that Connecticut's Lime Rock Park is the most significantly historic road racing circuit in North America. Only Wisconsin's Road America and California's Laguna Seca can compare to Lime Rock with respect to longest continuous operation – Road America opened in 1955, Laguna Seca and Lime Rock in 1957 – but only Lime Rock's circuit remains exactly the same as when it opened in spring of that year.

And it was Lime Rock Park that hosted the race that forever changed the face of motorsports in America, the 1959 Formula Libre event. The best pros and the best amateurs in the best cars went head-to-head in a three-heat format. Thanks in equal part to its major media coverage and the startling result – Indy 500 winner Roger Ward won the contest in a midget, besting F1 cars and world championship sports cars – the Formula Libre weekend knocked down the walls that had separated professional road racing drivers from their amateur brethren.
That sounds… impossible? Like, extremely, extremely impossible. But here are the results… a midget car beating Ferraris and Porsches. That's bananas.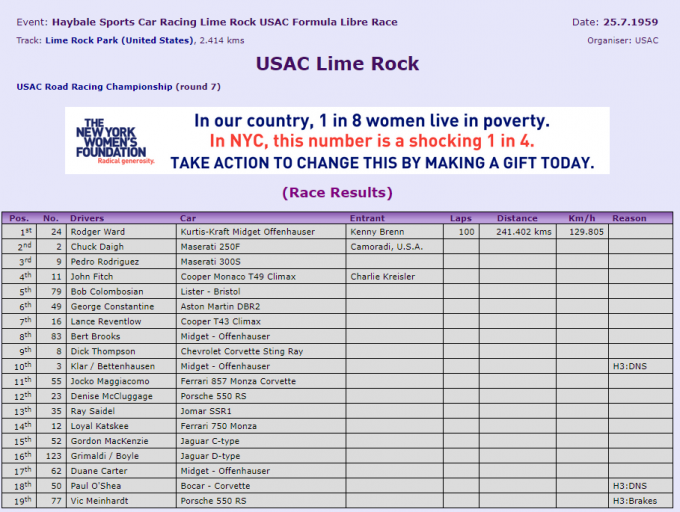 There were all sorts of different classes racing when I was there. There seemed to be a disproportionate number of MINI Coopers flitting around the track though. That's something that just looks odd to me.
Lime Rock is 1.50 miles of up hill and down dale, a track that looks deceivingly simple but is immensely challenging to drive quickly. […] Lime Rock's history is inextricably entwined with that of sports car racing's. Almost all of the sport's greats have raced here, from that industry changing Formula Libre race through the SCCA hay days of the 1960s, 70s and 80s in Can-Am, F5000, Trans-Am and Atlantic as well as the Camel GTP and ALMS championships. From the mid-1990s onward, Lime Rock has seen everything from ground-pounding NASCAR stockers and modifieds to the technological tour de force IMSA prototypes.
I'll pretend that I understand what all of that means and move on. Lime Rock is a very different type of race care venue. It truly is a park… there are no stands at all; just grassy knolls upon which to sit. You can walk all around the place, finding different vantage points – none of which offer views of more than a small section of the track.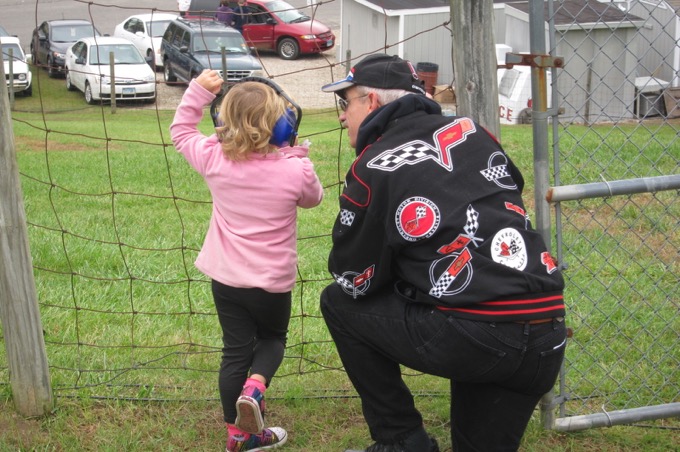 And it really is beautiful. This is Salisbury after all, and the Appalachian Trail really does take hikers within a mile or so of the track. For me, that's the allure of Lime Rock – my pictures don't do the experience justice at all.
The allure for most who go here is, of course, the racing. Lime Rock, from what I gathered, is a very open venue. Fans can just walk into the paddock areas and check out the cars – at least that's how I think it is for everyone. I have no idea if this is a normal thing at these types of race tracks, but it was mildly thrilling to stand next to – check notes again – MINI Coopers.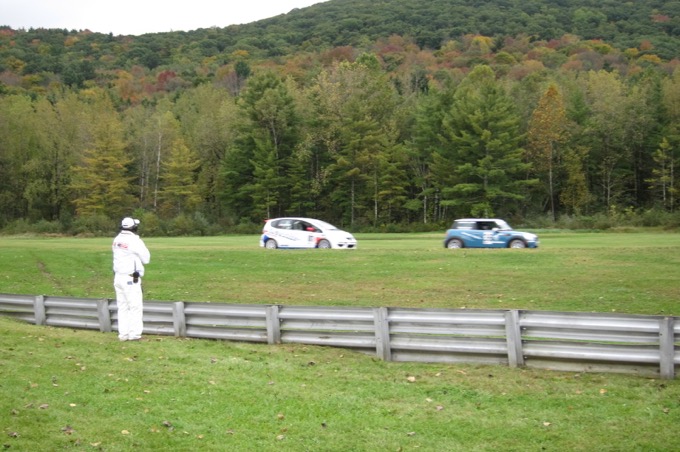 I kid, I kid. (Not really, as there were lots of MINIs there, but there were also fancy cars for fancy people like these two: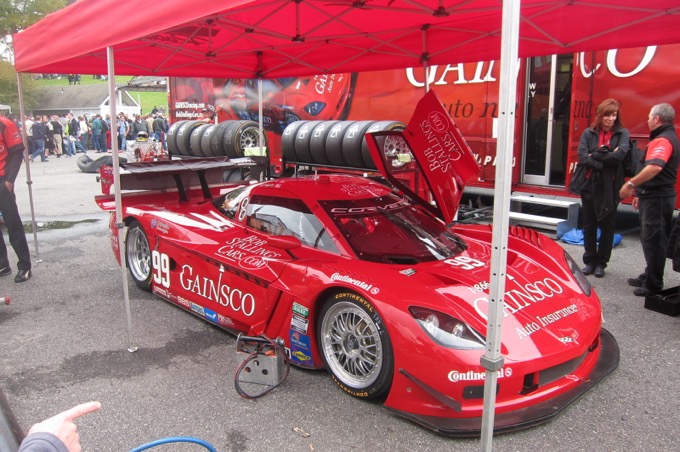 I think beyond the natural beauty and the racing, the historical element is a major draw as well. Under Skip Barber's stewardship, Lime Rock has been serviced by two major, multimillion-dollar renovations – but the bones of the 1.5-mile track has always remained the same since it was conceived in the 1950's.
That original conception in 1956 was by Jim Vaill, who, along with John Fitch and Cornell Aeronautical Laboratory, built the track utilizing state-of-the-art road and highway safety principles of the time. Flash-forward to 2008…
…when the track surface was repaved in its entirety, and a number of safety elements were brought to the latest standards. Crucially, the project was engineered specifically so as to not change any aspect of its original track design and layout; by Skip's demand, the same tricky cambers, the same widely variable track widths and the same sinuous radii were precisely preserved. If a driver from 1957 were somehow time-machined into the future and plunked down onto Lime Rock today, he or she would find no difference in the racing line. The braking, turn-in, apex and track-out points a driver experiences today are the exact same as those Mario Andretti, Dan Gurney, Skip Barber, Sam Posey and dozens of other legends navigated back in the day. The 2008 project was a remarkable accomplishment, and today it makes Lime Rock unique among its North American peers.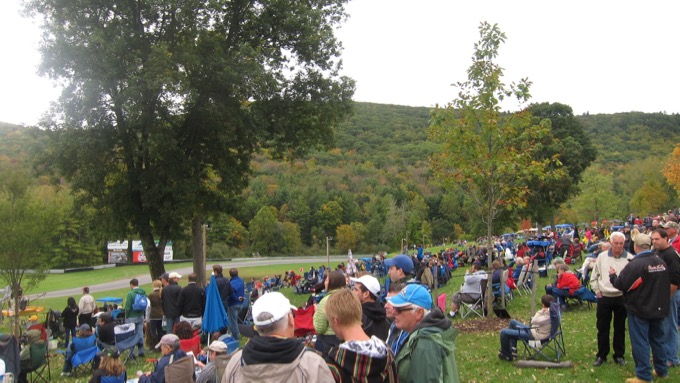 If you're curious what event I saw… why, it was the Grand-Am Rolex Sports Car Series (DP/GT) & Continental Tire Challenge (GS/ST) of course. And there was a special treat: The Grand-Am Rolex Sports Car Series Presented by Crown Royal Cask No. 16 championship finale! Okay, none of that meant anything to me at all either, but I'm sure it was exciting for a particular subset of car racing fans! But since we're thorough here, okay Lime Rock, what does any of this mean?
That means there is a very good chance that you'll be witnessing the race that decides the driver and carmaker championships in both DP and GT! The feature race on Saturday showcases the same cars that race in the Rolex 24 Hours of Daytona. The Daytona Prototypes – Riley, Dallara, Lola and Coyotes powered by BMW, Chevy, Porsche and Ford engines – do battle at the same time with GT-class cars: the fire-breathing Corvettes, Porsches, BMWs, Mustangs, Camaros and Mazda RX-8s. Also on tap are the "showroom stock" cars in the popular Continental Tire Sports Car Challenge, where virtually every automaker is represented in the Grand Sports (GS) and Street Tuner (ST) classes.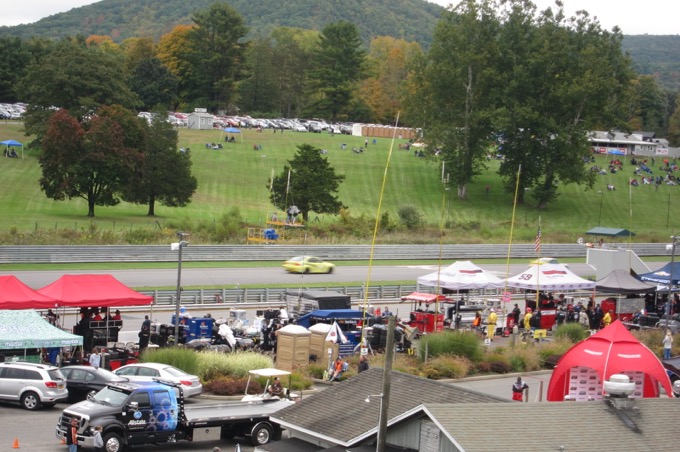 Awesome! I watched several races and walked the grounds a few times. There is, of course, a whole food and drink area – the only place, I think, with TV monitors from which to see the action on the full track. Seemed like the best place to hang here.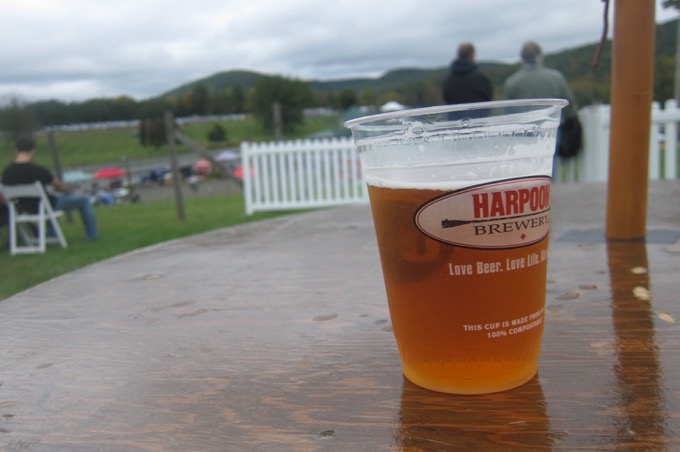 There are family friendly things here on the midway and drivers will sign autographs if you're into that. It's weird, like, I'd go to Lime Rock again but have no need to go to Stafford Springs again… even though the experience at Stafford was more exciting. For all the dumb, wrong, 'Merican reasons – louder! Crashier! Bump and runs! Fire!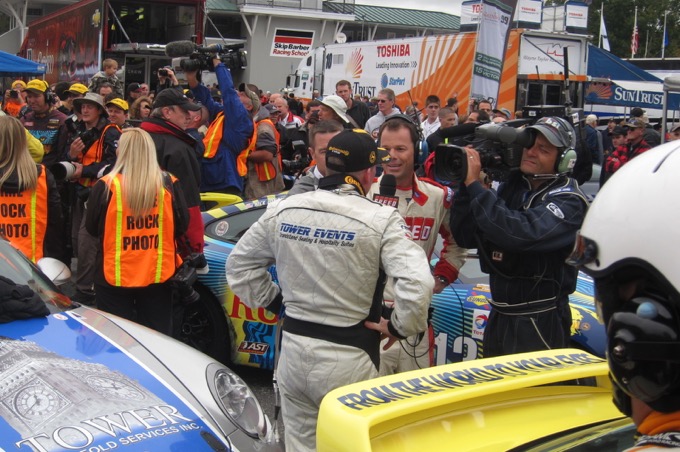 Ugh, we all have that Neanderthal within us, and I can't lie. I enjoyed Lime Rock; the cars are lovely and the grounds are fantastic. I got a Harpoon IPA here and a Bud Light at Stafford (true story). But I think it's beauty and sprawling grounds is what makes it a bit difficult to fully enjoy; you can't really see much.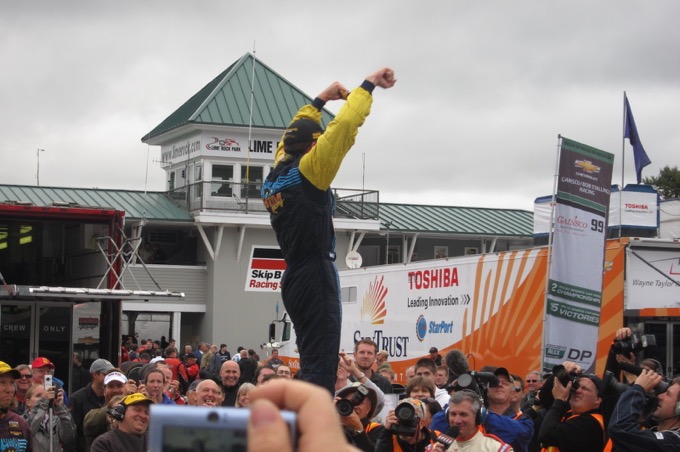 But I did see some finals race where some guy was really happy and was interviewed for SpeedTV or something. At least Lime Rock trots out the skimpy-clothed women with extensions and fake eyelashes to remind us that yes, that Neanderthal thing? It really is in all of us.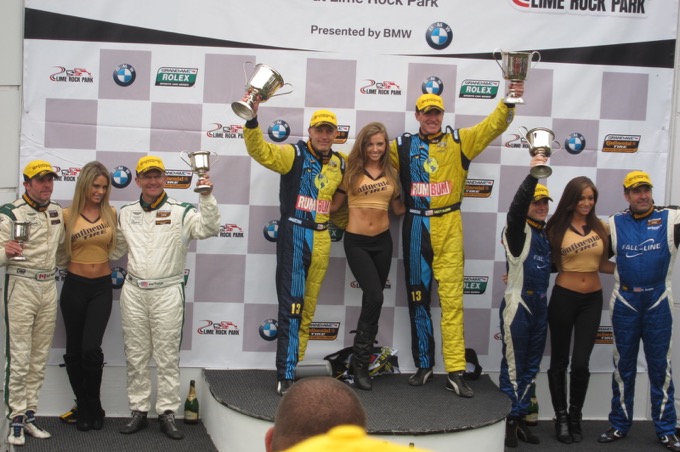 But at least all the dudes who lusted after those women can go to church and repent in quiet peace in Salisbury. Back in 1957, the local community fought and fumed against Sunday racing and filed an injunction against Lime Rock from doing so. The case went to the state Supreme Court which issued a permanent injunction against Sunday racing at the park. Good for them.
Lime Rock is cool, historic, pretty… and pretty fun. It's something everyone should experience at least once.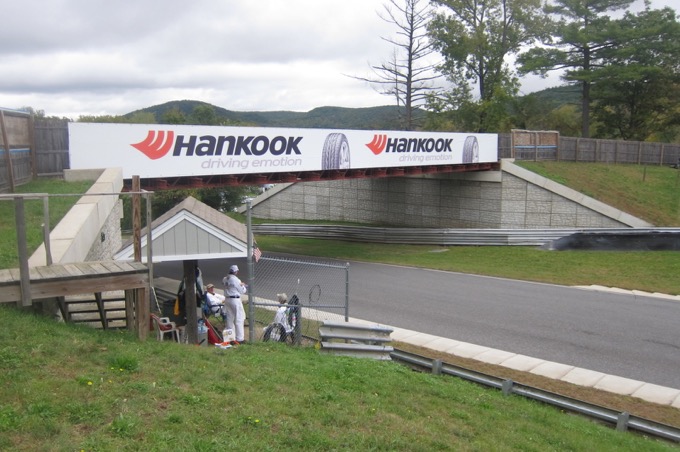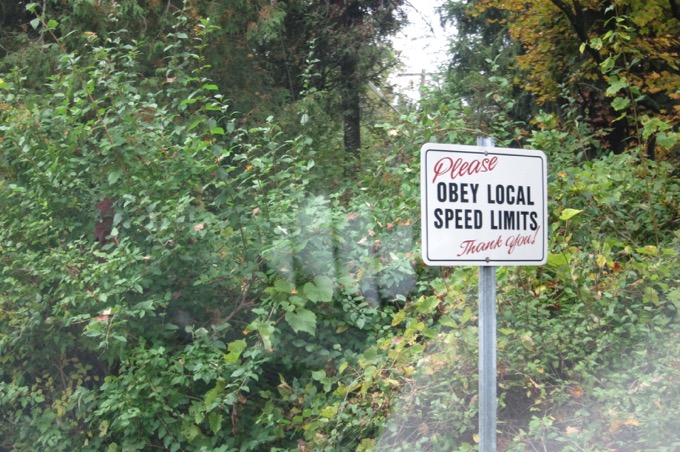 Lime Rock Park
Sam Posey explains the track