A Case of Mono
Mono Pond State Park Reserve, Columbia
1.5 Miles, November 2019
A good hiking partner is always game to hike. Finding someone on the chilly Saturday after Thanksgiving to wander around Columbia would probably be somewhat difficult. So I'm fortunate to have my 8-year-old son who, barring illness or injury, simply can't say no.
To Mono Pond we go!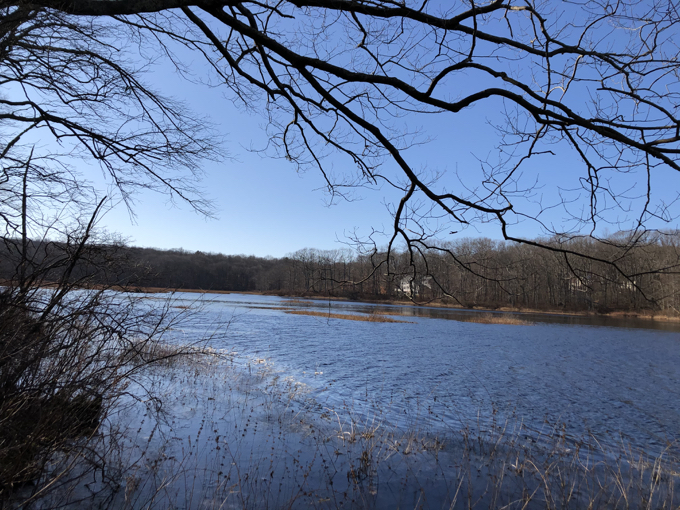 This is one of those state parks you've likely never heard of. Probably because it's a "State Park Reserve," which is one of the handful of designations Connecticut doles out that I've never understood. It's state land, with a parking lot and signage, a boat launch, and a trail system. I don't think it's a size thing either… but I've gotten past caring or trying to figure it out.
There are officially two trails here, but it's more of an out and back with a couple small loops. I'm glad somone felt the need to add the loop sections, but I'll be honest with you – they don't really add anything to the hiking experience.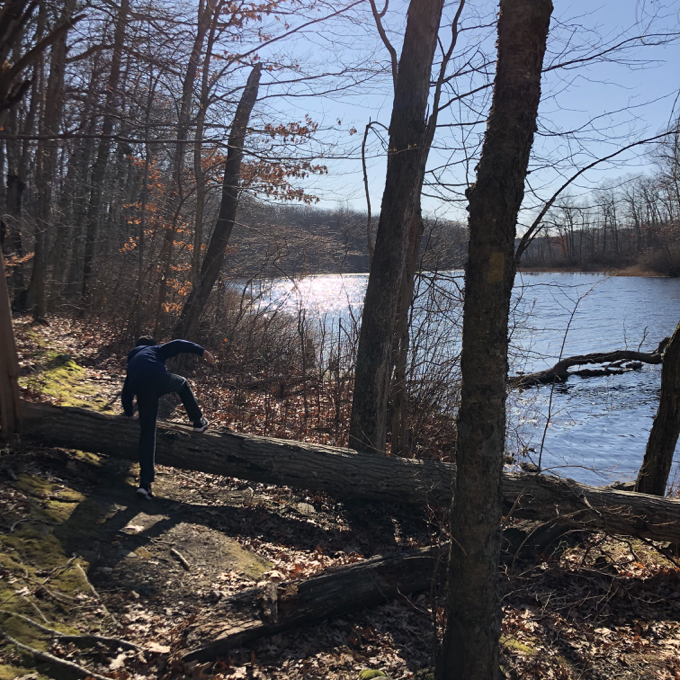 The good trail is all along the pond – which is quite big to be called a pond, but again, nomenclature schnomenclature.
Calvin and I began along the pond's edge right out of the parking lot. Mono Pond is a long and skinny affair, with a fairly large island in it. My man Matt explored the island and states that there are no trails but are some interesting rock jumbles and a rogue campsite. I asked Calvin if he wanted to swim over and he didn't ever dignify that with a response. I just got that little kid stare.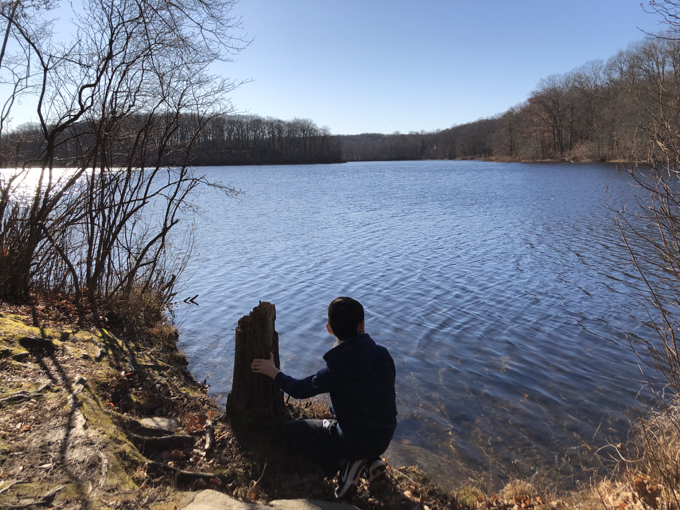 We followed the yellow-blazed trail over roots and rocks and a few streams here and there. I imagine this hike can be quite wet in the spring, so be wary of that.
While this is a very nice little walk, I can't pretend it's all that exciting. So let's take a moment for some truly exciting news about our little Mono Pond State Park Reserve. In late 2019, The Trust for Public Land announced that it will be expanded quite a bit. Not only that, but it will connect to the Air Line Trail as well, which is pretty cool.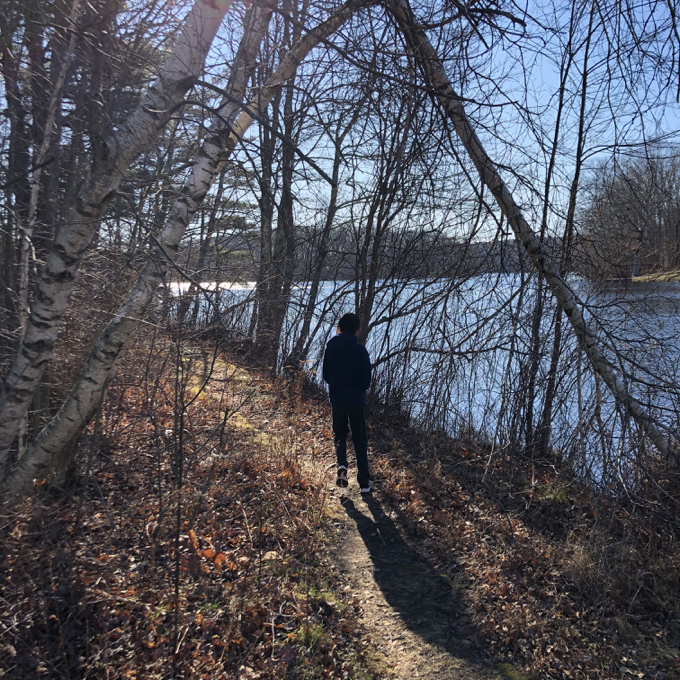 At The Trust for Public Land, we're committed to a powerful idea: we protect the places that matter to you. We help communities solve urgent issues like creating equitable green space, improving people's health, and addressing climate change. When the local community approached us with the opportunity to help expand Connecticut's Mono Pond State Park, we recognized a golden moment to expand a tiny, but mighty, state park by more than 1000 acres.

Mono Pond State Park is nothing short of majestic. Whether it's paddling, hiking, fishing, or mountain biking, this is nature at its best. Working with the State of Connecticut and the communities of Columbia, Lebanon, and Hebron, we will quadruple the size of this park and strengthen part of a key greenway for both humans and wildlife. The expansion will connect visitors to one of Connecticut's few long-distance trails, the Air Line State Park Trail, which spans over 50 miles, nearly half the state, and connects walkers, hikers, equestrians, and trailbikers with nature and each other.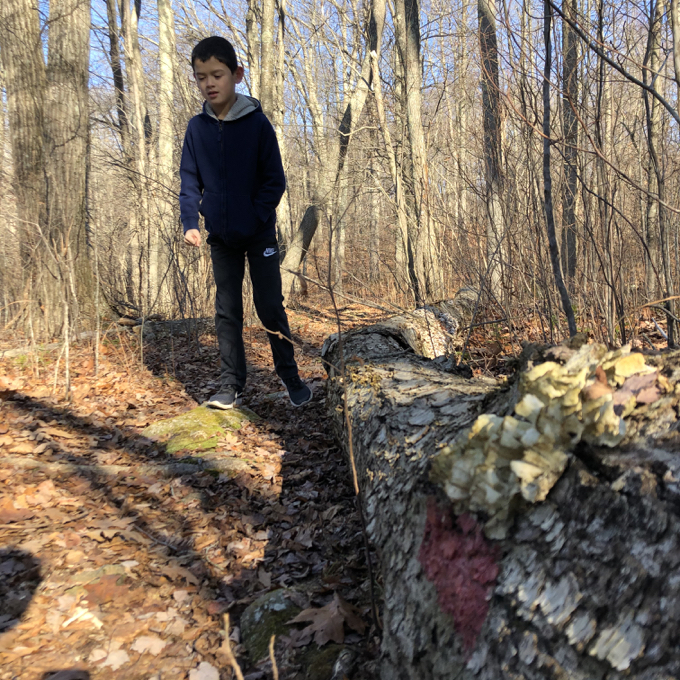 Hm. I'm not sure I'd call Mono Pond "nothing short of majestic," but… I'll allow it.
The yellow trail become the red trail after a while, but the scenery and landscape remains the same. Towards the southern end of the pond, a large beaver lodge comes into view. I'm not sure if the beavers are responsible for the fairly marshy end of the pond, or if that's just nature.
The red trail loops back on itself at the end of the pond – where, I assume, a trail will be blazed going southeast towards the Air Line Trail someday – and takes higher ground for a while. Old stone walls crisscross the path, which is never out of sight of the pond.
The walk back is… the same as the walk out. What did you expect? Near the parking lot, the yellow loop portion does the same thing. That is, it parallels the lower pondside trail maybe a hundred feet away.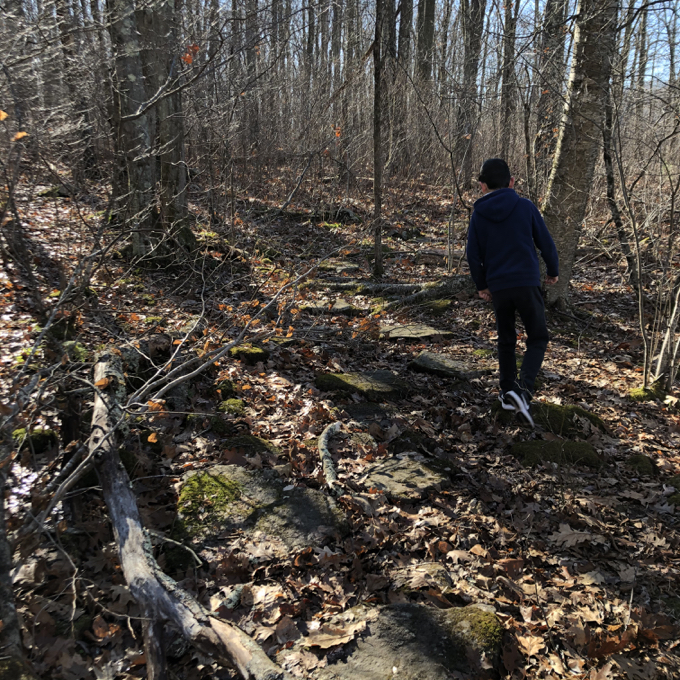 We enjoyed our little bumble through the park and I was impressed that the trails were kept cleared at a place that I don't think sees too much traffic. Which, when I think about it, makes it an even cooler place.
Now, see the sign out on the road calls it a "state recreation area." Get it together, Connecticut.