Stepping Stones Museum For Children Redux
June 25, 2011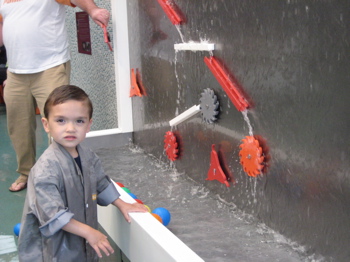 I've visited several museums more than once – usually for my son and almost always near my house. But I've never written a separate page about a revisit. (I've been challenged by readers over the years to revisit places when they have new exhibitions or open up a wing or something, but c'mon people, I just don't have the time for that! Maybe when I'm retired I'll revisit everything to give updates in 30 years or something. But then again, Hoang is insistent on retiring to Provence, so probably not.)
But this visit was different. For one thing, Stepping Stones expanded and improved upon what we felt was most certainly one of the top Children's museums in the state. (First CTMQ Visit here.) Also, we'd be able to enjoy the huge outdoor area this time as well, since last time we visited during a monsoon. And, let's be honest, we were able to get several good pictures of Damian that I just can't let go to waste.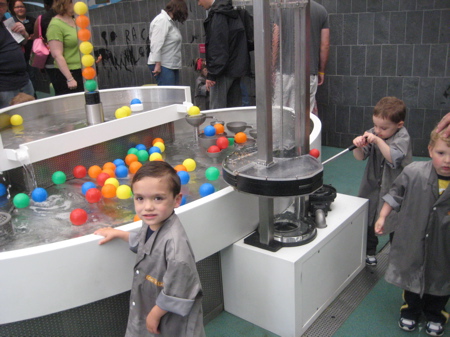 But that's not really why we went down to Norwalk this time – although the new/improved stuff is reason enough. No, we went down to celebrate the opening of their new 'traveling" exhibit titled, "access/ability" which is a whole giant room dedicated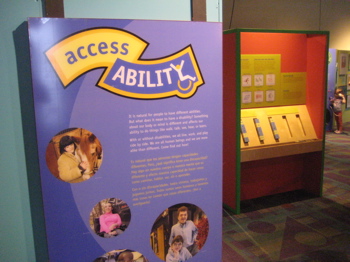 to exploring the ins and outs of those with disabilities and special needs. On the day we went, the museum was allowing free entry to those families with a disabled person in the mix – hey! That's us!
For more about Damian and Smith-Magenis Syndrome, Go here.
(They had advertised free entry only until 10AM but upon arriving at 10:17, we were advised that they'd extended the offering to be an all day thing. Perhaps because they knew that those of us with kids like Damian are challenged to get anywhere on time!)
Anyway, the exhibit was well done and the day we visited featured many organizations and vendors who help out families like ours and kids like Damian. Now, of course the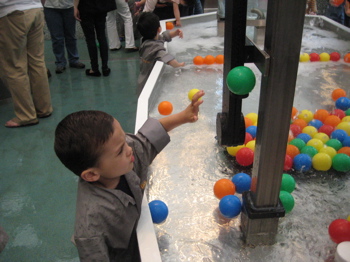 museum didn't feature anything on Smith-Magenis Syndrome (how in the world anyone could do that is beyond me), but who can blame them?
Describing those with disabilities, the museum's site states: "They have homes. They have jobs, They have families. They have friends and they go to school. They get married. They have babies. They play sports. They bike and row and they climb mountains. Whether born with a challenging physical condition or acquired through an accident or the process of aging, people with disabilities are just normal people who accomplish things in a different way."
It makes me sad that Damian can/will only do a couple of those things, but we've come to grips with all that. More importantly, the exhibit gives typical kids a chance to learn what it's like to be disabled in different ways. I applaud that.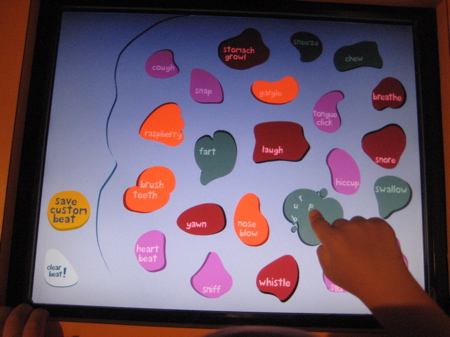 This is the greatest machine ever. It plays beats that kids add the sounds to. Genius.
The improvements to the "water lab" were most appreciated by Damian. The boy could have stayed in that room for 8 hours, easy. (And of course had a full-on SMS tantrum each time we left it.) There were some flaws in the exhibit's design though. Notably, the plastic balls that shot out of one tube and missed the catch net and instead beaned passersby in the head. (Though, I must note that this provided something fun for me to watch while Damian stared at swirling water for half an hour.)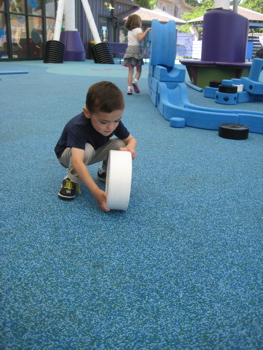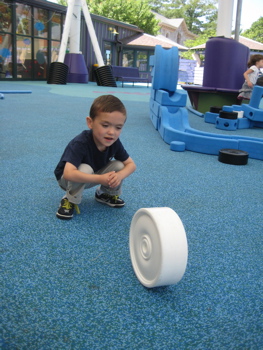 I just wanted to post this page as a thank you to Stepping Stones for "stepping out" and including the access/awareness exhibit – which ends Labor Day weekend 2011. We really enjoy our visits here and will probably have a few more down the road now that baby Calvin is on board.
Which reminds me, this is the first photographic evidence of Calvin at a museum! Lucky boy.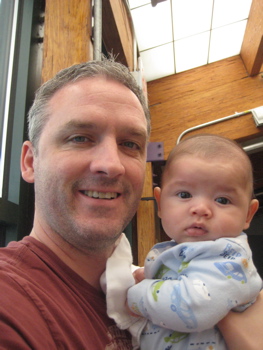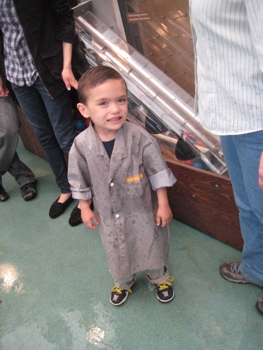 Stepping Stones Museum for Children