The Legend of Hobbomock: The Sleeping Giant
by Jason J. Marchi (2011)
Library
As a Giant Master – no, really, I AM A GIANT MASTER – I felt compelled to learn about the legend of Hobbomock. In all my hikes across the Giant's body, I never really knew how he came to rest in Hamden.
Now I know, thanks to The Legend of Hobbomock.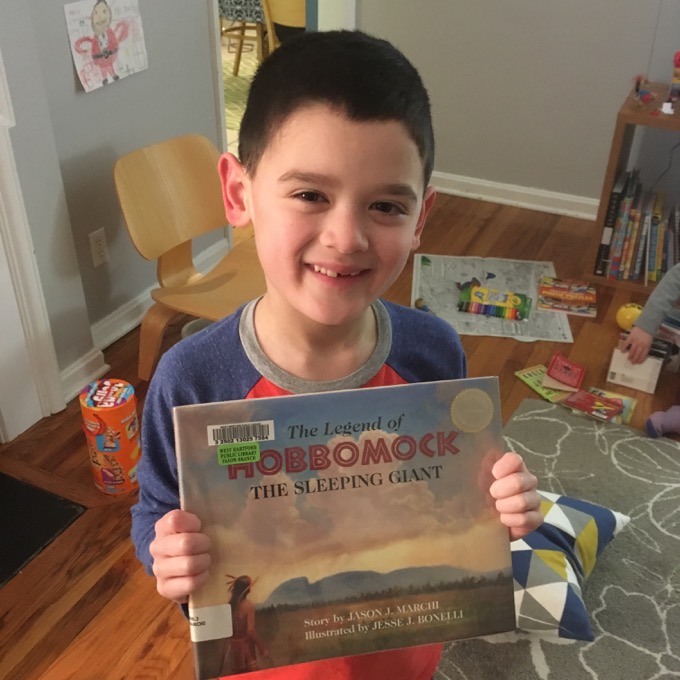 Sure, it's a kid's book… but aren't all legends for kids anyway? For what it's worth, my son read the book immediately after I did and he also enjoyed it. At six, his most pressing question was, "is that story real?" which led into a nice discussion of "legends" and folklore.
So even if the book stunk, it would have been valuable for that alone.
But it doesn't stink.
In this compelling story of a young Quinnipiac brave named Blackbird, award-winning author Jason Marchi and painter Jesse Bonelli have teamed up to capture the magic and history of a time before our own. Through young Blackbird's eyes we learn the Quinnipiac tribal legend of how the Sleeping Giant landform in Hamden, Connecticut came to look like a giant man sleeping on his back. The story, brought to life with 14 fine art oil paintings, gives us a renewed appreciation of the natural world and shows young readers how Native Americans lived close to the earth and respected the land, air, water, and wildlife
The paintings are quite nice too.
Hobbomock was this giant stone guy – he'd have to have been like two miles tall since that's how long he is now lying down – who was cool and hung out with the Quinnipiac in southern Connecticut.
Then he went away and the natives screwed up the woods in his absence. Upon his return he was sore and stomped his giant stone leg and altered the path of the Quinnipiac River to take a sharp bend.
Later, when young Blackbird was out hunting near the river, Hobbomock spotted him and got mad all over again. Blackbird ran to Keitan to cast a spell on Hobbomock. So of course Keitan put a sleeping spell on the Sound's oyster population and while Hobbomock was eating them by the hundreds, he got sleepy.
He took a couple steps up to northern Hamden, fell down, lay on his back, and went to sleep.
For a long, long time. The book ends ominously though:
But legend has it that one day Keitan's sleeping spell will wear off… and Hobbomock will wake up… and the hills that form his head, his body, and his legs will be gone.

And legend also has it tht when Hobbomock wakes up… he will be very, very hungry."
I guess now you know why my son was wondering how true this was.
This book is one of the better Connecticut kids books I've read.

CTMQ's List and Reviews of Connecticut Books