The Sky's the Limit 2015 Hiking Challenge #12
Mount Tom
Litchfield/Morris, July 4, 2015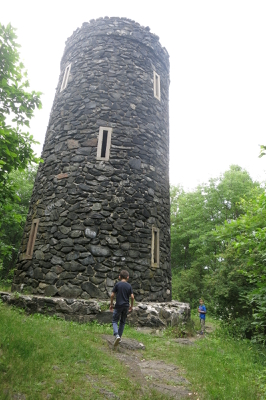 We're getting close, folks! Only three more spots to get Damian and I to all 14 TSTL Challenge points! We're gonna do it! This climb of Mount Tom would get Calvin to his ninth, one shy of what he needed for the medallion award.
A few years prior, I climbed Mount Tom to the tower while Hoang and Damian chilled at the beach at the lake below. (My page on the tower, here.) I remember I just ran up the hill to the tower, took some pictures and ran back down. It was fun.
Could it be as much fun with the two boys?
Well, from the outset it was hilarious, because the long pants I threw in the day pack for Damian turned out to be Calvin's. Note: Damian is taller than Calvin. So please, join with me laughing at the kid in the high-waters hiking up Mount Tom.
Seriously? You're laughing at a special needs kid? What is wrong with you?!
Just kidding. Laugh away. I know I did all the way up the hill.
The Mount Tom hike isn't too bad, but we did have to pay the fee to enter the park. Darn it, I wanted to complete this challenge without paying a dime, but I failed. (Only here though.) We parked in the hiker's lot and just went up the main trail to the tower.
There are a few switchbacks along the way and it's never too steep at all.
Calvin loves the true tower hikes, so he enjoyed the entire experience. For his part, Damian had nothing more than his usual complaints and whines, but overall this was a wholly uneventful hike.
I'll take it.
CTMQ's Sky's the Limit Challenge Page
DEEP's Sky's the Limit Challenge Page