Man in a High Castle
Castlerock Lane, Bolton
April 2020
There are expensive homes in pretty much every town in Connecticut. I've seen many. I think everyone assumes this to be true, but I also think there are large swaths who would be surprised to know that there are sprawling massive houses in southern Bolton along the Andover town line.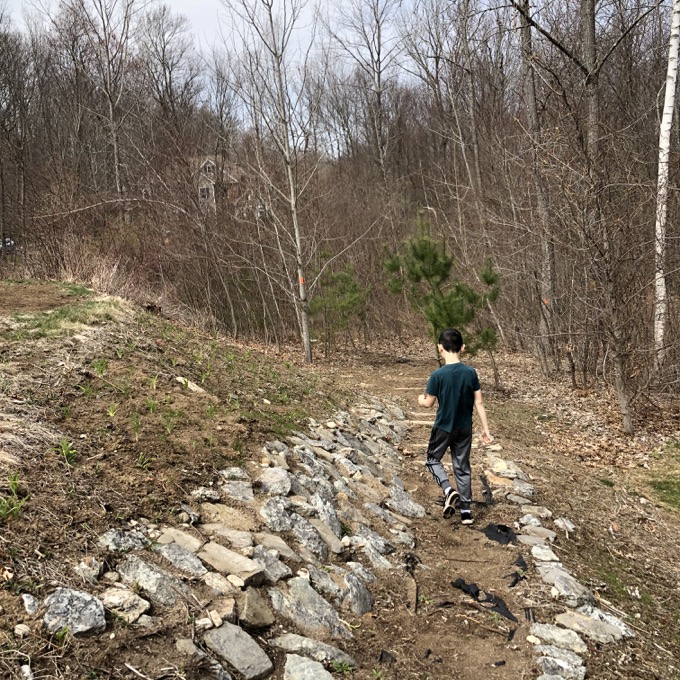 Well, I'm here to tell you that there are actually a lot of them here. And a funny thing happened as Calvin and I parked at the end of the Castlerock Lane cul de sac to begin our short trek here. When trails begin with a property easement between suburban houses, it always leaves me with a mildly uncomfortable feeling.
As we exited the car, a well-dressed couple of retirement age sauntered towards us along their 200-yard long driveway leading to their 6,000 square foot manse. At least I had my son with me to make it less weird – at least that's what I told myself.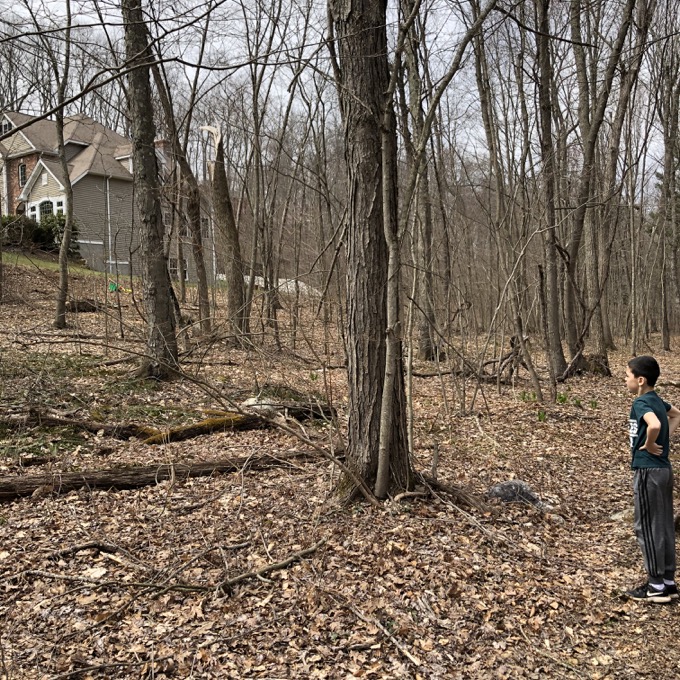 Am I wrong to have been shocked – SHOCKED! – that they smiled at us and said, "Are you going to hike the trail?" Why yes, yes we were. "It starts down there if you didn't know. It's bit muddy today! Have fun!"
Wow. This trail took us alongside his driveway and then right along his property line into the woods. And he seemed positively ecstatic about that. I love that guy! (And his wife seemed pleased we were out for a hike as well.) If I lived next to a trail, I'd Google it now and then and if the homeowners do that for "their" trail… thank you for being so cool.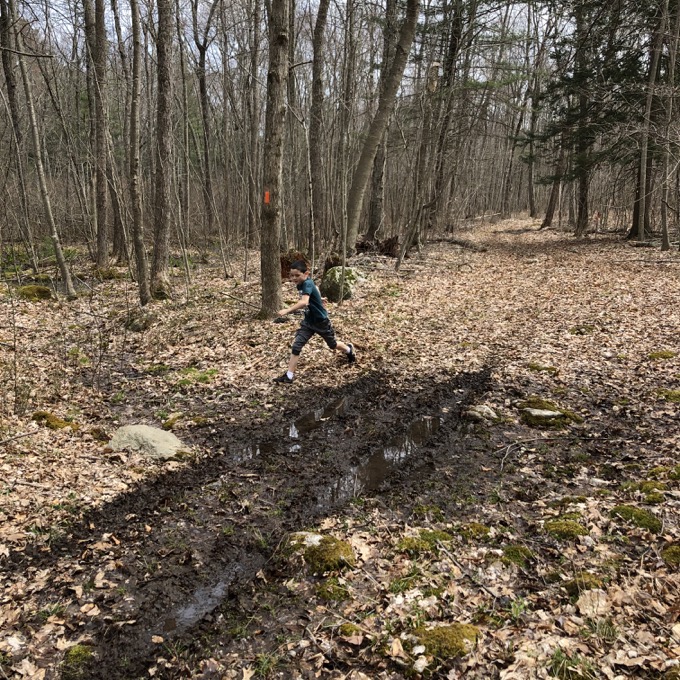 This is a short, flat, out-and-back affair that took Calvin and I through some swampy low-lying areas in a typical hardwood forest. At one point, after we'd turned away from the giant house, the trail took on an almost eerie otherwordly feel. Which makes no sense, of course, as we were literally surrounded by large homes – although for a few minutes, they were completely hidden from our view.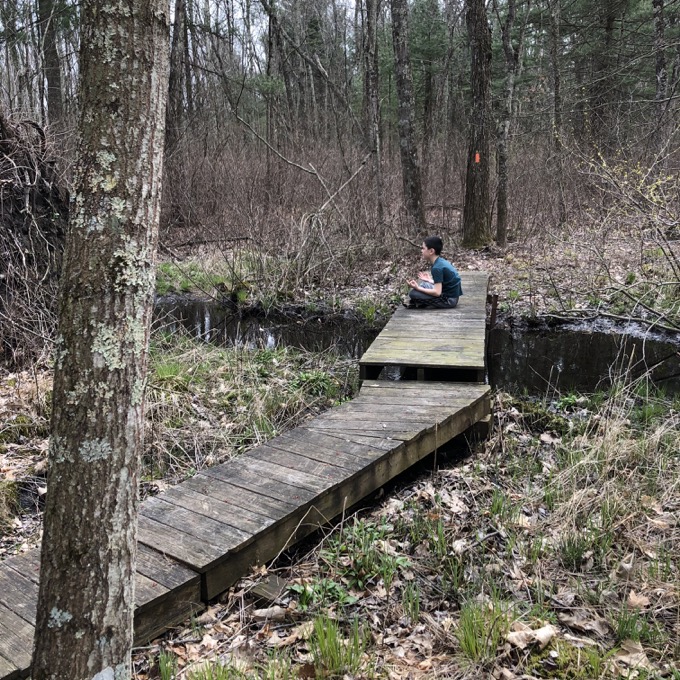 The woods were dense and quiet. With swampland to our left and our right, I felt like we were sort of on a weird trail island. It's very hard to explain. So I'll stop trying.
Also hard to explain? This:
This trail is a linear three-quarter-mile between roads in southern Bolton. It is blazed and cleared well. But really, someone is out here with a chainsaw making sure it's totally cleared the whole way, every day. Calvin couldn't understand why I found this sort of oddly amazing, but perhaps you do.
But that was not the oddest thing about Castlerock. The trail ends when the woods end… or so I thought. I looked up towards the houses and noticed orange blazes on the trees all the way up to the road.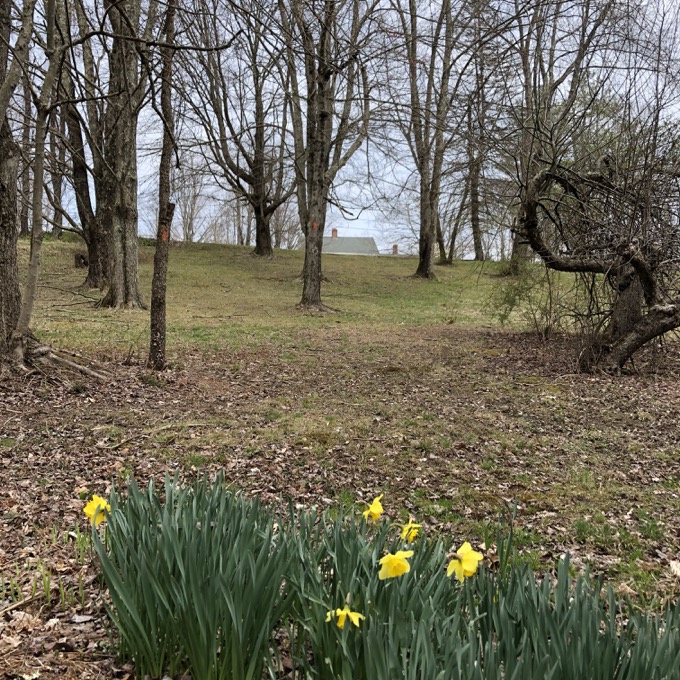 There is no need for this. I guess, perhaps, if the land trust got an easement here, they might as well use it. Maybe people cut through this trail on their walks or something? I found it completely strange, but forced Calvin to walk with me all the way to the trail's terminus at Hebron Road, where there's a small rock pile.
Calvin sums up what it's like to make the effort to get to the end: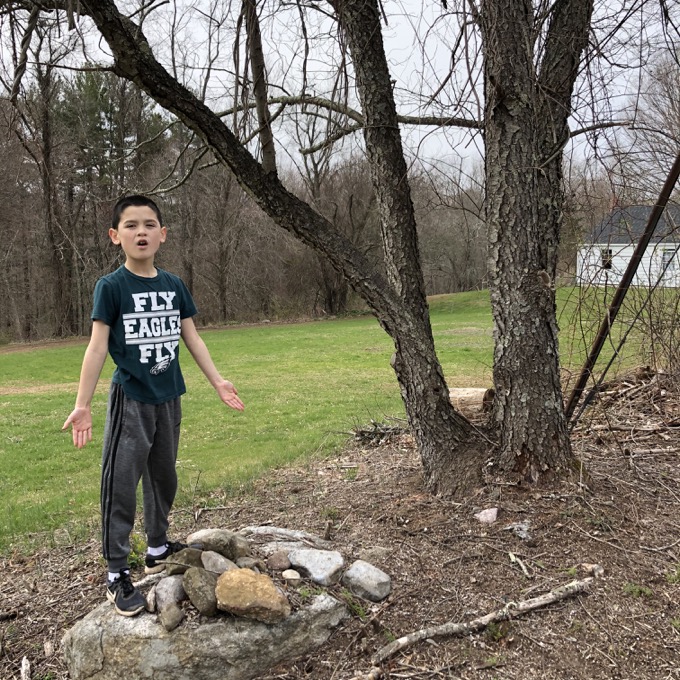 I hear you, brother.
At that point, we ran down the grassy hill, back into the woods, back over the little bridges and through the swampy area and back to the giant house at the end of Castlerock Lane and our car. I can't explain why, but I really do love these random little nonsense trails. Love them silly.

Bolton Land Trust
CTMQ's Bolton Land Trust page