Mt. Tom State Park
Litchfield, Morris, Washington
July 3, 2010
This is perhaps the easiest state park write-up in the state. Why? Because it's small and there are two activities here. I did both on a sunny Saturday in July while Hoang and Damian stuck to the one they most enjoy: hitting the beach.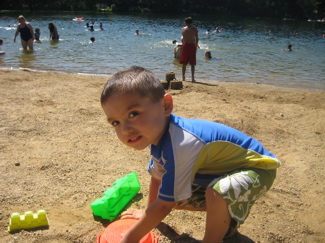 As a kid I was a pool rat, despite my lack of melatonin or swimmer's body. My family never went to the beach, but I did a lot of pond swimming at summer camps. Thankfully, Hoang isn't adverse to swimming around a halfway decent pond, and Connecticut has a few on offer. Mt. Tom's is probably one of the best, but I say that having only been to five or so.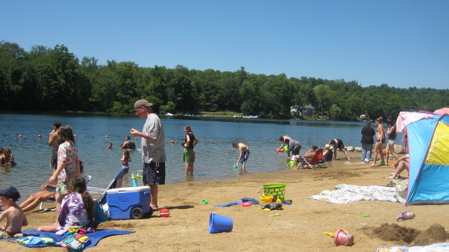 The water seemed cleaner than the other swimming ponds in the state (it's spring-fed) and the sand was actually more sand than rocks/mud. Surprisingly, on a day when many Connecticut beaches and parks were filled to capacity, we found Mt. Tom rather comfortably populated. Granted, it's way out in western Litchfield (right on the Washington border), but if you sprinkle in some winery stops (they surround the park), you'll have a right lovely day.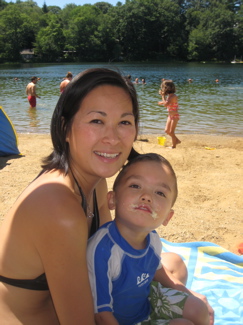 The Beach/Pond
The beach area is perhaps a little bigger than the average CT pond beach and has a half-decent sand to junk ratio. It's clean and the water is fairly clear. I felt comfortable swimming underwater and there wasn't too much in the way of scum/plant life. There were lifeguards on duty at least on the weekend and there was a decent picnic area with grills and stuff.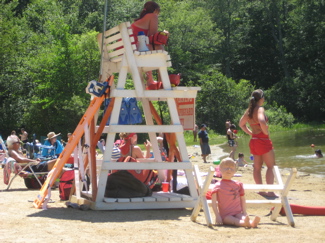 The beach area was terribly rutted, however, due to people digging (for what, I have no idea) and there being no wave action to smooth it out later. The crowd was well-behaved and respectful of space (not always the norm at CT ponds.)
Trails
There is pretty much just one trail here, and it's short – but totally worth your effort. From the pond area, you can't even see the hill that rises in the center of the park. I waited for a relaxed moment when Damian was playing in the sand and said, "I'm going to go climb a mountain now."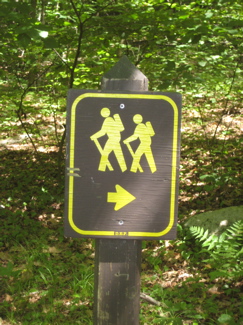 "Okay, we'll be seein' ya," was all Hoang had to say to send me off to the car for a quick change of footwear (flip-flops to running shoes) and away I went. Note: hiking in mesh-lined swim trunks does indeed result in painful chafing.
The trailheads are both just across the park road behind the beach and I opted for the (much) less steep one with the little lot at the beginning. The trail here is wide, well-tended, and never really steep at all. I passed several Asian (I'm thinking Japanese) couples in full tourist regalia as I jogged my way up to the top.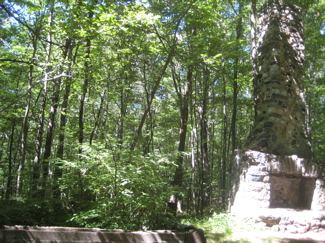 The summit of Mt. Tom is 1,325 feet above sea level, 125 feet higher than its more famous and recognizable Massachusetts counterpart. The tower trail is less than one mile long and rises some 500 feet.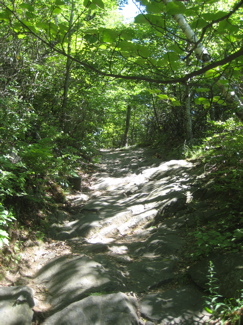 Near the top there is a nice overlook which gives nice views to the south and east (I think) with access via a couple unmarked short little side trails. There are a ton of blueberry bushes here, but I was a week too early unfortunately. Also, I should note, if you go up there with little kids the deadly drop-offs at this overlook are abrupt and somewhat hidden – so be wary.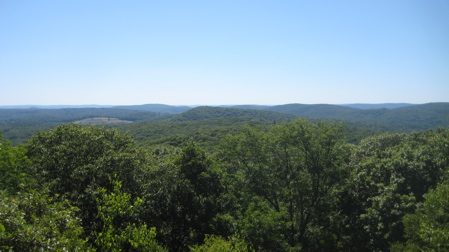 A minute or two past the overlook I came to the 34 foot stone tower marking the summit. There aren't too many of these things left in Connecticut, so it's pretty cool when you come across one that's accessible. Up the 3 flights of solid stairs – the first flight of which have no railing – to the top and voila! 360 degree views of Litchfield and Hartford counties!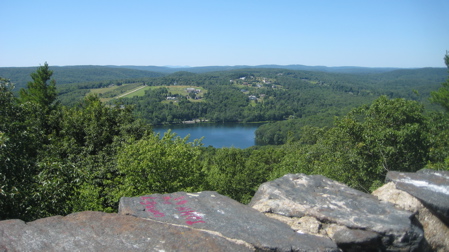 According to Berkshire Hiking, "On an extremely clear day, Long Island and the outskirts of New York City are in view with a good pair of binoculars. ..100 miles away (but this is extremely rare)." It was hazy during my visit, but the views northwest (past the lake where my wife and child were cavorting) to Bear Mountain and Mts Everett and Race were nice enough for me.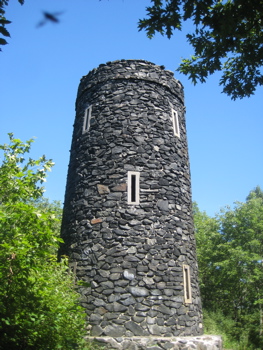 I descended down the other arm of the yellow-blazed trail, which is much steeper and must less-traveled. All told, I was up and down in 15 minutes (I ran some) – totally worth it and totally unexpected as to how beautiful it is.
For a 2015 hike up with my sons, go here.
Mt. Tom State Park
Mt. Tom geology
Map