The New Canaan Land Trust
New Canaan
Oh how I love New Canaan. I often get asked where in Connecticut I'd most like to live. I almost always say, "in a mid-century modern in New Canaan." I love them. I love the town's proximity to New York City and Stamford.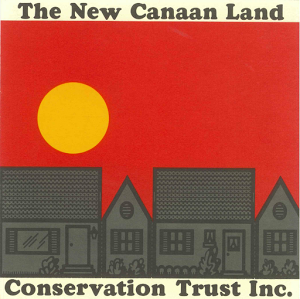 I just can't afford to live there.
But I can afford to hike there… and maybe some of the land trust trails skirt some of the properties I love so much. Is that creepy?
The Mission of the New Canaan Land Trust is to preserve and protect open space in New Canaan. Preservation of open space benefits our community by adding natural sanctuary's for the residents, preserving precious natural wildlife habitats and the scenic, rural character of New Canaan for future generations.
Sounds good. In fact, it sounds a lot better than their 1972 logo (above)looked, featuring closely situated houses for some weird reasons… though I do dig the design of it.
The Preserves and Hikes:
Browne Wildlife Sanctuary
Colhoun Meadow & Woodlands
Firefly Sanctuary
GreenLink Trail
Livingston-Higley Meadow
Still Pond-Silvermine Preserve
Watson-Symington Property

The New Canaan Land Trust
CTMQ's Land Trust Trails Page