Oogity Boogity
Satan's Kingdom, New Hartford
Awesome.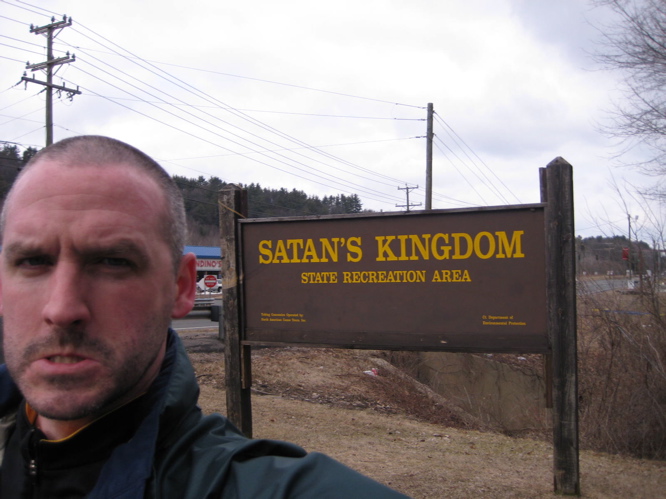 I always take pleasure in speaking with people who drive past or hear about Satan's Kingdom for the first time. They are flabbergasted such a place exists. And that there's a giant sign and state recreation area named Satan's Kingdom.
I suppose it is a bit startling and I can't pretend it didn't jump out at me when I first learned of it. (I should note that there are other Satan's Kingdom in Vermont and Massachusetts, which probably only bolsters certain Americans' thoughts about us heathen liberals in New England.)
Of course, the place name is very old and the reasons for it are – as they always are – borne not of actual Satanic activity, but rather of untillable soil (Vermont) and/or difficult navigation for white settlers back in the day (Connecticut and Massachusetts).
A somewhat funny anecdote, from this Website:
In the eastern part of this town there is a rough and mountainous district, formerly designated Satan's Kingdom, and the few inhabitants who lived here were in a measure shut out from the rest of mankind. An inhabitant of the town invited one of his neighbors, who lived within the limits of this district, to go and hear Mr. Marsh, the first minister who was settled in the town. He was prevailed upon to go to church in the forenoon. In the course of his prayer, Mr. Marsh, among other things, prayed that Satan's kingdom might be destroyed. It appears that the inhabitant of this district, took the expression in a literal and tangible sense, having probably never heard the expression used but in reference to the district wherin he resided. Being asked to go to meeting in the afternoon, he refused, stating that Mr. Marsh had insulted him; "for blast him," said he, "when he prayed for the destruction of Satan's kingdom, he very well knew all my interests lay there.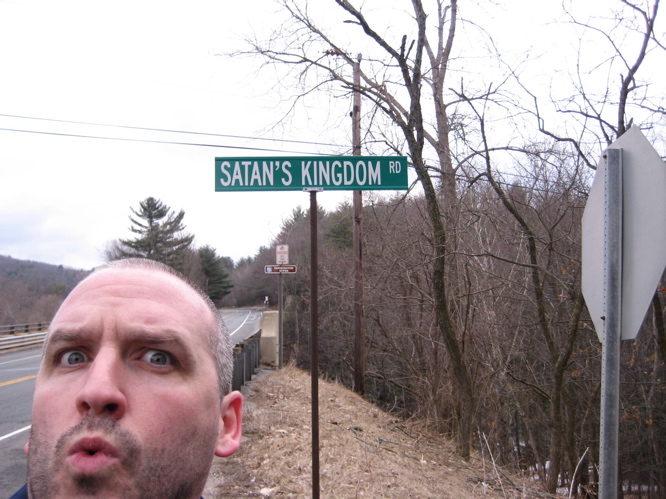 From the book Weird New England:
Descriptions from the eighteenth century tell of the sort of people who were attracted to its forbidding wilds: 'Indians, Negroes, and renegade whites' claimed the area as their home turf, from which they would venture out to rob, steal, and otherwise terrorize the law-abiding local citizens. Legends say that Satan himself once claimed the area as his own, until the angel Gabriel decided the area was too idyllic and cleared out the dark lord and his band of demons.
These days Satan's Kingdom is a tranquil and scenic recreation area – and does a huge business tubing down the Farmington River. Across from the park's lot, Satan's Kingdom Road itself is horribly rutted, but there are houses on it. The Tunxis Trail walks the road and then crosses the Farmington River via route 44.
The road sign is constantly stolen for obvious reasons. I try to note its presence and security efforts every time I drive past. I imagine it's quite a headache for the town manager to deal with this situation.
Once, in 2008, I noticed that they became sick and tired of replacing the "Satan's Kingdom" road sign and settled on a rather hilarious solution: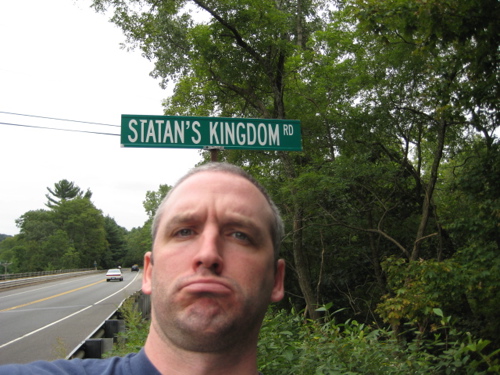 Yes, I can only assume they deliberately misspelled the name of the road to dissuade thievery. The sign was stolen again within weeks.
This page gets some of the most interesting comments on this entire site. Religious nuts, racists, kids, history buffs… Everyone loves Satan's Kingdom!

All things Satan in Connecticut