Don't Fret; A Title Pun is in the Pom of my Hands…
Pomfret (Google Maps Location)
May 17, 2009
I'm pretty certain we are the only family who gets in their car, drives up and down hills for an hour east to Pomfret in order to check out a small Audubon Society nature center. After all, there are larger Audubon and other nature centers much closer to our house.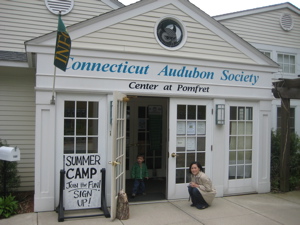 Oh yeah… That's what I do. It sure is nice to have a complicit wife and son. (Don't worry, Hoang got a wine tasting at Sharpe Hill, and they both got top-notch ice cream and pizza.)
End to end, Route 44 is almost exactly 100 miles from Putnam to Salisbury. The winding hills through northeast Connecticut (and therefore Pomfret) is beautiful and rural. The middle section it shares with I-84 through Vernon/Manchester/East Hartford not so pretty, and then the stretch through Hartford's north end is it's own thing, but once over Avon Mountain and through the Canton Shoppes mess, it returns to pastoral beauty.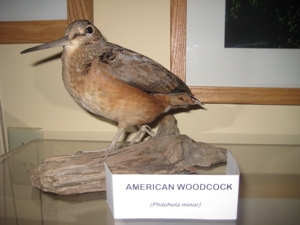 So… Pomfret. While it sounds like a French desert of fried apples or something, the name of the town was derived in the early 1700's from the town of Yorkshire (Pontefrat, pronounced 'Pomfret') which was the English home of the family of Governor Saltonstall. I bet you've never once thought about Pomfret before… But now we will – together.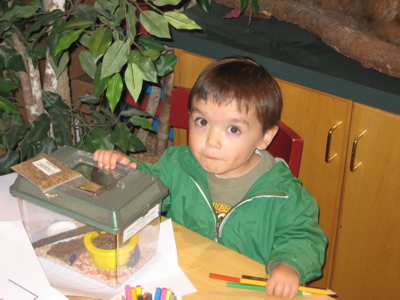 It has its quirks. Pomfret is the exceedingly rare Connecticut town without a town center. In the 100 years after Pomfret was incorporated, Hampton, Brooklyn and Putnam all incorporated as their own towns, building up around their own town centers and power sources. Pomfret was left with pretty much nothing but open space and farms, which is more-or-less how it continues today.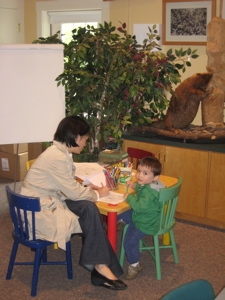 Pomfret is small and only 4,000 people live there. Oh sure, there are things to do, but not quite things normal people drive an hour to do. It does have a motto at least: Picturesque Pomfret. And two exclusive private schools. And a little rock cave where Israel Putnam supposedly shot the last wolf in Connecticut. And a church with a bunch of original Tiffany windows (he was from these parts). And a well-regarded cafe called the Vanilla Bean where Coca-Cola launched Vanilla Coke in 2002 for some reason.
Oh do go on…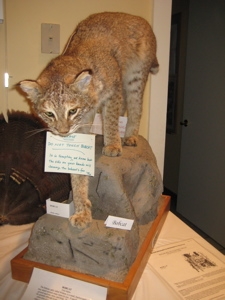 Basketball Hall-of-Famer UConn coach Jim Calhoun lives here. Rivers Cuomo from Weezer lived here. After Renee Zellweger married Kenny Chesney and annulled the union 4 months later, she bought a house here for some reason and still lives in Pomfret part time. According to an old Courant article, "Renee Zellweger's northeast Connecticut home is so remote, she says, people give directions like "make a left at the big tree." "When you turn your headlights out at night, it's dark," she says… "There are no paparazzi within a country mile." Um, does Renee Zellweger still warrant paparazzi?
Oh yeah, and there's this Audubon Center there as well.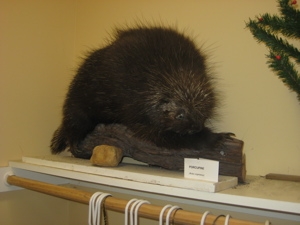 We arrived and were greeted by one of the nicest people I've met thus far along my Connecticut adventures. It always helps when you have a cute kid in tow, but I think she'd have been just as nice to me if I were solo. Upon learning we were from the far off town of West Hartford, I was plied with all sorts of Pomfretalia and urged to visit the local businesses. This Audubon center is on the small side, with just one vestibule attached to a room full of bird stuff.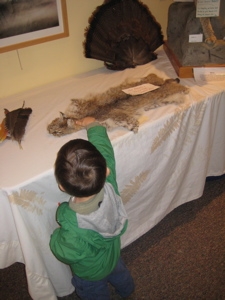 We had been promising Damian some snakes ("Ssssss" in Damianese), as the other two Audubon Centers I've visited had plenty of them. But this one is true to the Audubon cause: birds. And while there are no live birds here, and the stuffed ones are not plentiful, there is a lot of information about our local birds.
In addition to the birds, there are a few other stuffed animals – a bobcat, a beaver, a porcupine and a fisher. Funny thing about that fisher, the lady who was manning the center sort of politely laughed at Hoang for never having seen one, as though her backyard is full of them. Well, I've never seen one in the wild either, though I look forward to that day.
The one live animal during our visit was a Madagascar Hissing Cockroach. (The Center in Milford had a tank full of them.) Damian found this little guy hilarious, but quickly moved on to coloring an owl picture with Mama. Because he was so well behaved, the woman gave him a cute little snowy owl stuffed animal. It used to play the call of a mother owl, but no longer.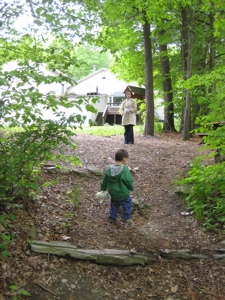 Hoang named her Mamsy immediately and Damian took to her like no other animal before her. He wouldn't stop hugging her (you can see her in Damian's hand on our little hike on the property) and sleeps with her to this day – assuming you're reading this in mid-2009. So thank you, kind lady, for the gift.
On the wall during our visit were many photos by local aerial photographer, G.L. Sweetnam. The shots were not only beautiful, but just plain cool. They are all for sale and his website has thousands you can view. I just spent a good deal of time there, and was only looking at the Putnam section! He also makes/sells lamps and portrays a Civil War guy… I think I should meet Mr. Sweetnam. I hope he doesn't mind me stealing one of his pictures…
As you can tell, this place isn't really about the indoor center, but rather the 700 acre preserve out the back door:
Our newest facility serves as the gateway to the adjoining 700-acre Connecticut Audubon Society Bafflin Sanctuary with its vast rolling meadows, forests, streams and fertile grassland habitats. The successful combination of a Center and wildlife sanctuary greatly expands environmental learning.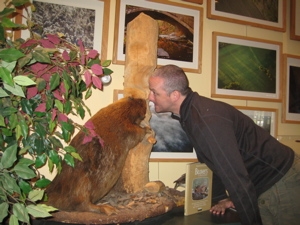 Until recently, this property was a working dairy farm. A large beaver pond, extensive fields, a hemlock ravine and stream are just a few of the remarkable natural features of this property. Trails have some interpretive signage. Connecticut Audubon Society resident staff naturalists serve as caretakers of the property and offer guided bird walks and other environmental programs.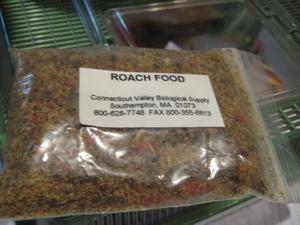 They offer a TON of cool programs here. I can't even begin to describe them, but it seems like there's something fun for kids and adults here almost daily. Check it out. That's what the Pomfret Center is all about… the REAL stuff, not the stuffed stuff.
I just wonder if Renee Zellweger has ever gone on a bird walk here? I choose to think she has… Maybe it would wipe that sour puss off her face.