These Girls Done Good… For Girls
Traveling Exhibit
April 8, 2009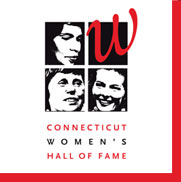 If you're paying close attention, you'll notice this visit is a bit out of order. That's because when I stumbled upon it at a writer's conference at Tunxis Community College (where I took in museum number 97), I didn't really think it warranted inclusion.
But as I go through my older pictures cleaning up bits of this blog here and there, I've changed my mind. Even though it doesn't have a home, it's still a museum-quality exhibit to my (and their) mind.
The Connecticut Women's Hall of Fame showcases the contributions Connecticut women – well known and less famous – have made to their communities, the state and the nation. Through the hard work and the dedication of so many along the way, the Hall of Fame honors Connecticut women, preserves their stories, educates the public, and inspires the continued achievements of women and girls.
The Connecticut Women's Hall of Fame promotes awareness, knowledge and appreciation of women's accomplishments, the issues they championed and the impact of their stories through its educational outreach programs, including traveling exhibits, speakers, curricula, oral histories, a heritage trail, website resources, inductions, youth conferences, projects and collaborations throughout the state.
For the first time in 300 years of state history, the collective achievements of Connecticut women, past and present, were publicly honored in 1994. The first induction ceremony, held at the Wadsworth Atheneum, recognized the achievements of 46 women, 36 posthumously. It established a pattern to be followed in the years to follow:
Revisiting the achievements of well-known women such as Ella Grasso, Harriet Beecher Stowe, Katherine Hepburn, and Marian Anderson.
Uncovering important stories that had been forgotten or overlooked of women such as Evelyn Batchelder –sculptor of Bushnell Park's "Spirit of Victory," Betty Tianti –Connecticut's first woman Commissioner of Labor, Maria Sanchez –the first Latina elected to the State legislature, and Emeline Roberts Jones –the first female dentist in America.
Hmmm… I just checked out the CWHF's blurb on the "first female dentist." It proved an interesting read, but looking at her picture… does anyone else have any hesitations about the "woman" part?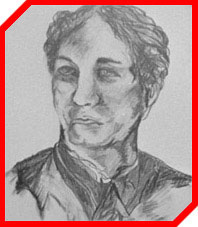 Acknowledging the special contributions of those that took on establishment ideas and institutions such as Prudence Crandall –who was run out of town for her attempts to educate "Young Ladies of Color", and Alice Hamilton –America's first professor of industrial medicine, who fought for legislation to protect workers against toxic substances.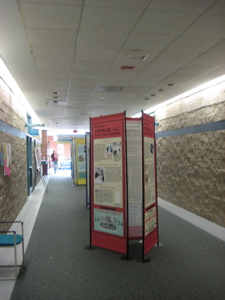 CWHF now numbers over 90 women whose lives are celebrated and documented on its website visited by over 3,000 individuals each month, including international researchers and local schoolchildren. The newest traveling exhibit, "We Fight for Roses, Too: Connecticut Women and the Quest for Equality," has been presented in educational, cultural, and community-based venues throughout the State and has been seen by over 250,000 men, women and children.
Since its founding, CWHF has expanded its mission to include an important variety of educational and cultural programs. The Connecticut Women's Heritage Trail is a constellation of museums and historic sites committed to interpreting women's history and culture. (CTMQ is following that trail too.)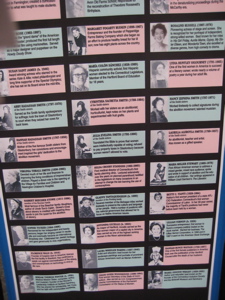 Indeed, in its first 16 years, the Connecticut Women's Hall of Fame has achieved far more than its original founders might have imagined. In 2003, it celebrated its tenth anniversary and launched a new logo. True to its mission, the Connecticut Women's Hall of Fame continues to honor Connecticut's women and preserve their stories, to educate the public about their achievements, and to inspire future generations to follow their example.
I scanned through the list of our most important women and am embarrassed to admit I only recognize about 20%. Here are a few that jumped out at me: Madeline L'Engle, Anni Albers, Dorothy Hamill, Susan Saint James, and Theodate Pope Riddle.
But that's only a smattering – you can check them all out via the link below. The blurbs are well-written and actually pretty fun to read. (Except the one on Barbara McClintock is blank – and she's a great heroine!) And I had no idea that Helen Keller lived out her final years in Connecticut.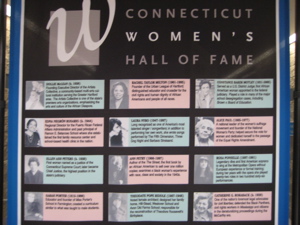 …………………………………………………….
Connecticut Women's Hall of Fame
>