Just a Hopkins, Skipkins, and a Jumpkins
Hopkins Vineyard, Warren
November 2, 2008
A funny thing about these Connecticut vineyards… they just keep getting prettier and prettier. Hopkins Vineyard is, perhaps, set in the most attractive setting of them all – just north of Lake Waramaug in Warren. Since you don't know where Warren is, this winery is perched above a lake that borders Kent, Washington, and Warren.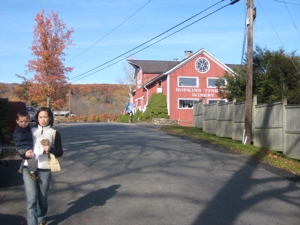 Surely you have some general idea about (beautiful) Kent and (beautiful) Washington. Warren is the same.
Anyway, the drive up from DiGrazia Vineyards in Brookfield was worth the price of the tasting alone. We wound our way around the eastern shore of Lake Waramaug along the ridiculously beautiful Route 45.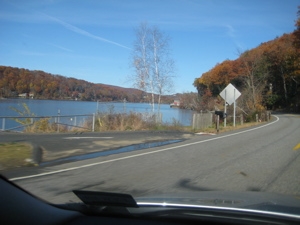 And the winery? It's lovely. Set on the northern shore of Lake Waramaug, Hopkins Vineyard is a family-owned "Connecticut Century Farm." I've scoured the Internet for 2 minutes (a thorough scouring) and have not been able to find anything about what constitutes a "Connecticut Century Farm", but I'm sure it's impressive. (It's also a National Bicentennial Farm too. In case you were wondering.)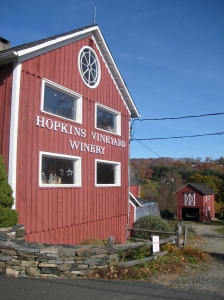 They say,
In 1787, Elijah Hopkins, returning from the Revolutionary War, chose this rich and fertile site on Lake Waramaug to settle his family and start the Hopkins Farm. Our farm has witnessed many diversified forms of agriculture over the years including the raising of sheep, race horses, grain crops, tobacco, and in the more recent past dairy farming. In 1979, the first vines were planted and our 19th century barn was converted into a state-of-the-art winery.
You can read a little more about their history in this New York Times piece.
Set in an old barn, the visitor rooms are large and comfortable. There is a very large selection of stuff to buy (besides wine) as well as a well-appointed wine bar upstairs. I like their description of the bar:
Sit back and admire the beauty of Lake Waramaug, all while enjoying a glass of wine in our wine bar. Located in the Hayloft of our 19th Century barn, the Wine Bar features a casual atmosphere of charming cafe tables with a stunning view of Lake Waramaug. Visitors can relax and enjoy our award-winning wines either by the glass or bottle along with a delicious selection of cheeses and country pates served with fresh bread.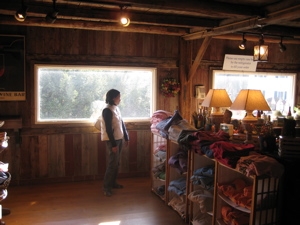 Yeah, this place would be great without a toddler.
Damian was starting to get a bit fussy at this point in our journey, but nothing too bad. Hoang kept him entertained while I paid for and awaited my tasting. And what a tasting it was!
The woman pouring and explaining was professional and polite. The selection was seemingly endless – I think we had 10 tastings in all (an additional couple bucks would have gotten us some of their ice wine, but I passed.) The Hopkins website explains, "Sample the many wines we offer and hear an explanation of the ingredients, winemaking techniques and suggestions for food accompaniments." Let's just say… they speak the truth.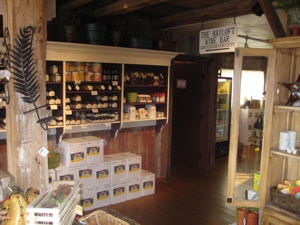 All the wine was good (though Hoang tasted half of them rather than me) but the menu they hand out with the tastings makes this place one of my favorites. A sampling:
Chardonnay 2007 Estate Bottled Oak barrels, ripe fruit, crisp minerals, yada yada and Serve with grilled lobster tails, crab cake sandwiches or endive, pear and roquefort salad.
Of course!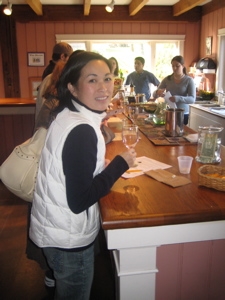 Duet 2006 Estate Bottled – the non-oaked Chard, nose of honeysuckle, granny smith apples, stone fruit, etc., and Food suggestions: curly endive, crispy bacon and roquefort salad, herb roasted chicken with butternut squash.
Consider it done!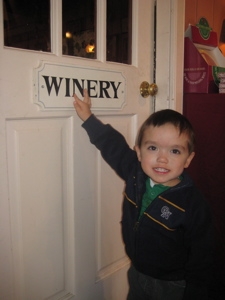 A couple more wines, including their signature Cabernet Franc and then we got to the Cider. This is to be enjoyed with "a cheddar omelette, smoked trout, endive and apple salad or roasted butternut squash soup with creme fraiche and chives." Well, duh! I hope the Endive Growers Association has sent Hopkins Vineyard a thank you note.
Moving on, the Westwind wine from Cayuga White grapes goes great with "arugula salad and crispy prociutto, ripe sliced peaches and chevre or grilled herb shrimp and mango salsa." I don't go anywhere without my chevre.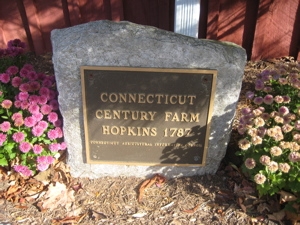 You get the point. The list continues in this vein with things like "Apricot-Serrano glazed chicken," "classic crepes suzette," "raspberry fig crostata," "caviar…" I've been accused of being a food snob (mostly by my wife) but geeze… this is a bit much. Oh I'm positive these foods pair wonderfully with these wines, and I'm more positive there are plenty of people in Litchfield and Fairfield Counties that have this stuff on hand all the time… but still, it's pretty funny.
We bought a bottle of something and walked down to the lake to take it all in. There is a cutesy little Inn here as well for a nice weekend getaway. I love it out here in this part of the state and can't wait to get out here for some museums and hiking in the coming months and years.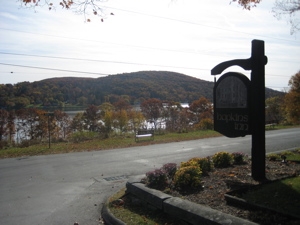 Hopkins Vineyard
CTMQ's Visits to Connecticut Wineries