18a. Panther Mountain, 3,720 feet (Winter)
March 8, 2012
6.3 miles solo via Phoenicia-East Branch Trail and Giant Ledge – Panther Mountain Trail
# 18 on the Catskills 3500 List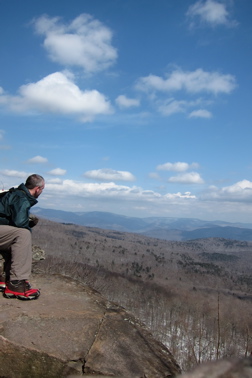 One of the unique things about the Catskills 3500 Club is that it requires completers to summit four of the climbs twice; with one hike during the winter. Of all the northeast peak-bagging lists I hope to complete over the next 30 years, this is the only one with a seasonal component. And I like that.
(The four winter peaks brings the 35er total to 39. And since "35er" refers to the 3500 foot elevation, which also happens to be a list of 35 peaks, it's all very confusing.)
In addition, some people may find my DATE winter climb of Panther corny too. In fact, any winter climbs during the 2011-12 winter season were hardly winterish at all. Disturbingly warm and freakishly devoid of snow, the only weather obstacles in the Catskills region during the season was the leftover destruction caused by Hurricane Irene from August 2011.
While Connecticut's damage from the storm was relegated to a few shoreline districts, many towns along rivers in Vermont and New York suffered enormously. Some of the towns I've come to love during my Catskills forays have not yet recovered. My pass-through visit for this hike, nearly seven months later, still took me past many destroyed homes and roads. Water is powerful.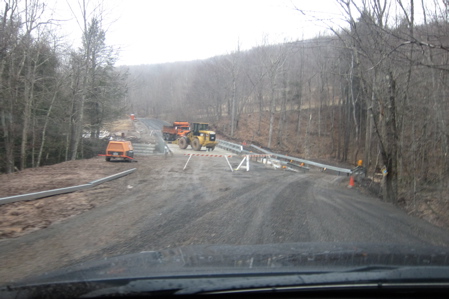 The makeshift bridge thing.
In fact, a couple of the smaller roads I took to the trailhead on Route 47 near Oliverea were only open to non-SUV's a few weeks before my visit. The temporary bridge on 47 just before the hairpin bend with the hiker's lot offered me little comfort as I slowly drove across it.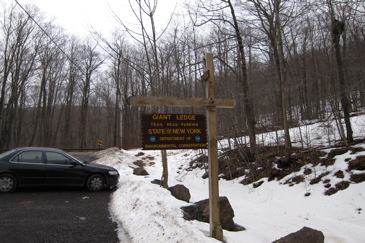 I started out the hike under blue skies but clouds were building to the west. I knew the ascent of Panther is never too steep and in fact has several very gradual sections. Because of the incredible views along the "Giant Ledges" section, this is a very popular trail and I imagine during fall foliage it's pretty crowded – the huge hiker lot I mentioned speaks to this.
The first two-thirds of the trail up the Phoenicia-East Branch Trail followed a creek and was a steady and rocky climb. There were patches of ice here and there, so I played it safe and put on the ol' micro-spikes. I love these things and am always amazed at the level of security they offer me while hiking over ice. With them strapped to me feet, I almost have no fear of icy hiking at all.
The flip side of that is feeling kind of silly wearing them where there is no ice – which happened a lot. I get paranoid about crushing the spikes by stepping on too much bare rock. These are the things I think about while hiking alone.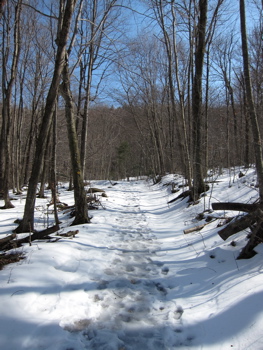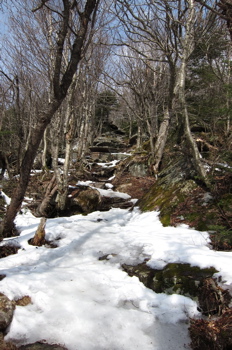 And alone I was, despite the unseasonable weather and the popular trail. Not that I minded at all…
Once onto the Giant Ledge – Panther Mountain Trail, the hike was fairly tame as compared to some other Catskill ascents. The trail was well-marked and well-maintained and on this first ascent to the first peak near the Great Ledges, there were no steep sections or any need to use my hands.
On the way up I passed a sign noting that the next season was just around the corner: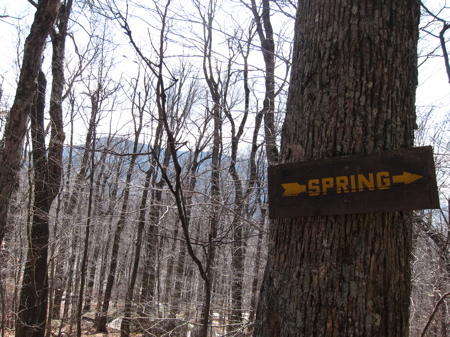 Call me stupid, but I didn't even realize until this very moment that "Giant Ledge" is actually the name of the first mountain I climbed before Panther. I had always thought the "giant ledges" were the giant ledges that the trail passes. Of course, anyone who makes this hike fully realizes that there are two distinct mountains to climb but still… I don't know what I was thinking.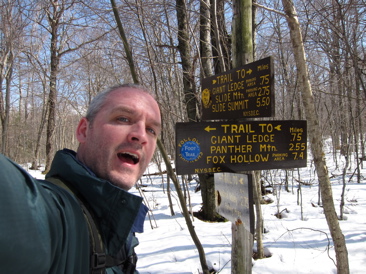 Giant Ledges's giant ledges are great. It is often noted that they provide some of the best views in all the Catskills. I don't think that's possible to say, but I guess if you figure in the fact that they are not even 2 miles up from the road and those 2 miles aren't killer… they very well might be.
The views take in much of the Burroughs range, particularly Slide Mountain. Across the valley one can see Mt. Tremper and the Devil's Path path. There are several ledge overlooks and all present ample opportunity to die. Icy ledges allow for this possibility even more, so I didn't go out on them all. I like living.
The hike across Giant Ledge is beautiful and pretty easy. On one of the last overlooks, Panther Mountain itself pops into view and doesn't look too daunting. What the view doesn't show is how deep down the col the trail goes before making its final ascent up to Panther's summit.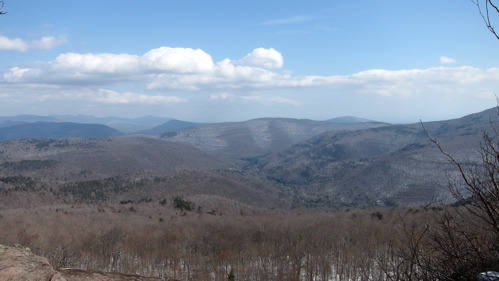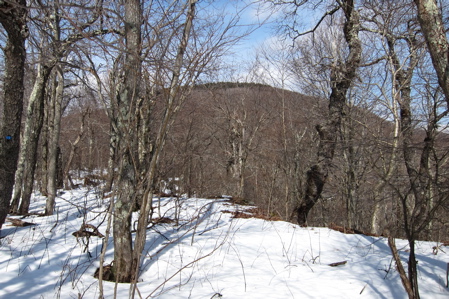 Panther's summit from the Ledges
Stupid Cats. Just kidding, the down-and-up isn't too bad, but there are some very steep near vertical sections and there were, of course, where the sun don't shine. Hence, ice. But I certainly can't complain! This was an official winter hike with hardly any snow. Ridiculous.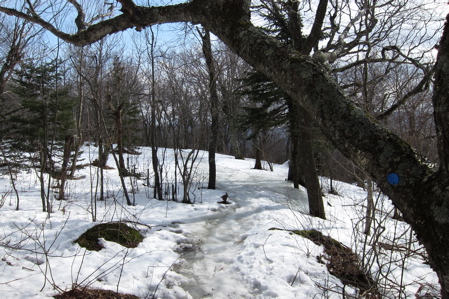 There was a bit more snow in the col between the Ledges and Panter
Heading up Panther I passed the 3500 feet sign and took a decent break. I began then to notice the very dark skies to my west. I'm talking near-black. That certainly put a spring in my step to get me the final 230 feet up the mountain and to the summit.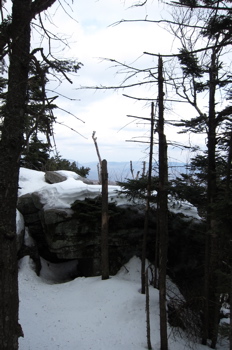 The summit Panther is somewhat of a non-event (as most Catskill true summits are). There is a giant boulder (picture at left) near the summit that affords good winter views, but the summit, about 100 feet further along. There was a sign there once, as this site shows. http://catskillmountaineer.com/SMW-giant.html But I had no such luck. There is an obstructed view at the true summit, but really, after passing so many great views on the way here, it was kind of disappointing.
When searching online about Panther, I came across this:
"Panther Mountain sits on top of a 375 million year old meterorite hit. The meterorite was approximately 1/2 mile wide. It sits 3300 feet below Panther mountain. Most of the rock on Panther Mountain is sand stone, which is just deposited sediments. If you go down near the Esopus Creek you will see significant fractucred rock, which is evidence of the meteor. You will not find this fractured rock on top of Panther Mountain. The mountain is earth that has risen over time. To learn more about this meteor, click on some of the links at the bottom of this page.
I wasn't thinking about any of that as I flew down the mountain (except for that whole "climb back up to Giant Ledges" part) to beat the storm that was nearly on top of me. Just as I reached my car, the skies opened up and just absolutely poured. I had actually been thinking about tackling another winter peak, but figured it wasn't worth dealing with three or four hours of hiking in cold rain and called it a day.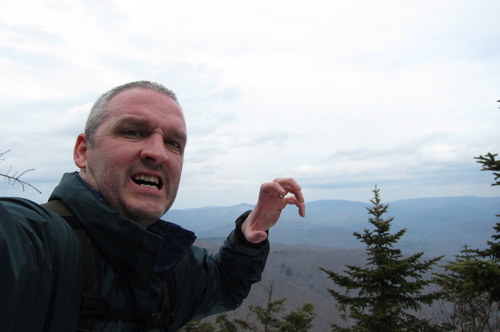 Summit: Full-on Panther Style
The Catskill Mountaineer Trip Report (better pictures)
Panther Mountain (probable) crater