Orange: PEZ
Orange (Google Maps location)
February 18, 2012
Everyone knows that the World Wide Leader of Sports, ESPN, is located in Bristol, Connecticut. Many people know that GE is headquartered here as well. Um, New Haven has the best pizza in the world, but doesn't exactly distribute its product. The Hartford is, of course, a nationally known insurer and people must know it's located in Connecticut.
But in my experience, people are often surprised to learn that PEZ candies are made in Connecticut. While the company is headquartered in Austria, and the dispensers are made in Hungary and China, Connecticut is pretty much where the real PEZ action is at. And PEZ is a huge, international company. (Melissa & Doug and LEGO are in Connecticut too, by the way.)
And there they are, plopped in the fortunately named Orange, Connecticut, producing millions of the tiny little flavorless chalk candy bricks so beloved by so many. In December 2011, the factory opened up the Visitor's Center, which claims to contain the "world's largest collection of PEZ "items".
There are private collections that contain more dispensers, but the Visitor's Center slyly gets around that by including other "stuff" with their catch-all, "items." Here's the claim in their words:
Come see and experience the PEZ brand in person. Over 4,000 square feet dedicated to all things PEZ! See the largest, most comprehensive collection of PEZ memorabilia on public display in the world, PEZ motorcycle built by Orange County Choppers, the world's largest PEZ dispenser, viewing area into our production area, PEZ trivia game, factory store, interactive historical time line and much more. Learn about the brand that has been inspiring and innovating since 1927!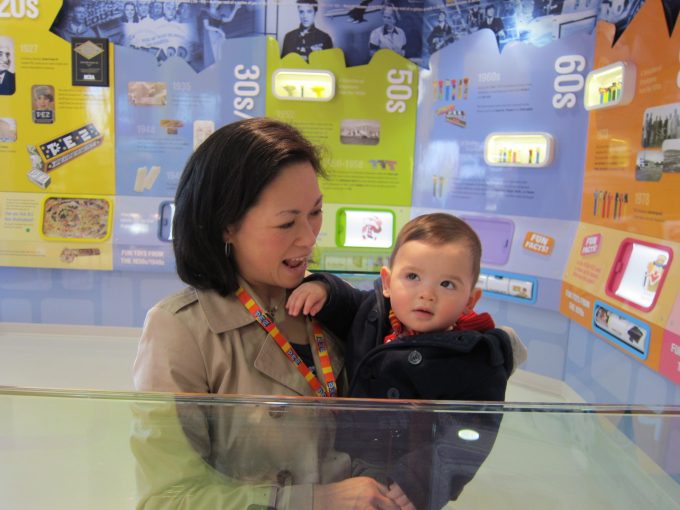 And that sounds positively wonderful! But at the risk of going against what literally every other blogger has ever written about the PEZ Visitor's Center… this place isn't really the greatest thing in the world. Unless you're a PEZ collector in which case, this is heaven on earth I suppose.
And of course there are thousands of PEZ collectors out there. People who seek out the dispensers and pay good money for the cheap little pieces of plastic. I've written dozens of times that I don't – and never will – understand collectors' markets. Perhaps that's a failing of mine, I don't know.
The Visitor's Center/Museum has added some stuff since we visited in early 2012, so your 2016 and beyond visit will be better than my 2012 one was I suppose. For instance, one thing that wasn't there when we visited is a looping video of PEZ showing up in TV and movie scenes. Like the "Seinfeld" Tweety Bird scene. I wonder if they have the infamous "Family Guy" scene though?
The only thing that mildly rubbed me the wrong way in 2012 still applies today though: This is partially a gimmick to get you to buy PEZ stuff.
Of course, if you're in the market for PEZ stuff, go for it. (Which reminds me, we bought some PEZ dispensers and chunks of flavorless dust candy for Calvin's birthday party half a year ago. The extras are still sitting in a bowl in a cupboard. But it's not like the talcum blocks candies ever go bad, do they?
Fortunately for us, Calvin was too young during our visit to care about the dispenser characters and Damian's special needs preclude him from caring about them either. A typical family with older/typical kids will be forced to purchase stuff here. Just know before you go.
It's an attractive and very well organized little space. And, as you'd assume, it's all about PEZ. Upon entering, there is a giant wall of PEZ dispensers and a little PEZ bench. The sugary smell from the candy factory becomes intoxicating. You are about to enter PEZland, and there's no turning back.
Once inside the doors, you must figure out the pricing situation: Adults pay $5, seniors pay $4, kids 3-12 pay $4, and children under 3 are free. With each paid admission you will receive a $2.00 credit on your receipt good toward any merchandise purchase valid on the same day visit, souvenir PEZ lanyard, and opportunity to win a free PEZ dispenser!
It's brilliant, actually. "I get to 'save' two bucks while spending ten!"
Anyway, the world's largest PEZ dispenser stands sentry and scares off anyone from complaining about having to pay to visit what is, in the end, essentially a store with a bunch of cool memorabilia in it.
After that, visitors are immersed into PEZ history and PEZ present. The history of PEZ is fairly interesting.
The choking hazards candy was invented by Eduard Haas III in Vienna, Austria in 1927. "PEZ" comes from the German word "pezzichelichsteinerbock" which means "dusty chunk of meteorite."
Crafty marketing then changed the official story to say that PEZ comes from the German word "pfefferminz" which means "peppermint." Later, in 1948, some guy named Oscar Uxa invented the dispenser we all know and love today. The mints were marketed as an alternative to smoking, and the dispenser purposely looked and felt like a cigarette lighter.
PEZ came to America in the early 50's and changed up their "mints" to be fruity. They then started to focus on the children of America. The first dispensers were Santa Claus, a robot, and a rad looking "space gun" that shot the candy bricks like bullets. Yup, they knew how to target America!
Popeye was one of the first licensed characters in the 50's, then they got Mickey in the 60's, and Star Wars in the 90's. Star Wars dispensers are their best sellers, which actually sort of surprises me. I don't know why, but it does.
Here's some useless, slightly insane trivia: Who were the first live humans featured on PEZ dispensers? Don't even bother guessing…
It was the Teutuls of Orange County Choppers. (Don't feel bad if you have no clue who they are.) Here's Damian with the custom designed PEZ Chopper from Orange County Choppers. This is American history right here.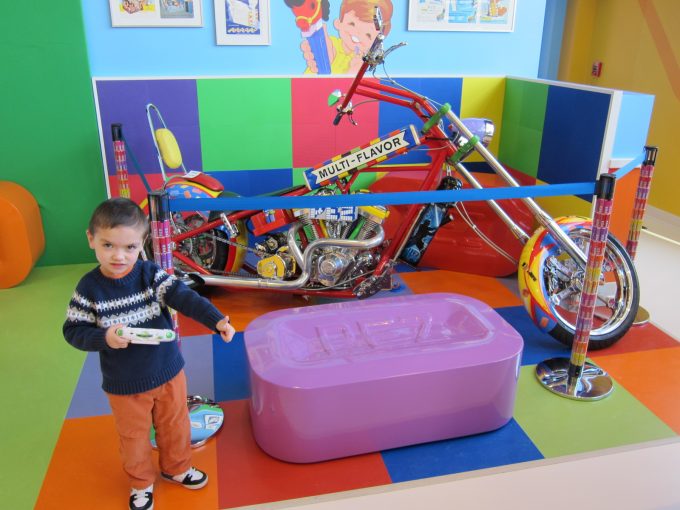 Obviously, the main thing people care about when they actually care to care about PEZ are the dispensers. As mentioned, collectors go bonkers for these things and PEZ has done a great job with licensing and doing their best to nail certain brands that collectors love to collect.
There are a bunch of storyboards here that explain some of the rarer dispensers and the stories behind them. That's the most museumy stuff here, and, it goes without saying, is my favorite part of this place.
The collection of "stuff" here is actually almost all from ONE guy – Shawn Peterson from the Kansas City area. And that's bonkers. Here's a good article about him and how he came to land in Orange. So many of our state's museums are merely collections of a singular passion. I can't think of any others that are for-profit and at a commercial venture though. This place is certainly unique.
Peterson said he was "a lucky individual" because he got a job out of high school at Hallmark Corp., headquartered in Kansas City, and worked his way through the ranks, holding various positions, many of them creative, and for a long time was part of a traveling art studio for children.

But then there were employee cuts. He managed to stay with the company by finding another position, but he saw the fragility of the situation and wanted more control of his destiny, so when the time was right, he met with PEZ's new CEO in Orange and proposed the concept of a Visitor center modeled after many he had seen back home and in other places: you show how the product is being made, put up a special display and sell merchandise.

They were interested, but needed a couple of years. Then in 2009, he got the call that PEZ was ready to proceed. Peterson said it felt good to be able to leave Hallmark on his own terms after 20 years, he said.
And voila! Here we are. The Center is very successful and averages about 70,000 visitors per year.
However, if those visitor's want to see the "Holy Grail" of PEZ dispensers, they'll have to go to California. The story of the super rare donkey headed dispenser is a rather fascinating one. I don't feel like rehashing the whole thing, so I'll let this article do it for me. (Read it, it's good.)
As I understand it, the PEZ Visitor's Center in Connecticut really, really wanted that donkey head, but the PEZ museum in California got it. Oh well.
If you visit during the week, you get to see PEZ workers making the PEZ candies through giant glass windows. We did not visit on a weekday, so we'll just have to use our imagination to envision how awesome that is. As you know, PEZ uses moon rocks to make the candy. It is shipped in from NASA every week and ground down to a fine powder before being mixed with sugar and pressed into the little bricks.
True story.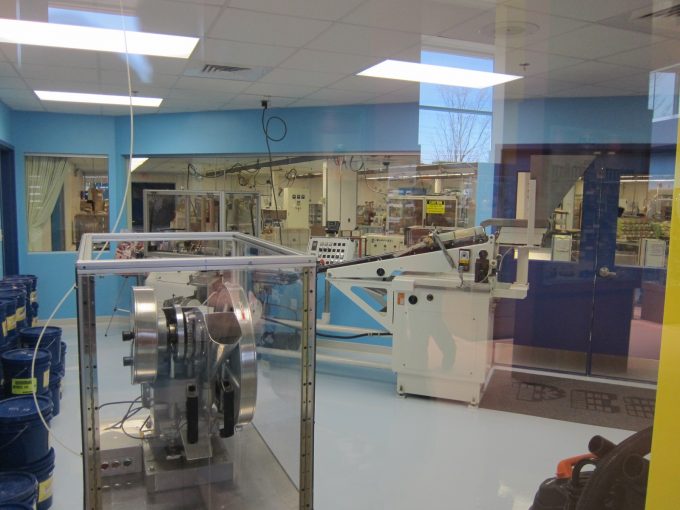 There are enough fun little things here or kids to enjoy and enough interesting historical tidbits to keep grumpy gramps entertained as well. The PEZ Visitor's Center is really well put together and while I'm not into PEZ at all, I found it to be a worthwhile place to visit.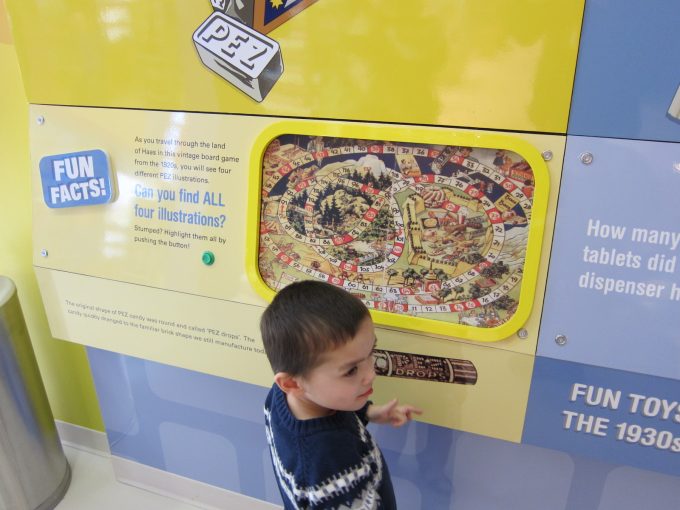 Oh yeah – I'd be failing you if I didn't mention the Great PEZ Easter Fiasco of March 2016. The story went viral around the nation and probably the world. Just another example of people being idiots; PEZ puts on a free hunt in Orange, way too many greedy people show up, kids get blitzed into oblivion while moronic adults scramble for eggs.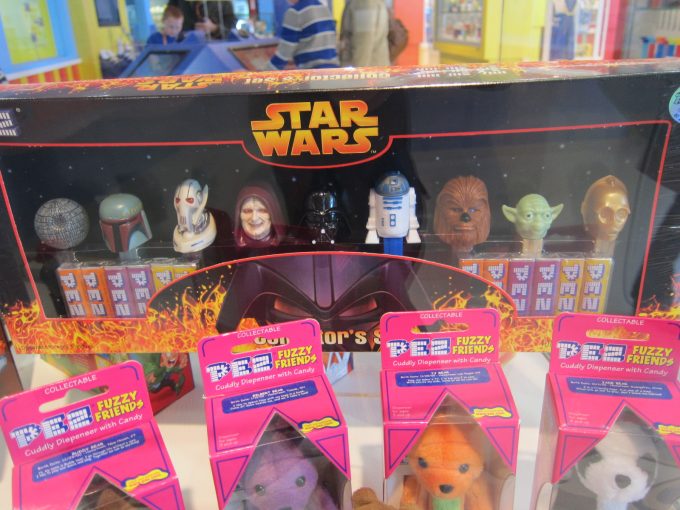 Some of my favorite headlines were:
Pulling at the heartstrings:
'They Broke My Bucket': Parents Cause PEZ Easter Egg Hunt Chaos – NBC30 in Connecticut
Using the vernacular:
Easter egg hunt turns ugly after being 'bum-rushed' by parents – Washington Post
Scare tactic:
Easter egg hunt at Conn. Pez museum descends into chaos – New York Daily News
Unique descriptor:
Rogue Parents Ruin Free Pez Easter Egg Hunt – The Consumerist
Accurate descriptor, with pun on what PEZ candy is like:
Greedy parents ruin Easter egg hunt, leaving kids in the Dust – New York Post
And the best one of all:
"Locust" parents shove, steal kids' candy at Easter egg hunt – CBS News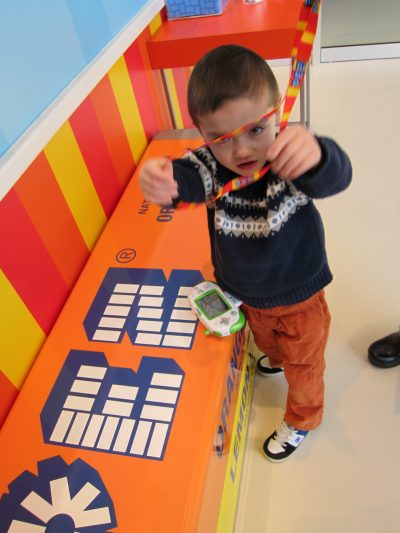 If you want to learn more and see some of the "cool stuff," the PEZ website is pretty good.
Also, in 2008, PEZ released a chocolate flavored candy. I'm sure it's delicious. Also delicious? Our visit to the Orange Green after the PEZ place. I love this short post.
…………………………………………………….