Sticks and Stones…
Ansonia (Google Maps location)
February 2013
There are a lot of nature centers in Connecticut. Some are state-run, some are Audubon centers, some are private entities, and some are town-run. Having visited dozens of them, very few stand apart. I'm happy to report that Ansonia's version does, indeed, stand out.
In a good way.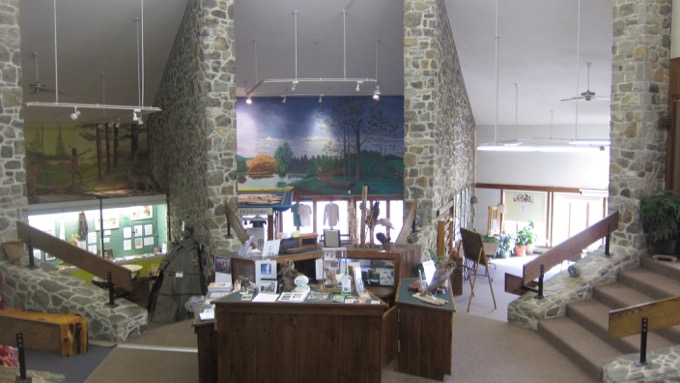 This page is only about the center itself and not the nice trail network surrounding it. Sorry, but that's how I do things 'round these parts. I'll get to the trails someday, but as you can see from the pictures on this page, it was quite cold and my boys were quite young. No hiking on this day. (Although, young Calvin did get upset when we wouldn't take him to play on the playground.)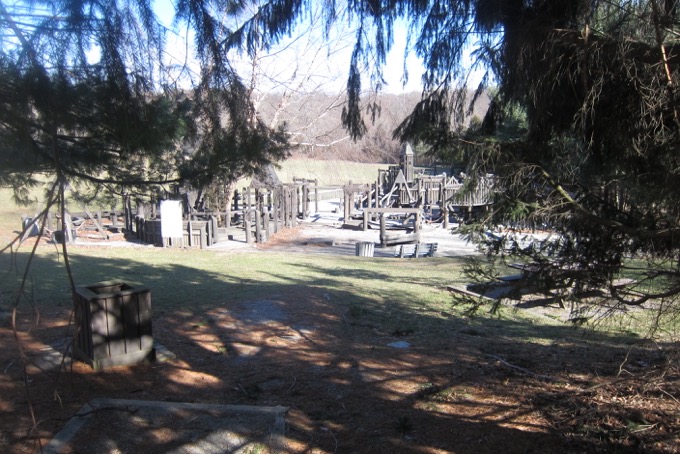 But who needs a freezing cold playground experience when there are warm and fuzzy animals to experience inside? Not the rest of us, that's for sure. But apparently we are unique. Despite the largeness of the Ansonia Nature Center, the friendliness of the staff, and the extent of its animal collection, we were the lone visitors during our hour or so there. C'mon Lower Naugatuck River Valley! Support your best local nature center!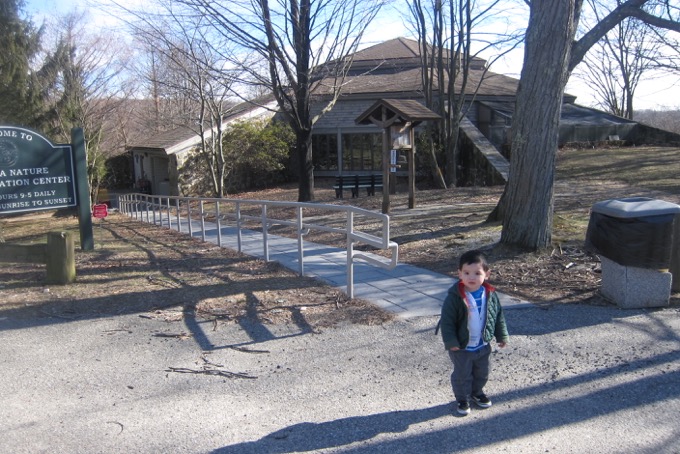 As I scroll through the pictures for this page, it occurs to me that this will be one of those that I look at in the future and get all wistfall for the days of my sons being so small and cute – and wearing clothes Hoang wants them to wear rather than what they pick themselves. Sigh.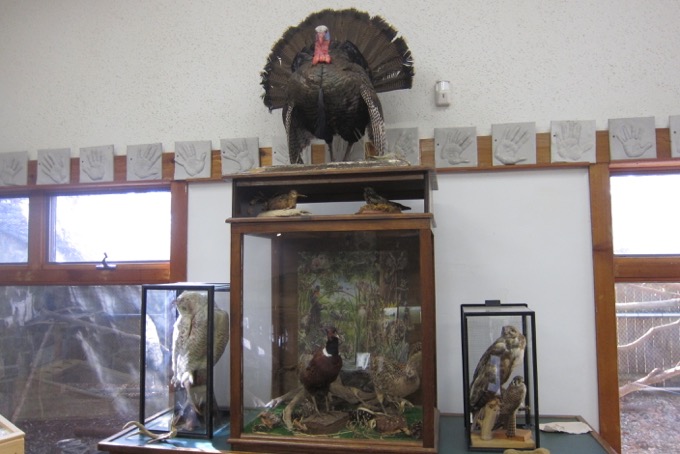 Yes, this place is unique. In fact, it's more unique than you even know…
Ansonia Nature & Recreation Visitor Center houses several exhibits, provides space for our animal ambassadors. The unique visitor center, also know as the Schumacher Pavilion, was constructed in 1977 from Connecticut stone and glass is also the hub of the park with classrooms, a nature store, a small natural history library and office space.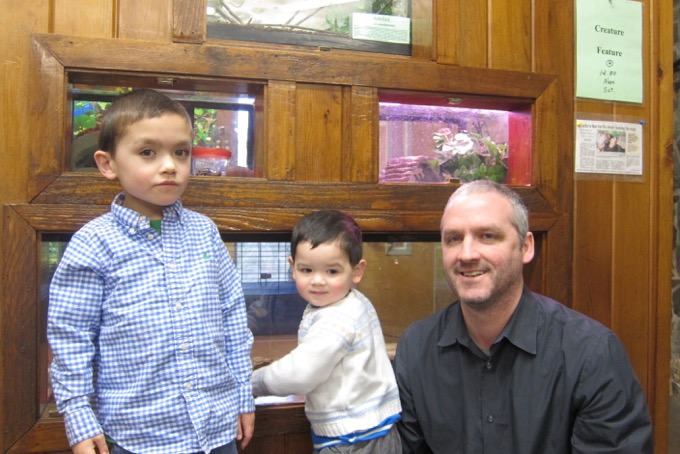 I'd guess there are tons of buildings in the state built from Connecticut stone and glass, but not ones built after 1930 or so. But I don't really have any idea. The local stone and glass came together nicely here, as the building itself is quite attractive and allows for a lot of funcional space. The Nature Center itself is sort of "in the round," so to speak. There are activity areas and specialized animal areas spoking off from the center. I really like the layout here; one of the best for sure.
The usual animals are all present and accounted for of course. You've got your fishtank: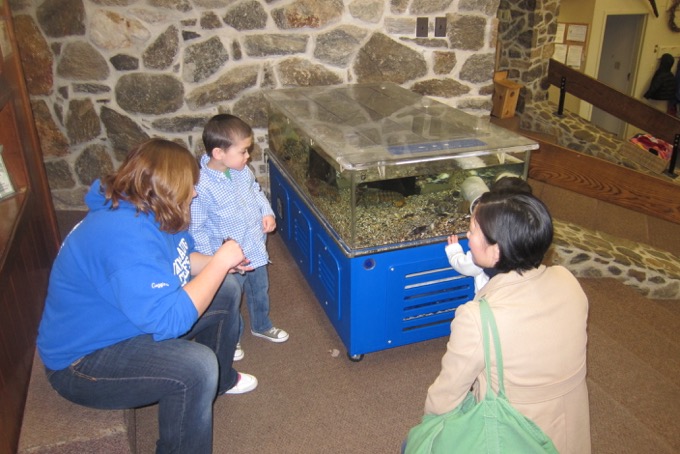 You've got your red-tailed boa: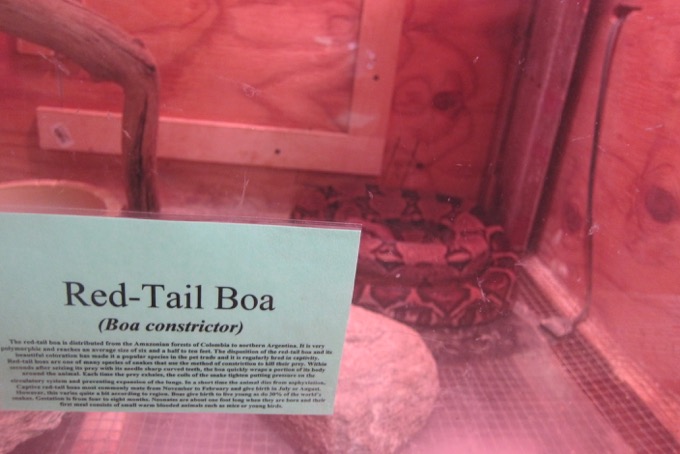 You've got your red-knee tarantula: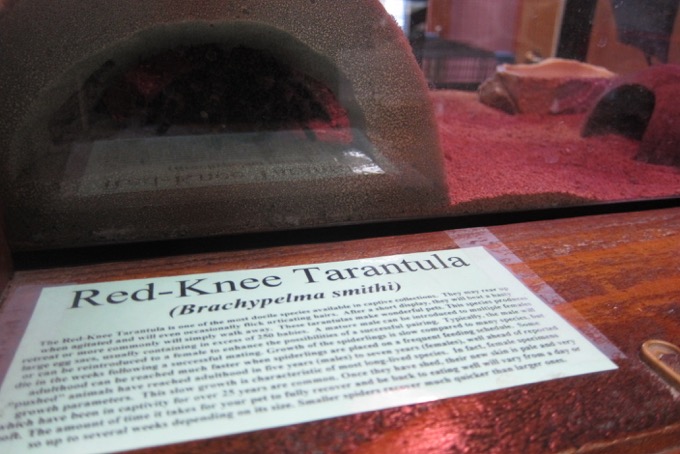 You've got your great horned owl: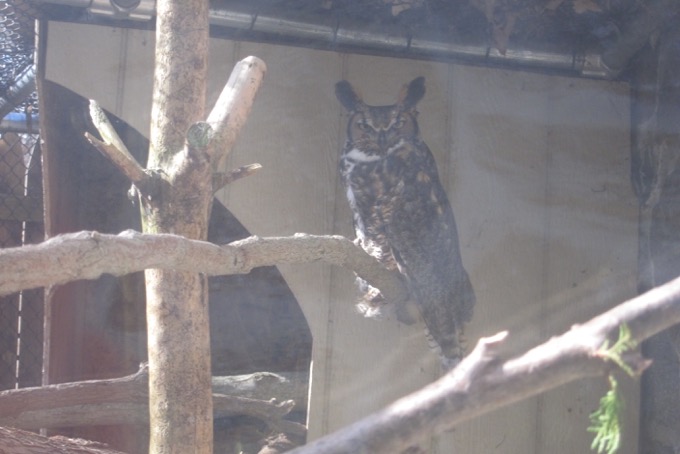 You've got your whatever kind of lizard this is: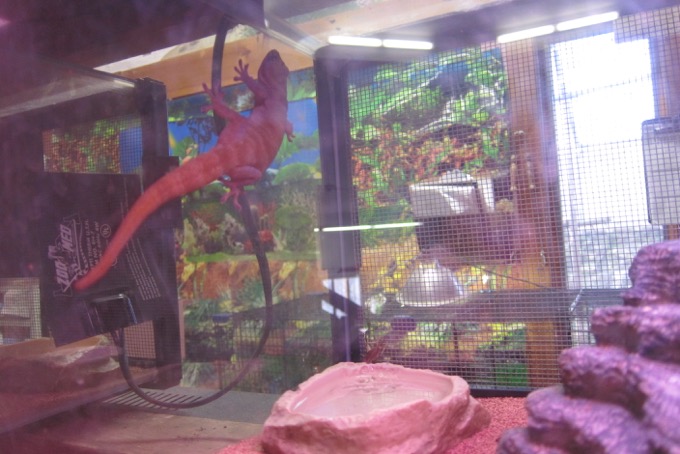 Let's spend a minute with that tarantula that isn't actually in my picture. If only because I've personally never learned about these guys before. From Tarantulas Tarantulas:
These highly coveted tarantulas, like their name suggest have "red knees". Originating from the Pacific coast of Mexico, the Brachypelma Smithi is used to residing in drier areas with little to no vegetation. However, these species of tarantulas were so popular amongst the Chinese that in 1985, they were listed in CITES due to the large decrease in size of the wild-caught specimens for the sole purpose of exportation to the Chinese market. Nevertheless, the Brachypelma Smithi is still widely bred in captivity, so obtaining one shouldn't be an issue. The lifespans for these tarantulas (females) are upwards of an astounding 30 years! While their male counterparts typically only live to about 10 years. It's no wonder these are sometimes considered heirloom pets. These species of tarantulas are docile, hardy and colorful. For this reason, they are very popular amongst beginners. However, a problem associated with the Brachypelma Smithi is the fact that they are notorious for "flicking hairs" off their abdomen. This is one of their first lines of defense before resorting to a fight (bite) or flight. This results in a bald abdomen if used often, so don't disturb it! However, like all things the hairs will be replaced with new ones after molting. If humans come in contact with these "urticating hair" this usually results in a rash but it is nothing to be alarmed of.
I don't understand. What makes a giant spider a good pet? Especially one that you literally can't "use often" as the blurb says? Is it a good pet if handling/petting/playing with it is called "using" it?
Moving on… You've got your guinea pigs(?):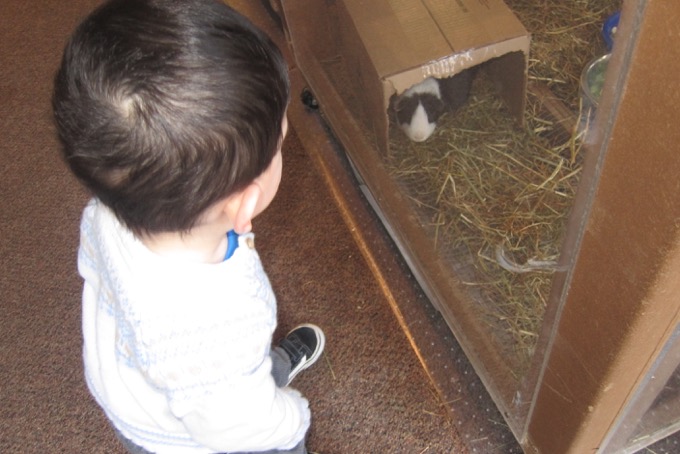 You've got your bunny rabbit: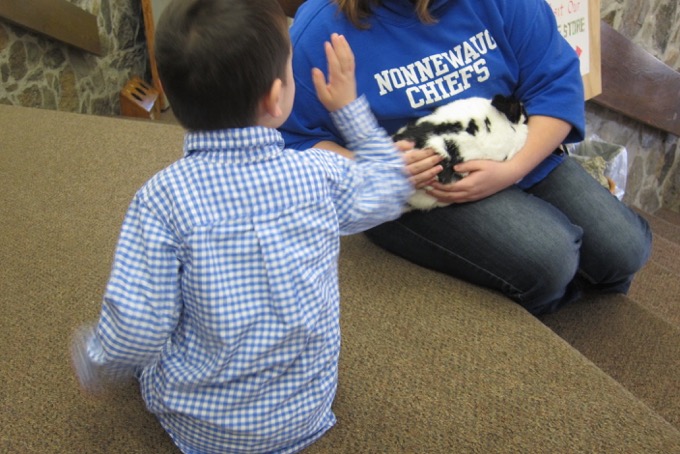 You've got your African lion: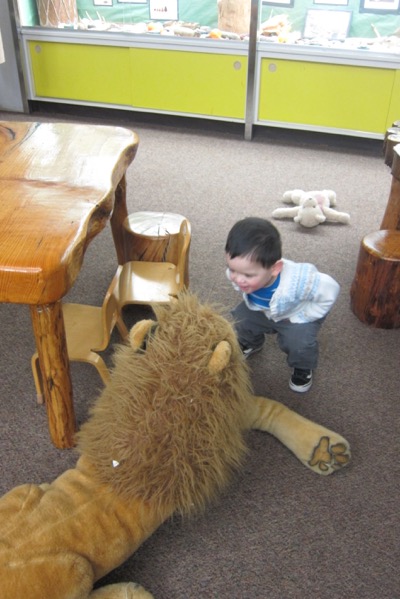 Oh, the Ansonia Nature Center doesn't mess around. I was quite impressed with the animals here. The tanks were very clean and they all appeared to be well cared for. The young woman who was working/volunteering, engaged the boys and since we had the run of the place, they were able to touch and see and pet several different animals.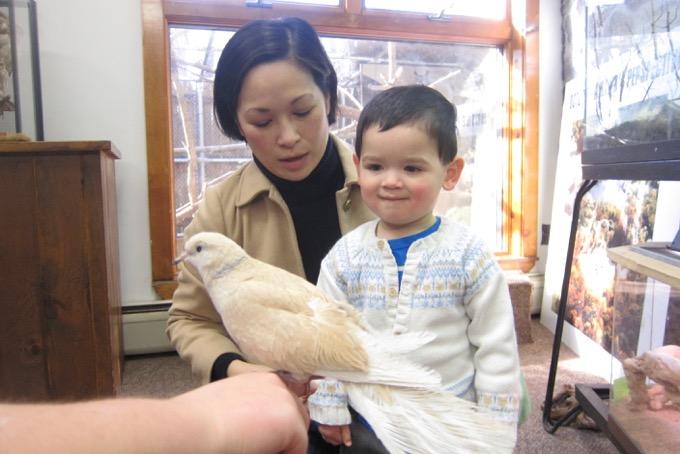 Even Damian got in on the act… always a slightly terrifying experience…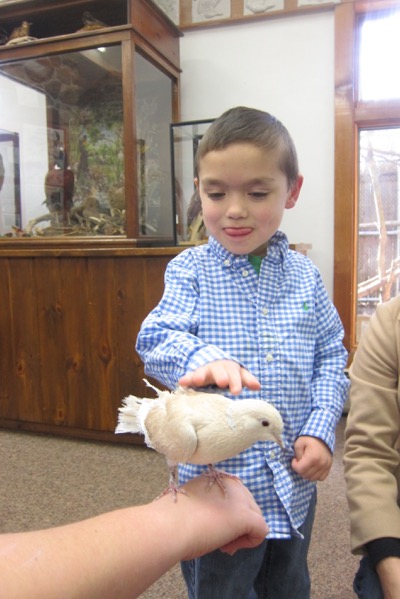 Aside from the animals, this place has the Native American artifact stuff, and the taxidermy stuff, and the local geology stuff. I certainly don't mean to give the impression that I'm tired of that stuff; not at all.
I love that stuff! And the kids need to learn about it. And – again, credit to Ansonia – the displays here are quite attractive and informative. Well done.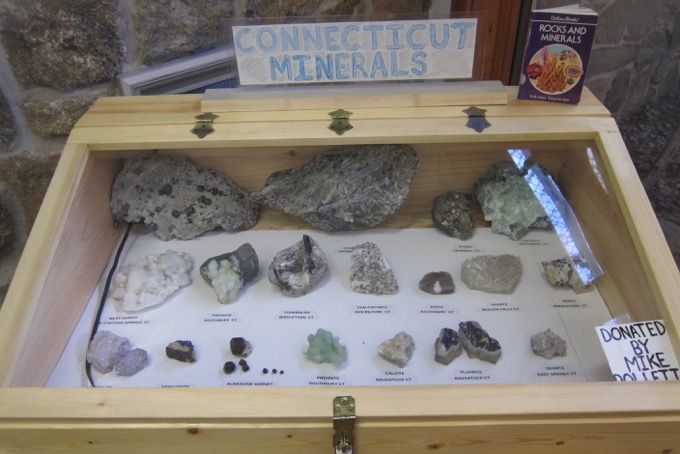 But what I most liked here were the little activity areas. I think a big part of it (for weird old guy me) was simply the design of the space. The way the winter sun shone through the floor to ceiling windows, the warmth of the cozy little activity spaces.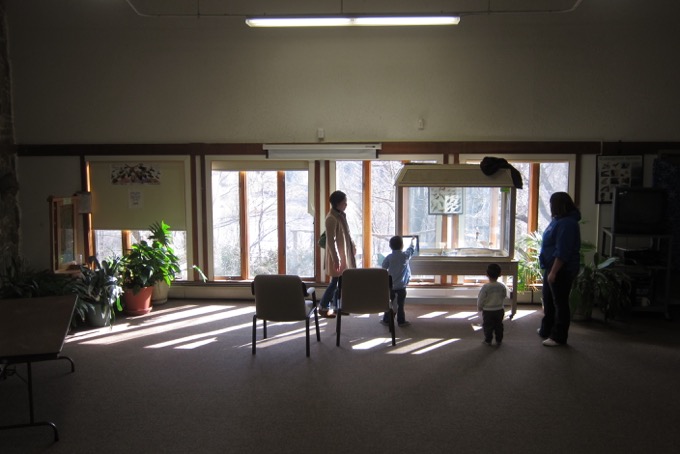 I think you can see what I mean from a couple of these pictures. Maybe?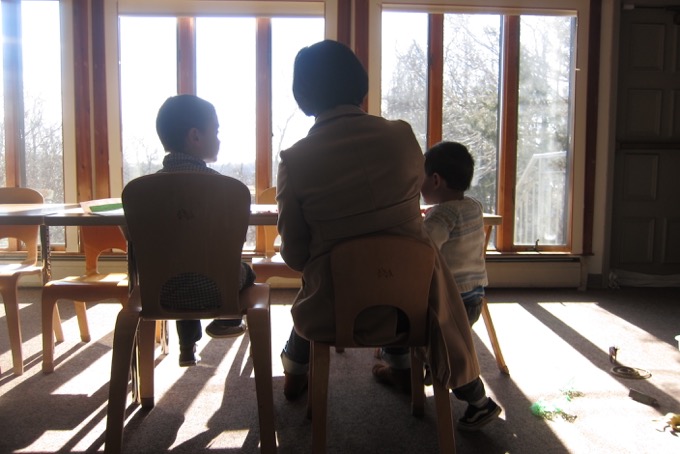 Or maybe it's just the wistfulness of seeing Calvin in a cute little sweater from back in the days when he'd wear what Hoang wanted him to wear. It's funny – and this is totally random – but I'm actually writing this in October 2018. Five and a half years after this visit. (Don't worry, my secret is safe between me and you, the one person who's reading this.)
Once I got way behind on a few museums, it hit me that it would be kind of fun to dig back into my old pictures and write about experiences when the boys were 5 years younger. And here I am, and… I was right. It is kind of cool to post pictures like this for the first time: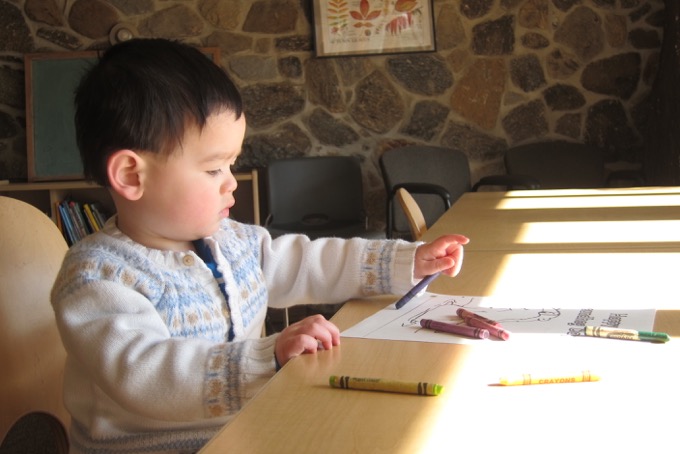 See what I mean? Such a cute little boy. Sigh. Let's get back to the checklist… You've got your bear mural: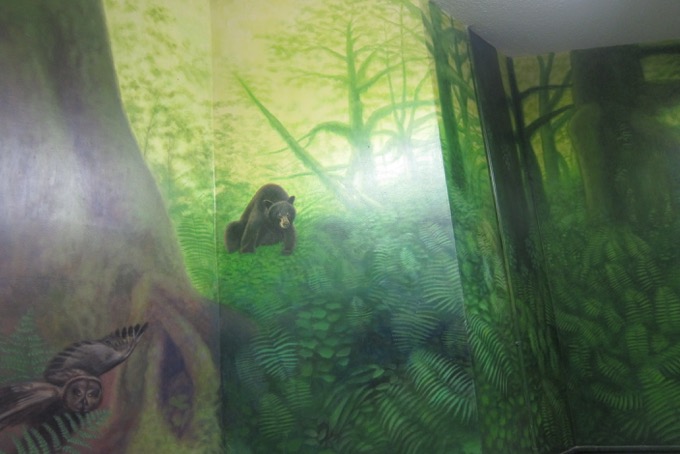 You've got your archaeologist tools:
You've got your Native American stuff: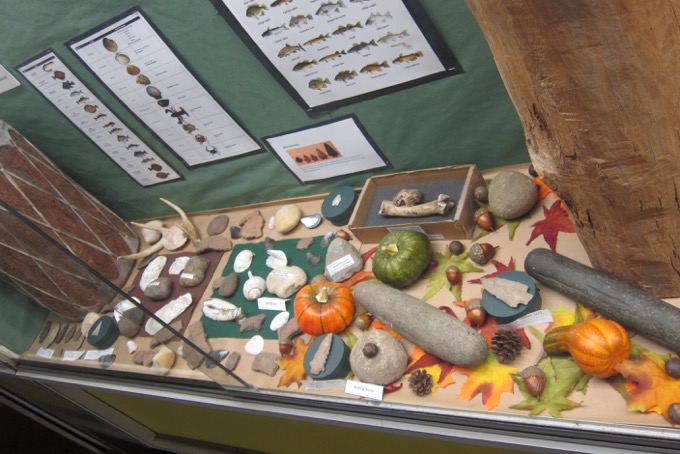 You've got your Native American mural with terrible perspective: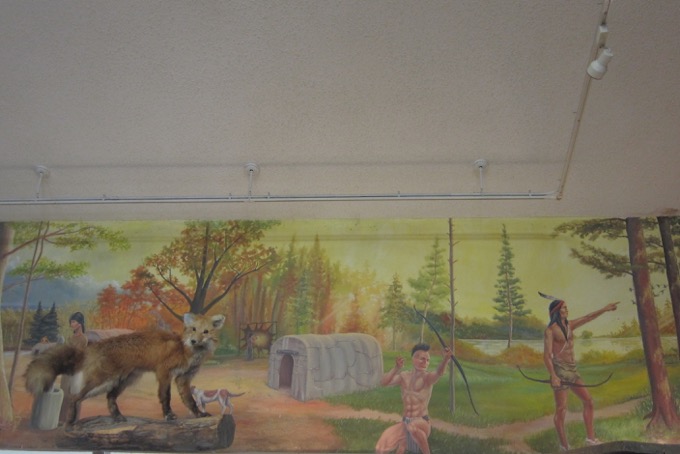 And, of course, you've got your Northern Walking Sticks.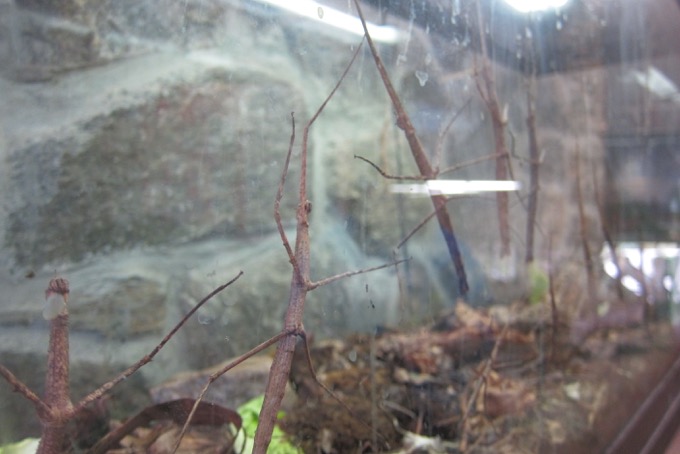 Yes, the absolute highlight of the Ansonia Nature Center was, for me, the Northern Walking Sticks. There were so… many… walking sticks. They apparently had a very active winter and caught the Center off guard a bit, because there were way too many walking sticks and they didn't really know what to do about it.
I thought that was kind of hilarious. Also, Walking Sticks have the ability to regenerate lost legs. I have always enamored with these guys… like someone 200 years ago or whenever found one and said, "Ay, this stick walks. It's a Walking Stick," and that was that.
Annnnnd, that is that for this page as well.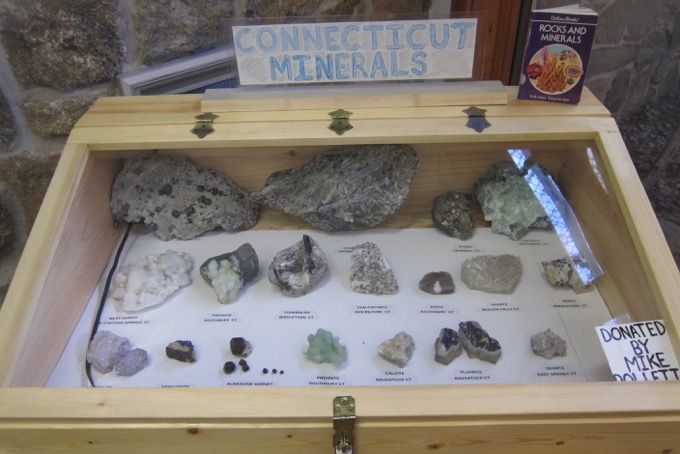 Ansonia Nature Center
CTMQ's Museum Visits