Gateway… to The Next Gateway
Montville (Google Maps location)
July 10, 2015
In 2018-19, the Gateway Museum expanded a bit and they changed the name. It is now the Genius Museum and if I want to be thorough, I suppose I should revisit at some point to view the expansion.
I'll start off as I often have to do; by saying that my "review" of this place is colored by the fact that I had my two sons with me… and not my wife. One son is 4 and the other has difficult special needs. Suffice it to say, I was perhaps a bit distracted and rushed during our visit to the Gateway Museum.
Of course, I could argue that this wasn't such a bad thing, actually. Why? Because to not rush through this place would be sort of a weird way to spend one's day.
And before we really get going here, I'd be remiss if I didn't mention that The Dinosaur Place, which is also part of this sprawling and oddly cobbled together tourist trap, um, thing(?) in Montville is really very cool. Stupendously overpriced and created in such a way as to almost force little kids to continually beg their beleaguered parents to buy MORE stuff and MORE experiences, sure, but it's still a really cool place.
The Dinosaur Place is, perhaps, the anchor attraction here at what, I think, is collectively called "Nature's Art Village." There's an antiques shop and some food vendors and some other little stuff – in addition to the Gateway Museum.
And as for the Gateway Museum itself, I think it may be expanding in 2016. Or perhaps there will just be another museum here at Nature's Art Village? Oh, wait, I just looked at my picture of the still-empty building and it also says "Gateway Museum." Darn it, so why am I writing about a half-completed Gateway Museum?
For what it's worth, Gateway Museum Part Two will contain a giant steam locomotive if I remember our guide's bored explanation of it. So that might be neat.
But we're here just for Gateway Museum Part One – the part connected to the Antique shop which seems to sell a whole bunch of Americana. I am not in the antiques market and don't understand it in the least, but there were a few customers poking around it on a warm Saturday morning in June, just minutes after it opened.
I arrived, as I just said, right at opening time and sort of felt bad for the young man who drew the short straw which was the one that said he had to be our guide. He also had to collect my $13.75 plus tax (Calvin was free!). I mention this because I could tell off the bat that he totally felt guilty about the fee. I wanted to pat him on the shoulder and explain, "Hey man, if we were doing the full experience at the Dinosaur Place next door, this could be a hundred-dollar day, bro. Don't sweat it."
Of course, he did ask, "What brings you here? Going to see the dinosaurs after this?" I sort of had to lie and say, "yeah," because who the heck brings little kids to Nature's Art solely for the half-finished Gateway Museum?
But Calvin piped up, "NO! We're GOIN' TO DA BEACH!"
So now I really felt bad for the guy, since he was clearly about to help out a proven liar AND a dad who takes his kids to Nature's Art but denies his children the fun of the Dinosaur Place.
Greeaaaat.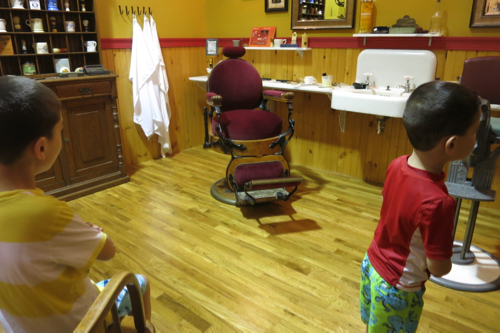 The guy – who was very nice and did a very good job considering his audience – had to unlock the door for us and turn on all the lights. I had hoped he'd just let us wander, but no. I'm not sure he guides every visitor though… maybe just visitors with little kids. For this isn't really a little kid museum.
This is a museum for your grandfather. And I don't mean that in a bad way, as tons of museums are geared towards the "old American white guy" set. It is also VERY clean and well-ordered. Usually, these types of museums with a collection of old tools and machines are a bit more, um, have a bit more character.
The Gateway Museum looks like it just came out of a box under a Christmas tree somehow. Personally, I rather enjoyed this aspect of the place. It was bright and uncrowded and clean and super organized. I could see some old-timer museum fans being thrown off by this though.
The museum's whole theme is "A Village of Progress" and allows visitors to "explore the 200 year growth of American trades!"
Have you ever wondered how newspapers were printed in the 19th century or how a steam-engine could power a boat? Then step through the gates of time into The Gateway Museum at Nature's Art Village and enter a village of progress! Take a historic walk and discover a timeless town displaying the rapid transformation of American technology over two centuries. The Gateway Museum is a great place for families to share memories, elders to feel nostalgic and the young to learn how everyday life has developed with technology's advances.
I'm jazzed up! Let's go!
(Their website has a 50-second video of the exhibits. Feel free to check it out.)
Up first, the old timey barbershop!
This 1920s style barbershop houses shaving mugs, barber's chairs and straight razors. Learn about a time when a haircut and shave cost two bits! The wonders of this shop also include the progression of household appliances such as hairdryers and curling irons.
The guide allowed my sons to poke around this room, all the while on edge that one would pick up a straight edge and slice him. At this point he had no idea that Damian was, um, difficult. (In fact, he guessed he was "5 or 6" earlier. He's 9, but whatever.) But no, my sons would never do that.
They are rather well behaved at museums – even ones that aren't necessarily suited for them.
Like this one.
Another display area is the Oakdale Country Store.
From pie-birds to potions, this one-stop shop provided for both the ailing and every day shopper. Step back to a time when skin boils were treated with gunpowder, and dried goods were a necessity. 10 cent sodas and 5 cent cigars await you in this installment at The Gateway Museum
A pie-bird s a hollow ceramic device, originating in Europe, shaped like an upstretched bird with open beak used for supporting or venting a pie.
I really hope we can still buy pie-birds these days. I like them.
Moving on… Oh, wait. You wanted to know what kind of primitive quacks used gunpowder on skin boils?!
Hahaha, yeah, me too! Just a quick Google here and… um.
Yeah. In 2015 Homeopaths still apparently use gunpowder on boils. I'm not clear on whether that is a typical homeopathic remedy (meaning it contains literally 0% of what it purports to contain) or if it's actually gunpowder. I guess it's pretty darn easy to test though, right?
(I'm willing to bet it does not contain actual sulphur or saltpeter. Or charcoal for that matter.)
Anyway.
The smell of ink, the precision of the typesetter, the rhythmic humming of our 19th century Chandler and Price Platen Press are all on display at The Gateway Gazette. Mind your Ps and Qs as you experience technological wonders from a massive guillotine paper cutter, to a stamping press very similar to the one used in Washington, DC for the presidential seal.
This stuff was definitely cool. I've always found the "old way" of doing this stuff fascinating; especially typesetting. Just an insane amount of gruntwork went in to printing a newspaper. And I don't know the story behind this ridiculous book, but hey, they have a ridiculously huge book!
To the back of the room!
While cruising through The Gateway Museum, be on the lookout for this 1920s style Chris Craft steamboat. The Montville Queen, pictured above, is now powered by compressed air, so a museum visitor can observe the power and clamor of this antique engine.
Yes, this little tiny boat was powered by a massive, dirty steam engine. The guy turned it on for us and I can confirm that a trip out on a lake in this thing was not fun. It left you deaf, sooty, and probably addled for days.
Let's go to the farm and, wow, we're almost done? This museum, again, is apparently half of what the finished Gateway Museum will be. Even if I really cared about all this stuff and was with, say, my dad… I don't think we'd be here much longer that 30 minutes maybe? And that's with my pops trying to sound smart to the guide for 15 of those 30 minutes for absolutely no reason whatsoever.
Explore the mechanical wonders of America's agricultural heyday. Innovations such as potato planters, crop dusters and saw rigs are a reminder of the importance of technology in driving our economy. Highlighted by an early 20thcentury steam buggy, this exhibit is sure to plant dreams of simpler times in your head.
Was that our agricultural heyday? I'm sure we produce way more product now than we did 100 years ago. Sure, far fewer people actually farm, but all that "technology driving our economy" changed that calculus a bit in the late 20th century and beyond.
And that, my friends, was pretty much the museum. Well, except of a few random things:
The Gateway Museum at Nature's Art Village has a lot more exhibits waiting for you throughout this indoor village of progress! Explore the 20th century's advances through communications in the newly opened telephone exhibit or encounter the skillful craft of cobbling in George's Shoe Shop. More exhibits are always opening in the Gateway Museum so check back soon for a new adventure!
Look, I'm not saying this place is lame. It's not! If you've never been to the 100 or so other museums that have most of this stuff, this place is great. If you go with 3 friends and drop over 30 bucks on it though? I'm not so sure about that.
And if you bring your kids here and deny them the awesomeness of the Dinosaur Place attached to it, you are just a terrible parent.