Never Lose That Museum Hunger
Harwinton (Google Maps location)
June 9, 2018
Regarding my title above… as I close in on 400 Connecticut museum visits, I'm happy to report that I have not "lost the hunger" to visit maybe 400 more. Absurd? You bet. But I'm still game.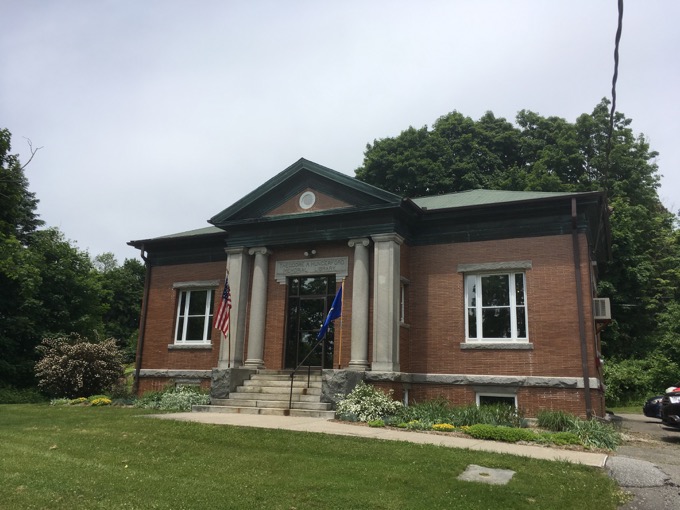 This often surprises those who know me. I'm a normal person. I don't spend my time at parties in darkened corners talking about random little museums no one has ever heard of. Museums like Harwinton's T.A. Hungerford Memorial Library and Museum.
No, I'm a bit more self-aware than that. In fact, I darn well know as I type this sentence that for as long as ctmq dot org lives on, very few will ever read this sentence. Tiny unknown town history museums aren't doing the heavy lifting on this site.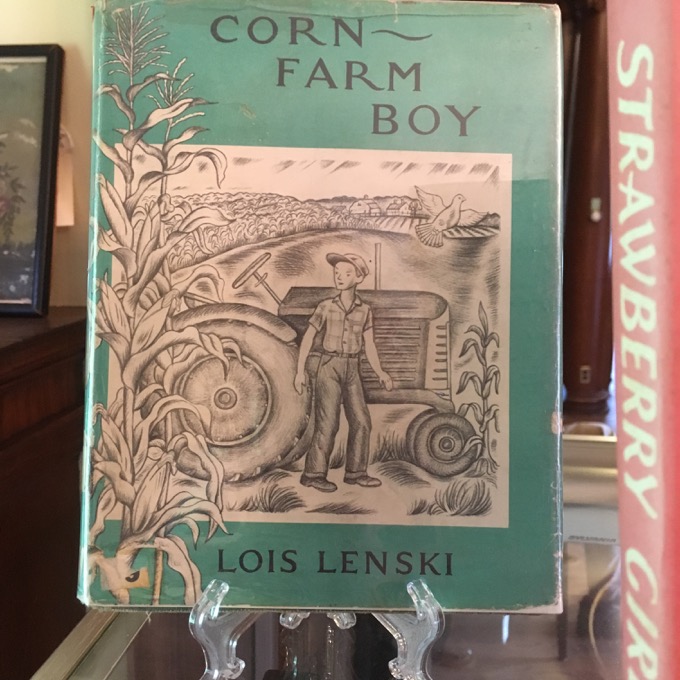 But I don't care. And I don't care that this place is all of two small rooms containing a bunch of old stuff that isn't very interesting to… anyone, really.
But it exists. And will continue to exist. And that alone is what makes it interesting to me.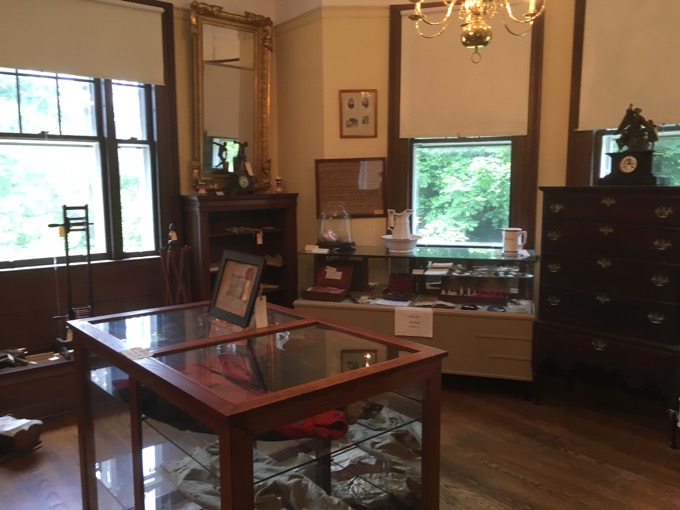 I was greeted by two older gentlemen who seemed quite pleased with my presence. It was Connecticut Open House Day so I fell back on that when they asked what had brought me to their museum. (In truth, I'd passed this place on the hill along route 4 in Harwinton looking for an Open flag dozens of times over many years. But no one needs to know that.)
They offered their services if I should have any questions and I set about my unique brand of poking around while furtively taking as many pictures as feasible. Up first: The Lois Lenski book collection!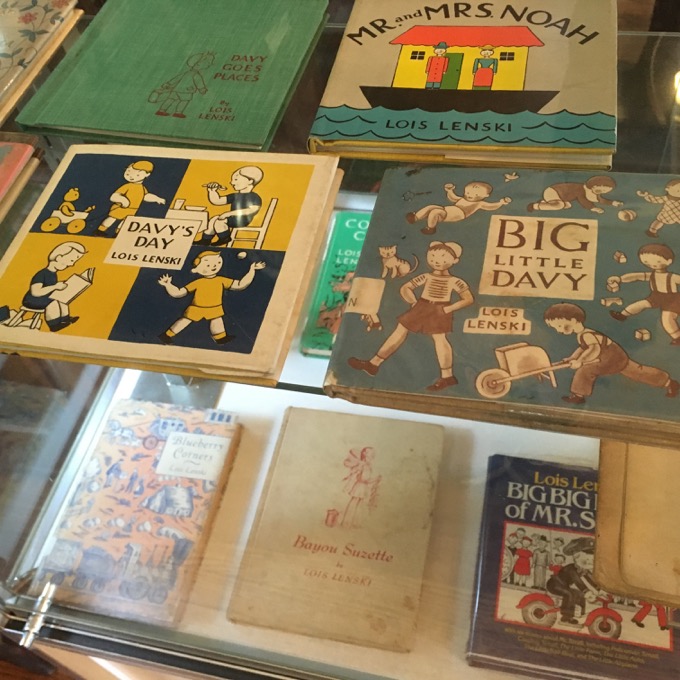 None of us have ever heard of Ms. Lenski, but she was a prolific and respected children's author. She was born and raised in Ohio, traveled to Europe, and lived out her years in Florida. But in between? Oh you better believe she lived in a Harwinton farmhouse. It was dubbed Greenacres.
A sign at the museum states that she was the first author to portray regular family life in children's fiction. I find that to be a bold claim, but what do I know? Importantly, her books taught kids "understanding and tolerance." After she died in 1974 and her son gave the Hungerford Memorial Library (this building's former purpose) $300 to buy up every one of her books in print.
One of them, Strawberry Girl won the Newberry Medal and two others garnered the Newberry Award.
This museum started with a bang for me! But who was T.A. Hungerford?
Shortly before his death in 1903, A Harwinton boy who had gone out into the world and did very well, Theodore Hungerford, was considering the building of a suitable mausoleum. A nephew, Newman Hungerford, who had spent many summers in Harwinton and loved the town, encouraged his uncle to consider donating a library building and trust fund for its maintenance as his memorial. The elder Hungerford liked the idea, wrote the provision into his will, including the fact that a tomb would be included in the foundation of the building, and made Newman the trustee of the project.
Whoa. No one told me there was a dead guy in the building. This place just got cooler. Nephew Newman collected Harwinton artifacts and that formed the basis of today's museum. Civil War stuff, early crafts, paintings, furniture, old kitchen stuff, medical stuff, clocks, and arrowheads pretty much complete the collection.
But… but there's more. Much more. According to a Register Citizen article, " there could be as many as 10,000 historical documents hidden in boxes in the attic and basement of the building." Whoa.
The same article states, "The legend is that Hungerford is buried somewhere on the property, either in the basement or in a section of the land that archeologists have determined has an unusual density."
Aw, man. It's a "legend?" Lame.
Here's an example of what you may find there:
Pieces include a wedding dress in brown and silver worn by Lucy A. Catlin on June 1, 1857, a Harwinton Fire Department baseball team uniform worn by Norman Barber, a dress worn by Lloyd Hanley as a toddler to attend the Harwinton Fair, baptismal dresses, children's bonnets, a scarf commemorating the death of Queen Victoria and black top hats made by Strong & Woodruff of Hartford and Horsfall & Rothschild also of Hartford.
With all this exciting stuff, one must wonder about crowds…
Despite their easy-to-find location on Burlington Road, the museum remains somewhat of a secret to visitors.

"Overall, the traffic is horrible," said Mike Orefice. Cindy Orefice said there is only a half dozen of visitors on any open Sunday.
Aw man. It's actually surprising to see such candor in a newspaper article. But take heart Orefices… you aren't alone. Trust me. I'm the guy who still "hungers" for your type of museum and I love them.
And other people do to, I promise. Keep plugging.

T.A. Hungerford Museum and Library (facebook page)