Let Me Tell You a…
Simsbury (Google Maps location)
June 9, 2018
Storyteller's Cottage closed in September 2020, a casualty of the COVID-19 pandemic. The owner will host online events, but the building is permanently closed.
… Story. The Story of why this place deserves a place on CTMQ's hallowed list of Connecticut museums. For Storyteller's Cottage is not a museum. It happens to be located right next to the Simsbury Historical Society collection of museums, but that doesn't make it a museum.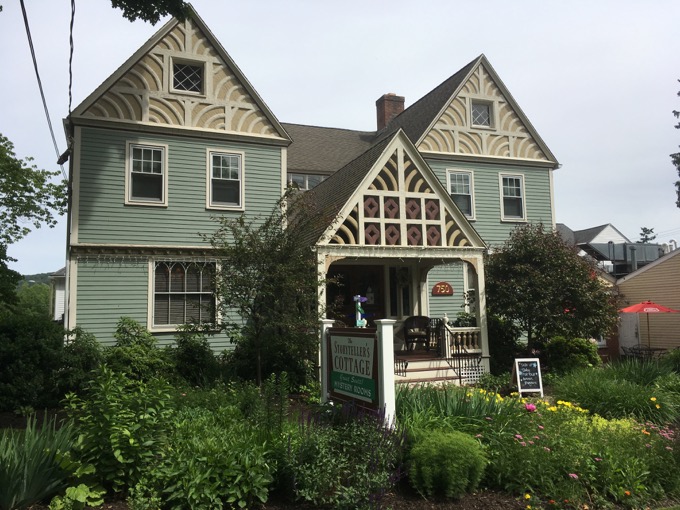 But… what is it? Having been there and having toured the whole joint, I still don't really know. Here's a blurb from their website:
Do you read to immerse yourself in a different time and place? Indulge your passion with like-minded bibliophiles as a member of one of our unique literary societies, or at our charming dramatic events, or in our novel (& inspired) mystery game rooms.

We will host book clubs, writer's retreats, author talks, murder mystery dinners, dapper cos-play LARP,

4-D theater productions, and much more.

Step inside a vintage world at our historic Victorian manor, where literature comes to life!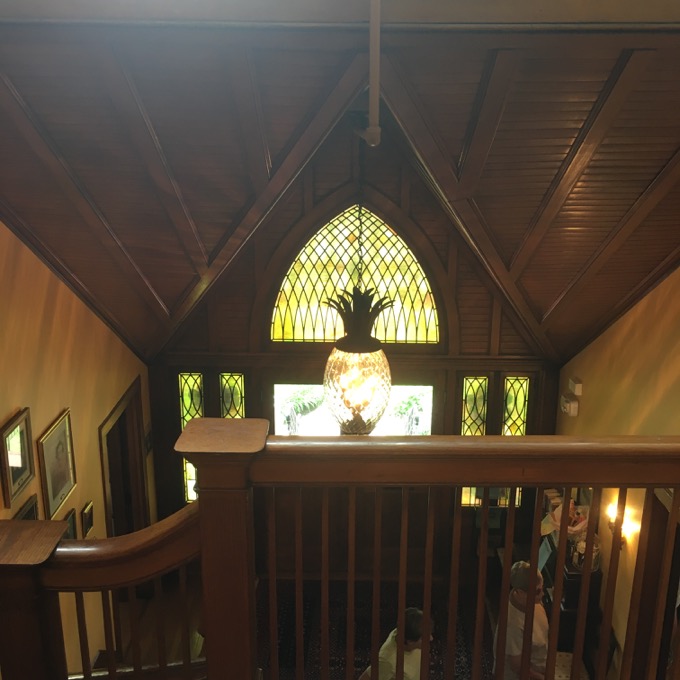 I've no clue what 4-D theater is. And I'm not sure there are any other places in the state that promote "dapper cos-play" or "LARPing." At least I hope not. And I can report that Storyteller's Cottage isn't "just saying that;" my visit confirmed to me that there are definitely cosplaying LARPers here fairly regularly.
Which means, of course, I will not be revisiting.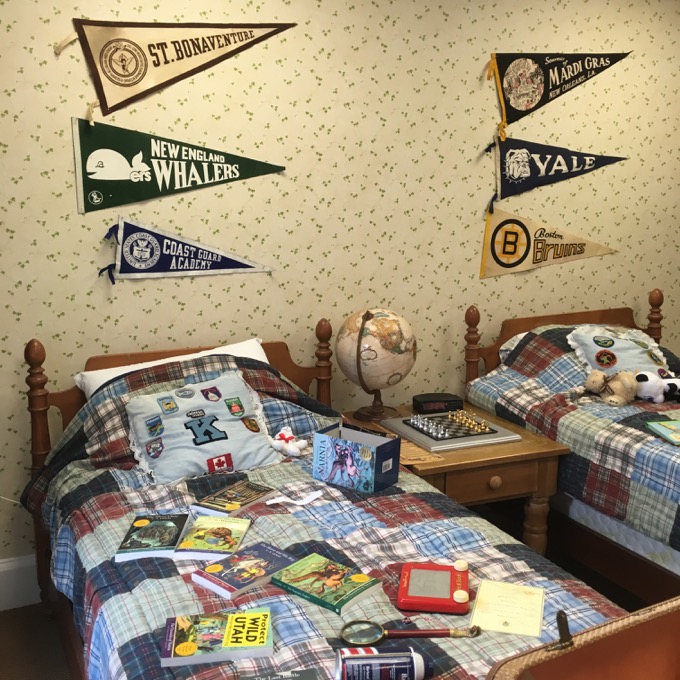 OR WILL I?
Despite the attraction to LARPers, vampire novel dweebs, and grown-ups who still believe in ghosts, I kinda sorta love Storyteller's Cottage. It is a lovely building, smackdab in the middle of Simsbury's main thoroughfare. There are several nearby places at which to get drunk before dealing with dudes in furry costumes. Huge plus.
But seriously, I love anyplace that promotes reading. And writing. After all, I obviously love writing and hope that there are a few of you out there who still actually read. The breadth and depth of offerings here are somewhat staggering:
Writer's workshops for young and old: Surround yourself with creative inspiration and work on a project in progress during our free drop-in hours, or at one of our unique writing workshops led by local authors. We offer dozens of different classes for all ages, plus supportive writing groups for authors with works underway.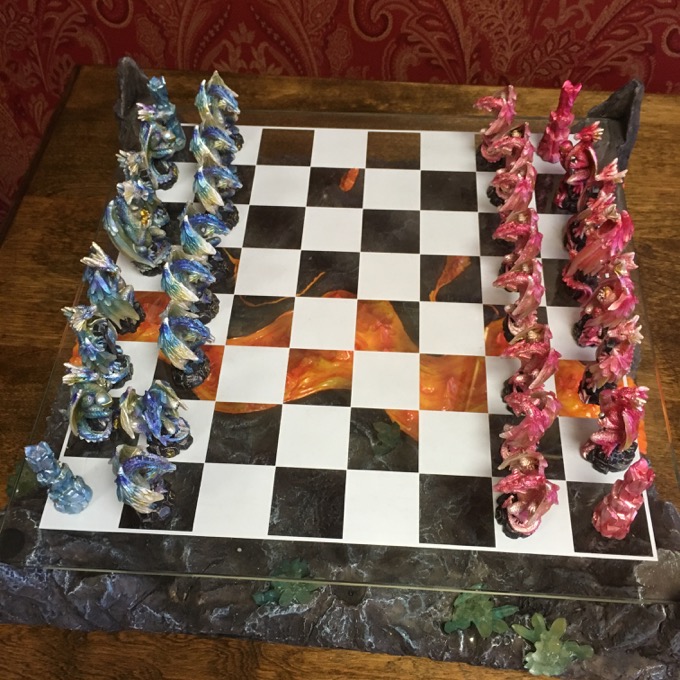 Literary Clubs: There seem to be at least a dozen of them that meet here.
Events out the wazoo: Date nights, costume parties, book signings, readings, concerts, kid stuff, teen stuff, family stuff… on and on.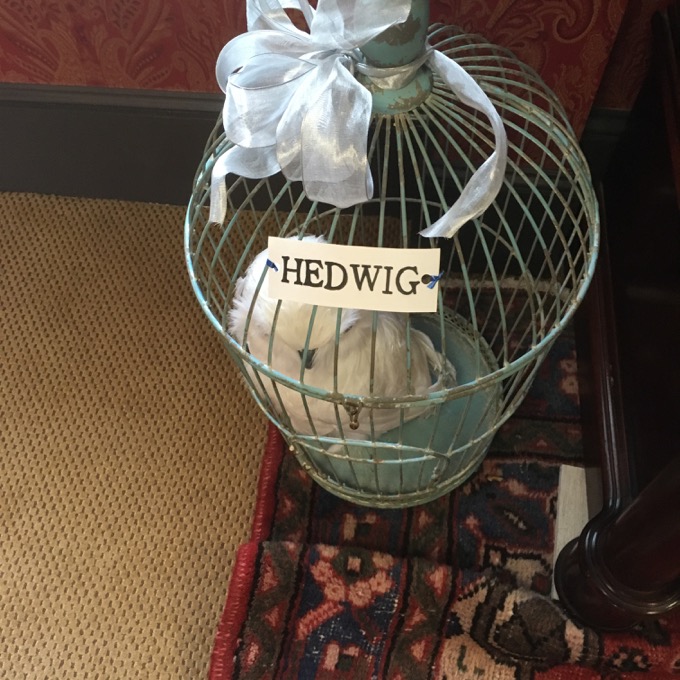 There are also three mystery rooms here! These are sort of Escape Rooms Lite, if you will: This is a game that's great for all ages! Bring your team of up to eight friends and family members, and work together to solve a roomful of codes, puzzles, riddles and clues. You will have ONE HOUR to uncover the solution to a fascinating mystery! We have three rooms available to play, each with a different literary theme, inspired by some of our favorite mystery novels.
Phew. Perhaps most impressive is the effort that went into decorating the old Victorian house. Each room has a theme, and each is carried out really well. A bit over the top? Sure, but in this context, that's what makes it fun.
I visited during an open house, during which I had free reign. Each hallway took me to more rooms. So many rooms! Some with "secret" doors and ways to reach other rooms.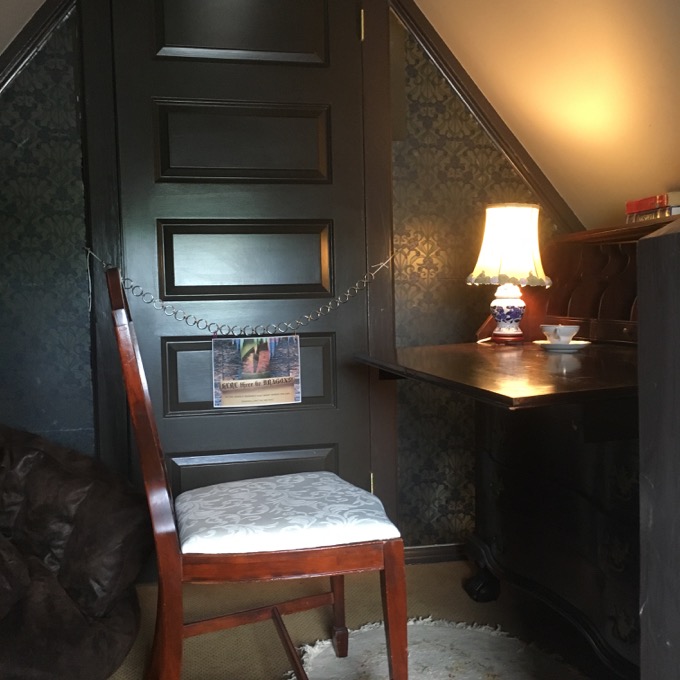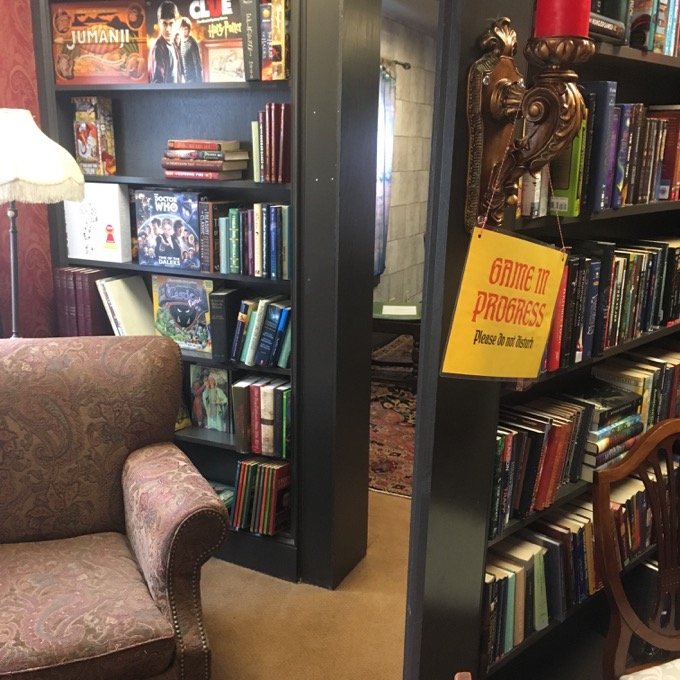 A few local authors were milling about, trying to get my attention. I skillfully was able to avoid them all and didn't have to hear about their "unique take on the teen vampire genre." I even passed up free cookies in one room in order to avoid that conversation.
I'm sure the authors are wonderful people who write wonderfully for people who enjoy that particular type of wonderfully written wonderfulness. I just happen to not be one of those people.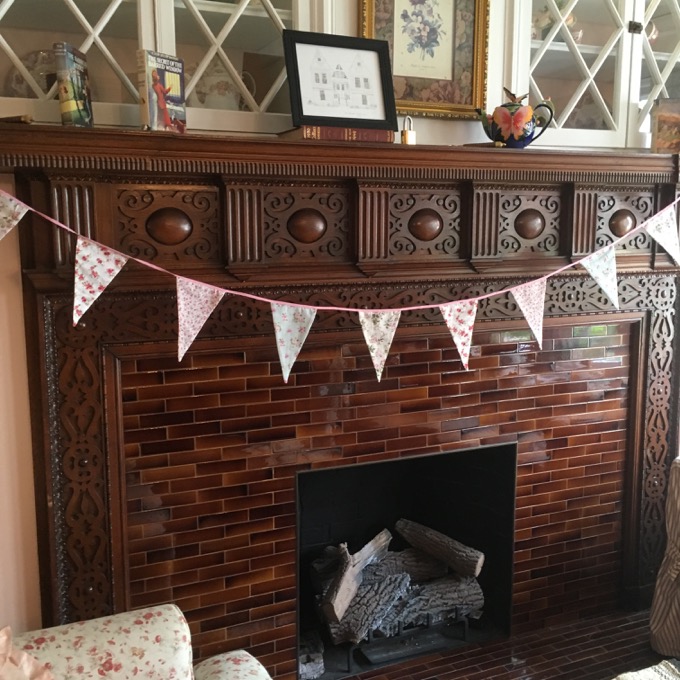 In fact, there was a table of free books for jerks like me to peruse and take as we wish! I love free stuff which doesn't involve hearing a local author's pitch! And just to prove my point, I absconded with Walking North by Mic Lowther! A 370 page day by day account of some guy who thru-hiked the Appalachian Trail with his wife and daughter in the early 70's!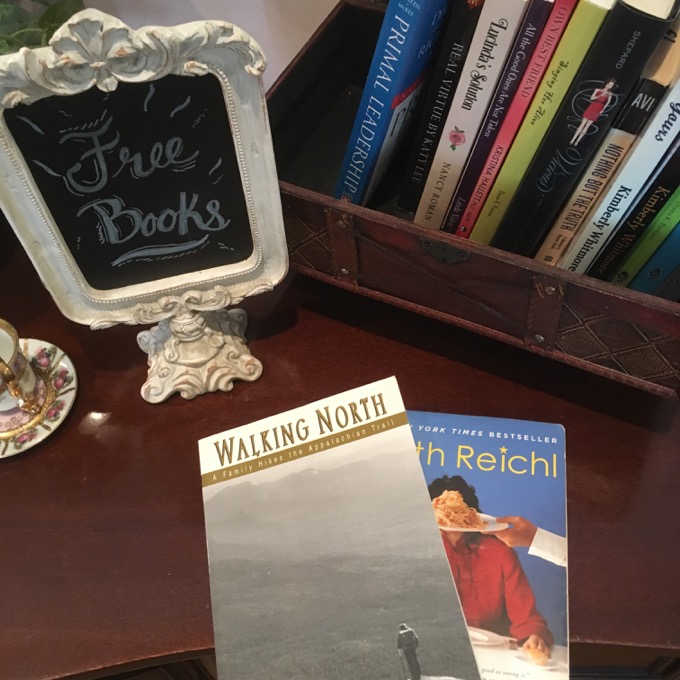 And I enjoyed the book! I've written a review and put the book back "out there" for someone else to enjoy! So it's me, not you! I'm the weirdo who prefers super boring hiking diaries to spooky fictional lands populated with attractive supernatural anti-heroes! The joke's on me!
Yeah, I also took a Ruth Reichl book too. I like nonfiction is what I'm trying to say.
Storyteller's Cottage is big on the Harry Potter stuff, but why not? Much of that is lost on me, but I could see it really appealing to those who love the series.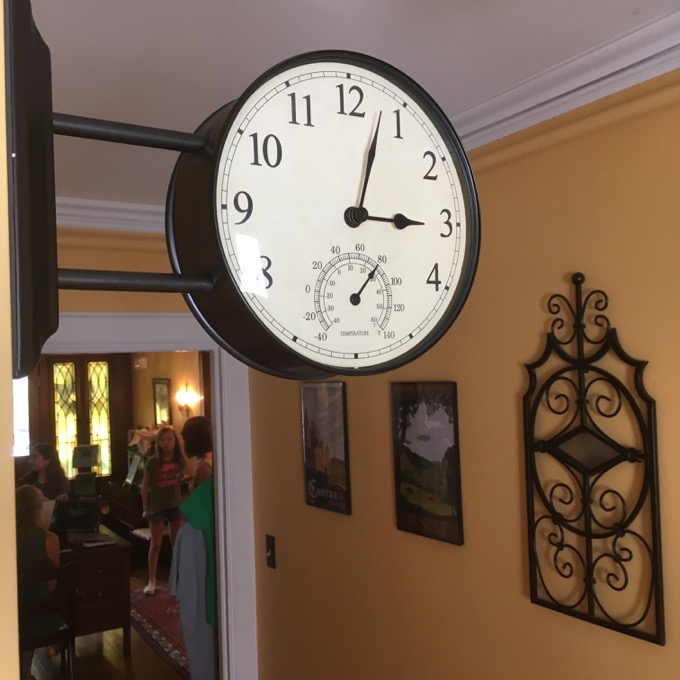 The Cottage offers up the story of the history of the building. I've read it twice now and… some guy named Wilcox sold some dry goods out of this building and then his wife died and his second wife had a daughter who married a guy named Pattison and the daughter and Pattison paid off the debt of the building to Judge Phelps and expanded the business to the successful Pattison's General Store until Matriarch Wilcox died at which point it became Pattison's General Store and the Pattison guy served four terms in the state General Assembly and everyone's buried at Simsbury Center Cemetery.
In other words, it's a building that was other stuff over the years before it became its current self.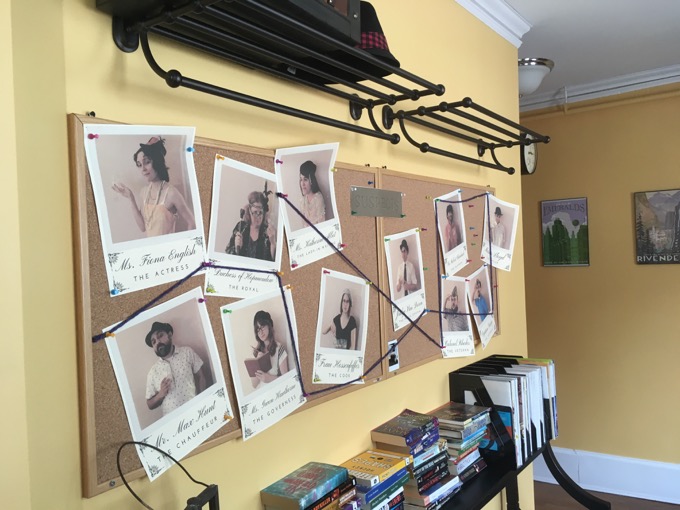 Honestly, I think this place is really cool. it's very near Simsbury's topnotch library, which I would highly recommend. In fact, I had an hour to kill in town a few weekends ago waiting to pick up my son from a friend's house and instead of going to one of those "nearby places to drink" I went to… the library.
And checked out Cheryl Strayed's Wild which is, of course, ANOTHER LONG DISTANCE TRAIL HIKING NON-FICTION ACCOUNT! I know what I like. And non of you cosplaying LARPER 4-D theater fans are going to change me at this point.
You know what? If I ever write a book I will do my best to make Storyteller's Cottage the place where I do my first author's meet and greet. I would be honored.
Just don't come dressed like a videogame please.