And Yet, There's Neither a Buck Nor a Wolf
Wethersfield (Google Maps Location)
March 22, 2008
Damian was having one of his crankier days so I thought I'd try to cheer him up with a visit to a nearby nature center museum. Because really, what kid wouldn't enjoy seeing snakes and lizards and turtles?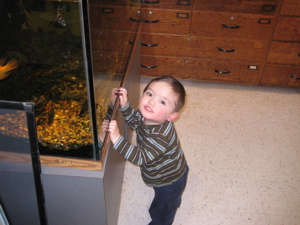 As it isn't too far from my house, we arrived quickly and, finding no one manning the welcome desk, walked right in. The first room was smallish, but contained several cages with some very interesting animals. As we started checking out the super fluffy bunny rabbit, ferrets, and birds, we noticed a large kid's party in the room off to our right. (The kid was of typical size, his party was large.)
The Eleanor Buck Wolf Nature Center hosts birthday parties for kids and do a whole program with the various animals. "Hm," I thought, "what a great idea." The party was over in the "sweat lodge" portion which of course talked about the Native Americans in the area and the animals that used to dominate the woods.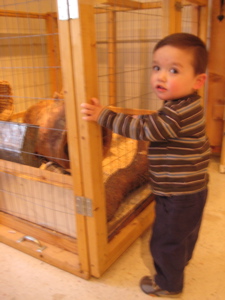 They were also monopolizing the chinchillas even though Damian needed to check them out. Actually, he was more than entertained by the parakeets and the silly way they were eating.
The first two rooms of this center really don't offer too much in the way of explanations, but the main room does a pretty good job of it. I was surprised at the size of the displays.
There was a nice little geology section with lots of rocks and fossils and a random insect collection, but Damian didn't really care too much about that. That's because over on the other side, that birthday party was in full swing and that meant live animals!
We stayed on the periphery, of course, but still got to enjoy the animals they brought out for the other kids; a desert tortoise, a python, and most notably, a beautiful bright orange corn snake. Damian even got to touch it, but in an effort to keep him from hitting it, I never got a picture of the actual moment.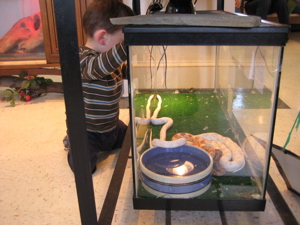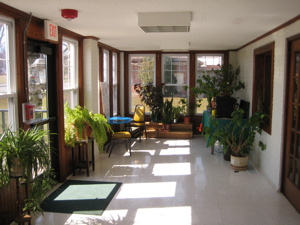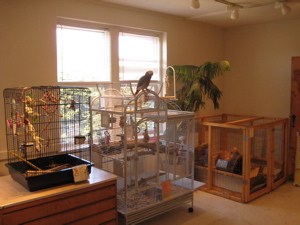 The Nature Center, says their website, offers minds-on, hands-on educational exhibits and displays. Visitors are provided a unique opportunity to view our live animals, mammals, birds and reptiles, and the Owl's Nest gift store!
All in all, this is a very nice little nature center with a good variety of wildlife.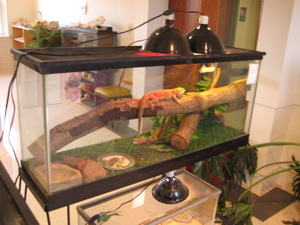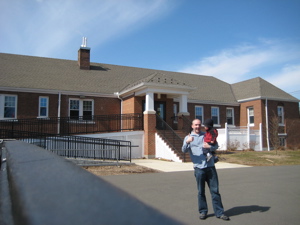 Eleanor Buck Wolf Nature Center