This Place Wasn't Just Aborn Yesterday
Aborn Castle
Somers Road (Rte 83), Ellington
2018 Update: You can now book a weekend at Aborn Castle and stay there!
I had never planned to write a page about this place. But I've gotten emails about it, and I've seen it featured on a couple television shows. So here you go… No, I didn't visit it or go inside it at all. I drove into the driveway once, many months ago, and took a terrible picture of it and went about my day.
Fortunately, there are plenty of good pictures on the Intertubes of this place that I'll be borrowing. Oh, and the entire rest of this post will be borrowing from a couple sites that follow these types of castle houses: dupontcastle.com and an article from the Reminder News, something which no longer exists apparently.
Have you ever driven down Somers Road on Route 83 and wondered about the castle up on the hill? If you're like most, it's crossed your mind from time to time when you've been enroute past the house with the stone façade and the unmistakable imperial look.

It was this interest and curiosity that prompted the recent tour of 265 Somers Road, the imposing castle-like home that sits atop a hill. The structure was built in 1918 and named Aborn Castle for Harry Aborn, owner of a general store set in the center of Ellington. Aborn became fascinated with the castles of England at the time and decided to try to replicate the grand look in his own home. Along with his brother Edgar, who was a mason, Aborn built the regal house, bringing this medieval English style to Ellington. The residential home on 7 acres boasts a turret tower and lion statues which keep watch over the property.

Aborn Castle underwent some major renovations not so long ago, under the careful eye of former owner John DeAlba, who meticulously renovated the interior of the home and the outdoor grounds from top to bottom, paying careful attention to maintaining the integrity of the home's original style.

DeAlba spoke of the curiosity most people have felt in passing the house year after year and wanting to know what it looked like inside. "People would drive up the driveway to take a closer look, and I would invite them in," said DeAlba.
CTMQ Notes: Aww man, I had no idea he was that cool.
DeAlba acquired Aborn Castle in 2001 at auction when it was in disrepair and recently sold the property. He still speaks of it fondly, though. "In terms of aesthetics, I did everything myself. I have an interest in buying properties and fixing them up to re-sell . In this case, I did everything from the patio and adding a pond, to updating the kitchen and bathrooms. Then I sold the home fully furnished."

With a distinct vision, DeAlba took on the details of the immense restoration with vigor, using creative materials and flea market finds here and there to accent the décor with antique-looking furniture like a chaise lounge in one bedroom and a claw-foot tub in the bathroom. There is even a crackled cameo headboard that resembles a look from the past in the "Red Room," one of three distinctly different bedrooms. There are also textured walls and a spiral staircase leading up the turret, where you can see all the way to Simsbury's Heublein Tower, and imported trees in the front yard like Norwegian weeping firs that add to the overall look of the home. It is in these details that this house preserves its originality and period look.
That's right, there's a turret. And there you have it, one of Connecticut's castles. By the way, here's MY picture of this place that I took in 2010: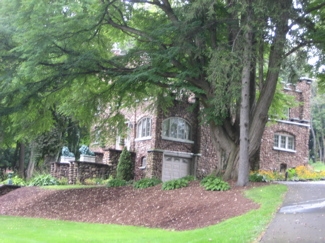 Having now seen what DeAlba did to restore Aborn Castle, I'm hugely impressed. I've also been impressed with my AirBNB experiences, so… there you go.