Rhymes With Mons Venus
Old Lyme (Google Maps location)
March 7, 2015
Good ol' Lyme. I mean, Good Old Lyme… Or, good ol' Old Lyme. It's a lovely little town on the Sound with a very important place in art history. And art present.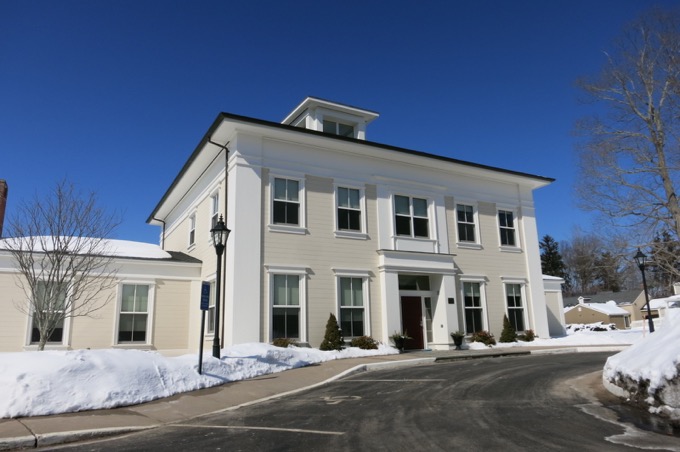 The town was where the Old Lyme Art Colony was formed – the first major art colony in America that encouraged Impressionism. This was due to Old Lyme's fortuitous location as much as anything; Old Lyme was accessible to its New York City-based painters by excellent rail service and was located at the confluence of the Connecticut River and Long Island Sound. The period of its greatest activity was 1900 to 1915. Here is my favorite article about the colony and its history.
Today, we'd just say it's at the end of Route 9 along I-95… Which makes me a little sad. Old Lyme is home to the nationally famous Florence Griswold Museum, which highlights the whole impressionist art colony history. Right next to that museum is the Lyme Art Association which has a very nice gallery that I visited in 2011.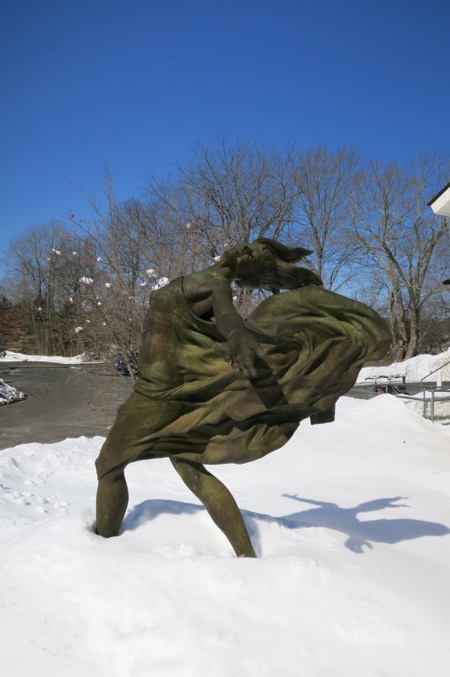 And down the same road, just within sight, is the campus of the Lyme Academy College of Fine Arts. I should mention here that Old Lyme is also home to a bunch of nice little commercial art galleries as well. Also, there is a cool little sculpture garden next to the Lyme Academy campus that was still impossible to view during this visit to the college, due to snow.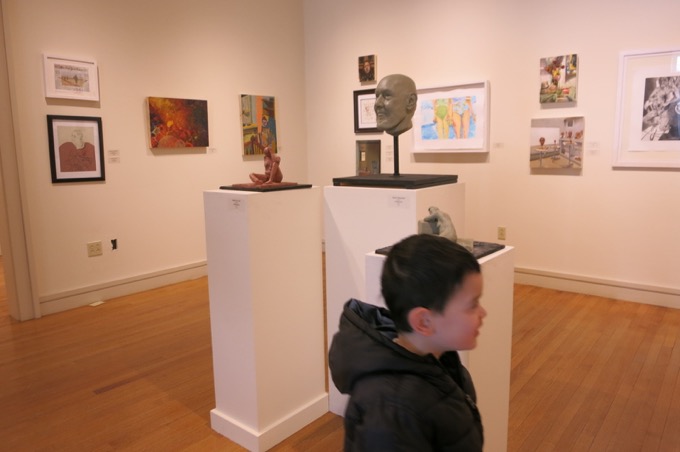 The Lyme Academy is a very attractive little campus. There's a good chance that you've never heard of it or think it's some cornball place. It's not.
Lyme Academy College of Fine Arts is a four–year, nationally-accredited college offering Bachelor of Fine Arts degrees in Drawing, Illustration, Painting, and Sculpture. Its mission is to provide the best education in drawing, illustration, painting, and sculpture through study of the history, traditions, and principles of the fine arts and the liberal arts, thereby establishing a comprehensive foundation for the development of the artist.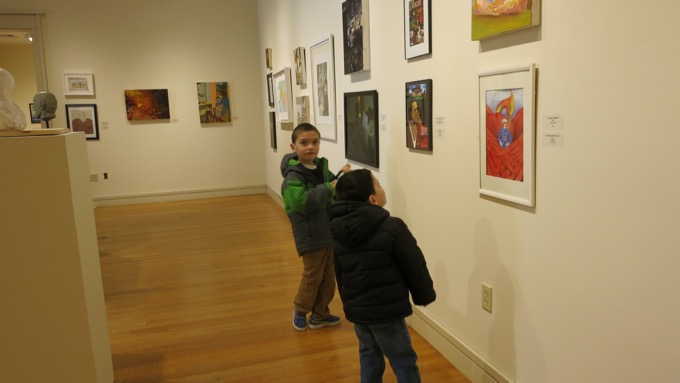 And it costs around $30,000 a year, so it must be good. (It's also younger than me, which isn't something I see everyday when it comes to colleges.) I was out on another day of adventure with my two sons, so what better place to take them than an art gallery or two?
Okay, yes, I know I'm nuts for taking them to places like this – alone, no less – but I'd defend it. They know not to touch stuff and they follow that direction really well, I must say. And it's now fun with Calvin, a month shy of his fourth birthday, asking him about his impressions of the works. He was totally digging the exhibitions we saw and had plenty to say about various works.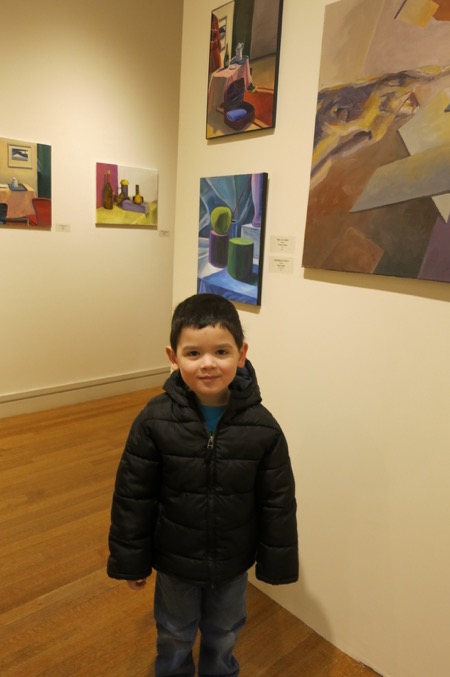 So much so, that I had the idea to have him sort of narrate this page. Almost all the pictures I took were at Calvin's behest, so what you see on this page are his favorites. (Damian had some input as well, but not too much beyond either agreeing or disagreeing with Calvin's impressions… that's just how he rolls.)
We found the campus pretty much wide open. Most doors were unlocked and we had free reign. This is not necessarily a good thing with a 3-year-old though. Fortunately, I was able to make a game out of the campus's maze-like quality and got them to slow down and follow me as we made our way to the first gallery.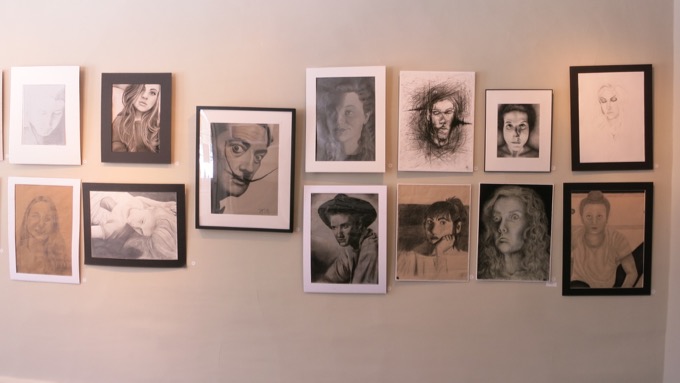 There are two main galleries on campus: The Chauncey Stillman and Sill House Galleries. In addition to them, every hallway around this place is a gallery of a sort, and there are little nooks and crannies with artwork here and there. So in a sense, the entire campus is a gallery (including the sculptures on the grounds) – which is sort of what you'd expect at a tiny little art school like this.
For us, we hit the Chauncey Stillman gallery first. As far as gallery space is concerned, it looked like every other art gallery. The (juried) exhibition during our visit was the of works from current Lyme Academy College students in the college's BFA, Post Baccalaureate, and Certificate programs.
I was a little leery with the boys, as there were several sculptures on narrow stands, so I must admit that I spent half my time in the gallery making sure they didn't ruin some student's pride and joy. I must also admit that I took no notes and I seem to have missed any sort of brochure with artist bios and stuff.
There were little busts and sculptures and lots of painting and drawings. Here are the three pieces that stood out to Calvin:
We moved down the hallway towards another gallery. I was a bit scared as a student worker was behind an imposing desk as my two charges stampeded their way into her little area. She asked me how I was doing and I said, "Good so far, we haven't gotten kicked out yet." She laughed, so I was a bit relieved.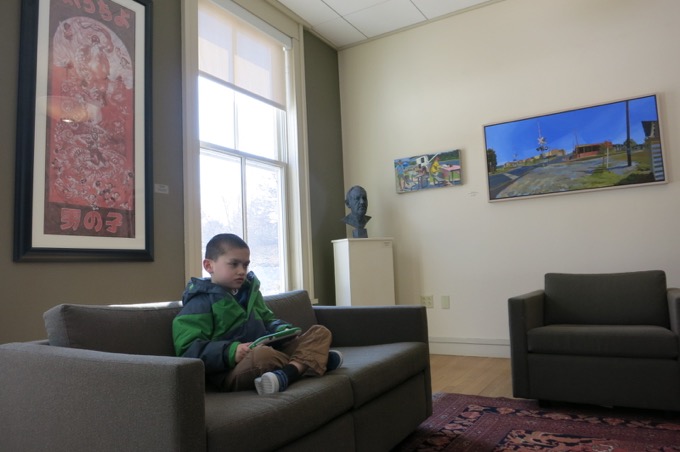 Damian sat on the couches in this sort of reception gallery area while Calvin had other things on his mind.
Apparently.
This work pictured here, the naked dude hanging on the wall, was right in front of Calvin. And yes, you could say the man's genitalia was pretty much at his eye level. And remember, he's not even four yet.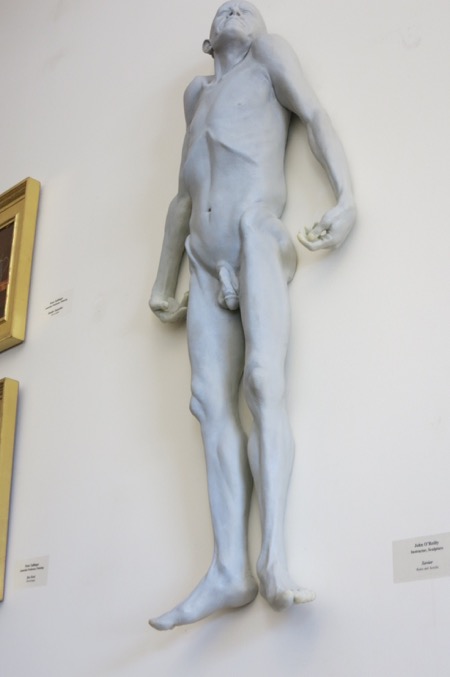 "Papa! Lookit! Lookit that guy's PENIS!"
"Yeah. I see it."
"PAPA! THAT GUY IS ALL NAKED, AND HIS PENIS IS RIGHT THERE!"
"Yeah man, I know."
At this point, the woman behind the desk was trying to stifle her laughter, but was failing miserably. Even Damian was laughing. So Calvin was encouraged…
"HIS PENIS!! LOOK AT HIS PENIS!!"
I'll spare you, but this continued for far too long. On the one hand, I'm sort of proud that my children use the proper names for our body parts, and we've never given them reason to be shameful about their bodies. But geeze, Calvin, chill out. It's just some naked dude hanging on a wall.
Okay, I guess that's not something he sees every day, as it's not like they've even been to mass or anything.
We left the little lobby gallery, thanked the lady who was probably tweeting the entire incident in real time, and made our way throughout the maze of buildings to the Sill House Gallery.
Along the way, we went through a hallway of nude figure drawings – bare breasts surrounding us – but neither boy made a comment. It was all about the penis this day.
Heck, this is a painting of a boob right here: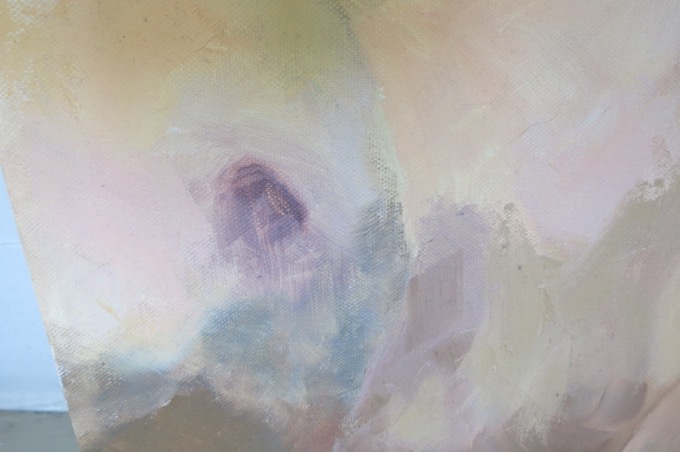 But it didn't interest my sons.
We had some difficulty finding our way in to the Sill House Gallery, mostly due to the snow covering the walkways and the crazy mazy set up of the small campus. Once inside, we found the gallery was exhibiting "Future Choices 2015," the annual juried high school student art competitions and exhibition.
The Sill House is really just a house. We walked through a kitchen and then a small living room area, into another room with the artworks hanging.
And so, without further ado, here are Calvin's selections:
So, if I can ignore his obsession with the naked guy, I'd like to congratulate 10th grader Paige White of Guilford High School! Her Acrylic painting, entitled "Shell and Colors" is my son's favorite. And my son is awesome.
In the picture below, the works above my boys were the winners of their respective categories. And Calvin wasn't impressed.
We made our way through the maze of buildings back to our car and hit the road. I poked around the cool Sculpture Grounds next door and all three of us were sad that we couldn't walk around, but both boys accepted my promise to get back here when the snow melts.
[We did! A month later… and it was rad.]
I can't pretend that the Lyme Academy College of Fine Arts is one of our state's most well-known institutions of higher learning. But I found the tiny little Old Lyme campus inviting and the galleries were well-thought out. And most importantly, no one we crossed paths with gave us the stink eye – and believe me, we deserved it a few times throughout our visit.
Penis.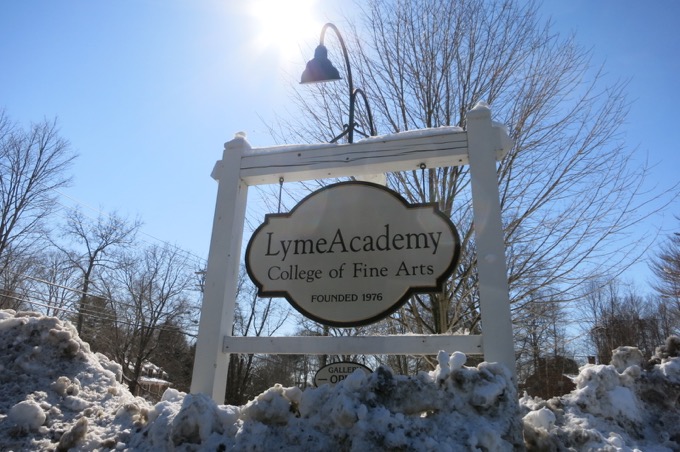 Lyme Academy College of Fine Arts