Frenetic and Kinetic
Old Lyme (Google Maps location)
April 16, 2015
We are nothing if not intrepid.
Having visited the Lyme Academy of Fine Arts Gallery next door in early March, we attempted to walk the grounds here. Unfortunately, the two feet of snow on the ground made that rather difficult.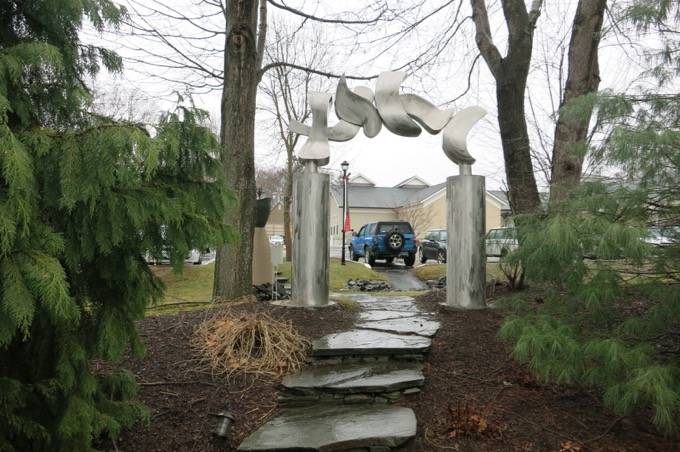 Flash-forward a month and we returned! In the rain! Calvin had just turned four and fortunately for him, he received a handsome high-quality umbrella for his birthday.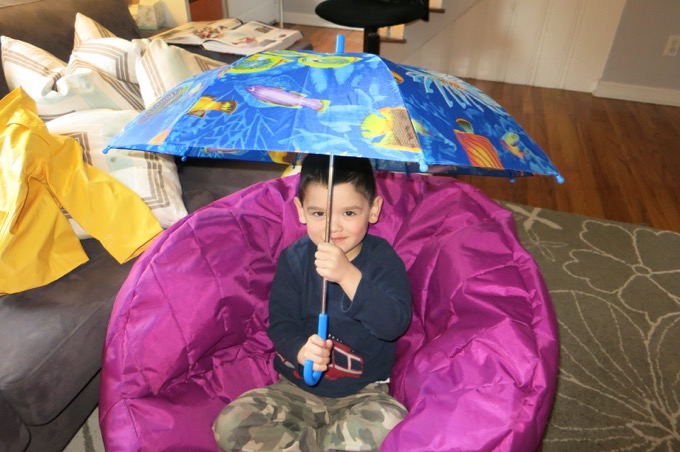 Damian, like me, hates umbrellas, so we just forged ahead and got a little wet. Small price to pay in the name of art.
From what I gather, this outdoor sculpture garden is more or less the backyard of an artist's home and studio. I guess I could go to the source for confirmation:
With over 100 sculptures woven throughout different gardens and courtyards, this en plein air art experience allows visitors to enjoy incredible large-scale contemporary sculpture on 4.5 beautifully landscaped acres. Visitors are encouraged to explore the grounds and interact with the works, perhaps turning kinetic elements or wandering through open pieces. On the property sits the home of artist Gilbert Boro and although the residence is not open to the public, Boro welcomes visitors to the "cafe" outside the house to take a rest, picnic and take in the sights.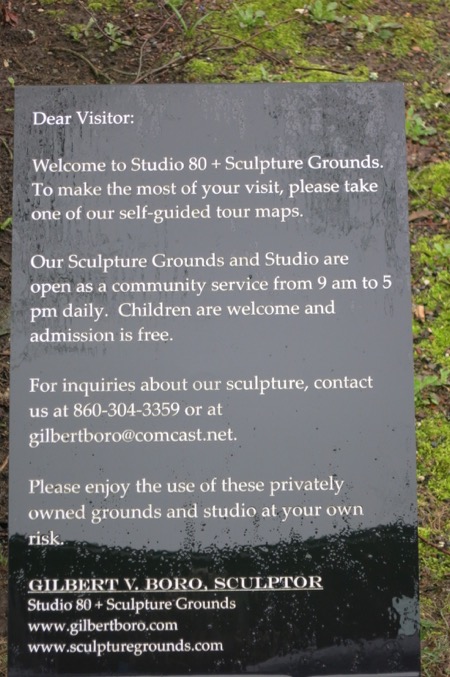 Well there you go. Mr. Boro is a rather successful artist. In fact, his career includes being a sculptor, architect, educator and international design consultant. His sculpture is concerned with the interplay of space, place and scale. He uses various materials, including steel, stone, aluminum, and wood. He believes the challenge and joys of creation are equally related to visualization and execution.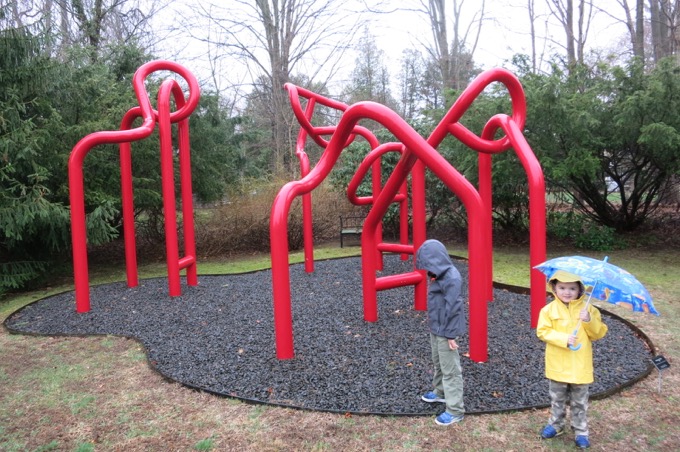 Boro says, "My approach requires understanding and executing the entire process of creating sculpture. I don't believe that art needs to solve or define problems for the public. What art should do is provide the best opportunity to retain or regain the creativity we all had as children and let us feel we can experience the work without intellectual limitations and rules."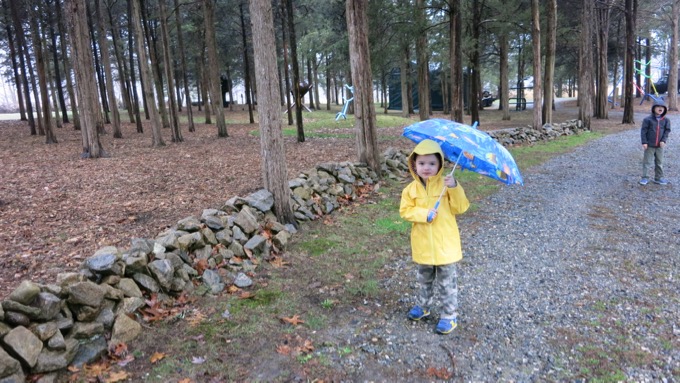 And that's sort of the whole vibe here: Playfulness. Signs make it clear that children are always welcome and touching the art is perfectly fine.
The property backs up to the Lieutenant River, and is more expansive than it first appears. I'll admit that in the foul weather with two little boys, we didn't quite manage to see every sculpture, but we came pretty close.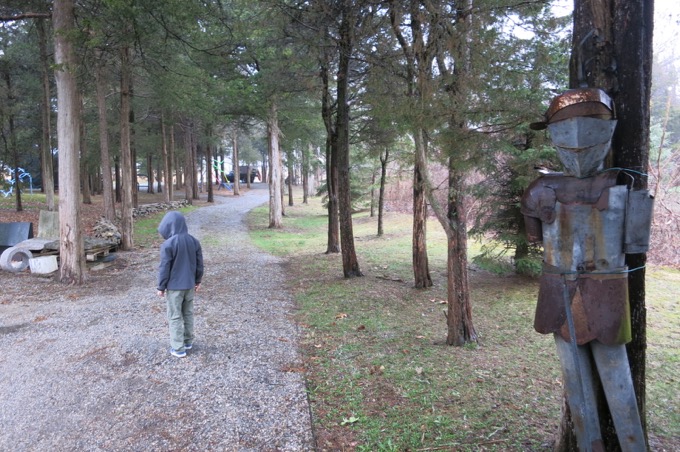 Longtime CTMQ readers may know of my fondness for sculpture gardens. I love them and we are fortunate to have several here in Connecticut. I like that visitors can (usually) forge their own path. Gravitate to what looks the most interesting. View each piece from different angles rather than just head-on like a painting.
And I like that they are outdoors. Even if it's raining.
One of Calvin's favorite pieces was Mr. Boro's own:
As always, I didn't spend my time taking detailed notes. Rather, I simply enjoyed the walk through the art and challenged my sons to give their thoughts on what they were seeing and experiencing. Calvin was (and still is) in a Super Heroes phase, so the above piece evoked Batman somehow and served as a "cool" welcome to our jaunt. (He hasn't seen Star Trek yet, which is where my mind wandered to.)
Another Boro piece, Linguistic Adventure Blue "looks like a spider," and therefore, "this is where Spiderman lives."
I'm pretty sure Mr. Boro didn't have either comic hero in mind when creating these pieces, but I would also bet that my four-year-old's ideas would make him smile. Other pieces brought playgrounds to mind, and I'm pretty sure you can see why on this page.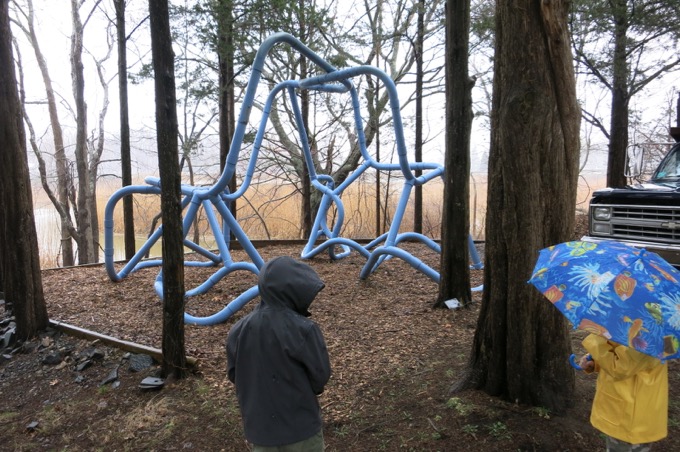 Damian was particularly struck by Virgil Oertile's "Emergence of Our Neglect" which features a man emerging from an egg of sorts. "That man is in an egg," said he. Indeed. Aren't we all though?
I don't even know what that means. The Sculpture Grounds feature other artists, like Oertile, sprinkled in among Boro's own pieces. I am certain artists donate various works each year and then move them along. At least I think that's how it works here.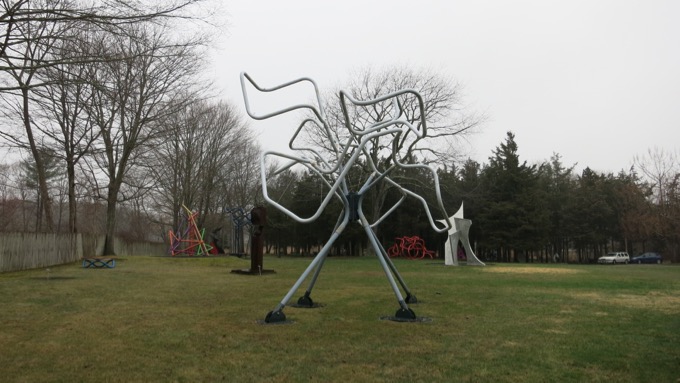 And quite frankly, it doesn't matter. It doesn't matter if it's raining or sunny, warm or cold… Boro and friends have created a wonderful, free, wide-open art space for minds of all ages to simply forget about the humdrum and enjoy the whimsical.
And we thank him for it.