Another Connecticut Movie
Another Earth, 2011
Ahhhh… after a slew of awful "Connecticut movies," I'm so happy to have watched an engaging, interesting, actually pretty good Connecticut movie! Finally. And the craziest thing about Another Earth, a relatively small release little movie, is that when I borrowed it from the library, I couldn't renew it because someone else had placed a hold on it!
Was it… was it someone from Another Earth? Was it… was it me?!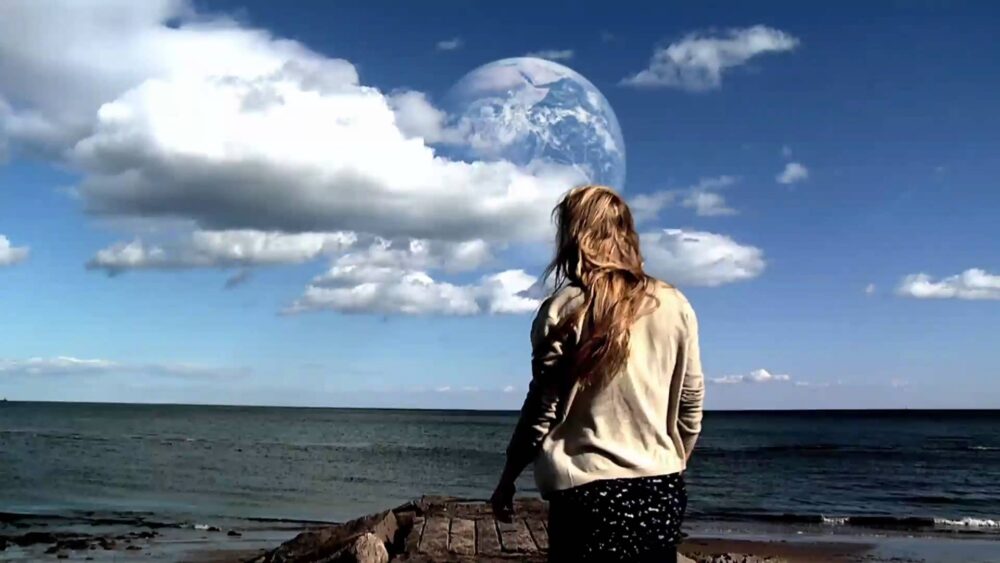 Sorry, I'm getting ahead of myself. This is a sci-fi movie that isn't really a sci-fi movie at all. On the one hand, of course it is. Just look at that picture above. There's another dang Earth looming over Brit Marling and Bradley Point in West Haven. (And yes, we know that the laws of physics would not allow for such a planetary absurdity, but we need to suspend all belief in gravitational forces to enjoy this movie – in fact, the proximity of the so-called Earth 2 isn't really a plot point.)
Marling is Rhoda, a high school senior who has been accepted to MIT. She attends a party, has too much to drink, and stupidly drives home. On her way, the radio announces that another Earlth-like planet has been discovered and that it was even visible. Rhoda, looks up, sees the blue dot, and crashes head-on into a car.
The family in that car dies, save for the father, John (William Mapother, who played Ethan on "Lost") who ultimately is a coma survivor as a result. Rhoda goes to prison for four years, her dreams ruined. Upon release, she is racked with guilt and starts a job as a janitor at West Haven High School.
So random, right? The film's director, Mike Cahill, became friends with Brit Marling where they studied economics together. Cahill is from New Haven and he co-wrote Another Earth with Marling and for whatever reason, it was decided that it would take place in West Haven and New Haven. From what I could tell, the entire movie was shot in the Havens and all local references were accurate.
Rhoda seeks out the man whose life she ruined at his old colonial house. Her plan is to apologize, somehow, but she can never find the right words. So she cleans up his messy forgotten house – and his messy life at the same time. All the while, the other Earth looms closer and closer to our Earth.
The movie focuses more on redemption, guilt, and forgiveness. Except Rhoda can't bring herself to ask for that forgiveness. She gives John his life back. A "new" house, a renewed interest in his life's work (he was a music professor at Yale), and a healthier outlook on life. She gets in too deep when the two develop a romantic relationship. (This is handled much better than you're thinking right now.)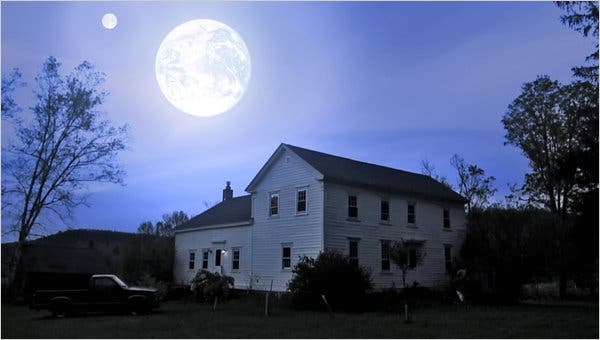 The best scene in the movie is when a scientist makes contact with Earth 2 and… speaks to herself. Whoa. It's a mirror earth! Earth 2 is us! (One line stood out to me – "We keep calling it Earth 2 but we're Earth 2 to them!") Rhoda wins a trip to fly to Earth 2 – her reasoning being her life is ruined on Earth 1, so why not?
I've never been one to give a hoot about spoilers, especially for a movie that is a decade old. Rhoda comes clean to John about who she is and what she did to his family – the explanation is she was a minor so her name was never known. He is shattered, of course, but Rhoda wants to make things right somehow.
In the end, John uses her ticket to fly to the other Earth in the hope that his family is alive there – after all, it was the appearance of the new planet that distracted Rhoda resulting in the car crash. Maybe that didn't happen there?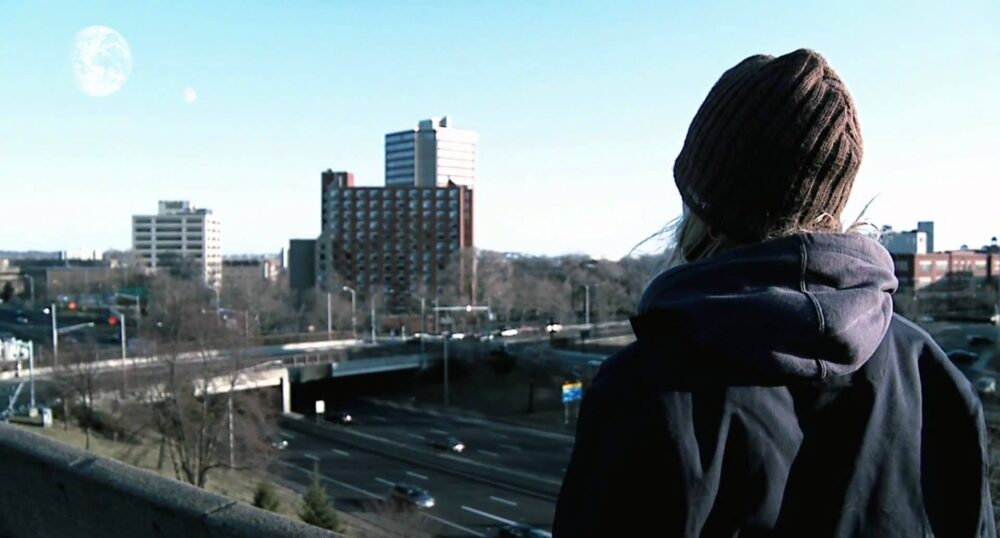 In the final scene, Rhoda is bumbling around in her janitorial jumpsuit and faces herself in an attractive academic/business outfit. It's her. From Another Earth. Where presumably things went the way they were "supposed" to go for her.
That's how the movie ends, provoking some unanswerable questions. (Like, okay, what happens now? Are we friends with ourselves? What do we ask our other selves? With Earth 2 keep hurtling towards Earth 1 and kill everyone anyway?)
I'm drawn to movies like this that explore those tiny moments and decisions in our lives and how it affects us until we die. (If you've not seen "Sliding Doors" with Gwyneth Paltrow, it's worth your time… and it's pre-annoying Paltrow too. Brit Marling is angelic and talented like young Paltrow was too… I really hope she doesn't turn into an idiot though, as I rather like her.)
This movie has plenty of flaws and it's pretty plodding at times. Still, when it comes to what I consider Connecticut movies, it's one of the better ones.
CTMQ Rating: 4 out of 5 thumbs up
Connecticutness: 168 out of 169 Nutmegs
Filmed in Connecticut? Yes
Wealthy Caucasian with a Big House? Not really