Hutt One, Hutt Two, Hutt Three
Augie and Ray's Drive-In Restaurant, East Hartford
June 2019
Billy Grant worked at Augie and Ray's.
When I decide, sometimes rather arbitrarily, which restaurants to write about on CTMQ I need a reason to do so. After all, there are thousands of restaurants in Connecticut and I need to choose wisely.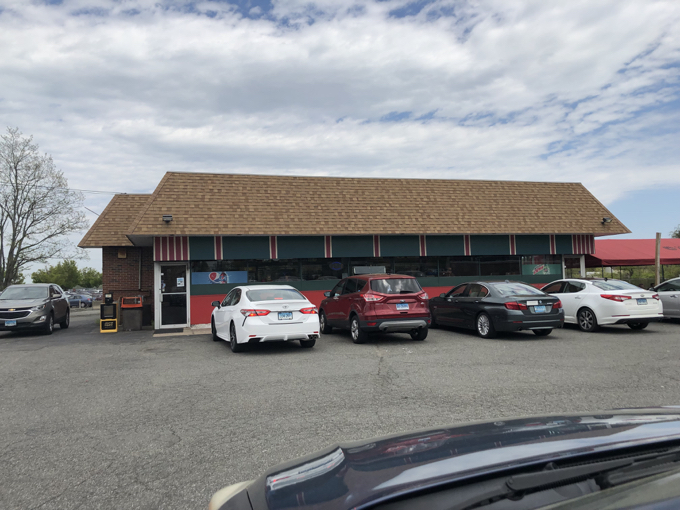 I have this little sub-section on CTMQ called "Unique and/or Historic Restaurants." No one finds that page, and that's fine. Some included there are no brainers like Louis' Lunch in New Haven and the now closed The Landing Zone in Harwinton. But then there are those that I write about for no real reason beyond the tried and true "because I feel like it."
The inclusion of Augie and Ray's on CTMQ will stir some controversy from those of you who enjoy quick lunches at decades-old joints in East Hartford. Why? Because I'm not going to write about Mickey's Oceanic Grill. Or many other 60+ year old establishments. Just… because.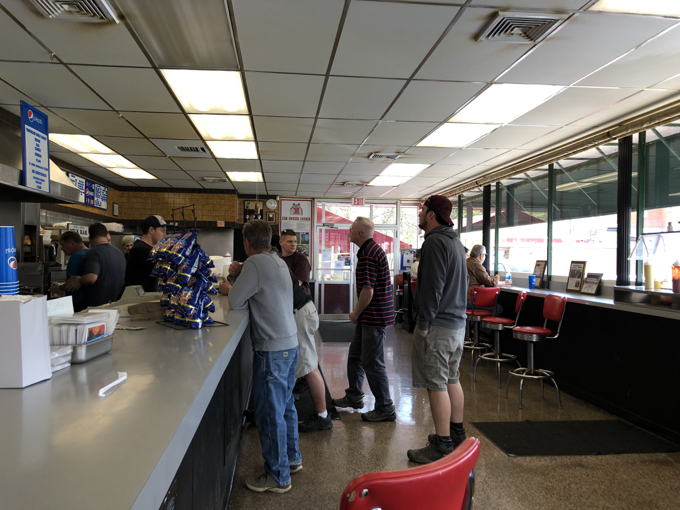 Mickey's has been in the same location since 1953. It is a seafood shack with just a few seats. Its fans love it and I'm sure it's good. But if I'm to choose one "historic" restaurant in East Hartford with a cultish following, I'm going with Augie and Ray's. They've got Mickey's beat by seven years, having opened in 1946.
See? I can always come up with a reason, tenuous as it may be. Oh, and the Billy Grant angle. His dad owned the place in the 80's and young Billy worked by his side. (He's now a very successful Greater Hartford restaurateur if you're unfamiliar.) If you want to go down a fascinating rabbit hole, go ahead and Google "Billy Grant Augie and Ray's."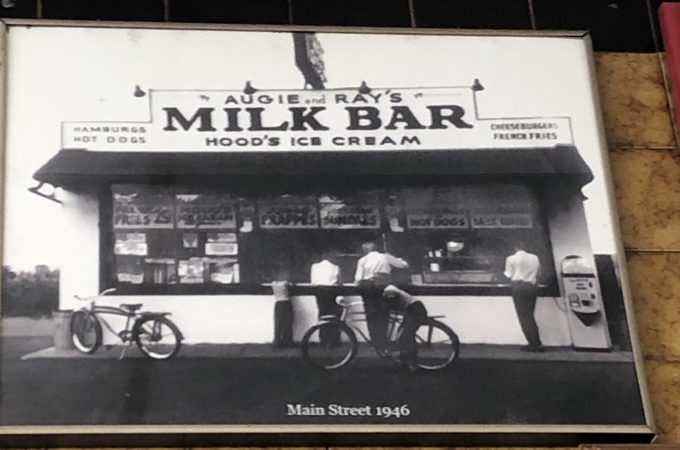 Mobsters, Bookies, Arrests, Murders, oh my. Billy's brothers have been arrested and everyone knew the club scene in Hartford was mobbed up back in the 90's, but I had know idea Grants were involved. Wait, where was I? Oh yeah, at a hot dog joint in East Hartford. Sorry.
Way back in 1946, two East Hartford cops named Ray Hutt and Augie Bria took a chance and opened Augie & Ray's Drive-in restaurant; a hot dog stand and dairy bar. What did two cops know about the restaurant biz? Not a lot at the time. But, they knew enough about this working class neighborhood outside the gates of Pratt & Whitney and what they needed – good grub, a hot cup of joe and a place to hang their hat. The rest, as they say, is history.

For over 70 years the Hutt family has nurtured Augie and Ray's dream. Sons Butch and Ernie Hutt built "The Stand" into what it is today – an institution famous for its foot long dogs and their secret recipe chili, aka "The Sauce." Oh, and don't bother asking for the recipe.

Today, the torch has been passed as Ray's great-grandsons, Mike and Chris take the helm. They have some ideas of their own but remain committed to serving up the same, great food that has served this community so well for over 70 years.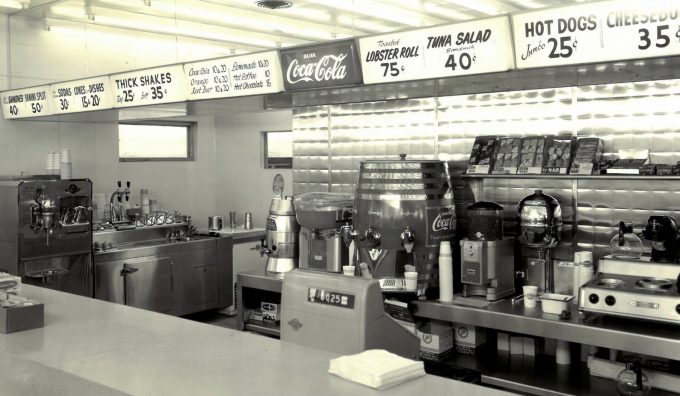 Weird no mention of non-Hutt owners, but I do know there was more than one Augie and Ray's at some point. Anyway, everything about this place is what you'd expect. Stepping up the counter feels like stepping back in time. There was a 1:1 employee to customer ratio. Customer service here is paramount. Seating is not, as this was a true "standing diner" for years.
There are a few seats now and even some covered picnic tables outside. The menu board is that old school type with the plastic letters and numbers that must be slotted into place one by one. Black and white photos hang on the walls. And many patrons are clearly regulars; several in suits and ties and just as many in shorts and basketball jerseys.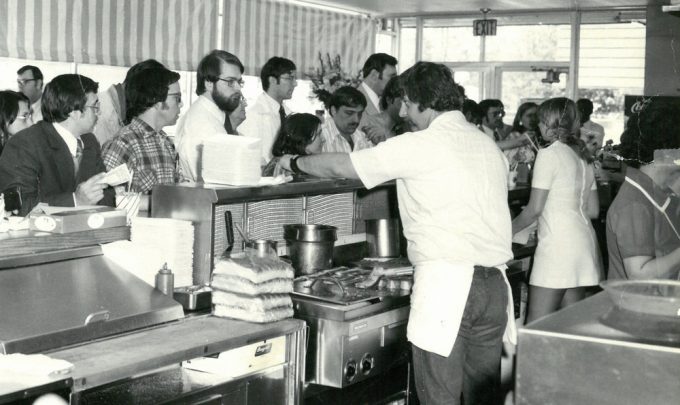 Augie and Ray's is an East Hartford institution and a gathering spot. It is friendly, clean, and relatively quick – I noticed it takes a while to make a milkshake here, but that's because they are real milkshakes made with an old school milkshake machine-thing.
I ordered two hot dogs; cheaper than at other places and snappier and tastier to boot. One with my preferred mustard, and another with their "secret recipe chili" just because that's what I was supposed to do. Though good here, if you're a chili-dog fanatic, I'm going to point you to Mr. Mac's Canteen in Monroe for the hot stuff and Capitol Lunch in New Britain for pure mystery-meat chili bliss over Augie's. As far as the dogs themselves, they were rather perfect. I think I got a Snapple too. Simple, quick, unhealthy, and delicious. I have no complaints.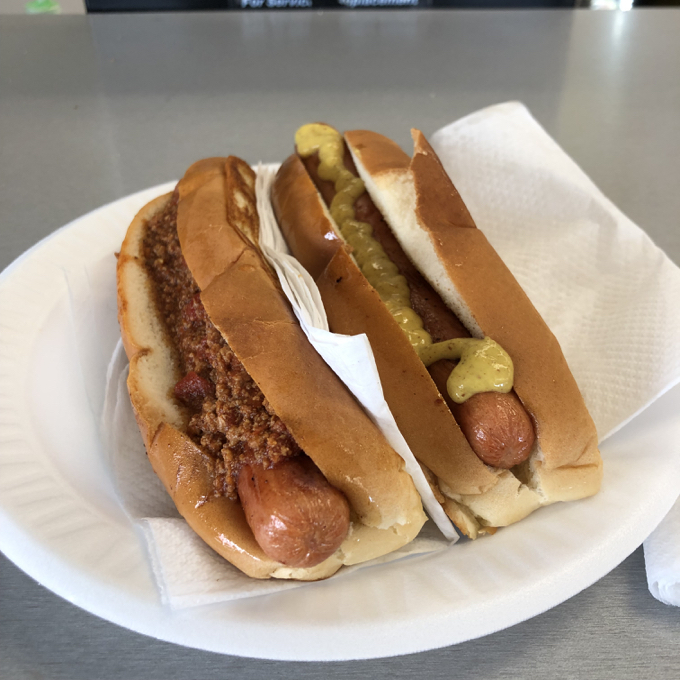 Augie and Ray's Drive-In Restaurant has retained the "drive-in" part of their name since the Truman administration, and has weathered the storm of Pratt & Whitney downsizing efforts. It is still popular and still churns out the same food it always has.
And I hope they continue for a long, long time.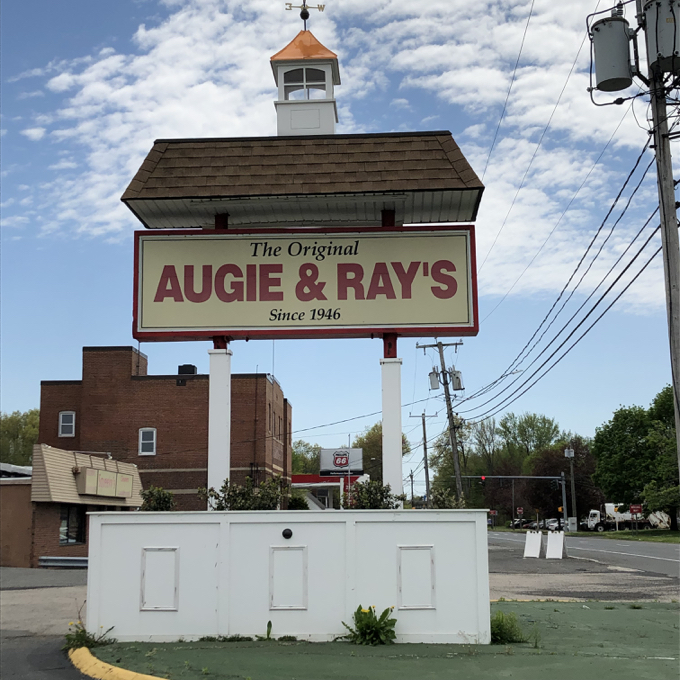 Augie and Ray's Drive-In Restaurant
CTMQ's Unique & Historic Restaurants & Food