Auntie Awesome
Auntie Mame, 1958
I love this movie. My wife loves this movie. If you don't at least like this movie, you are dead inside. And while it's only peripherally a "Connecticut movie," it's "Connecticutness" is enough to warrant a page on this website.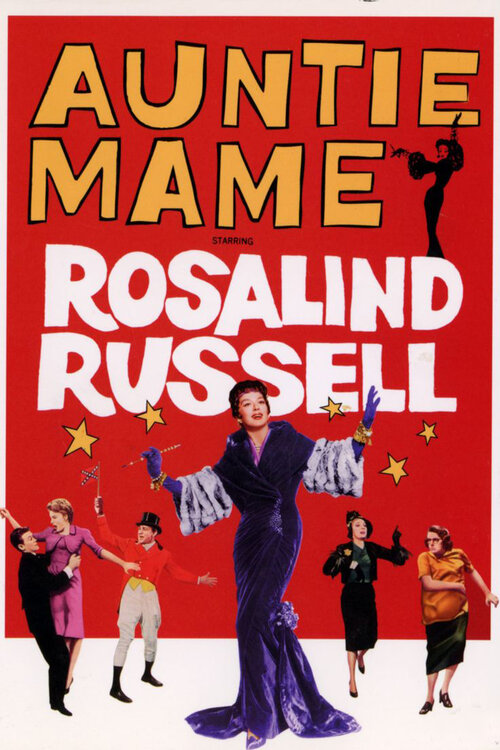 It's a long movie with many twists and turns. It also has a confusing history. The movie is based on the 1955 novel of the same name by Edward Everett Tanner III (under the pseudonym Patrick Dennis, which is the name of a main character in the movie we're talking about) and its 1956 theatrical adaptation by Jerome Lawrence and Robert Edwin Lee. This film version stars Rosalind Russell and was directed by Morton DaCosta. Not to be confused with a musical version of the story, that appeared on Broadway in 1966, and was later made into a 1974 film "Mame" starring Lucille Ball as the title character.
I don't know anything about the book or the Broadway shows or the Lucille Ball versions. I can't imagine any of them are as good as this campy classic.
Mame Dennis is played by the wonderful Rosalind Russell. She's a progressive and independent woman of the 1920s who is left to care for her nephew Patrick after his wealthy father dies. When Patrick arrives on Beekman Place in New York during a fabulously ridiculous Mame Dennis party, we get the gist: the boy's executors want the best stodgy prep schools for Patrick, Mame will have none of that.
The movie spans a few decades and cleverly uses historical events — the Wall Street Crash of 1929, the Great Depression — as a backdrop to Mame's own financial woes, and her progressive-minded care of nephew Patrick introduces some rather avant garde philosophies to the boy – and to me to be honest. Nude elementary schools?!
Mame treats Patrick as a new best friend rather than an annoying kid. She trains him to make martinis and gets him in on all her wacky plans and he becomes part of her bohemian wackpack of socialites, drunkards, eccentrics, and goofballs.
After the crash, Mame is forced to attempt to make a living on her own as her wealth dwindles at times throughout the movie. Staff is let go, her apartment loses its luster, and she comes to realize life isn't always a party. (Except, with Mame Dennis, it kind of is no matter what.)
Suitors for Mame come and go and her fortunes rise and fall. She travels the world and stays true to her nature. A husband takes her climbing on the Matterhorn where he falls to his death… which leads to Mame's "Blue Period" back in New York.
Patrick realizes her madcap life is bonkers enough to warrant an autobiography, so he gifts her with a dictaphone, typewriter, and secretary, Agnes Gooch. Gooch is the best. So is the useless guy hired to be her ghost-writer. This movie is a wonderful mess.
Patrick grows up and is forced to do "the right thing" while Mame continues to influence him to be open-minded and "fabulous." So where does Connecticut come in? I'm going to let Wiki help tell this part of the movie, removing the whole bit about the ghostwriter impregnating and secretly marrying Agnes Gooch… yeah, this movie is nuts:
Patrick announces to Mame that he is engaged to Gloria Upson, a girl from a "restricted" community in Connecticut called Mountebank. Mame is initially angered by the change in his character, but relents to please him. After Mame meets Gloria, who proves to be spoiled and prejudiced, she visits Gloria's parents in Mountebank at their house, "Upson Downs", some time later. Finding them to be just as bad, she invites them and Gloria to a dinner party at her apartment with Patrick, Babcock (Patricks executor), and some of her friends.
On the night of the party, Patrick meets Mame's new secretary Pegeen, and the two are attracted to each other. The entire party is choreographed to show up the Upsons, but when Gloria insults Mame's company, Patrick instead defends them and insults Gloria's own circle, ending their relationship. Even though the fictional Mountebank is used, our very own "restricted" town Darien is infamously named in a scene that has it all:
"An Aryan from Darien!" How great is that? "Rattlesnake anyone?" doesn't even raise an eyebrow at a Mame party. The wacky Asian butler guy. The Picassos. The warmth between Patrick and Mame.
Mame's autobiography looks to do well and she dedicates her royalties to a home for refugee Jewish children in Mountebank, much to the Upsons' horror. The Upsons leave the party in a huff, and Mame berates Babcock's attempts to manipulate Patrick's life before he also leaves (in the scene above). By 1946, Patrick and Pegeen are married and have a son Michael. Mame and Michael persuade his parents to let Mame take the child on a journey to India, and the movie fades as Mame tells Michael of all the wondrous sights they will see.
Auntie Mame is woke. She's hilarious and her friends are fun. Coral Browne as the drunkard actress Vera Charles is almost as good as Rosaline Russell. The movie was nominated for Oscar's Best Picture in and somehow didn't win, losing to horrible and horrifying and very, very "unwoke" GiGi, which celebrates pedophilia and kept women.
Of all the Connecticut movies I've seen, this is easily one of the best. Seek it out.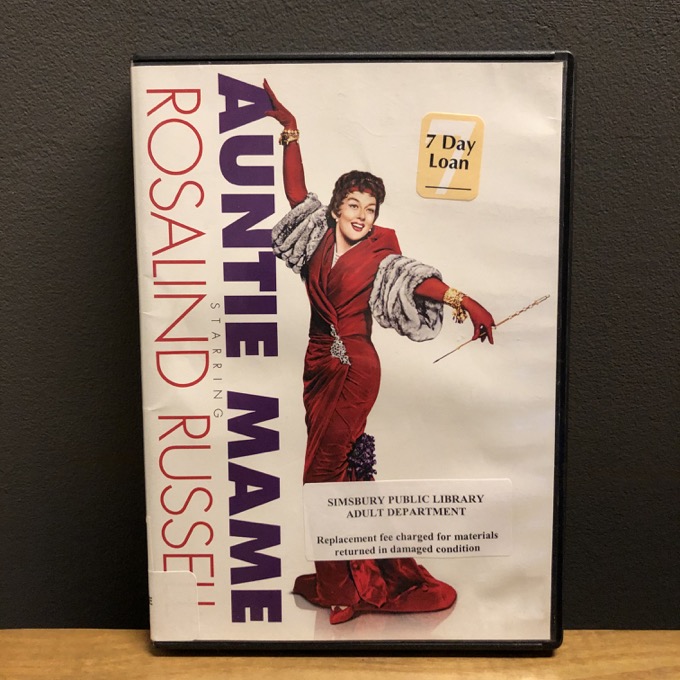 CTMQ Rating: 5 out of 5 thumbs up
Connecticutness: 82 out of 169 Nutmegs
Filmed in Connecticut? No
Wealthy Caucasian with a Big House? Yes

Connecticut Movies
The CTMQ Oscar Project