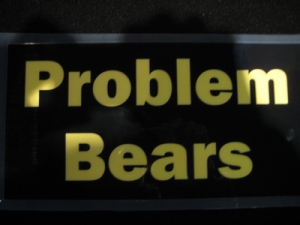 Bears! The number one threat facing America today! Created by Satan, they are officially on notice.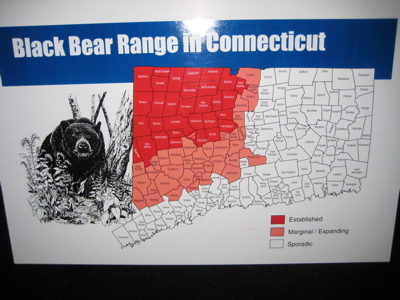 We're all gonna DIE!
Update: We DID see a bear in the wild driving down the Farmington River branch in Peoples State Forest in the early summer of 2008. Yay!
Better Update! I saw a bear in the woods while hiking! (# 5, below) – and I've seen more since then.
1. Northwest Park Nature Museum, Windsor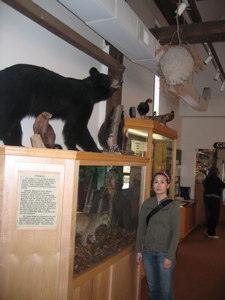 Hoang looking scared with black bear up on perch
……………………………..
2. The Stone Museum, Barkhamsted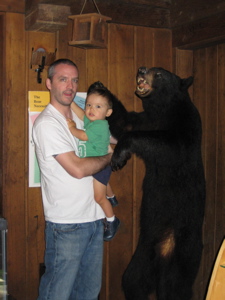 Me and Damian enjoying the comfort of a "bear hug"
……………………………..
3. Connecticut Museum of Natural History, Storrs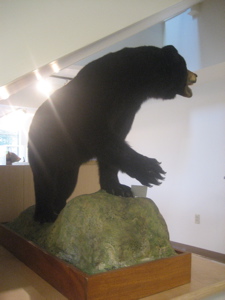 Bear about to swipe Ed Hill
……………………………..
4. Beardsley Zoo, Bridgeport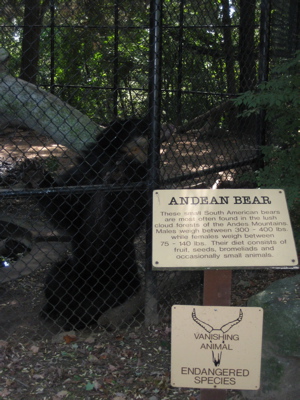 Our first live bear, living in a cage. Sort of sad. (Perhaps the only non black bear alive in the state.
……………………………..
5. McLean Game Refuge, Simsbury
Yes folks, I came across two bears in the woods in northern Simsbury along the Eddy Loop Trail in the McLean Game Refuge!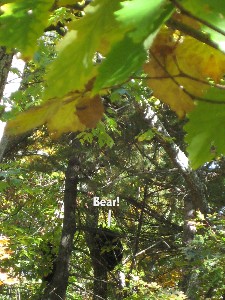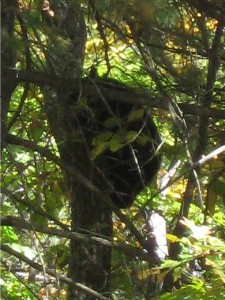 Awesome!
You can read more about the experience here.
……………………………..
6. Lutz Children's Museum, Manchester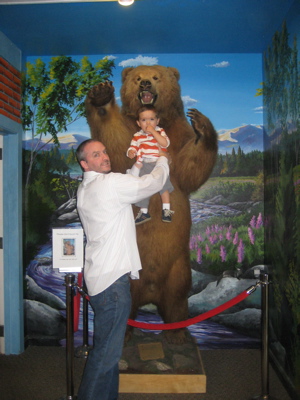 Damian's fear is palpable, at the mercy of this Grizzly.
……………………………..
7. Sessions Woods Education Center, Burlington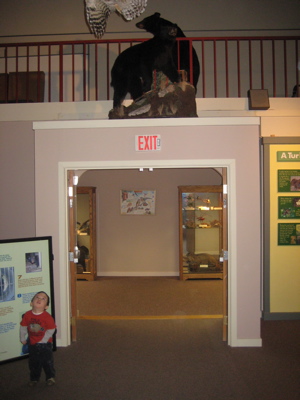 Damian's looks up warily at two bears on high.
……………………………..
8. Youth Museum at Hungerford Park, Kensington
……………………………..
9. White Memorial Nature Museum, Litchfield
……………………………..
10. Wickham Park Nature Center Museum, Manchester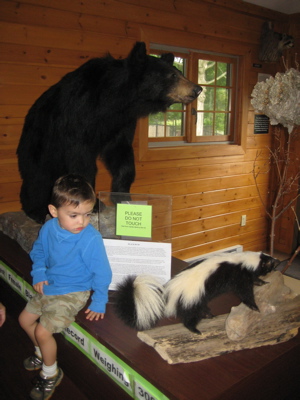 More wary of the skunk than the bear.
……………………………..
11. Action Wildlife Museum, Goshen

Feeding Damian to yet another Grizzly
……………………………..
12. Eleanor Buck Nature Center, Wethersfield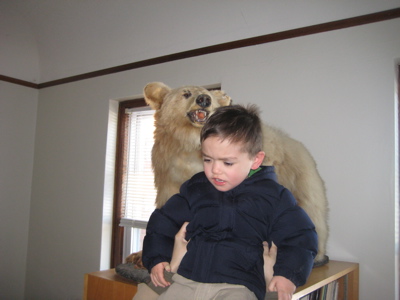 This Grizzly(?) cub about to eat my child.
……………………………..
13. Audubon Center of Fairfield, Fairfield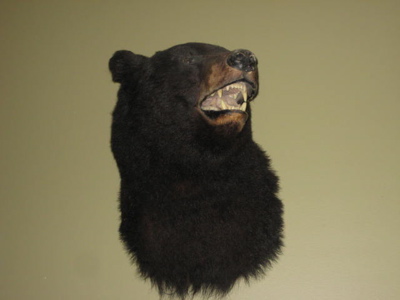 Disembodied bear heads will still eat you: Fact
……………………………..
14. Harry C. Barnes Nature Center, Bristol
……………………………..
15. Mystic Aquarium's Exploration: Wild! exhibit, Mystic