Bethel Land Trust
Bethel
Bethel is most famous for being the birthplace of one Mr. Phineas Taylor Barnum. And while I can't pretend Bethel's Land Trust trails are the greatest show on earth, they do seem to be pretty cool.
Established in 1977, the Bethel Land Trust has many properties throughout the town. They do that thing where they put big handsome signs at every parcel – even the ones with no trails. I'm still not sure if I like that or not.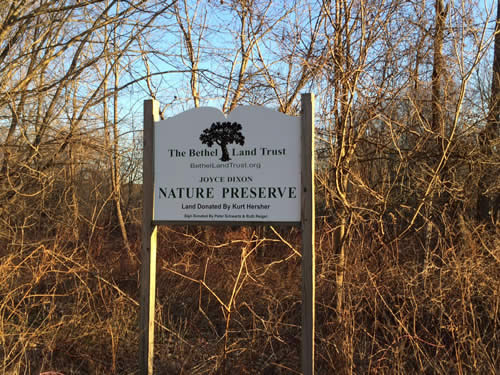 Perhaps owing to Barnum's spirit, the land trust played a major role in developing the Enchanted Trail, a public trail blazed with diamond-shaped yellow markers that crosses Bethel from Meckauer Park in the north to Huntington Park in the south.
Ladies and gentlemen, children of all ages… let's hike this place.
Bethel Land Trust
Preserves and Maps

The Preserves/Hikes:
If linked, I've hiked it.
Hoyt Preserve at Shelly Rd.
Ivy Island & Ivy Mountain Forest
Janet P. Miller Preserve
Mike's Pond
Plishner Memorial Family Preserve
Skyedge Preserve
Wolfpit Preserve

CTMQ's Land Trust Trails Page