O Little Town of Bethlehem
Bethlehem Vineyard
November 1, 2014
Yes! My 35th – and last! – Connecticut winery! Why, I ought to celebrate with some wine, don't you think? (Especially after spending the morning at a kids museum in Torrington.)
That's right, I've been to 34 other state wineries as of November 2014. Two of them have closed since I began ripping through them in 2008, which is a pretty good success rate.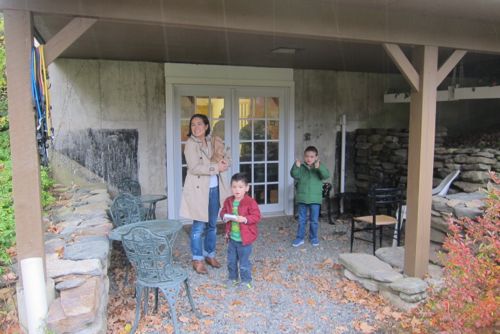 [2018 Update: That was a fun time for me, but many more wineries have opened since I wrote this page.]
Bethlehem wasn't last for any particular reason. They are only open the first weekends of the summer and fall months though, so some planning is required. But they are relatively near the Litchfield and Goshen wineries and judging by the surprising number of cars in the "parking lot," plenty of people were making a day of winery touring.
I wrote "parking lot" with scare quotes because this winery is also the owners' house. The "lot" is his driveway and the "tasting room" was built in his basement. I kind of like that.
Though, I'd love it much more if there was proper signage to the tasting room. Of course, when you follow the lead of your three-year-old, you end up in the owner's living room via a sliding door rather than beneath the deck where you are supposed to be.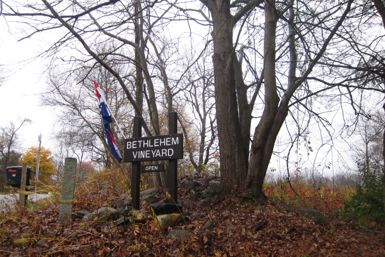 That issue solved, we entered the crowded and tiny tasting room. I had expected to be alone here, but I'm not sure why. It is on the official wine trail now and like I said, it's quite near a few other wineries. I announced our arrival and that there were two little boys coming in behind me. No one seemed to mind.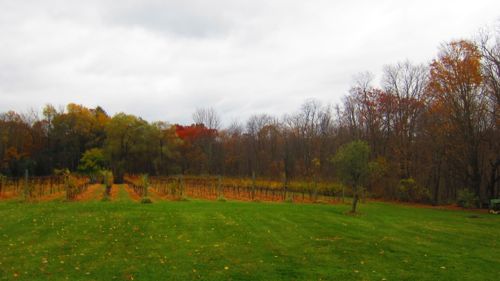 We were fortunate to get the last of the two-top high top tables and the boys were able to sit and do their things. I ordered up two tastings and away we went.
This place only charges $5 for 5 ample samples (sometimes there are only 4 available though). AND they give you the glass when you're done. We have no use for any more glasses, but what the heck. Two more glasses.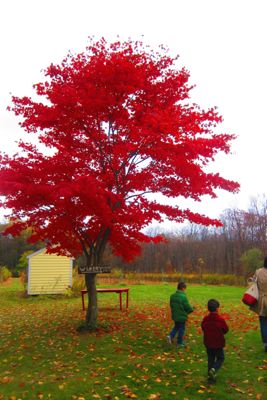 Over the course of the 45 minutes or so we were there, I watched the owner flit from group to group, welcoming them with a friendly smile each time. He was happy to discuss his wines or his labels or pretty much anything with anyone. I spoke with him a few times and found him quite affable.
There was another guy working there too; I'm going to guess it was the owner's brother, who was a bit more gruff around the edges, but whatever, he got things done and I think that was pretty much his role.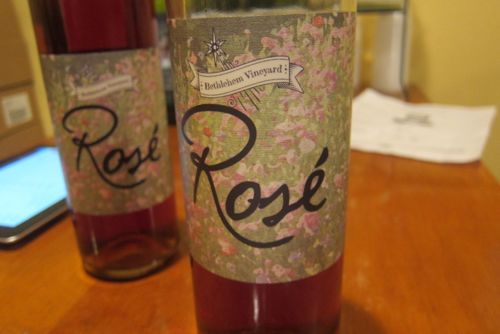 An amazing thing happened with our first two samples: Hoang and I really liked both of them a lot. We were not expecting that at a backyard winery that is rarely opened and is never in the discussion with the "big wineries" in the state. I don't know if it was because we were both just ecstatic to be at our last winery, but we really did enjoy the Santa's Little Helper and The Creche.
(Since Bethlehem IS The Christmas Town, all the wines here have a Christmas theme. You see. Even the aforementioned glasses have the "Star of Bethlehem" on them. Bethlehem, CT takes its Christianity quite seriously.)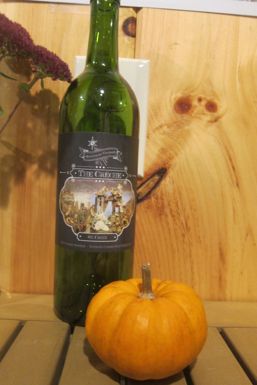 Santa's Little Helper is also called Christmas Town Red and uses California grapes. It is sour and tart and full of cherry notes. And I loved it. I have no idea if they intended this wine to be so tart, but I don't care. It was Bethlehem's cheapest bottle too, and I happily bought one.
The Creche was also very good. (The Creche, by the way, is a reference to the local giant Creche down near the nun place. I've visited and it is really, really cool.) Amazingly, this wine was made with 100% estate grown St. Croix grapes. This wine is done at every winery in the state and I've never said it was good.
This one was good. Has Jesus himself blessed this place?
Well, probably not. The next two wines were forgettable to me and one of them, the Town Line Cider, was left unfinished on the table.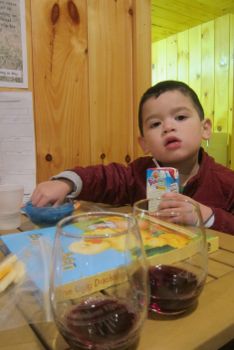 However, they had just released a rose which Hoang and I both liked. I mean, this is not French rose or anything, but what the heck, it was pretty good. And furthermore, the label is a commissioned painting based off of a cell phone photo the owner took in my hometown! Yes, the flower bed on Farmington Avenue between Main and Troutbrook has been immortalized on a small run of rose wine at a tiny, rarely open winery out in Bethlehem.
As we sipped our final wine at our final winery (for now, of course, but don't ruin my denouement) – as I was saying… at our final winery, I eavesdropped on some people within earshot. They didn't know each other, but were discussing the wine trail and some of their likes and dislikes.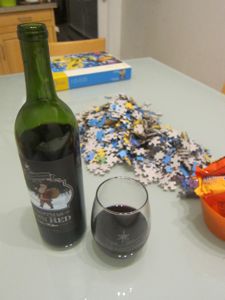 They seemed to have been to most of the wineries as well, but some just for the passport stamp and nothing more. They, like me, seemed to often focus on their customer experience than on the wines. Because in Connecticut, the wines just aren't great. Science and climate says that they simply can't be. So the wineries have to step it up in other areas, and most of them do.
The Bethlehem owner guy was super friendly and he's put a lot of work in his passion. I was more than happy to buy a bottle of his wine – especially since Frontier Communications took over AT&T that week and my Internet became nearly useless. So what's better than a bottle of wine and a beautiful Charlie Harper puzzle with your spouse?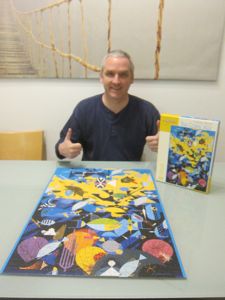 Bethlehem Vineyard
CTMQ's Visits to Connecticut Wineries