A Hog and Ox(ford)
Black Hog Brewing Company, Oxford
March 2018
When Black Hog burst onto the Connecticut beer scene in the summer of 2014, they did a lot of things right. This was likely due to the backgrounds of the guys who run the joint.
Brothers Jason and Tom Sobocinski come from a Polish/Italian family where food and drink is always the focus of every gathering.
No, I don't think that had anything to do with it. Jason is the owner of Caseus Fromagerie & Bistro in New Haven and when his brother Tom joined him, they got their Caseus food truck rolling too. Then they started up Ordinary Bar in the heart of New Haven's entertainment district.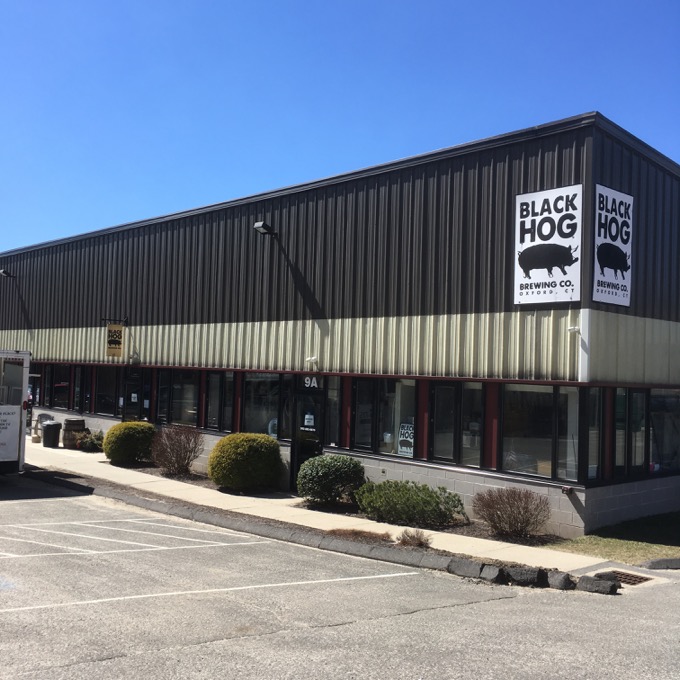 So they knew a few things about running a "cool" business. All they needed was a space and a brewer. Fortunately for them, Cavalry was awful and didn't last more than a few years in their Oxford space.
And just like that, the brothers Sobocinski had a brewery outfitted with equipment. One of them knew Portsmouth Brewing's head brewer Tyler Jones (or something like that) and Tyler wanted to live in Connecticut (or something like that) and the brothers lured him to head up the brewing at the little Cavalry's Ghost brewery at the back of an industrial park in the woods of Oxford, Connecticut.
Of all places.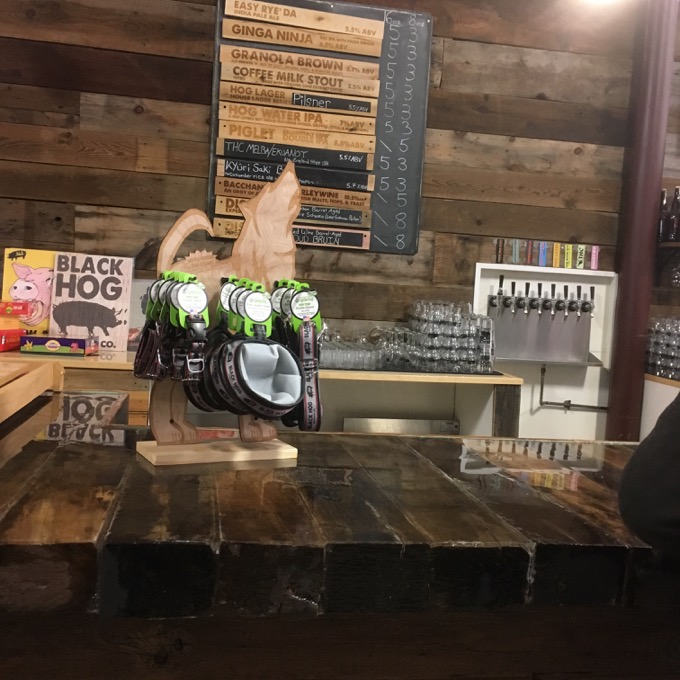 And they've been growing and going strong ever since. And again, right out of the gate Black Hog's branding, marketing, and distribution was impressive. On top of that, they were probably only the second Connecticut brewery to actually put together a nice website after Two Roads. (Heck, with 70 other breweries in the state as I write this, they're still an outlier in this regard.)
They opened with a bang; a full-on pig roast and party in the parking lot. Cans of their first flagships sprouted on store shelves from West Hartford to New Milford. Through their restaurant contacts and food truck success, they seemed to be everywhere… quickly.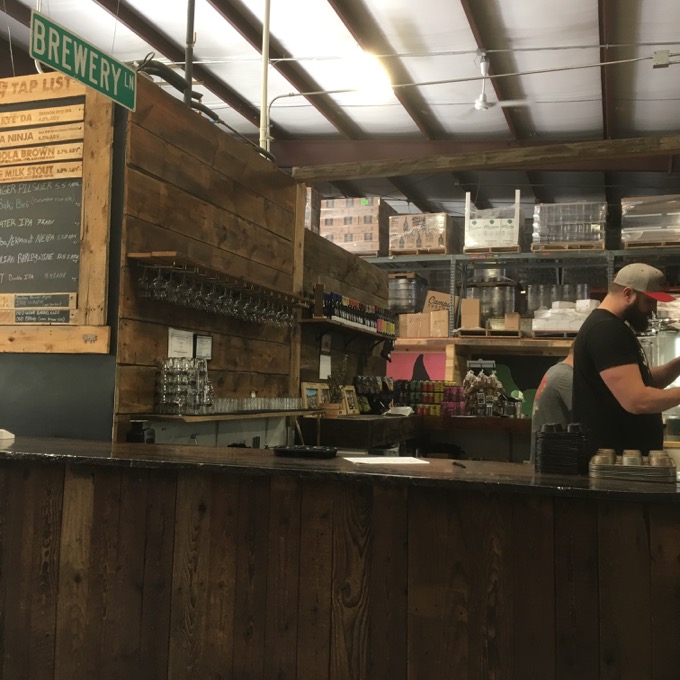 Then a funny thing happened. Everyone tried the beer.
And half of their portfolio was distinctly lacking in things like flavor, complexity, and body. It was rather disappointing to say the least. All the ingredients for a great brewery were in place and… and it failed to deliver.
The darker beers have always been pretty good. Their Granola Brown is still one of the best brown ale/porters you can find in the state. Their Ginga Ninja is creative, well-made, and boasts some of the most iconic can art around. (In fact, it was runner-up in a CNBC label art contest.)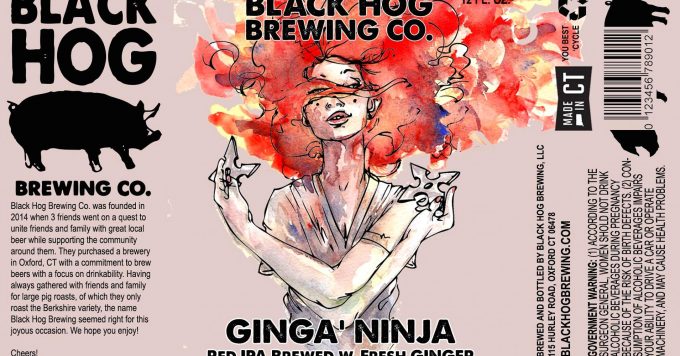 I immediately developed a weird relationship with Black Hog's beer.
Their IPA/PA/DIPA/Wheat family was simply not good. At all. And this isn't coming from some hazebro fanboi either. With every release, it was the same thing: boring, bland, lacking in anything remotely distinctive. None of them were "bad," per se but none of them were good either.
Tyler Jones the brewer was given free rein. He and his assistants created a Farmland series of beers that utilized local ingredients from herbs to fruits and vegetables. These were hit or miss for me. He and the crew also began the Disco Pig series of beers that he once termed "wacky."
And they sure are wacky. From the Lime Maguey to the Saki Yeast Fermented Cucumber and Rice Ale to a Brown Brett Baggott. These are, to me, also a bit hit or miss. Of course they have a bourbon barrel series and one of them, a cherry bourbon barrel milk stout, was probably the first beer I held in my hand and did not purchase for a review. It was insanely priced and while I'm sure it was delicious, I decided I needed to chill out on those things.
Over their first four years, I'm happy to report that the IPA/PA/DIPA family of beers have improved dramatically. Frustratingly incrementally, yes, but dramatically. So much so, that I felt I had to go back and redo many of my earlier reviews of these beers.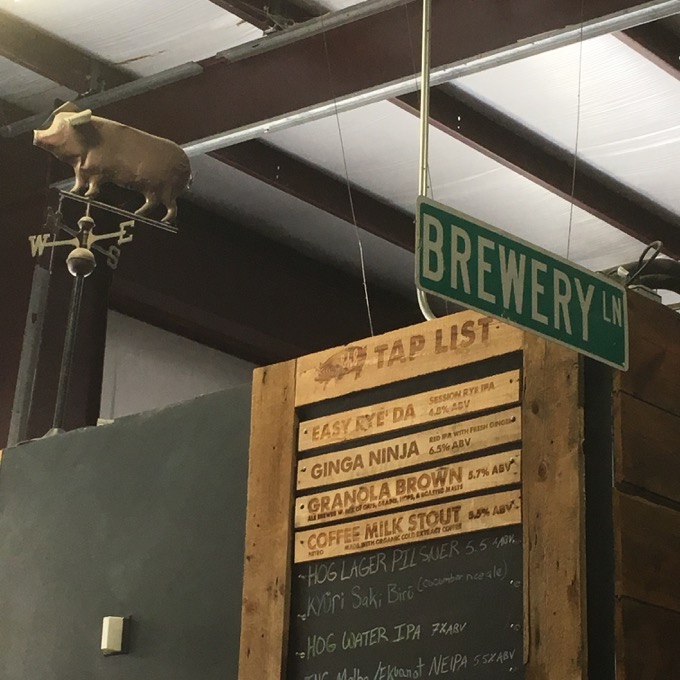 And then I had to revisit the brewery – for that has also improved dramatically. In 2016 or so, they blew out a wall and increased the patron space three times over. The brewery is still in a bit of a weird building, but they've worked magic with what they have. There's now a sort of double bar to serve both sides of the room, and seating for probably 50 or so.
Several of those seats are strange little nooks in the walls. I must say, the larger gentlemen guests look a bit funny stuffed into these stalls. Maybe it's part of the "farmland" theme, as they kind of remind one of little pens for veal or something. I wish I got a picture.
I like they way they operate here. You can order pints and growlers and purchase cans and bottles and all that stuff, but you can choose your own flights. You can choose just one sample pour or twelve. (I chose just four during my latest visit.) I like that ability to create your own flight size.
Or as the owners of Caseus would say, "curate your own flight."
The brewery offers a large array of children's games for adults to play which is always nice for those who bring their children. Food trucks are usually there on the weekends at least as well.
Black Hog has settled in and are able to pump out their staples for distribution and still have the time, space, and cohones to do a lot of experimental stuff as well. Some works, some doesn't. As the industry moves forward and shelf and tap space become more and more impossible to attain, it will be interesting to see how the breweries like Black Hog continue to flourish. A recent collaboration with Allagash can't hurt.
With OEC mere minutes away, Black Hog knows they'll never out-wacky or out-high end their neighbors. Though I'm not sure they'd ever want to. They seem to just want to make a lot of solid beer, some weird beer, and provide customers a good time. Black Hog is solidly middle class and I think there's nothing wrong with that.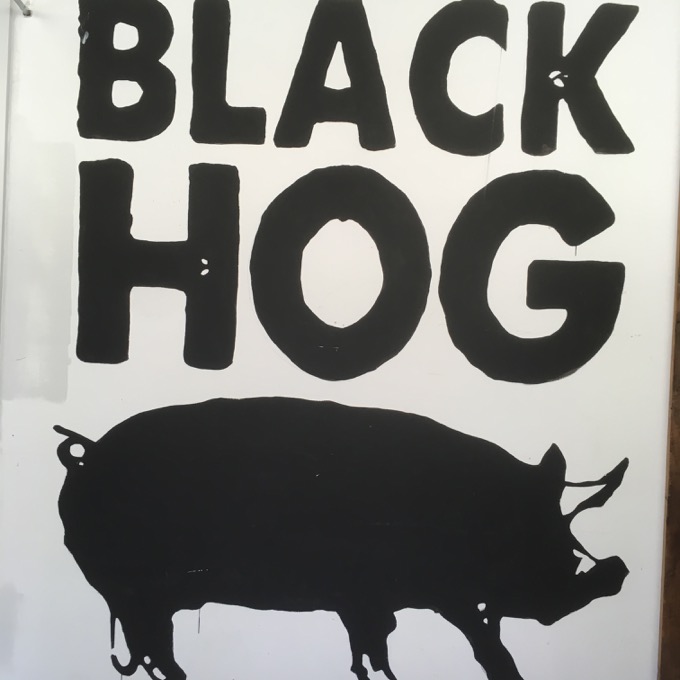 Black Hog Brewing Company
CTMQ's page on CT Breweries and Brewpubs