a la Free Library Cart
Connecticut a la Carte
Edited by Melinda M. Vance
Isn't it weird that cookbooks are still so popular? We have several dozen of them in my house and every once in a while we may notice a pretty cover. But anytime we need a recipe, we go online. And yet… we still buy cookbooks. It's a weird quirk of humans I guess. We simply like to look at – and dream about – good food.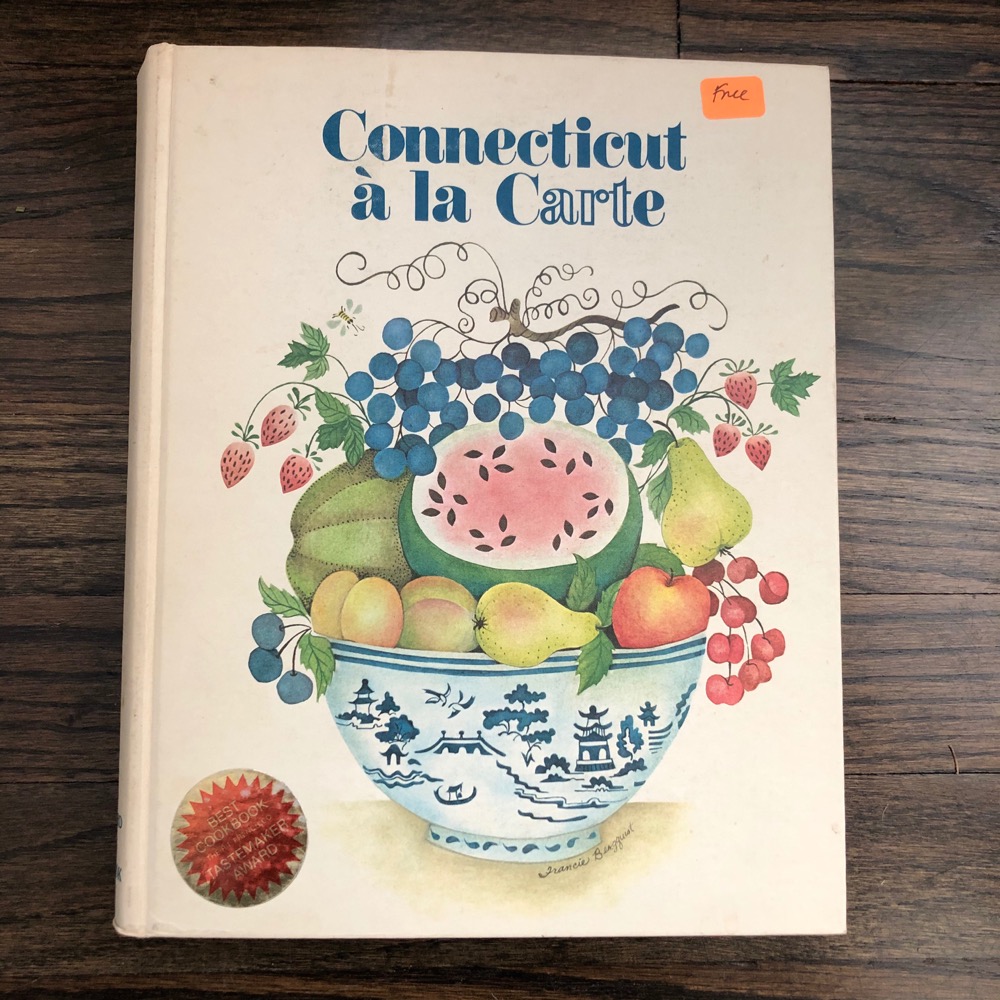 Back in 1982 there was no internet of course, and cookbooks were much more heavily used. This particular one, a highly localized Connecticut-centric 400+ page monster, went through three printings if you can believe that.
Even better, it was sponsored by five arts organizations… with the proceeds going back to those same organizations. They were: Connecticut Opera Guild, Friends of the Hartford Ballet, Hartford Stagehands, Hartford Symphony Auxillary, and the Women's Committee of of Wadsworth Atheneum.
Cool concept and I'm happy it appears to have been successful. I picked up this book for free at one of my library stops that has free carts of books and didn't look at it for a few years simply because it's so daunting. For this is not a typical book of recipes, oh no. The folks who put this thing together put a lot of thought into it and the result is really quite interesting.
Getting back to online recipes for a moment… it has become cliché to complain about how it takes forever to get to the actual recipes now. Stylized "influencers" and bored amateur chefs believe we all want to know the boring backstory about their Rice Krispies treats recipe. Well, see, Connecticut a la Carte does that too, but in this case it's pretty awesome.
The first half of the book presents menus that are related to some historic Connecticut event or place. Others tie in to the arts organizations mentioned above in clever and fun ways. And the history lessons here are good. Really good! I found myself reading them even though I'm fairly familiar with the stories after writing this website for 15 years.
The book is put together like a Playbill (a nod to the arts organizations who sponsored it) and is divided into scenes like Historic Connecticut, The Connecticut Landscape, etc. I love the vision and execution of this book.
The themed menus and recipes start at pre-Colonial "Quinnetukut" with an Algonquian Indian Mid-Summer Celebration meal. After a long explanation of the Native Americans who lived here, we get recipes for things like Quinnetukut Succotash. I think it might be hard to get some traditional bear fat for sweetening though.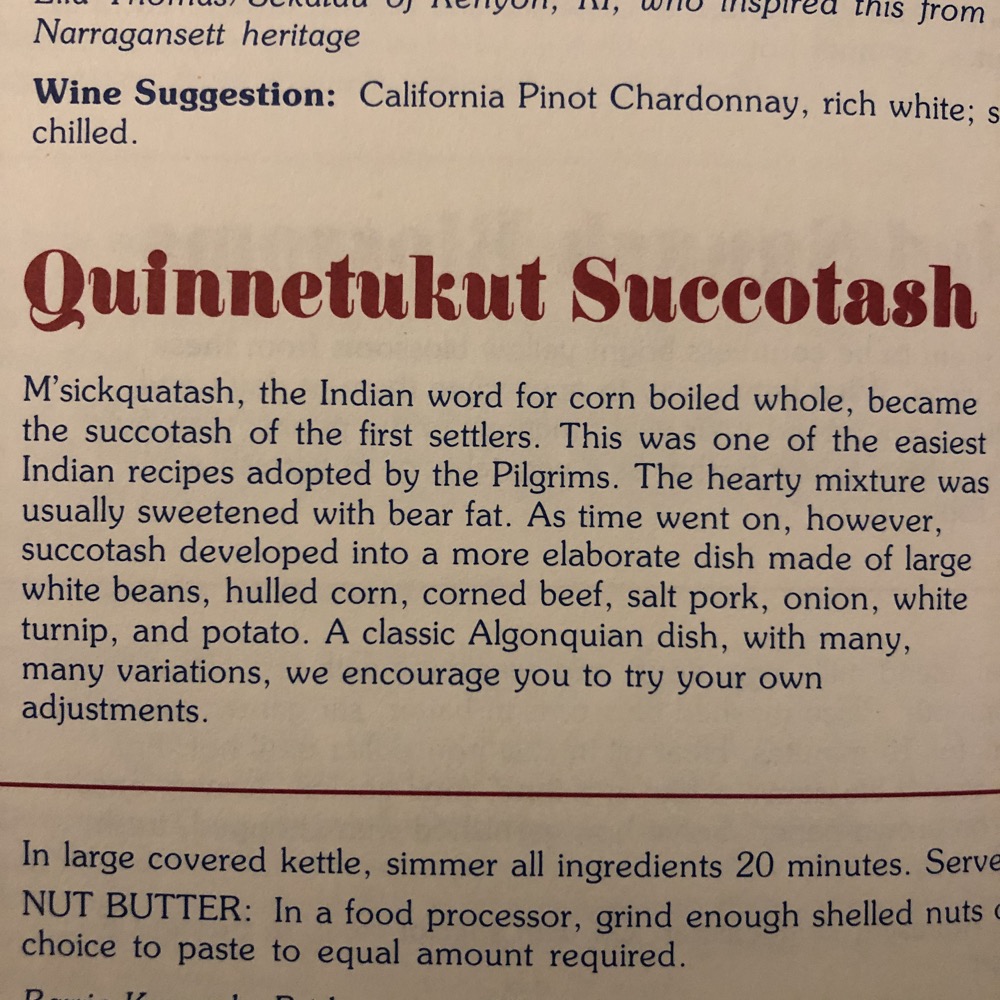 There's also, of course, traditional New England Indian Pudding which the book notes, "was not a food of the Indians." From there, we move on to "A River Plantation Thanksgiving," and "Noah Webster Autumn Dinner by the Hearth," and up through something called, "Mark Twain and Mrs. Clemens Entertain." And again, each section gives a very good background of the time and place of the the menu.
Some of the historic menus include recipes supposedly from way back in the day. This one for something called Fish House Punch from the mid-1700's. I'm floored by the amount of booze in this thing (which has obviously been slightly adapted for 1982.) It would kill me dead.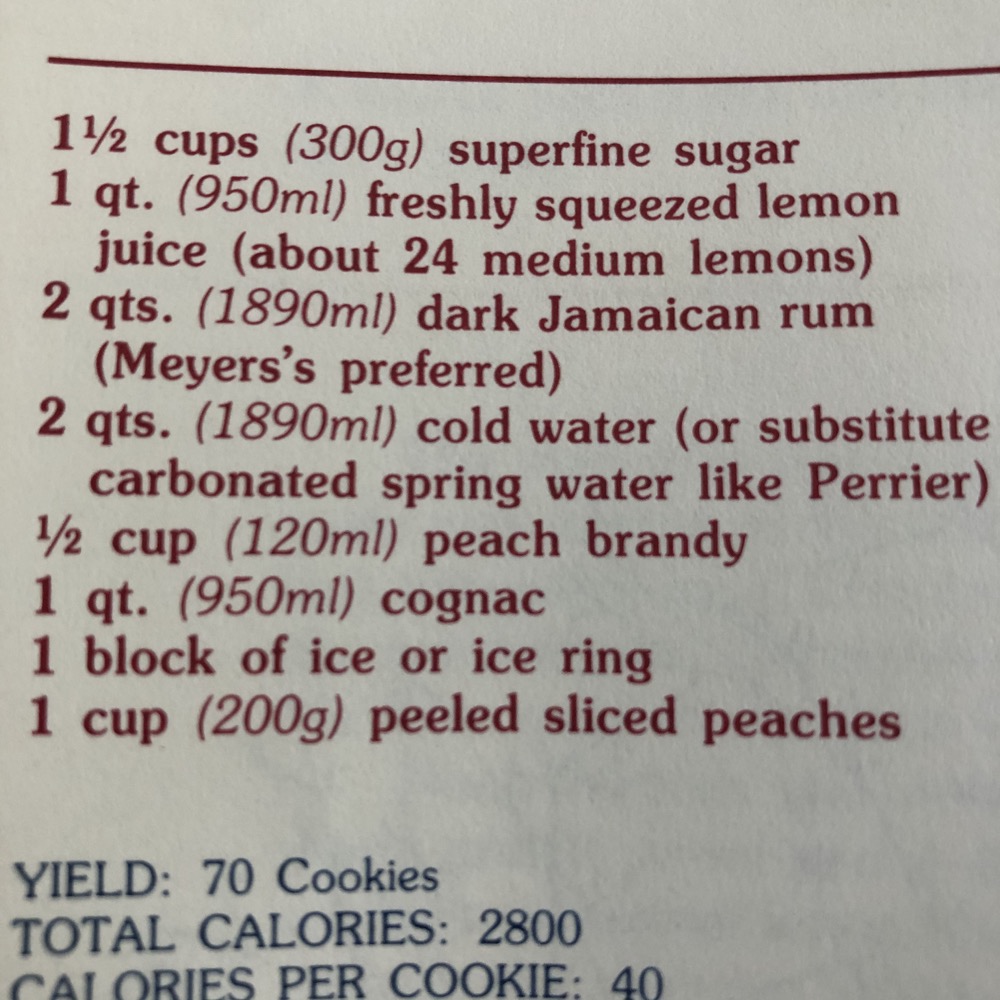 And maybe that's what killed 18th century men dead so early? Eesh. The recipes travel through time up through the 19th and 80% of the 20th. You'd be surprised to read how much local history can be woven into a cookbook like this.
Here's one every worthy Nutmegger knows: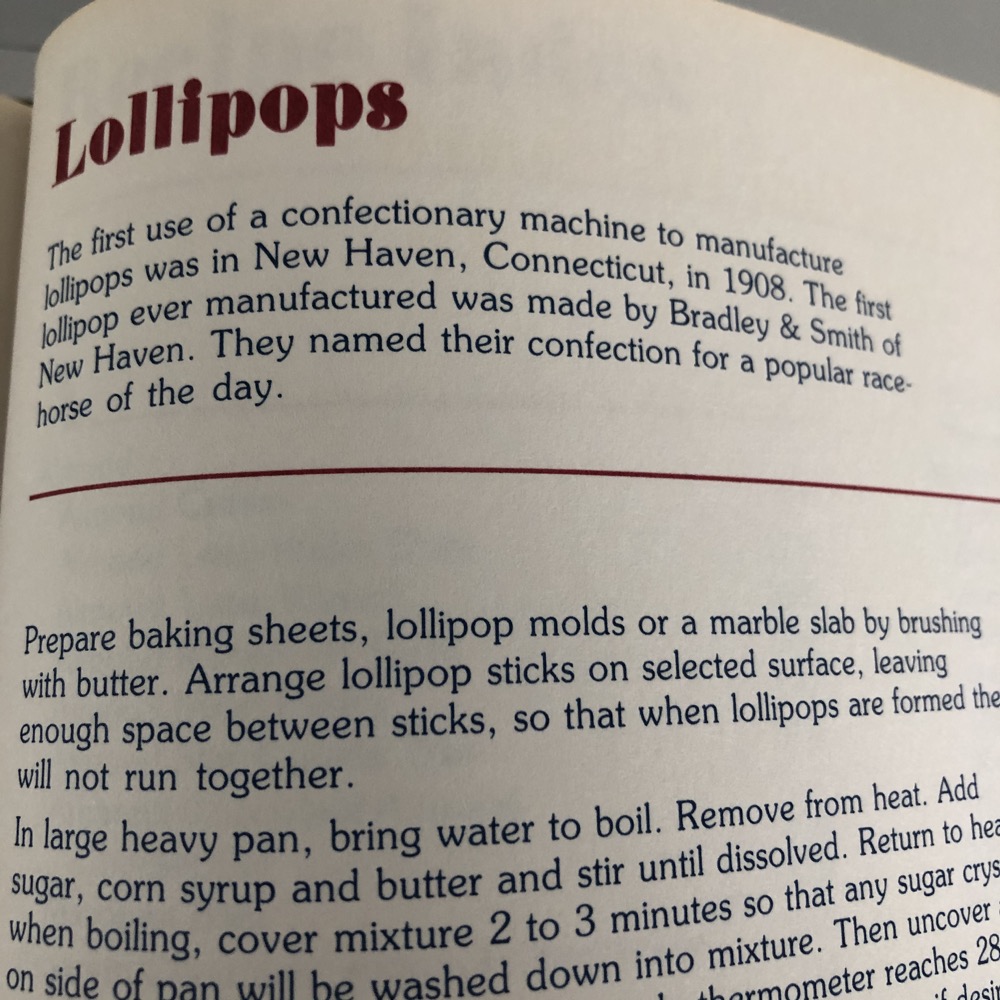 And of course if you were a typical Yalie in the… I'm guessing 1940's or 1950's… you went to the Yale Bowl every Saturday for a football game. And that meant tailgaiting with your friends Winthrop, Beatrice, and Rutherford.
I'm not sure who was responsible for the tailgate's food, but the book has a perfectly reasonable suggested menu (and recipes, of course):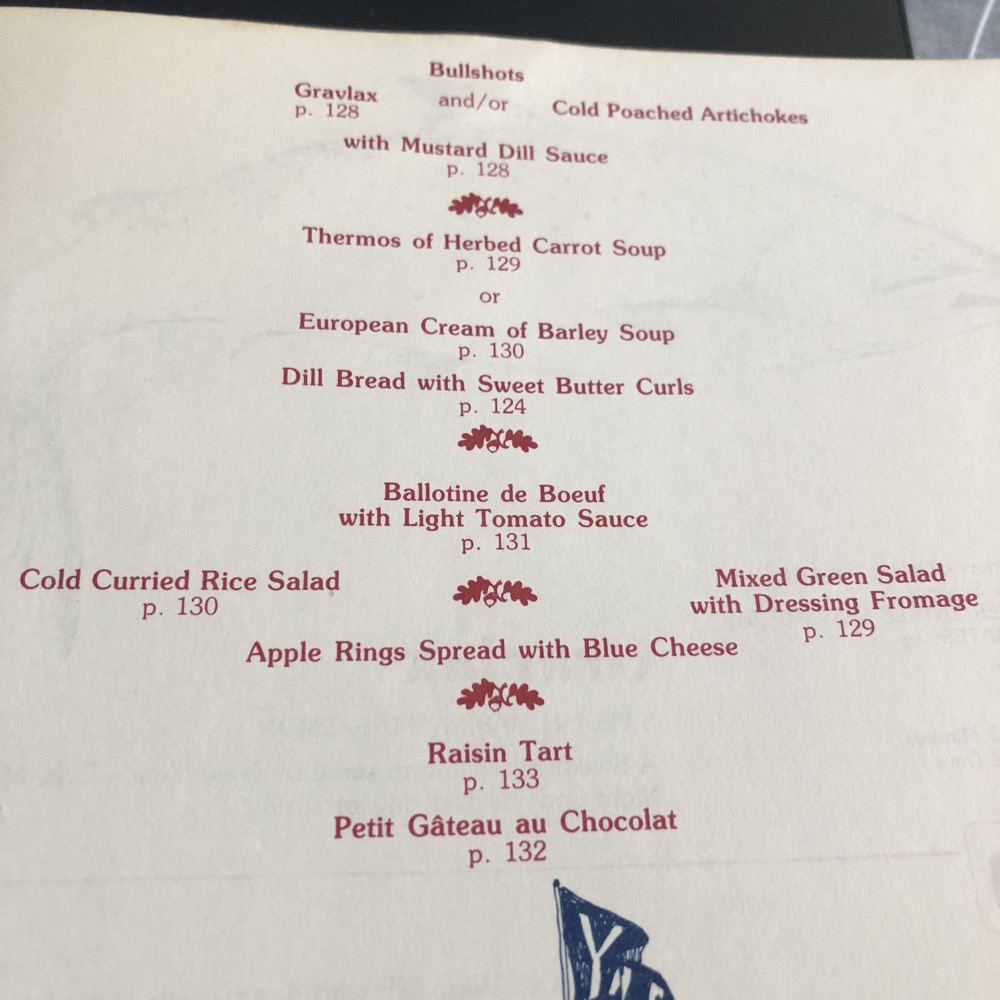 Those Yale dorms must've had some nice kitchens and prep areas back in the day.
Eh, all cookbooks are fanciful for the most part, right? "Make your own homemade gravlax for a drunken tailgate instead of buying some packaged smoked salmon at the store!" But as ridiculous as that is, there are other times this book is decidedly on point: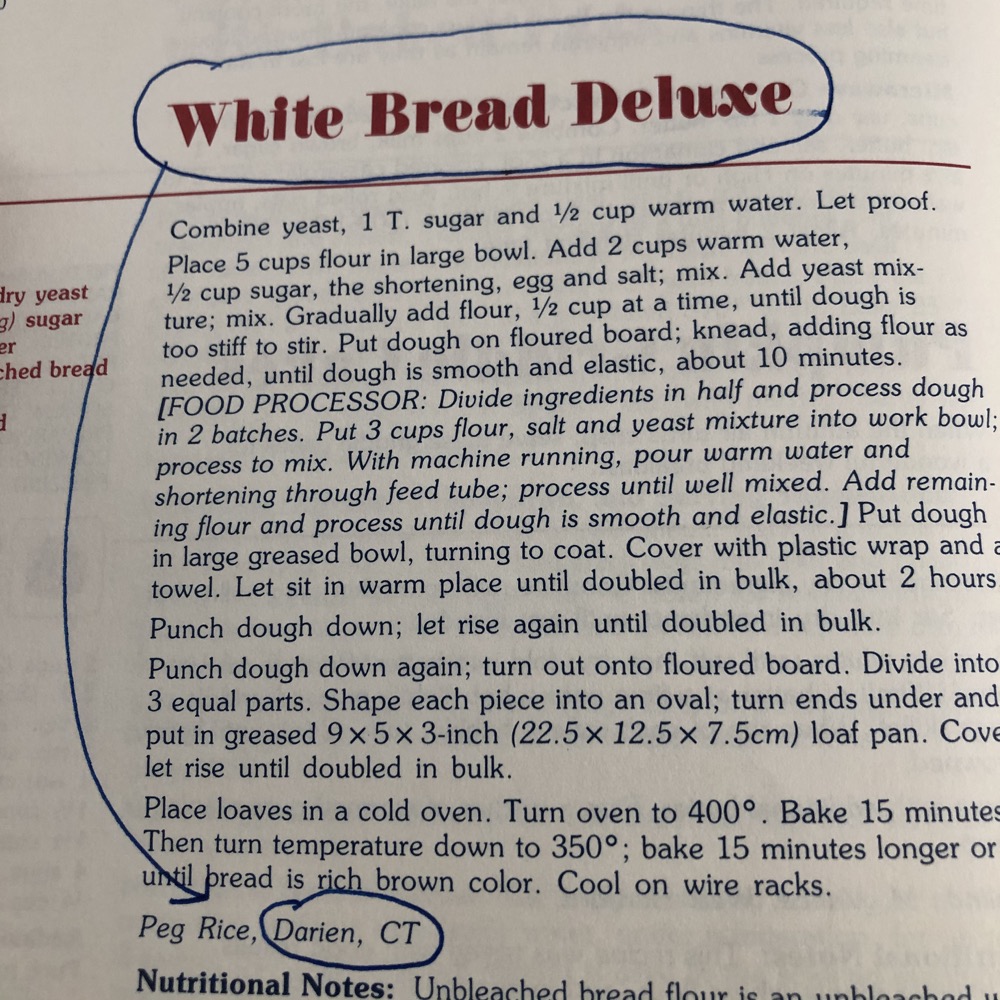 I mean, where else would that recipe come from if not Darien?
Alright, I'm out of 40 year old Connecticut cookbook jokes for now. I'm going to give it back to some free pile of books somewhere someday, but if you know someone who was involved with its creation or have some interest in it, I'll get it to you if I still have it by the time you read this paragraph. (If it's, like 2023 or beyond, don't bother. I love getting rid of stuff way too much to still have this.)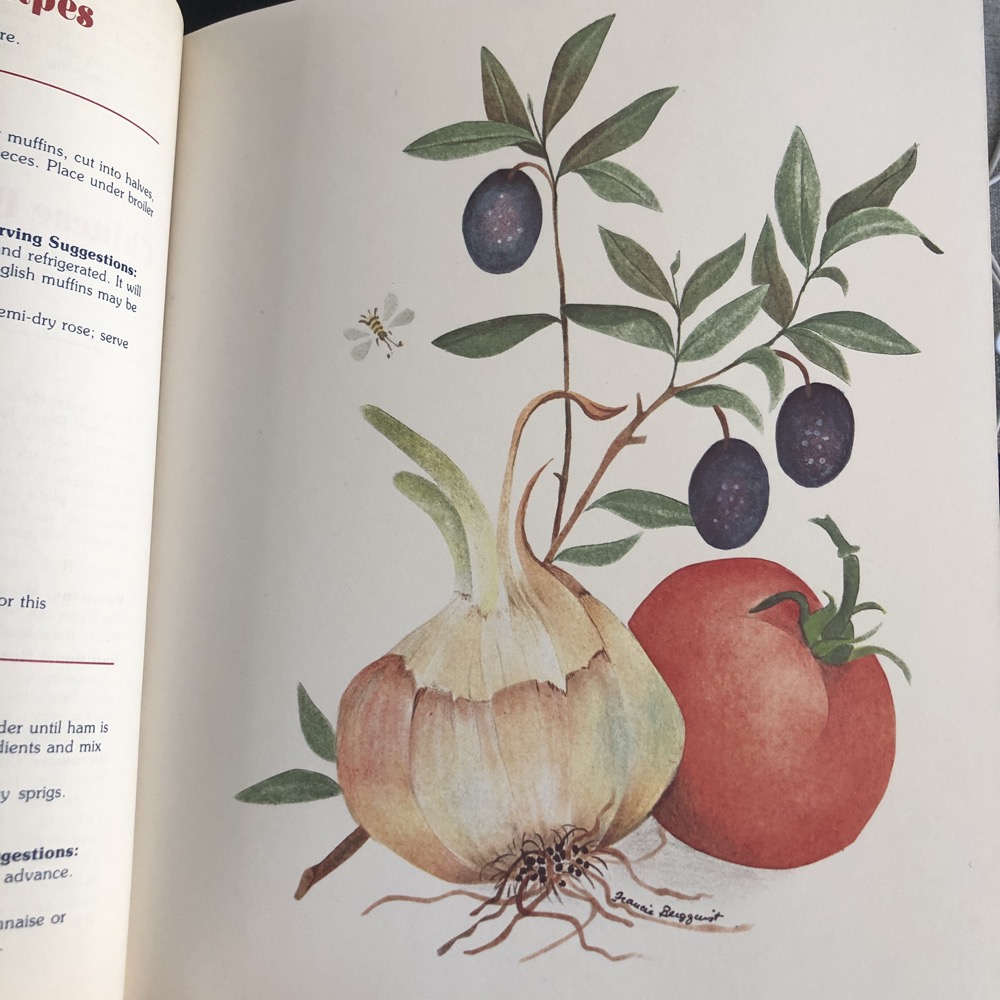 CTMQ's List and Reviews of Connecticut Books