Yee-Haw
Connecticut Farms and Farmers Markets
Eric D. Lehman and Amy Nawrocki (2022)
I didn't plan on actually reading this book. I don't think the prolific Connecticut authors plan for anyone to read read Connecticut Farms and Farmers Markets. That's not the point of it at all.
I, however, actually read the book. Lehman and his wife Nawrocki have done an amazing thing here: Made what is essentially a comprehensive listing of a couple hundred farms and farmers markets moderately interesting. Even with what I do here with CTMQ, I could never do what they've done in this book.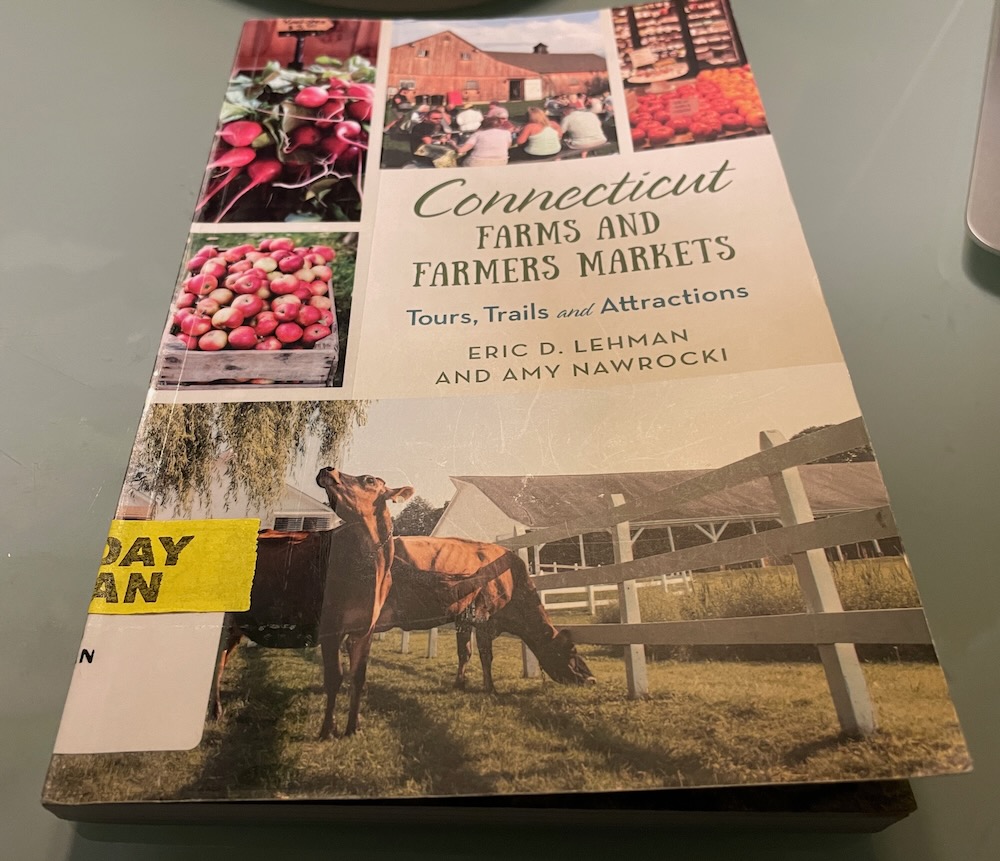 What I'm saying is there are probably dozens of places described that are more or less exactly the same, yet they were able to write a sentence or two every time that they didn't use before or after. That's impressive any way you slice it.
I read these types of books for two reasons: I respect anyone who writes about Connecticut stuff in a coherent way and I'm constantly looking for places and things that I may not have listed on this site. I'm often asked how in the world CTMQ grew to be as sprawling and comprehensive as it is. The answer is simple: I've read and scoured everything out there like this book over the last 20 years – while taking notes.
Don't judge me.
Your next question should be "is there anything in this book that you didn't have in your 169 Town Guides?" Yes. Yes there is. There are a few ice cream places at farms – to be determined if they qualify for my CT Homemade Ice Cream Trail though. But I did add three places: Assawaga Farm in Putnam because they are very unique and grow a bunch of interesting Japanese vegetables, Dzen Tree Farm in South Windsor because they keep a herd of reindeer, and Niantic Bay Shellfish Farm because they apparently offer tours of their aqua farm… which is cool.
Shout out to Globe Pequot Press for their continued commitment to publishing these types of books – although whomever decided on the weird geographical groupings here and the decision to list the farms and places in alphabetical order by farm name needs a talking to.
I'm kidding… that's a personal peccadillo of mine. Related: if you're curious, my personal version of undiagnosed OCD simply wouldn't allow me to publish a book like this; one that will be out of date in a few months with closures and changes all over the place. Even so, as I read it a few months after publication, it seemed very accurate across the board, with only one glaring typo and one glaring "mistake."
The typo is hilarious, even if potentially deadly:

Cinnabar contains mercury and I wouldn't advise putting it in your coffee. The other "mistake" is no fault of the authors or the publisher. Imagine my glee upon seeing The CT Cheese Trail listed in the book! I've been advocating for this since I created my own in 2010 or so – and I've even been so kind as to keep it accurate all that time.
The book links to buyctgrown.com which I'm sure was a good idea in 2013, but it would have also been good to keep up with the site. The Cheese Trail listing contains as many closed cheesemakers as open ones (and doesn't list tons of operational places.) The Beer Trail on that site is even worse.
I'll make my offer yet again: The CT Cheese Trail should exist. I've done the legwork, people. C'mon!
Lehman and Nawrocki are veterans of the Connecticut "stuff to see and do" scene and it shows. To write a readable guide to farms and farmers markets is impressive to say the least. Well done.
Just don't drink the cinnabar.

Eric D. Lehman
Amy Nawrocki
CTMQ's List and Reviews of Connecticut Books