Delicious
Food Lovers' Guide to® Connecticut: The Best Restaurants, Markets & Local Culinary Offerings
By Patricia Brooks, 2013
In a previous review of a similar book, I explained why I'd have difficulties writing a book. It had to do with my particular brain and how I'd hate to finish writing a book, waiting for publication, and then noting that several places in the book closed or expanded or changed significantly.
And that's why I stick to writing this website. Like, Connecticut's 101st brewery just opened yesterday. Within 30 seconds I'd updated my list and my count and that's that. Now, you may wonder how I keep up with all my lists – or create them in the first place.
I read. A lot. I won't bore you with all that I try to keep up with, but will stick to Patricia Brooks's Food Lovers' Guide to Connecticut. It is what it says it is, and Brooks did a pretty good job of it. It's a bit Fairfield County heavy, as these things always are, but that's just expected at this point.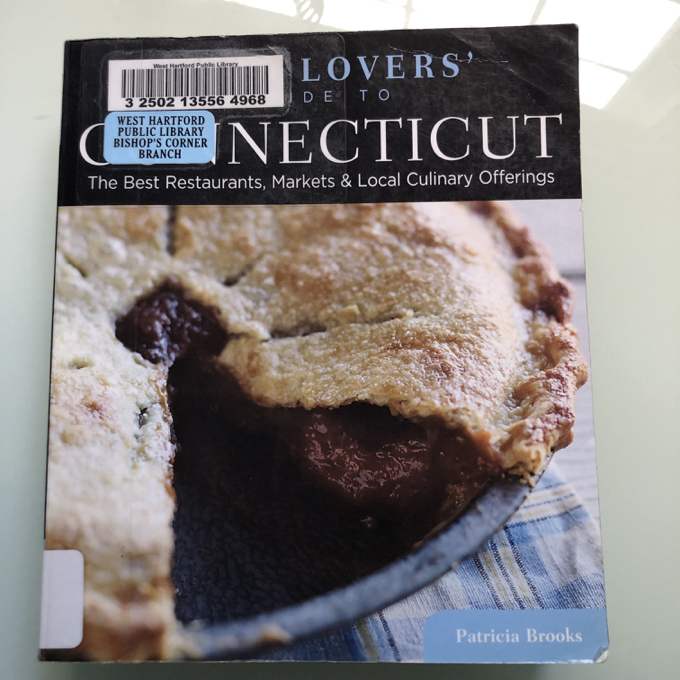 When I read/skim books like this, I'm looking for places I'd like to visit and write about that are new to me. When I go through a book and find nothing to add to CTMQ, I consider that a success on my part. This was one such book.
I did note several places that may have made the cut, and took note of them. They were:
Volta Gelateria Creperia, Stamford
Daniella's Gelateria, Greenwich
The Little Chocolate Company, Greenwich
Hauser Chocolatier, Bethel
R+D Chocolates, Fairfield County
Miss Thelma's Restaurant, Bridgeport
I do maintain a list of homemade ice cream joints, a CT Chocolate Trail list, and I've been looking for a great soul food restaurant. But herein lies the problem… and why I hadn't included any of these places – all Fairfield County, by the way – on my site:
Volta Gelateria Creperia, Closed
Daniella's Gelateria, Closed
The Little Chocolate Company, Closed
Hauser Chocolatier, Moved to Rhode Island
R+D Chocolates, Undetermined Fate
Miss Thelma's Restaurant, Closed then re-opened, but poorly reviewed lately
Certainly no fault of the author, especially as this book was six years old when I read it. The food industry is a fickle one, and any guide to it will be outdated by the time its published.
Each entry was given a paragraph or two of explanatory text. Brooks did a good job giving equal weight to tiny, unknown shops and the larger well known entities. She also did a great job listing a lot – and I mean a lot – of really small, yet worthy, unique shops and producers. I was happy to see things like Simpson and Vail Tea in Brookfield as well as The Bridge in Middletown.
Brooks has an impressive food resume, having spent time in Japan, Hong Kong, and the Philippines as a young adult, and then traveling all over the world on food quests. To Mandalay, Madrid, Assisi, Ankara, Sydney… I'm jealous. She's been writing about food for decades and most notably, was (is?) the New York Times Connecticut restaurant critic.
Her breadth and depth of knowledge shows in this 2013 guide, and my only hope is that an updated version is in the works.

CTMQ's List and Reviews of Connecticut Books