Rock 'n Roll Mystery and Surprise Island
The Boxcar Children Series , originally by Gertrude Chandler Warner
West Hartford Library
Apparently I missed the Boxcar boat as a child, as I'd never heard of them until I found out about the little museum in Putnam dedicated to their author. I'd never read a word of the books until after I visited the museum and decided I had to for the purposes of gaining a greater appreciation for the genius of Miss Warner.
She originally wrote 19 Boxcar books. After her death, other writers continued the series and it's still going strong today, some 75 years later.
It is very hard for me, as a middle-aged man, to properly judge children's mystery lit.
So take the rest of this page with a grain of salt.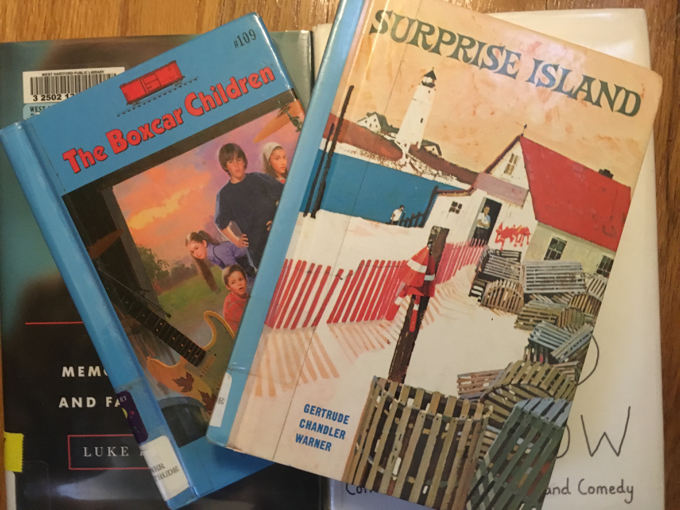 Salty salt.
Writing an academic review of these books would be foolish. This is not academic lit. These books are pretty terrible; both the originals and the newer versions.
Four Alden kids were orphaned and grew really tight with each other and are thurst into the role of detectives. In the modern book, they play in a band and someone stole their instruments. (It was the guy you least suspected, of course.)
In the original Warner book, the mystery was… I still don't know. (Well, the real mystery is why the grandfather left the four kids on an island on their own for an entire summer with one weird guy he didn't even know.)
Oh, and that they eat bread and milk a lot.
I'm going to stop here and just pass it off to this wonderful Goodreads review of Surprise Island.

A visit to the Gertrude Chandler Warner Boxcar Children Museum in Putnam
CTMQ's List and Reviews of Connecticut Books