Watch Your Step
Camp Columbia State Park Tower
June 18, 2011
(Officially Closed) Stone Tower
[Update: The tower was open in 2014, though I doubt the state has officially made this "climbable."]
As this tower sits atop a small hill in what is now a state park, and as the writer of this website I must make everything into a list; there is already a Camp Columbia State Park page. It's a lovely page and contains a trove of historic information about Camp Columbia. Seriously, you'd be amazed at what went on here during the 20th century.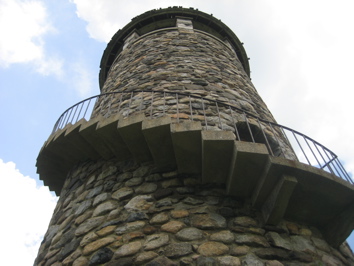 General Eisenhower built miniature football fields, Canadian war veterans dug trenches to simulate the Belgian front in WWI, Columbia University engineers spent their summers here studying whatever it is really smart people study, the stinkin' New York football Giants purportedly practiced here…
Don't believe me? Go ahead and check out my page about the state park. It's nuts, I'm telling you. And bonus: Different pictures!
So there I was, randomly driving through Morris – yeah right. Has anyone ever uttered those words? Probably not. Anyway, I easily found the little parking lot off of route 109 and began my trek up to the tower. I wanted to get a bit of a flavor of the whole park, so I made a rather circuitous route via the fairly well-marked trail network.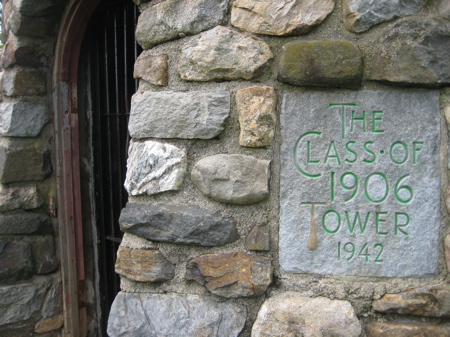 There really isn't too much that's too exciting to see here in the woods, but I must warn you – the edge areas and all through the sunnier spots in the cleared areas, I've never seen so much poison ivy in my life. I was scared off of poking around the abandoned buildings by the stuff. (I'm very, VERY allergic to it.)
Which brings me to the tower. It's not a lookout tower per se, although there are some western views IF you could climb up it. For you see, this rather handsome stone tower is closed for climbing.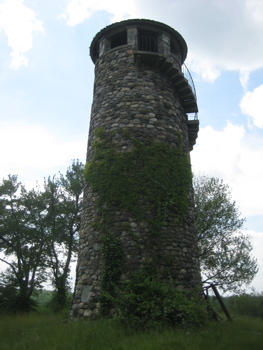 I approached the thing as two day-hikers were poking around the area. They appeared confused about my presence and sort of warily slinked away. Perhaps because I came from the south and the trail everyone takes normally comes from the north? I have no idea, but it was sort of weird. I hardly look threatening.
I determined they were letterboxing or geocaching – about the only 2 things I don't do in Connecticut. And I think they were actually watching ME to see my find whatever they were looking for so they could then follow me. I can't imagine how disappointed they must have been.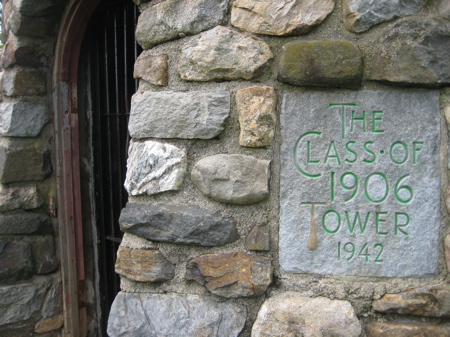 Anyway, like I said, the tower is closed. I noticed an upturned picnic table placed below an open window and thought to myself that it was placed like that to gain access to the tower. However I, being of high moral fiber, decided against the ascent.
Luckily for us, a CTMQ reader and tower enthusiast is not made of such moral fiber and DID use that picnic table to climb up. While I officially can't condone such behavior, the pictures he sent me are pretty darn awesome.
The tower was, I think, actually a water tower. It was built in 1942 as a gift from the Class of 1906. I found the stone step encircling the thing to be very cool and strangely attractive to me somehow.
Again, you should learn more about the state park (below), as it's a pretty interesting little place. For the next time when, you know, you find yourself randomly in Morris.
CTMQ's Camp Columbia State Park page
Camp Columbia State Park
Camp Columbia Park map