CocoaWhacked
CocoaShak, Cheshire
February 2013
Y'know… This Chocolate Trail thing is a fickle thing. I said fickle, not butter brickle. It was created only a few years ago in 2011 or so, and while it has added a few spots over the subsequent few years, it has already lost three. And if I was a betting man, I'd be fairly confident another one is on its way out.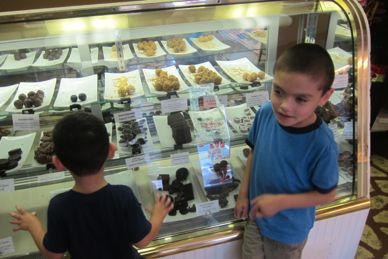 Chocolate shops are destination businesses and I'm sure all but Munson's and maybe Bridgewater operate with very thin margins. And although chocolate isn't exactly good for you, neither is beer or wine and our breweries and wineries (of which there are or soon will be around 30 of each) seem to be faring pretty well in 2015.
So pour out some hot cocoa for Belgique in Kent (RIP 2012), The Chocolate Lab in Greenwich (RIP, I think, in 2014), and now CocoaShak in Chesire (RIP, end of 2014).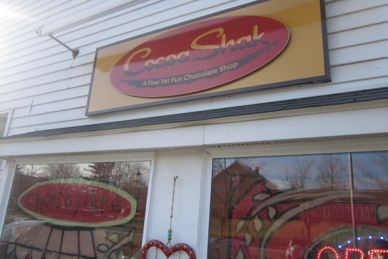 Bummer. (I grabbed their farewell note from facebook – just below.)
It's at this point you are asking, legitimately, "why is Steve bothering with this page?" Well, because we went there three times while it was open and part of the Connecticut Chocolate Trail. And we liked it. And I have pictures.
And stuff.
The CT Chocolate Trail says:
A fine, yet fun chocolate shop offering handmade chocolate truffles, barks, chocolate bacon bars, chocolate covered potato chips and pretzels. They make s'mores with fresh-made marshmallow and serve Aztec Spicy Sipping Chocolate during the colder months. Sooth your cravings for even more chocolate with special classes and tours.
The first time we went there, the owners were both there and both ecstatic we were there. The chocolate chef Chris and his wife jumped all over us (in a good way), asking if this was our first visit.
It was. As a result, we were each offered 1 free chocolate each. (If they hadn't closed, I would offer this tip to you all – but you missed out.) The customer space was tiny, but that is fairly normal for these little chocolate places. And really, with my younger son's face just plastered on the display case glass the whole time, it's not like he's in the way.
In fact, Calvin's face was stuck on the glass or so long and so intensely, that his visage literally became one with a giant pile of chocolate.
What? You don't believe me?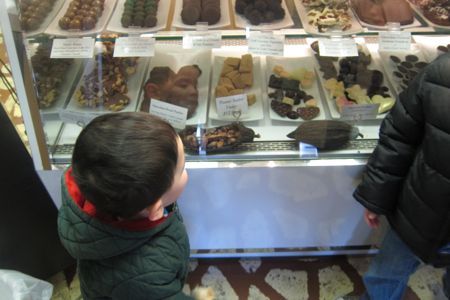 Look closely. Here, I'll help: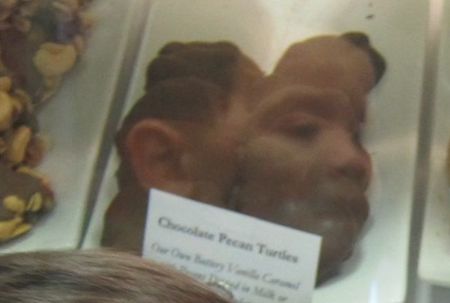 … And you people wondered why I wanted to write this page! CocoaShak sort of specialized in unique combinations of ingredients in their chocolates. Other places do this sort of thing too, but I just found the Cheshire spot's to be even a bit more interesting.
I mean, who doesn't like Tone Loc references when it comes to chocolate?
This is blueberry and balsamic vinegar in a dark chocolate something. And yes, they had a blue tint to them:
We very much enjoyed the Aztec Hot Truffles too – dark chocolate ganache enhanced with hot pepper and cinnamon, dipped in dark chocolate and dusted with cinnamon. Actually, we enjoyed everything.
But then I visited again alone with the boys one day. And we saw this: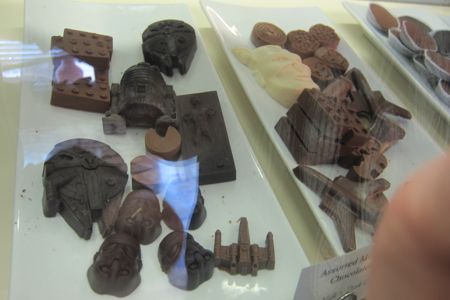 And now I'm really sad CocoaShak closed. An X-Wing Fighter! The Millennium Falcon! R2! Han Solo frozen in carbonite!! Obviously these are molds that anyone can buy, but I don't care. I've never seen them on the Connecticut Chocolate Trail before and therefore CocoaShak is the best.
Breathe.
That's not really true, as we found the selection somewhat lacking and the "cooking" section behind the counters looked a bit messy to my eye. The location, in some weird sort of mixed use office building/storefront place was just not "cute" or easy to find.
Even so, anytime a small business run by a couple that seemed to me to be nothing but friendly, hard-working, and gracious (not to mentioned skilled at their craft) closes, it sucks.
The Chocolate Trail is a difficult thing to traverse.