Crom-om-nom-om
Cromwell Creamery, Cromwell
July 2019
This page contains a terrifying picture of me below. It was taken by my eight-year-old son after eight exhausting hours at Portland's Brownstone Exploration & Discovery Park. My eyes are closed and I'm about to eat a massively over-portioned ice cream cone.
You've been warned.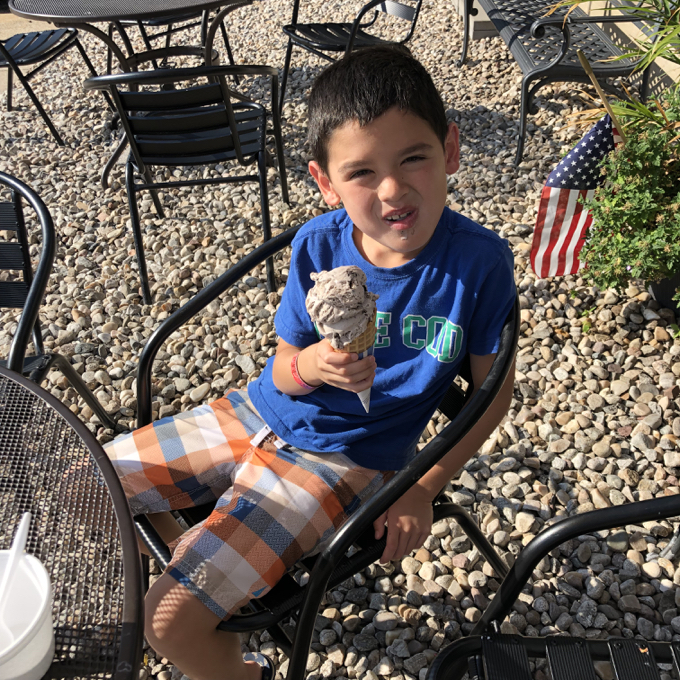 My son Calvin is crazy. In a good way. He loves derring-do and has boundless energy and I love that about him. But man, a full day in the hot sun at the Quarry park was rough on this old man. Regardless, we had so much fun there that we never really ate much of anything other than the snacks I brought.
In other words, we were darn hungry by the time we left.
I had planned this visit to the ice cream shop, so we raced from the quarry the short distance to Cromwell. The Creamery is located off of route 9 in a small strip mall and has no indoor space and very limited outdoor seating. Not exactly in the top tier of locations or set-ups, but perhaps the ice cream makes up for that.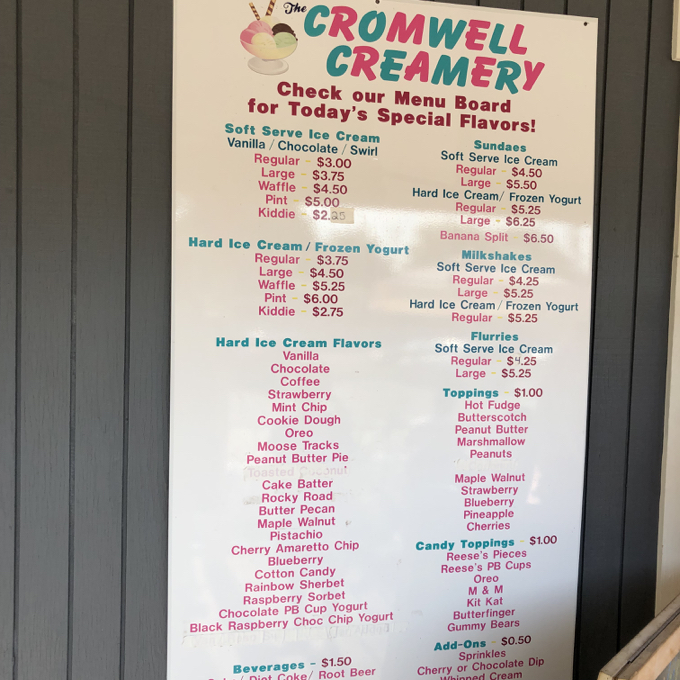 The folks that own this joint also own Durham Dari-Serv a few miles south. These are the two ice cream places for Middletowners and Wesleyan students who want to get out of the city without going too far. Seems like a decent business plan for the owners.
With growling stomachs, we ordered a small cookie dough for Calvin and a "regular" mint chocolate chip for me. While we're waiting, let's learn about this little shop.
Our family has been in the dairy business for over 40 years. We not only own and operate ice cream shops and stands like The Creamery and the Durham Dari Serv, but we also supply ice cream shops around the state with the products they use. That means you can count on receiving the absolute best ice cream products at this window. If we can't make the flavor ourselves, then we bring in the best ice cream flavors and products available, whether they come from Maine or Michigan.
I'm not really sure what that means. If I'm understanding correctly, they make some ice cream here? And make some for other shops beyond their own Dari Serv? But some comes from Maine or Michigan? Clearly they aren't growing the fruit or harvesting their own chocolate and coffee beans, so what's coming from afar? Do they run out of Connecticut milk?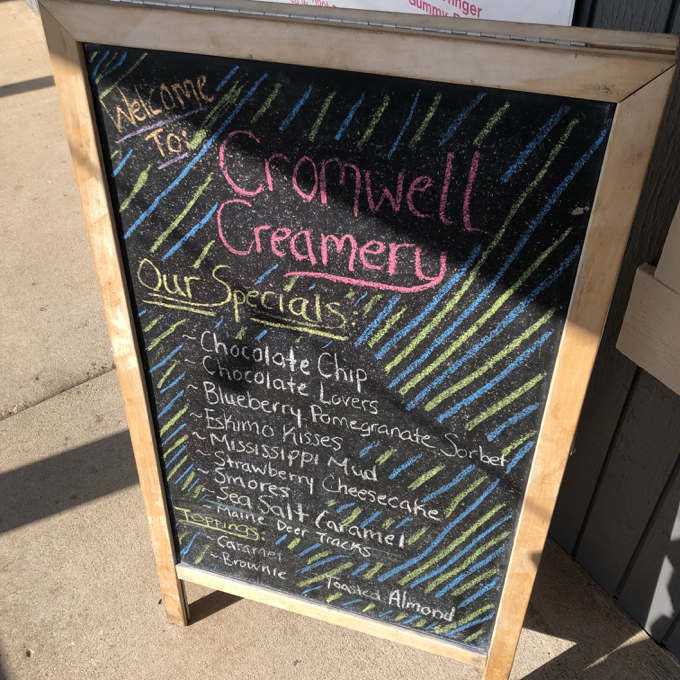 I have no idea, but there's more:
Unlike the fast food restaurants and chain ice cream shops, we use only premium ice cream products. Did you know that many of the "ice cream" cones that you get in a drive thru aren't ice cream at all? Many restaurants cut their expenses and offer very low (sometimes as low as 1.5%) milk fat based frozen desserts as "soft serve ice cream". The creamiest soft serve is 10% milk fat and that's what you'll get here.

The same is true of our hard ice cream. We offer only premium flavors made with at least 14% mix. Next time you're in the ice cream aisle at your grocery store, be sure to check the label. Many products you'll see are labeled as "frozen dairy desserts" because they don't meet the FDA's minimum guidelines for real ice cream. So order from this window knowing that you are about to enjoy real, old fashioned ice cream.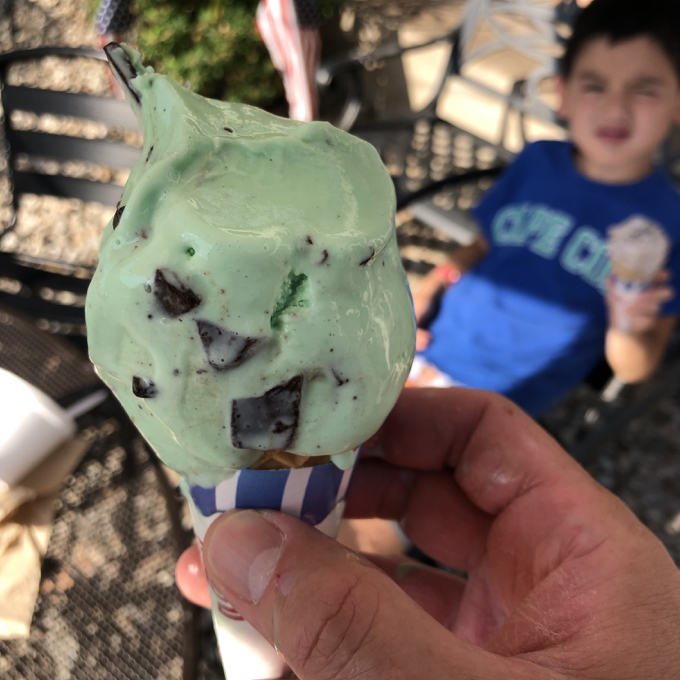 This is a thing small ice cream places do – sort of passive-aggressively making fun of large brands and larger ice cream shops. I always find it a little weird, as in, we better be getting higher quality ice cream for what we're paying at these homey little outlets, y'know? I appreciate that you are "better," but it's almost a "doth protest too much" situation sometimes.
And I sure hope that what we get is enough to satisfy two hungry boys, and —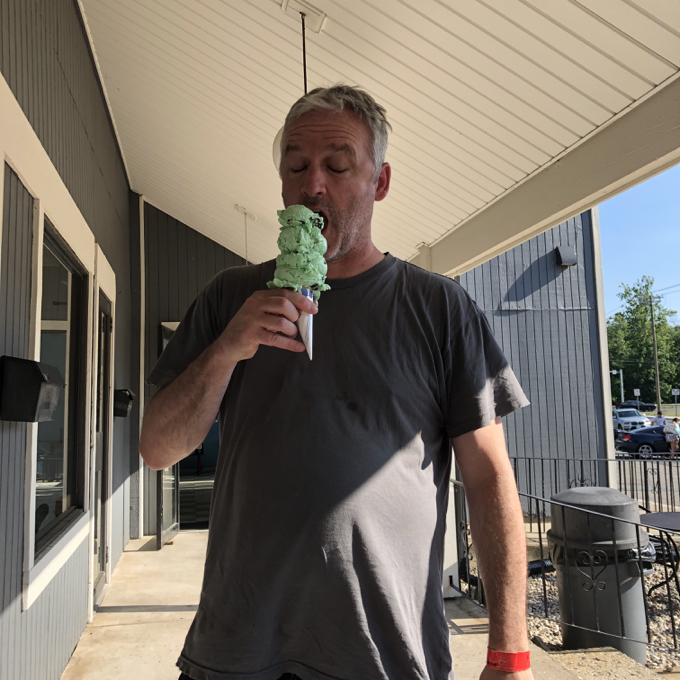 Holy cow. My "regular" cone was MASSIVE. I just laughed. This thing was ridiculous. What the heck is the large like here?! I honestly can't imagine how they could even make a large cone; laws of physics being what they are and all.
Calvin's small was also huge for him. As much as the boy loves ice cream, and could literally eat it for meals every day if we allowed it, his cone was more than enough.
Oh, we finished them. The ice cream here is very good – with it's "at least 14% mix." We didn't let the parking lot views detract from our blissful enjoyment. (Then again, we were so hungry that our perception of the quality may have been a bit skewed too.)
It's nice to know that there's a homemade (semi-homemade?) locally owned ice cream joint right off of route 9 in Cromwell. Calvin and I recommend it.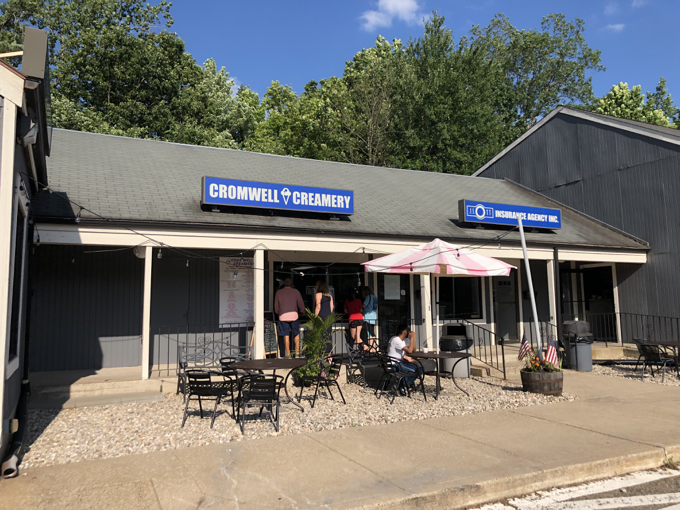 Cromwell Creamery (facebook)
CTMQ's Homemade Ice Cream Trail