In recognizing the importance to Connecticut of numerous sites in the state that are associated with the heritage and movement towards freedom of its African American citizens, the Connecticut General Assembly in 1995 authorized that these locations be developed into a Freedom Trail.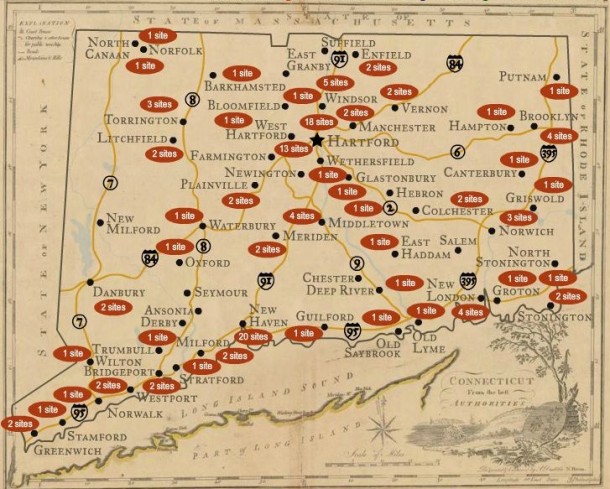 The trail is broken down into three different trails, which aren't actual physical trails at all.
Updated 2018:
Amistad Trail (22 sites)
Concept of Freedom Trail (78 sites)
Underground Railroad Trail (29 sites)
The trail used to be mightily confusing, until the fine folks who put together such things released a much improved and updated trail website in February 2011. Of course, this played havoc with my BlogOCD and all my Freedom/Amistad/Underground Railroad Trail pages, but I accept the challege of updating my info to match the new reality.
The trail is now only slightly confusing.
Included on the trail are buildings reported to have been used on the Underground Railroad, sites associated with the Amistad case of 1839-1842, and gravesites, monuments, homes, and other structures that represent the concept of freedom so cherished in the American mind. It is hoped that those who visit some or all of the locations on the Freedom Trail will gain a greater appreciation for the experiences and contributions of Connecticut's African Americans.
In 2011 they removed several locations from the trails but more importantly, they now provide a blurb on pretty much every single site. So now, my pages on CTMQ all at least contain something worth reading.) Of course the official Freedom Trail site says there are "over 130 sites" but I only see 128… although I know of at least one (American School for the Deaf) that was added in 2016, but doesn't appear on their site. Yet.
It's always something.
In all honesty, I've learned some really interesting stuff while checking off these places around the state. Please, take some time to read about a few of these places. Choose them at random, or target your own environs, I don't care.