CT Hops for Hope Spotlight 19
SingleCut Beersmiths, NYC
While CT Hops for Hope certainly focuses on the great breweries of Connecticut, we do venture outside of our borders to bring in some of the best that distribute here. So of course we had to have SingleCut from Queens. When they came to Connecticut, it caused a buzz in the craft beer community that hasn't subsided in the time since. If there's ever a question of whether or not an urban brewery from the land of the Ramones can craft so-called New England IPA's as well as any true New England brewery, SingleCut puts it to bed. And doesn't let it wake up.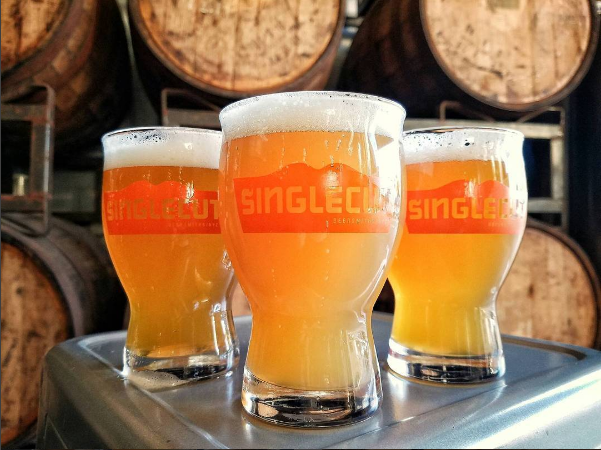 Learn more about the charity we benefit and why we do it
SingleCut is more than a one-trick IPA pony though. They brew a whole range of styles; some classic, some creative and unique to them. Their branding and beer naming convention tells a story… about music. Roots rock and punk if I were to try to pin it down. Back when tracks were recorded in a single cut. Several beers are named after vacuum tubes and other pieces of electronic ephemera. Some carry the names of humans like Billy and Kim, whoever they are. I want to think Kim is Kim Gordon though. Anyway, the overall constant is quality. SingleCut's beers are incredible; striking the balance between complexity and simplicity like only the best breweries can.

Another constant I hear and read about SingleCut is their pricing. Yes, their distributed cans are at the high-end of things. (New York City is expensive, y'know.) But here's the thing… speaking about "constants." Every time someone mentions the price of a SingleCut, it is followed by something along the lines of, "but so worth it," or "I won't think twice about paying this again!" SingleCut backs up the prices with perfection, time and time again. Unlike most fests that pay for beer through reps (the same reps who pour it, which is perfectly fine and normal), CT Hops for Hope may have a couple SingleCutsters present in New Britain on September 2nd. And if you care about your beer, this matters to you. If not, it's still cool… you can brag to your craft beer friends that you had SingleCut at a brewfest. A 100% charitable brewfest. Everybody wins!
CT Hops for Hope, September 2nd in New Britain
Get your tickets